Puddles Pity Party is one of the most unique and talented acts you'll see on America's Got Talent this year or in any of the past ones. After 12 seasons, fans of the show might think they've seen it all already, but every now and then a very unique talent comes around to turn things on their head.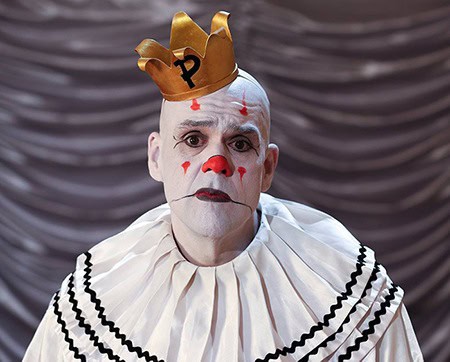 There have been a number of amazing acts before, but for everyone who saw Puddles perform for the first time (they must not have the internet!) on the season opener, it was a one of a kind experience.
Nobody in the crowd really seems to know what to expect at first, whether this is going to be a mime routine, magic tricks, or what… until Puddles belts out those first few notes and everyone is just floored.
Despite being in videos that have garnered tens of millions of views online (including collaborations with Postmodern Jukebox), Puddles Pity Party isn't a household name, but this exposure on America's Got Talent is going to introduce many people to the sad clown with the golden voice.
Puddles Pity Party & Postmodern Jukebox
Here's Puddles performing 'All The Small Things' by Blink 182 with the very talented Postmodern Jukebox:
That's been his usual schtick on YouTube and has garnered him quite the following, enough to support regular touring, but things got a lot bigger recently...
Puddles on America's Got Talent
Puddles' first performance on America's Got Talent managed to draw tears from the judges, it was a surprising rendition of Chandelier by Sia.
Seeing his reaction to the warm reception from the judges and the audience is really heartwarming. You have to imagine after years and years of doing what he loved, following his passion... through the ups and downs, playing to tiny audiences in small theaters, up to reaching millions of people with his music and gimmick... that's got to be an emotional moment.
All of the judges voted for Puddles Pity Party to continue on to the next round, where Puddles was once again met with a great reaction, a standing ovation, and even tears from none other than DJ Khaled, who is rumored to have asked for an encore behind stage after the show.  You'd think the Insane Clown Posse would be more up his alley, but hey, that's the power of Puddles!
Mike Geier on Puddles' Personality
Here's an interview with a very close friend (wink wink) of Puddles named Mike Geier, who tells us a little bit about how he met his clown friend and gives us some insight into his world, since Puddles doesn't seem to speak except through lyrics:
Puddles is an early favorite, with comments such as "If Puddles doesn't win, this whole show is rigged" and similar showing up all over the internet.
Learn More!
Even if you're not a huge fan of the whole reality TV talent show format, it's still worth seeking out some more Puddles Pity Party content on his website, and subscribing to his YouTube channel where he posts new covers on a regular basis and they're always great.