The best way to explain this video is to let you read the intro lyrics:
In a universe that's infinite like many theorize ours is;
there are parallel worlds where every possibility lives.
So a planet's somewhere out there, their history the same as ours is written
The only differences is that, everyone's a kitten!
And before anyone feels the need to say it: Beach Boys - Help Me Rhonda.
Now... stick it out for the twist.  This is no surface level joke or song for the impatient:
Trevor Moore brings us this "killer" track Kitty History from his album High in Church.
Apparently, somewhere out there in the space-time loops, it was a quantum inevitability that there'd be a Kitty Planet with a...
Kitty History: exactly like ours!
Kitty History - Kitties Taking Charge!
Take a tour through Kitty Earth history, from Kitty Dinosaurs to Kitty Colonialism, all the way up to: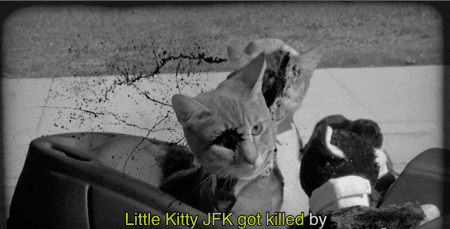 Boy, that escalated quickly.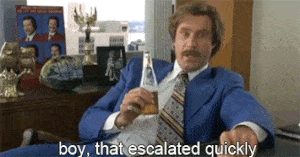 Kitty Jeb Bush rigs the Florida election for his brother, Kitty George W. Bush: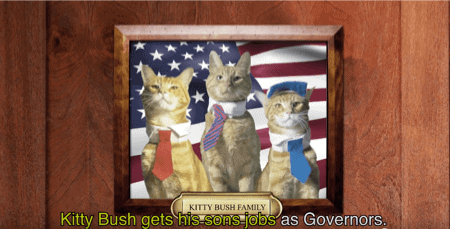 Kitty government even puts trains and puts Kitty terrorists on the pay roll and gives them a target.  Kitty bankers robbing the citizens blind, kitty soldiers committing war crimes... wow, their history is exactly like ours!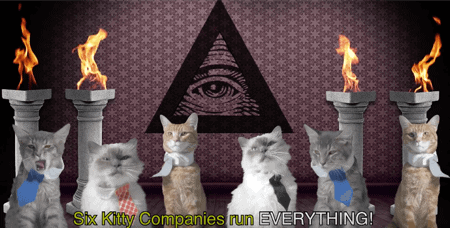 All I know is, this is one of my new favorite songs, and my sweet kitty Cornbread would NEVER join the Kitty Illuminati.