The best way to explain this adventure of a video is to let you read the intro lyrics:
In a universe that's infinite like many theorize ours is;
there are parallel worlds where every possibility lives.
So a planet's somewhere out there, their history the same as ours is written
The only differences is that, everyone's a kitten!
And before anyone feels the need to say it, yes, this song's melodies and backing tracks are heavily influenced by the Beach Boys' Help Me Rhonda song. But what better track is there to emulate to capture this specific mood.
Now... stick it out for the twist.  This is no surface level joke or song for the impatient.  You need to have enough commitment to hit the second verse for the turn of the plot.  Hurry and check this out before I spoil it:
Trevor Moore brings us this "killer" track Kitty History from his album High in Church.
Apparently, somewhere out there in the space-time loops, it was a quantum inevitability that there'd be a Kitty Planet with a...
Kitty History: exactly like ours!
Kitty History - Kitties Taking Charge!
Take a tour through Kitty Earth history, from Kitty Dinosaurs to Kitty Colonialism, all the way up to: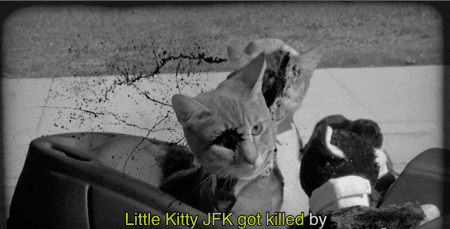 Boy, that escalated quickly.  It's weird because it's exactly like our history.  All the way down to which Kitty presidents sacrificed their own civilian's lives for money to push another specific country's agenda.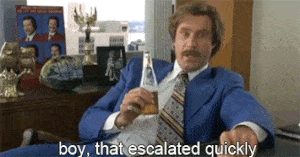 After the Kitty Vice President conspires with the Kitty CIA to assassinate the sitting Kitty President, the Kitty CIA director eventually becomes president, and then his son, Kitty Jeb Bush rigs the Florida election for his brother, Kitty George W. Bush: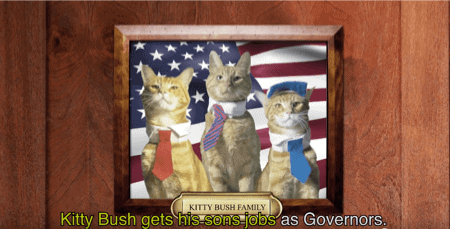 Then the kitty son becomes president, and then the kitty brother runs for president later!  What a coincidence that the Kitty Planet's history would play out identical to ours.  Kitty government even trains and puts Kitty terrorists on the pay roll and gives them a target.  Kitty bankers robbing the citizens blind, kitty soldiers committing war crimes... wow, their history is exactly like ours!  They even let six kitty companies conglomerate and monopolize the entertainment and news industry so they can push propaganda with no alternative!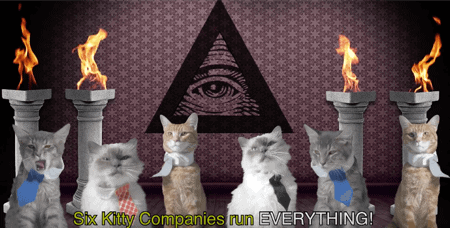 All I know is, this is one of my new favorite songs, and my sweet kitty Cornbread would NEVER join the Kitty Illuminati.
Trevor Moore has a lot of other music videos not only from that album but from others and from his work in the television comedy show called Whitest Kids You Know.  If you get a hankering for more, look up their video about Space Bears for more info on how governments operate.  All jokes aside, Trevor hides a lot of truths within his comedic performances.  Special thanks to him for pulling back the veil a bit more for so many people out there who'd otherwise never encounter this information.
Thank goodness it's all only true on the Kitty planet (who's history is exactly like ours).