Today, on June 28th, 2015, Geoffrey Downes announced to all of the loving fans that his friend and bandmate Chris Squire died at the age of 67.  The details surrounding the event were not made known, nor are they truly relevant.  I refuse to be sad (and it's not working).  My choice is to celebrate Chris' life and his legacy.  His contributions to my life, personally, go as far as to affect my very own inner mythology.  His work with the band Yes literally has changed my life.
Geoff said on Twitter:
"Utterly devastated beyond words to have to report the sad news of the passing of my dear friend, bandmate and inspiration Chris Squire."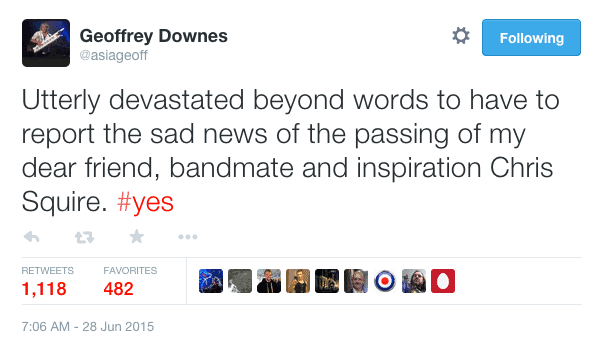 Chris Squire's Legacy
Chris Squire is a prog rock king.  His involvement as a fundamental member of Yes is crazy when you realize the role he was playing.  It's not immediately obvious until you know some of the back story.  Christopher Russell Edward Squire was born on March 4th, 1948.  He became a very accomplished vocalist and vocal arranger during his years as a choir boy at Haberdasher's Aske's Boys' School, leading to the beautiful harmonies and background vocals you hear being sung alongside of Jon Anderson and the other lead singers on the Yes records.  Chris actually is the only member to be on all 21 of the Yes albums!  He was our constant!
The dude was such a killer bassist, known for being able to rip insane rhythms or chill back and take you on a melodic journey.  His impact was so great that Rickenbacker produced a signature model bass based on his own preferences called the 4001CS, where the CS stands for 'Chris Squire.'
Beyond his prolific material with Yes, XYZ, Conspiracy, Toyshop, The Syn, and The Selfs, he also found time to release a solo album entitled Fish Out of Water.  The man stayed busy.
Chris's Death
The circumstances surrounding Chris Squire's death and passing was that he took a break from touring with Yes due to his diagnosis and illness of acute erythroid leukemia.  Despite his strength, he eventually succumbed to the illness.
In my mind, the universe aligned a great honor to him by having Yes's first live show ever without Chris being one on tour with Toto, possibly my second most favorite prog rock band ever.  The only way you could beat that is with Chris playing alongside.
Help us all honor the accomplishments of Chris Squire by familiarizing yourself with his music.  I'll always recommend his Yes material.  You'll be hard pressed to find a more creative and talented bass player playing alongside an equally talented band.  Visit his official site to get started.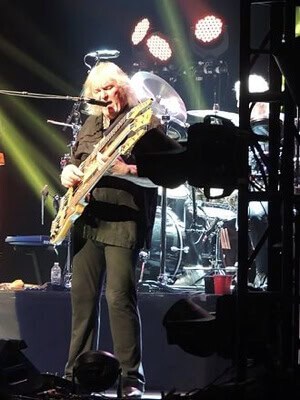 Let's rock out one last time with Chris as he absolutely wrecks the solo on Ritual with Yes back in the day:
We'll miss you Chris, and all of your crazy stage antics!  You put on a hell of a good show, every time.  Your energy and dedication is an inspiration to us all.
If you enjoyed bass as much as Chris and I, check out James Jamerson's isolated bass lines visualized in a colorful manner that lets you see just how amazing some of these bass players are.