Artists and musicians recording their tracks from home have got more resources on hand than ever before.  Recently, I discovered a new website called Kollab that will definitely be of interest to any of our readers looking to find musicians and producers to help finish their tracks.
Collaboration is the name of the game for networking and better results.  There's no need to learn to play every instrument now.  You can pop over to this new site and start talking with other professionals and make progress immediately.  Your record waits for no man!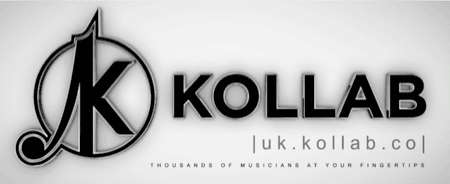 Kollab is basically an online marketplace for musicians who sell their services (or hire someone) through the website in a format called "sessions."  These are jobs the vendors post showing their hourly rate, and users are encouraged to contact the seller to discuss the project and get a quote before collaborating.  Think of it as a Fiverr or Upwork but for music and with better communication.
Basically, the site makes quality session players available to anybody, no matter where you're based in the world as all recordings are done remotely.  What's nice is you'll pay a fraction of the cost of the traditional method of finding players and sending them into one of their local studios for the day.  Praise the internet (and saving money)!
This model is a great way for anybody recording at home to open a new world of possibilities for their music.  I should have thought of it...
An example would be finding a female singer to record a vocal lick on a house track you've been working on.  Trying to license a sample (or sneak one and face eventual consequences if you hit it big) sucks and you end up giving royalties away for the lifetime of your career.  A quick browse through the musician listings shows an emphasis on high quality musicians.  This matters.  It indicates there is a vetting process for vendors.  They don't just let in any old ding-dong looking for a quick buck.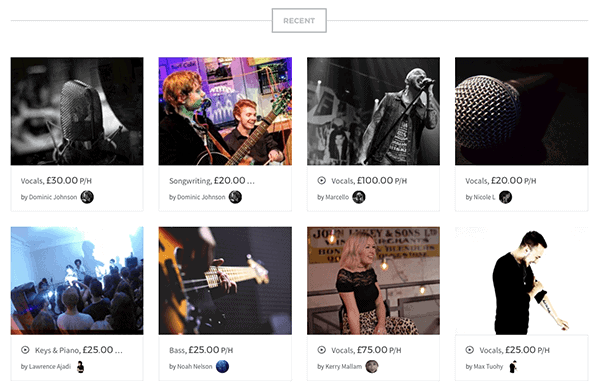 The cool thing here is there are already musicians of most every instrument you can imagine available to work right away.  I even saw a harpist for hire.  That's slick for it being semi-new.  It's going to do nothing but grow, too.  If you're a player, get in early and get high ratings and you can probably tack an extra zero to your annual income within a year or two once it's really rolling.
Think about it as a buyer, too... You could have an actual brass section record a section for you, add on a saxophone solo for the bridge, and have the completed files in a matter of days.  This level of convenience for an amateur musician is pretty slick.
I remember the first time I collaborated with a guitarist for a riff and solo on a rap song.  My mom was truly impressed for the first time.  Of course it required someone else to score that achievement for me.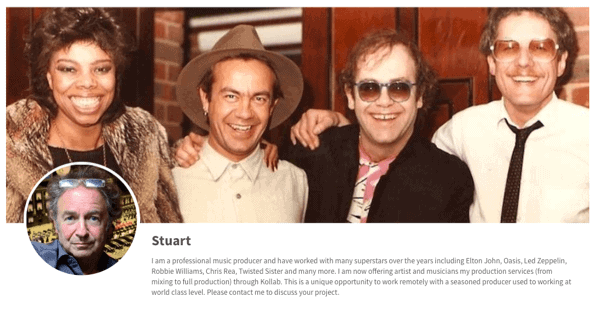 Incidentally, I saw some notable producers for hire on there, including legendary British producer Stuart Epps of Elton John, Led Zeppelin, George Harrison, and Oasis fame (and plenty more).
Previously, only major artists would have access to session players this easily, so you now have no excuse not to take your songs to that 'radio quality' level.
Turns out the company started in 2015 as a bootstrapped startup founded by two working musicians.  It's clear they have passion for what they are doing.  Compound that with it being such a great idea and it's obvious this is going to be a big deal in time.
If you're looking for help with your own tracks, Kollab seems like the place to go.  Membership is currently free.   Get in while the getting is good!