50 Cent's Net Worth is $40 Million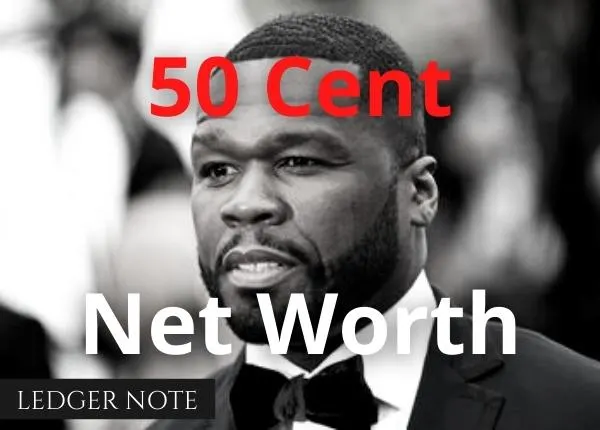 | | |
| --- | --- |
| Name | 50 Cent |
| Other Names | Curtis James Jackson III |
| Birthday | July 6, 1975 |
| Birth Place | New York City |
| Star Sign | Cancer |
| Height | 5 foot 11 ¾ (182.2 cm) |
50 Cent is one of hip hop's most well-known personalities and voices, with smash hits like "In Da Club" still making the rounds in the clubs. With a long and often turbulent career, it's not difficult to see why 50 Cent is worth a whopping $40 million and is included in the runners-up of our list of Top 10 Richest Rappers in the World.
Trivia: Never a stranger to drama, 50 Cent was shot nine times in the back in May 2000, which inflicted wounds in his hands, arm, hip, legs, and face – a scar on his left cheek is still visible today.
Early Life
Born in Queens, New York, Curtis Jackson was raised by his drug-dealing mother, who died in a fire when Curtis was eight. He moved in with his grandparents and began selling drugs at primary school. He had several run-ins with the law before being sent to a boot camp in 1994. As a youngster, 50 Cent fell in love with boxing. When he wasn't in school or dealing drugs, he was at a local boxing gym.
"I think rappers condition themselves like boxers, so they all kind of feel like they're the champ."

50 Cent
How Much Does 50 Cent Make Through His Music?
50 Cent has quite a music career under his belt. With five studio albums, a further two video albums, four compilation albums, ten mixtapes and 76 singles, it's not difficult to see how the cash would flow in for the hip-hop legend. In total, he has sold over 30 million albums worldwide and boasts around 25 million monthly Spotify listeners.
While 50 Cent has done very well for himself through his own music, his ambitions don't stop there. According to reports, the rapper signed a four-year deal with Starz in 2018 worth $150 million. However, over the four-year period 50 Cent has had some issues with the network, so it's anyone's guess what he might do next now that he enters the final year of his mega deal.
In addition to maintaining his career, 50 Cent has also founded his own record label and is head of G Unit Records. During an interview on Houston's 97.9 The Box, 50 Cent opened up about his role as the head of G Unit Records. He stated that his role is to help steer the careers of emerging rappers, including the likes of Lloyd Banks, Young Buck, and Tony Yayo.
Trivia: 50 Cent hasn't shied away from bringing his personal life into his music, including using his song "In Da Club" to prolong his public feud with ex-girlfriend Vivica A. Fox.
How Much Are 50 Cent's Businesses & Investments Worth?
50 Cent has made many multi-million dollar deals, including a long-term deal with the NBA franchise the Sacramento Kings. The rapper's wine and spirits company, Sire Spirits LLC will serve as the team's official champagne partner. This is not the only foray into the drinks world with the creation of Street King, a flavored energy drink created by 50 Cent and Pure Growth Partners company.
However, the most impressive investment in the beverage space 50 Cent ever made was when he took a stake in Vitamin Water's parent company Glaceau. 'Fiddy' (as he is known by his fans) reportedly took home between $60 million and $100 million when Coca-Cola acquired the company for $4.1 billion in 2007.
Moving into fashion and clothing, the hip-hop hitmaker also developed the G Unit Clothing Company in 2003 in partnership with Mark Ecko, the founder of Ecko Unltd. Since its first launch, the company has generated over $100 million in sales.
50 Cent tends to be well ahead of the game. He started investing in Bitcoin very early on, way back in 2014 and luckily for him, it paid off 20 to 30 times over his initial investment!
Trivia: 50 Cent started his G Unity Foundation, which seeks to empower urban kids to develop the tools and knowledge to make the best start in life. It has been rolled out nationwide.
What Assets Does 50 Cent Own?
The rapper has been a little less successful in the property market. In 2003 he bought his Connecticut mansion for $4.1 million from Mike Tyson's ex-wife, and, while it was listed for $18.5 million in 2007, by the end of 2018, it was only listed for $5 million. Quite the crash back down to earth, especially when the rapper invested $6 million to renovate it!
More of a personal passion project, 50 Cent has quite a collection of cars, including a 2005 Lamborghini Murcielago Roadster and a 1965 custom-made Chevrolet impala in red with a cream, red, and peanut butter interior and hood.
Trivia: 50 Cent has always been one to make his own fortune, including generating his own media hype, which stretched to what is considered one of the worst first pitches at a Major League Baseball game.
Thanks to 50 Cent's massive success and knack for business, the hip-hop titan is in a solid position amongst other rap legends. He delighted fans when he appeared as a surprise guest during the Pepsi Super Bowl LVI Halftime Show alongside Dr. Dre, Mary J. Blige, Eminem, Kendrick Lamar and Snoop Dogg. It is not the first time he shares the stage with Snoop Dogg, as can be seen with his P.I.M.P. Snoop remix.
Selected Discography
| | | |
| --- | --- | --- |
| Work | Release Date | U.S. Sales |
| Get Rich or Die Tryin' | February 6, 2003 | 9,000,000 |
| The Massacre | March 3, 2025 | 6,000,000 |
| Curtis | September 11, 2007 | 1,400,000 |
| Before I Self Destruct | November 9, 2009 | 512,000 |
| Animal Ambition | June 3, 2014 | 124,000 |
Notable Award Wins
| | | | |
| --- | --- | --- | --- |
| Year | Nominee/Work | Award | Category |
| 2003 | Get Rich or Die Tryin' | American Music Awards | Favorite Rap/Hip-Hop Album |
| 2003 | 50 Cent | American Music Awards | Favorite Rap/Hip-Hop Male Artist |
| 2003 | 50 Cent | BET Awards | Best New Artist & Best Male Hip-Hop Artist |
| 2003 | Get Rich or Die Tryin' | Billboard Music Awards | Album of the Year |
| 2003 | "In Da Club" | Billboard Music Awards | Hot 100 Single of the Year |
| 2003 | 50 Cent | Billboard Music Awards | Artist of the Year |
| 2005 | The Massacre | American Music Awards | Favorite Rap/Hip-Hop Album |
| 2005 | 50 Cent | Billboard Music Awards | Artist of the Year & Rap Artist of the Year |
| 2005 | The Massacre | Billboard Music Awards | Album of the Year |
Concert Tours
| | |
| --- | --- |
| Tour Name | Tour Date |
| The Invitation Tour | May 2010 – June 2010 |