This article originally appeared on British-Audio.org.uk
A newly developed loudspeaker connector for hi-fi products, the BFA Connector, designed primarily for use on quality hi-fi separates and loudspeakers is to be promoted by the BFA, whose members represent over three quarters of the British hi-fi loudspeaker industry and produce a large proportion of British-built hi-fi equipment.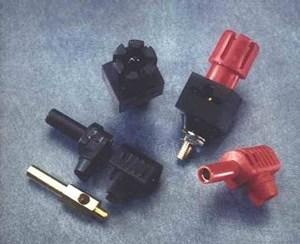 BFA Connector Sets New Safety Standards
Recent amendments to the European safety standard BS\EN600 65 for consumer electronics effectively ban the use of the 4mm 'banana' type plug for connecting loudspeakers to amplifiers. The reasoning behind the prohibition of cable-mounted 4mm (and smaller-sized) plugs is that they can be inserted into a European mains socket with possibly fatal consequences.
The solution is to use a large enough plug to make this occurrence impossible. The BFA connector comprises an insulated recessed 'female' plug and an insulated recessed 'male' socket and is designed to comply with relevant European and North American Safety Standards.
Key Features of the BFA Connector
The insulated 6mm outer diameter of the plug is greater than the 5.5mm pin of a European mains plug.
The insulated outer sheath of the plug prevents accidental amplifier output short-circuits when connecting up a hi-fi system.
Both the plug and the socket are insulated to meet possible issues of "live terminal" safety on loudspeaker outlets up to and including '100V line' voltage used in sound distribution systems. The design also permits adaptation for use with higher voltages.
An amplifier- or loudspeaker-mounted binding-post socket design, to minimise access to metal parts for 'live terminal' safety, is included.
The BFA Connector exceeds the robustness, versatility and performance of the current 4mm 'banana' plug and socket.
The connection is substantial and heavy-duty, yet retains a silky precision feel (giving a satisfying fit) when inserted - an important sales factor in separates hi-fi marketing.
The connection system can safely accommodate insulated 6 mm spade terminals on its binding post.
The cable-connection facilities of the plug can be adapted to accommodate both large and small diameter loudspeaker cables, with screw, crimp or solder termination as required.
The BFA Connector evolved from a concept first developed by British electronics firm Arcam, and has been refined during extensive cross-industry co-operation in conjunction with European safety authorities. A number of key UK manufacturers are developing specific connector designs with the help of UK connector suppliers.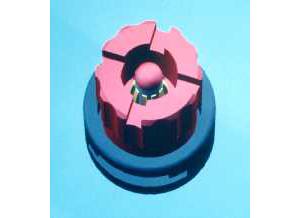 In order to encourage the EU-wide (and ultimately the world-wide) use of the BFA Connector, full design details will be made available to equipment and component manufacturers, on a licence-free basis, in return for a nominal charge of £100, to cover costs. For this, interested parties will receive a pack comprising:
full technical drawings in both paper and on floppy diskette in industry-standard CAD (Computer-Aided-Design) formats;
colour photographs;
details of dimensions critical for physical and electrical compatibility and for compliance with Safety regulations;
physical samples of both plugs and sockets;
BFA logo details.
As long as the key design guidelines are met, manufacturers will have complete freedom to design their BFA Connectors in whatever shape or form they choose for their high fidelity studio monitors and speakers.
BFA Says Sacrificing Sound Quality is a Mistake
In addition to safety measures solved by the BFA connector, it's becoming increasingly apparent that consumers are ignoring the sound quality that can be derived from a home cinema system by paying scant attention to ancillary equipment.
Customers eager to take advantage of the excellent home entertainment options now available – particularly plasma TVs, are spending an inordinate amount on the TV monitor – several thousands of pounds in some cases - yet will only spend a small sum on the audio section, especially the loudspeakers, of the system.
Cheap, poor quality loudspeakers, often bundled with the TV package as a 'complete home cinema system' and widely sold by leading high-street department stores are often to blame suggests the BFA.
"It's a real shame that the general public are sacrificing the true cinematic and musical experience by not buying electronics and speakers of a matching quality to the TVs they buy," says Stephen N Harris, the BFA Chairman, "George Lucas, the founder of Lucasfilm and director of the Star Wars movies, is on record as saying as much – indeed he claimed that audio makes up 50% of the impact of a movie – and he should know"
"We're urging our industry to try to educate its customers into spending an amount on the sound system commensurate with the cost of the visual equipment," said Harris, "And, for a change, it's not just because we see more business in it. It's genuinely in the consumers' interests. The difference in the overall cinematic/sound experience is very easily demonstrable."  The simple addition of even the best budget subwoofer can create a substantial impact in the emotionality of the film experience.
The 1996 BFA Hi-Fi Awards

The British Hi-Fi Awards 1996, co-sponsored by The British Federation of Audio and Hi-Fi Choice magazine, were announced at the Federation's annual dinner held in London on April 25, 1996.
| | | |
| --- | --- | --- |
| Category | Price Range | Winner |
| Best CD player | below £250 | Denon DCD 825 |
| Best CD Player | above £250 | Naim CD3 |
| Best Tuner | below £250 | Arcam Alpha 5 Plus |
| Best Tuner | above £250 | Audiolab 8000T |
| Best Cassette Deck | below £250 | Denon DRS 640 |
| Best Cassette Deck | above £250 | Pioneer D-05 96kHz DAT Recorder |
| Best Integrated Amplifier | below £300 | Musical Fidelity E10 |
| Best Integrated Amplifier | above £300 | Cyrus III |
| Best Pre-Power Amplifier | N/A | Audiolab 8000Q / 8000M |
| Best Audio-Visual Amplifier | below £350 | Denon AVR-900 |
| Best Audio-Visual Amplifier | above £350 | Arcam Xeta One |
| Best Home Cinema Speaker System | below £750 | Celestion Style |
| Best Home Cinema Speaker System | above £750 | KEF 60S, 80C, 30B |
| Best Subwoofer | N/A | REL Storm |
| Best Hi-Fi Loudspeakers | below £200 | KEF Coda 7 |
| Best Hi-Fi Loudspeakers | £201 - £500 | Mission 733 |
| Best Hi-Fi Loudspeakers | above £500 | B&W; P4 |
| Best Complete Hi-Fi System | below £1000 | Akai TX700 |
| Best Complete Hi-Fi System | above £1000 | Quad 77 |
| Best Hi-Fi Accessory | N/A | Atacama SE24 Speaker Stand |
| Editor's Award | N/A | Pioneer PDR05 CD Recorder |
Votes were cast not by industry members but by the public, through forms in hi-fi and music magazines. The only winning product not selected in this way was the final one in the list below, the Editor's Choice, which was chosen by the Editor of Hi-Fi Choice.