DaBaby's Net Worth is $7 Million
The beats you heard that are locked inside your head, the controversies that popped up on your phone screen, are all because of one man: DaBaby. They used to call him Baby Jesus, but that seems like ages ago. Now he's attained another level, raking in millions along the way. Right now, in 2023, his kitty has $7 million.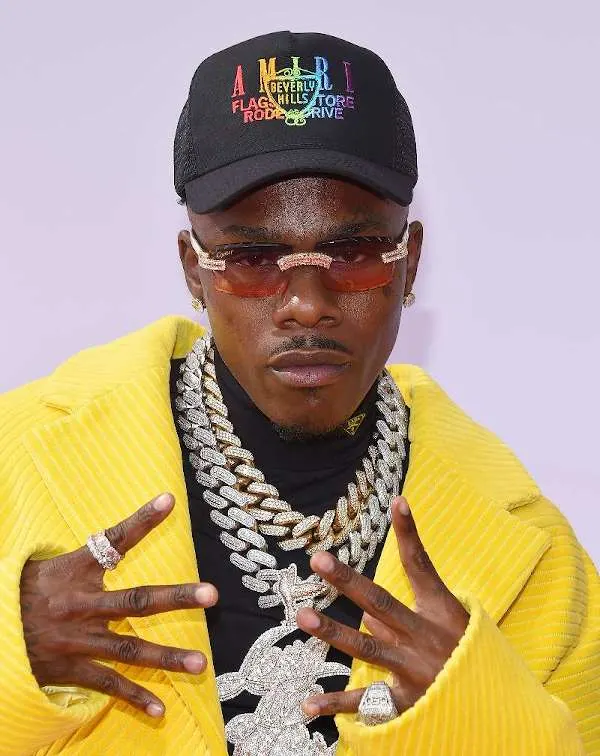 That amount didn't just fall into DaBaby's lap. It took sweat, mic checks, and performing gigs. What's more, he didn't just stick to music. He's got his fingers in brand deals, runs his own record label, all intensifying his money-making game. Get ready to unravel the life of DaBaby, as we delve deep into how he made his fortune and witness the opulence that shadows his fame.
| | |
| --- | --- |
| Name | DaBaby |
| Other Name | Jonathan Lyndale Kirk |
| Profession | Rapper/Record Producer |
| Net Worth | $7 Million |
| Birthplace | Cleveland, Ohio, USA |
| Birthday | December 22, 1991 |
| Nationality | American |
| Height / Weight | 5'8″ / 75kg |
| Relationship Status | Single |
Early Life and How DaBaby Crushed it in the Music Scene
Jonathan Kirk entered the world on December 22, 1991, in Cleveland, Ohio. When he was just a six-year-old, he packed up and moved to Charlotte, North Carolina. Growing up, he got a taste of the city's lively street scene. After graduating high school, he hit up the University of North Carolina at Greensboro—more out of obligation to his parents than his own aspirations. All along, young Jonny had the tunes floating in his head, and that call to music was about to flip his world sideways.
Kirk cranked it up a notch in 2015. Inspired by a deep-rooted feeling to take control of his life and make something of himself, he got serious about his rhymes. That's when Baby Jesus was born (the rapper, not the deity). He kicked down the door to the music world with his debut mixtape, Nonfiction (again, the hip-hop artist, not the Son of Man). He kept the momentum going, rolling out the God's Work mixtape series and the Baby Talk mixtape series. However, he soon figured the 'Jesus' tag was bringing on a little too much heat, so he switched up to DaBaby.
The universe helped DaBaby out when Arnold Taylor, CEO at South Coast Music Group, brought him onboard the label. Taylor, for context, is responsible for bringing massive southern rappers like Yo Gotti and Future to the attention of the masses. Taylor's ear heard what Kirk had going on during a couple of gigs in North Carolina clubs. This hot new alliance led DaBaby to a brief fling with Jay-Z's Roc Nation label as a distributor of his Blank Blank mixtape. That fling, no matter how brief, put DaBaby on the map in late 2018.
Making Bank from Beats: Revenue From His Main Career
Despite his other endeavors, DaBaby's music career is his cash cow. Even though we can't tell you the exact 411 on how much he's made from his music, there's no doubt that DaBaby is raking in some serious coin from the rap game. I mean, you don't get to be one of the hottest names in hip hop without that reflecting on your bank account, right?
The real money started accumulating in 2019, when DaBaby dropped his first album, Baby on Baby. The debut went platinum for selling over a million units and landed on the Billboard 200. Then he followed it up with Kirk. Straight to No. 1 on the Billboard 200. So it's not a question of whether he made money from those albums, but rather, the amount of money he made.
And you know what else comes with being a big-name artist? Jam-packed concerts. Pre-COVID, DaBaby was known for putting on one hell of a live show. Sell-out tour after sell-out tour that deposited some serious money in the bank.
But let's not forget about streaming. DaBaby has billions of streams on platforms like Spotify and Apple Music to his name. His track 'Rockstar', for instance, has had over a billion streams on Spotify alone.
Other Revenues: DaBaby's Wealth Beyond Music
As DaBaby keeps climbing up the ladder of music greatness, his bank account has come along for the ride. He has mixed catchy hits, a massive fanbase, and some strategic business moves and amassed a million-dollar fortune.
Back in 2017, DaBaby brought onto the scene his own record label, Billion Dollar Baby Entertainment, a business brainwave that has seriously increased his wealth. At the moment, the label is home to five greenhorn artists, a testament to DaBaby's mission to unearth and nurture fresh talent in the music business. With DaBaby's natural leadership charm and uncanny eye for talent, these burgeoning artists are set to soar—and make DaBaby an even bigger stack of cash.
Candy For DaBaby: Notable Possessions and Philanthropy
Ever wonder what rap superstar DaBaby's garage looks like? Well, it's teeming with some serious car candy. The man's collection includes a Mercedes-Benz GLS, a mean-looking Mercedes Maybach S650, and not one but two Lamborghinis: Aventador and Huracan. And don't get us started on his pair of Rolls-Royces: the Dawn and the Cullinan. Clearly, he's got a need for speed, and ain't shy about showing it off.
But beyond busying himself with all these luxury rides, DaBaby is actually pretty big on giving back. Back in 2020, around Christmas time, DaBaby played Santa in his neighborhood in Charlotte. The man dropped toys and essentials for over 200 kids during his second annual 'Billion Dollar Baby Christmas'.
On another occasion, he handed over $1500 to a man selling candies for charity outside a restaurant in Hollywood. A random but no less appreciated gesture.
DaBaby's Personal Life: Balancing Fame and Family
Family is key for DaBaby, with pivotal moments in his life and career intertwining. Case in point, his first big album-drop occurred around the time his dad passed in 2019. To honor his father, DaBaby's second album, Kirk (his last name, if you didn't catch that), shows off a cute baby pic of DaBaby and his dad on the cover. In a heart-wrenching twist, his older brother, Glen Johnson, tragically took his own life a year later.
Fatherhood rumors swirl around DaBaby. Word is, he has four kids. His first daughter, born in 2017, is with his ex MeMe, a pretty rad barber. Digging deeper, DaBaby has taken on the dad role for MeMe's son from a previous relationship. Plus, rumor has it he's also dad to another daughter, Nova, born in 2020; the identity of the mother is unknown. And just last year, he seemingly spilled the beans about having another child with his on-again, off-again girlfriend, DaniLeigh.
Dating drama is no stranger to DaBaby. Things got really messy with rapper DaniLeigh, and at one point, his ex MeMe was thrown into the mix causing all-out social media warfare. Despite all the past bad blood, it appears that he's still cool with MeMe and committed to his dad duties.
Major Events: Controversies and Consequences
In 2018 DaBaby ended up in a nasty spot with law enforcement, all due to a fatal shooting of a 19-year-old lad at a Walmart in Huntersville, North Carolina. DaBaby didn't deny his involvement, maintaining he was only acting in self-defense. In March 2019, the more serious charges against him were dropped, though he did plead guilty to carrying a concealed weapon, a minor infraction.
Then, in January 2020, and DaBaby was arrested in Miami in relation to robbery allegations, leading to charges of battery after a squabble with a music promoter over compensation for an event. At this point in his life, DaBaby had cemented a reputation for being a troublemaker, attracting all sorts of unsavory attention.
It was his words rather than his actions that got him in trouble in 2021 when DaBaby took heat for his disparaging comments about the LGBTQ+ community during a music festival performance. He also made biting remarks about people living with HIV/AIDS. The comments didn't sit well with most people, including, activists and celebrities. It wasn't just a blow to DaBaby's rep, he also got his gigs axed at several music festivals.
His personal life is not without drama, either, as those spats with ex-girlfriend DaniLeigh have attracted the attention of the music-loving public. On one occasion, an argument between the two—livestreamed on Instagram, no less—intensified to the point law officials paid the couple a visit.