DJ Khaled's Net Worth is $78 Million
DJ Khaled, superstar of the hip-hop world, has made some serious cash spinning records. He's rocking a cool $78 million in 2023—not just because he's great with beats, but because he knows what it means to grind.
This dude wasn't always a record producer, music executive, songwriter, and rapper. He started like any other DJ, spinning on the decks and hosting radio shows. But his journey hasn't been all glitz and Grammys. He's weathered storms, faced setbacks, and overcame hurdles like a true rap legend, earning him a spot in the music industry hall of fame.
| | |
| --- | --- |
| Name | Khaled Mohamed Khaled |
| Profession | Record Producer, Songwriter, DJ, Music Executive, Rapper |
| Net Worth | $78 Million |
| Birthplace | New Orleans, Louisiana, USA |
| Birthday | November 26, 1975 |
| Nationality | American |
| Height / Weight | 5'7″ / 220 lbs (approx) |
| Relationship Status | Married to Nicole Tuck |
The Odyssey of DJ Khaled: Mixing Dreams with Grit
DJ Khaled's story starts in the city of Mardi Gras—New Orleans, to be exact—as the child of some fearless Palestinian parents who hustled every day by hawking clothes from their van at local flea markets. Their hustle rubbed off on young Khaled, leading him to spin records in his garage at just 13. For him, this was more than just a pastime; he was on a musical journey, always juiced up by the endless tunes playing in his head.
The family moved to Florida but moved back to New Orleans when they hit a rough financial patch. But Khaled, armed with big dreams and a DJ deck, chose to stick around Orlando and pave his own rhythm-filled path. Playing local clubs was his means of survival, while his handcrafted beats started making noise around town. At one point, he even had to go back home to New Orleans. To earn money, he worked at Odyssey Records, a move that turned out to be a total game-changer as he ran into Birdman and Lil Wayne, future partners in rhyme.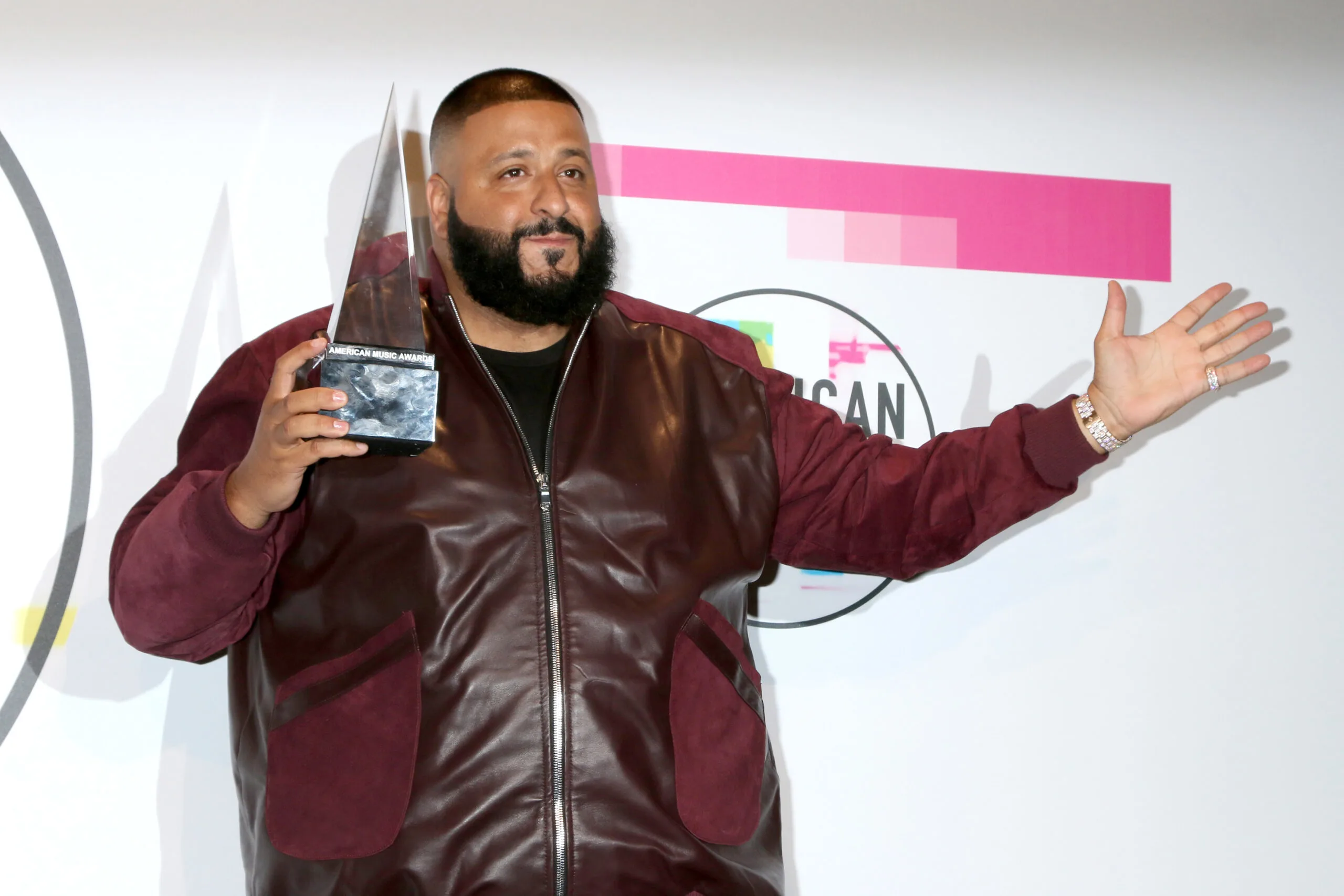 Moving into the late '90s, Khaled caught a big break as a host on radio station 99 Jamz. The fame he enjoyed from that gig led to his becoming the official DJ for Terror Squad's stage shows. The winning streak continued; he dropped his first album, Listennn… the Album, in 2006 under Koch Records. This first try shot up the Billboard 200 chart, landing a solid spot at #12.
Then came his banging single "Go Hard", featuring nothing less than Kanye West and T-Pain's powerhouse performances, going platinum in 2008, and confirming Khaled's top-dog status in the music business. The same year, he walked away with the DJ of the Year awards from both the BET Hip-Hop Awards and Ozone Awards. But the cherry on top? He was handpicked to become the president of Def Jam South in 2009, putting him in a powerful celeb seat.
Striking Gold with Sounds: DJ Khaled's Musical Earnings
DJ Khaled isn't just spinning tracks, he's mining gold. With a CV full of hits as a record producer, DJ, and legit music mogul, this guy's turned his love for beats into a whole lot of money.
Word on the street is that DJ Khaled is raking in around $35 million every year. However, we all know the music industry can be a fickle friend, and earnings can yo-yo depending on his albums' release schedule and whether those tracks released as singles hit the right note with listeners.
Feeling like catching DJ Khaled live onstage? Well, you better have some serious cash stashed. Booking this man can cost a cool $200,000. Of course, if you don't mind sharing the venue with thousands of other fans, you can pay a lot less to see him in action.
And if you're thinking of getting Khaled to bless a track or album of yours, that isn't going cheap either – we're talking $150,000 for a feature. These big numbers just show how much people think of his work and his reputation in music and, given his track record, those numbers are justified.
Midas Touch Beyond the Music: DJ Khaled's Diversified Pot of Gold
DJ Khaled isn't just killing it at the DJ booth, he's also slaying the business game one multi-million-dollar deal at a time. Apart from making music, the guy's nailing it in real estate, making his wallet a little (or a lot) heavier by the square foot.
One way DJ Khaled is smashing it apart from making beats, is with his own record label and management company, We the Best Music Group. Big props to him for setting it up back in 2008. He's not just making tunes but also boosting other talents and making a pretty penny – or millions – from record sales and artist management.
Speaking of suave and luxury, Khaled's also ventured into the world of ritzy furniture. In 2018, he introduced We the Best Home, designed to reflect his classy lifestyle. This ingenious move is not just proving lucrative to him but also revving up his image as a go-getter entrepreneur.
Because making music, running a company, and selling luxury furniture clearly isn't enough, Khaled has also hopped on the cannabis bandwagon. In 2020, he partnered with Endexx Corporation to produce cannabis grooming products for men. This joint venture could bring in $430.8 million over the next few years.
Lavish Lifestyle and Lucrative Possessions: DJ Khaled's Opulent Symphony
DJ Khaled is living the high life and his massive collection of flashy houses and ritzy remodels is proof.
Just to give you an idea of this guy's incredible wealth, he's snapped up a Miami Beach mansion worth $25.9 million. This place, owned previously by Michael Lerner (he of 'Baby on Board' sign fame), is vast and boasts a ton of insane features like a home cinema, outdoor shower, double-decker gazebo, and one heck of a swimming pool. Still not convinced?
Over in Beverly Hills, in Mulholland Estates, Khaled had a $9.9-million French Chateau-style pad tucked away behind garden hedges and an iron gate. He sold it in 2021 for $12.5 million, a tidy profit over what he paid for it in 2016.
DJ Khaled loves big, bold things and his latest venture in North Sea, Southampton, New York, with Confluent Development and NBA star Luol Deng just proves that point. They've gone in together on a custom farmhouse, which can be yours—all 6,000 square feet—for $3.75 million.
DJ Khaled might lead a life of luxury, but he's also big on giving back. Through his charity, We The Best, he's been helping youth get a leg up in life since 2018. The foundation also pitched in with a ton of masks, gloves, and other gear for health workers during COVID.
Behind the Decks: DJ Khaled's Personal Symphony
When the hip hop's turned down and the decks are off, Khaled's life spins to a sweeter melody composed of family and friends.
The man is married to his high school sweetheart, Nicole Tuck. Khaled made things official with her through a private ceremony in 2016. And while the ceremony was private, their marriage and family life are anything but, with the pair regularly posting pics of the behind-the-scenes action on social media. Nicole isn't just Mrs. Khaled though. She had her own fashion business, ABU (short for 'Always Be You'), though it is no longer in operation.
And the best part of their life? Their sons, for sure. Little Asahd Tuck Khaled had his grand entrance in October 2016, with his little brother Aalam Tuck Khaled tailing along in January 2020. The pair are featured in their parents' Insta pics, which provide a glance at life in the Khaled residence.
Trials and Triumph: DJ Khaled's Major Brushes with Controversy
Back in 2014, Khaled sued his old label Entertainment One (or eOne, as it's known) over royalties the artist felt he was from four albums (dropped between 2006 and 2010), which amounted to at least a million dollars.
In 2018, Khaled found himself in hot water with the Securities Exchange Commission (SEC) who held him accountable for neglecting to disclose a payment from Centra Tech. He had been promoting them on social media without abiding by federal securities law. The consequences—$50,000 in disgorgement, a $100,000 penalty, and $2,725 in prejudgment interest—were uncontested. He was also banned for two years from promoting any digital securities.