Dolly Parton's Net Worth Is $670 Million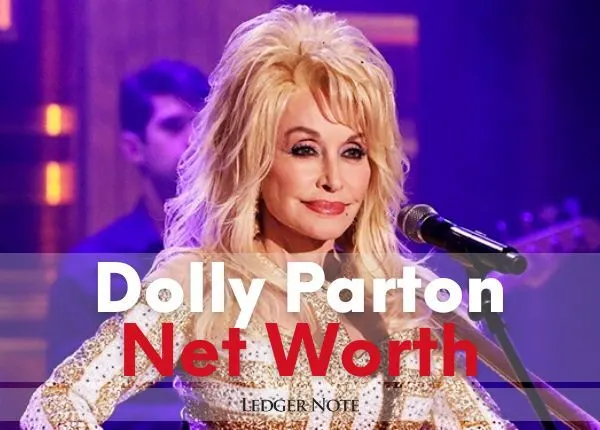 | | |
| --- | --- |
| Name | Dolly Parton |
| Other Names | The Queen of Country, Dolly Parton |
| Net Worth | $670 million |
| Birthday | January 19, 1946 in Pittman Center, TN |
| Zodiac Sign | Capricorn |
| Height | 5'0″ |
Early Life
Dolly Parton was born in Sevierville, Tennessee, on January 19, 1946. She was the fourth of twelve children born to Robert Lee Parton, a tobacco farmer, and Avie Lee Parton (née Owens). Dolly grew up in a poor family and her childhood was marked by hardship. Her parents were unable to afford proper clothing for their children, and Dolly often wore dresses made from feed sacks. Despite these challenges, Dolly's family was close-knit and supportive, and she was surrounded by music from a young age.
Dolly began singing and playing guitar at the age of five, and she performed on local television and radio programs as a child. She dropped out of high school at the age of 13 to help support her family, but she continued to pursue her love of music. In 1964, at the age of 18, Dolly moved to Nashville to try to break into the music industry. She quickly gained recognition for her songwriting and singing ability.
How Much Does Dolly Parton Make From Music?
Although initially marketed as a bubblegum pop artist, she eventually found success in country music, which was her true passion. Between 1974 and 1980, Dolly had eight singles reach #1. She became one of the era's most popular performers. She also appeared on "The Porter Wagoner Show" and had her own variety shows throughout the '70s and '80s. In fact, her song "I Will Always Love You" is about her working relationship with Wagoner.
Trivia: Dolly wrote her first song "Little Tiny Tassel Top" when she was five years old. She made her first guitar two years later using an old mandolin and two bass guitar strings.
Following her success on the show, Dolly hosted her own variety program, one called "Dolly!", which aired in 1976-77, and another called "Dolly" (without the exclamation point), which aired in 1987-1988. Both shows enjoyed high ratings and featured guest appearances from huge stars like Tammy Wynette, Merle Haggard, Tyne Daly, Bruce Willis, Emmylou Harris, Linda Ronstadt, Tom Petty, Juice Newton, Tom Selleck, the Neville Brothers, Dudley Moore, and Oprah Winfrey. However, they each only lasted one season.
Dolly Parton's discography comprises 52 albums: 48 solo albums, two albums with Emmylou Harris and Linda Ronstadt, one with Loretta Lynn and Tammy Wynette, and one with Kenny Rogers. She has also released nine live albums, six soundtrack albums, one extended play, and approximately 222 compilation albums worldwide.
RELATED: The 10 Richest Musicians In The World
Dolly has released 25 #1 songs and 41 top-10 country albums throughout her career. She has scored more #1 singles than any female country artist in history and more top country albums than any other artist. She has also sold more than 100 million records worldwide, placing her among history's top-earning female country artists.
She also has over 10.4 million monthly listeners on Spotify. Her catalog of more than 3,000 songs is worth over $150 million.
In 2019, Dolly signed a deal with Sony ATV Music Publishing to handle the rights to the entirety of her music, including massive hits "Jolene", "9 to 5", and "I Will Always Love You".
Dolly also brings in substantial revenue as a live performer. Her "Better Day" world tour in 2011 grossed $34 million and sold over 275,000 tickets. The tour began at Thompson-Boling Arena in Knoxville, Tennessee, and concluded at the Rod Laver Arena in Melbourne, Australia.
In 2013, she also embarked on the "Blue Smoke" world tour, which included over 40 venues across Europe, North America, and Australia.
RELATED: Shania Twain Net Worth
Dolly is also a very successful songwriter and has written hits for many other artists. Her original material is frequently covered by other performers and featured in movies, which earns her additional royalties.
Trivia: Whitney Houston's cover of Dolly's classic "I Will Always Love You" became a major hit after it was featured in the 1992 film "The Bodyguard". Dolly reportedly made $10 million in royalties, which she reinvested in a black community in Tennessee.
How Much Are Dolly Parton's Business Ventures Worth?
Dolly enjoys a successful career in film and television. She began her career in television as a co-host on "The Porter Wagoner Show", a country music variety program that featured skits, comedic interludes, and performances from the hosts and guests. Dolly's appearances on the show from 1965 to 1974 helped build her public persona. She eventually left to pursue a career as a solo artist.
Dolly also ventured into film. She starred in the 1980 film "9 to 5", which grossed over $103 million at the box office. It spawned a television show, which ran for five seasons, and a Broadway musical, with new music written by Dolly.
Her filmography includes "The Best Little Whorehouse in Texas" (1982), "Rhinestone" (1984), "Steel Magnolias" (1989), "Straight Talk" (1992), and "Joyful Noise" (2012), among others.
In 2019, she signed a global licensing deal with IMG to launch a lifestyle brand that would include fashion, jewelry, home goods, and accessories. Perhaps her most lucrative venture is her co-ownership of the Dollywood Company, which owns and operates her entertainment and hospitality businesses. Included in the portfolio are the Dollywood theme park, Splash Country water park, and multiple dinner theater venues. Dollywood employs about 4,000 people and is visited by three million people annually. According to a Tennessee Department of Transportation study, Dollywood has an economic impact of $1.8 billion. So, despite Dolly's impressive music career, Dollywood represents the bulk of her net worth.
Trivia: Dollywood recently announced a new attraction: the Big Bear Mountain roller coaster. The ride will wind through mountains, tunnels, and even behind a waterfall. It will stretch nearly 4,000 feet and cost the park over $25 million.
What Other Assets Does Dolly Parton Own?
Despite her wealth, Dolly Parton does not live a flashy lifestyle. She has lived with her husband Carl Dean in the same house in the Brentwood neighborhood of Nashville since 1999. They purchased the home for $400,000. It features a tennis court, swimming pool, chapel, and a farm. Even though the singer is known for her larger-than-life personality, her home is modest.
Before owning their most recent residence, the couple spent 16 years living in another modest four-bedroom, two-bathroom Nashville home. The couple purchased it for $50,000 in 1980, then sold it for $140,000 in 1996.
Trivia: The new owners of Parton and Dean's first home relisted it in 2010 and kept it on the market for 12 years. It finally sold in 2021 for $849,000.
Selected Discography
| | | |
| --- | --- | --- |
| Work | Release Date | U.S. Sales |
| The Best of Dolly Parton | November 9, 1970 | 500,000 |
| Here You Come Again | October 3, 1977 | 1,000,000 |
| Heartbreaker | July 17, 1978 | 500,000 |
| Great Balls of Fire | May 28, 1979 | 500,000 |
| 9 to 5 and Odd Jobs | November 17, 1980 | 500,000 |
| Greatest Hits | September 13, 1982 | 1,000,000 |
| Once Upon a Christmas | October 29, 1984 | 2,000,000 |
| Trio | March 2, 1987 | 1,000,000 |
| White Limozeen | May 30, 1989 | 500,000 |
| Home for Christmas | September 11, 1990 | 500,000 |
| Eagle When She Flies | March 7, 1991 | 1,000,000 |
| Slow Dancing with the Moon | February 23, 1993 | 1,000,000 |
| Honky Tonk Angels | November 2, 1993 | 500,000 |
| Ultimate | June 3, 2003 | 500,000 |
| The Very Best of You | March 25, 2007 | – |
Notable Award Wins
| | | | |
| --- | --- | --- | --- |
| Year | Nominee/Work | Award | Category |
| 1978 | New Harvest…First Gathering | American Music Awards | Favorite Country Album |
| 1979 | Here You Come Again | Grammy Awards | Best Country Vocal Performance, Female |
| 1982 | "9 to 5" | Grammy Awards | Best Country Vocal Performance, Female & Best Country Song |
| 1984 | "Islands in the Stream" (with Kenny Rogers) | American Music Awards | Favorite Country Song |
| 1988 | Trio (with Emmylou Harris and Linda Ronstadt) | Grammy Awards | Best Country Vocal Performance by a Duo or Group |
| 2000 | "After the Gold Rush" (with Emmylou Harris and Linda Ronstadt) | Grammy Awards | Best Country Vocal Collaboration |
| 2001 | The Grass Is Blue | Grammy Awards | Best Bluegrass Album |
| 2002 | "Shine" | Grammy Awards | Best Female Country Vocal Performance |
| 2011 | Dolly Parton | Grammy Awards | Grammy Lifetime Achievement Award |
| 2017 | "Jolene" (with Pentatonix) | Grammy Awards | Best Country Duo/Group Performance |
| 2020 | "God Only Knows" (with For King & Country) | Grammy Awards | Best Contemporary Christian Music Performance/Song |
| 2021 | "There Was Jesus" (with Zach Williams) | Grammy Awards | Best Contemporary Christian Music Performance/Song |
Concert Tours
| | |
| --- | --- |
| Tour Name | Tour Date |
| Halos & Horns Tour | July 2002 – December 2002 |
| Hello, I'm Dolly Tour | October 2004 – December 2004 |
| The Vintage Tour | August 2005 – December 2005 |
| An Evening with Dolly Parton | November 2006 – May 2007 |
| Backwoods Barbie Tour | March 2008 – November 2008 |
| Better Day World Tour | July 2011 – December 2011 |
| Blue Smoke World Tour | January 2014 – July 2014 |
| Pure & Simple Tour | June 2016 – December 2016 |