Dr. Dre is Worth $550 Million
| | |
| --- | --- |
| Name | Dr. Dre |
| Other Name(s) | André Romelle Young |
| Net Worth | $550 Million |
| Birthday | February 18th 1965 |
| Birth Place | Los Angeles, California |
| Star Sign | Aquarius |
| Height | 6ft (185cm) |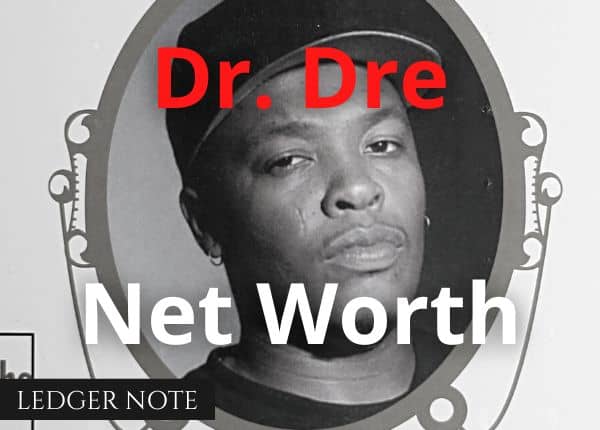 If there was ever to be a Mount Rushmore of US hip-hop, we think that there's a reasonable argument to make that Dr. Dre should be carved right up there in stone.
From his emergence in the 1980s as a popular hip-hop DJ in South Central Los Angeles, and a member of the World Class Wreckin' Cru, through to his more recent status as one of the elder statesmen of American entertainment, Dre's career has kept him at the forefront of popular culture for the better part of forty years. This is a man who, as a rapper and producer of rare skill, has helped to launch and sustain the careers of, among others, Ice Cube, Snoop Dogg and Eminem, as well as helping to define the sound and direction of the entire subgenre of gangsta rap.
With all that said, and we haven't even got to his high-profile business moves of the last few years, there's no surprise that he features in our list of the richest rappers in the world. So we figured it's time for a closer look at Dr. Dre's net worth.
How Much is Dr. Dre Worth?
Dr. Dre is widely reported to be worth $550 million, despite the famous leaked video clip in which R&B singer Tyrese Gibson claims that Dre is hip-hop's first billionaire as a result of Apple's mega-deal to purchase Beats Electronics.
It should be noted that official documents filed during divorce proceedings in late 2021 put Dre's net worth at $458.2 million, and further that his stake at the time of the Beats Electronics deal was $800 million. Despite the vast difference between these two figures, there remains no clear explanation for the discrepancy.
How Much Does Dr. Dre Make From Music?
Considering Dre has had a hand in forming two record labels, Death Row Records, which represented Snoop Dogg and 2Pac among others, and Aftermath Entertainment, which houses Eminem, Kendrick Lamar and Anderson .Paak, his music wealth is understandably significant.
That's leaving aside his own recording career, which includes three all-time classics in 1988's 'Straight Outta Compton' (with N.W.A.), 1992's 'The Chronic', and 1999's '2001'. And we haven't even got to his production credits outside of those three, but suffice to say, it's extensive.
It's been reported that, between 2007 and 2018 alone, his music revenue sat somewhere around the $990 million mark.
Trivia: Interestingly, despite its huge scope and potential for lucrative returns due to its viral impact, Dr. Dre was not paid for his Super Bowl LVI Halftime Show performance. This is actually true of all Super Bowl Halftime performers, although the organizers do partially cover expenses and production costs.
How Much are Dr. Dre's Business Ventures Worth?
For this particular question, there's only one place to look, and yes, it might have something to do with his enterprise, Beats Electronics, and some tech company called Apple. It did not necessarily seem like a massive deal back in 2006, when Dre teamed up with fellow producer and label boss Jimmy Iovine to form an electronics company and start hawking luxury headphones. Although with two such high-profile people in the industry involved, it did of course draw attention, and continued to do so over the following eight years. At which point, in May of 2014, Apple made an almighty splash when they purchased Beat Electronics for $3 billion dollars.
As detailed by the excellent, and highly recommended, Netflix documentary The Defiant Ones, the deal was absolutely huge, not just for the people involved, but for the wider culture that they represented, especially in the case of Dr. Dre. While we have already referenced the video released ahead of the official announcement of the deal, wherein Tyrese Gibson proclaimed Dre as hip-hop's first billionaire, there is a good reason it went viral. Rarely do corporate mergers capture the public's attention or become as box-office as this. This one deal reportedly made Dre $400 million.
Trivia: In a nice twist, considering how the story ended for Dre and Iovine, the genesis of Beats Electronics, according to Iovine, was Dre's distaste at the idea of people listening to his music through Apple's low-quality stock headphones. This was during a time when the iPod's popularity proliferated amongst consumers.
What Other Assets Does Dr. Dre Own?
According to further legal documents that were made available through Dre's divorce from Nicole Young, Dr. Dre owns $6.2 million in stocks and bonds, after selling a percentage of his Apple stock in 2021 for over $73 million.
He also put his home in Woodland Hills, Los Angeles on the market for $5.25 million in 2019, five years after reportedly buying Tom Brady and Gisele Bundchen's Brentwood mansion for $40 million in 2014.
Trivia: The relationship between Eminem and Dr. Dre goes back a long way, and has been extremely beneficial to both men, a fact highlighted by the Bentley Continental GT than Eminem bought for Dre back in 2002.
Personal Life
Unfortunately for the good doctor, his public persona, and indeed his finances have taken a hit because of his high-profile, acrimonious, and very expensive divorce from Nicole Young. Among many other things, it is partly centered around a dispute about Young's living expenses, which her lawyers suggest that Dre should be responsible for paying moving forward. While Dre's legal team maintains that Young's living expenses are worth $300,000, Young's attorneys are pushing for $2 million.
Trivia: In other family matters that surely take up a lot of Dre's finances, the West Coast mogul has nine children.
So, that's that. Dr. Dre's finances are indicative of a man who has been at the top of the game for almost forty years at this point, and someone who has always had the confidence to venture into new endeavors in order to stay relevant in a fast moving industry. If you've enjoyed this and are in the mood for more, take a look at our list of the best hip-hop producers of all time.
Selected Discography
| | | |
| --- | --- | --- |
| Work | Release Date | U.S. Sales |
| The Chronic | December 15, 1992 | 5,800,000 |
| 2001 | November 16, 1999 | 7,900,000 |
| Compton | August 7, 2015 | 560,000 |
Notable Award Wins
| | | | |
| --- | --- | --- | --- |
| Year | Nominee/Work | Award | Category |
| 1994 | "Let Me Ride" | Grammy Awards | Best Rap Solo Performance |
| 2001 | "Forgot About Dre" (with Eminem) | Grammy Awards | Best Rap Performance by a Duo or Group |
| 2002 | Dr. Dre | Grammy Awards | Producer of the Year, Non-Classical |
| 2001 | The Marshall Mathers LP (as engineer) | Grammy Awards | Best Rap Album |
| 2010 | "Crack a Bottle" (with Eminem & 50 Cent) | Grammy Awards | Best Rap Performance by a Duo or Group |
| 2010 | Relapse (as engineer) | Grammy Awards | Best Rap Album |
| 2014 | Dr. Dre | BET Hip Hop Awards | Hustler of the Year |
Concert Tours
| | |
| --- | --- |
| Tour Name | Tour Date |
| Up in Smoke Tour | June 2000 – August 2000 |
| The Home & Home Tour (Guest Artist) | September 2010 |
| Bad Boy Family Reunion Tour (Guest Artist) | August 2016 – October 2016 |