Ed Sheeran Is Worth $210 Million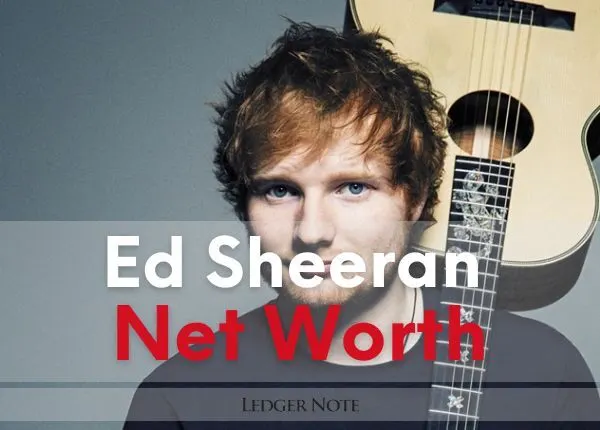 | | |
| --- | --- |
| Name | Ed Sheeran |
| Other Name | Edward Christopher Sheeran |
| Net Worth | $210 Million |
| Birthdate | February 17, 1991 in Halifax, England |
| Star Sign | Aquarius |
| Height | 5 ft 8 (173 cm) |
Early Life
Ed Sheeran was born on February 17, 1991 in Halifax, West Yorkshire, England. He grew up in Framlingham, Suffolk, with his parents and siblings. Sheeran has two siblings: a younger brother named Matthew and a older brother named Henry. Sheeran's parents, John and Imogen, are both art historians and his paternal grandparents are Irish. Sheeran attended Thomas Mills High School in Framlingham, where he studied music and drama. He began playing guitar and writing songs at a young age, and his talent for music quickly became apparent.
As a child, he always suffered from an uncomfortable stutter in his speech before he started rapping along to Eminem's Marshall Mathers LP, which made this stutter disappear. "He raps very fast and very melodically and very percussively and it helped me get rid of my stutter", he said.
Trivia: In 2017, Ed Sheeran made the cut for Time's 100 Most Influential People list and even got a tribute from close friend Taylor Swift, who once told him he would win a Grammy when he didn't believe so himself.
How Much Does Ed Sheeran Make Through His Music?
When your songs top charts like Ed Sheeran's do, they're likely to lead to some nice paychecks. In total, he has released four studio albums, one collaboration album, 18 singles and 71 music videos. The humble ginger man broke a record for having the most streamed song on Spotify. That song is, you guessed it, "Shape of You". This track topped our list of Most-Streamed Songs of All Time ahead of "Blinding Lights" by the Weeknd and "Dance Monkey" by Tones and I. The music video for this song, on the other hand, ranked at #2 on our list of Top 10 Most Viewed Music Videos in 2022.
Sheeran is the most-streamed artist on Spotify, beating the likes of the Weeknd and Justin Bieber. He was also the first artist ever to have more than 100,000,000 followers on Spotify. To celebrate this achievement, the streaming service sent him a T-shirt that says "Ask me about my 100 million Spotify followers". In a short video, he said: "Absolutely mental. So I just hit 100 million followers on Spotify and Spotify has sent me this T-shirt. So I'm going to walk around the stadium and ask people to ask me about my 100 million followers." With 38.5 billion streams, he ranked third on our list of Top 10 Most Streamed Artists Ever, just behind Drake and Bad Bunny. As most of Ed's songs on Spotify have more than 1 billion views, and he has almost 80 million monthly listeners, he earns an average $9 million per song.
Those are not the only records he's broken, though. In 2019, the tour for his album Divide beat out U2 for the highest-grossing tour of all time, raking in a whopping $775.6 million after he sold 8.9 million tickets to fans around the world. It would be an understatement to call Divide a commercial success; in fact, it was so successful that it contributed to a 58% increase in streaming revenue for Warner Bros, the label behind the hitmaker. The year before the album's release, Warner Bros earned $900M per year from streaming revenues, a number that went up to $1.3 billion following the release of Divide.
Trivia: Ed Sheeran is a massive fan of "Buffy the Vampire Slayer", and he was once even sent a special video message by Sarah Michelle Gellar, who congratulated him on a new song he released.
How Much Are Ed Sheeran's Businesses & Investments Worth?
Ed Sheeran was once a homeless, broke artist, so he understands the struggles of trying to make it in the music industry. In 2015, he launched Gingerbread Man Records, making Jamie Lawson, who toured with Ed in the past, the first artist to sign to the label.
Ed Sheeran loves the clothing line Hoax, and showing just how generous he is, he didn't just invest in the brand but also promoted it as heavily as he could at shows and public appearances. "Ed is a huge fan of Hoax's stuff and has been wearing their clothes since he was a little boy. He knows the guys at the company and wanted to help them out as much as he could so he has invested in their business," a source close to Ed told The Sun. "Now he is wearing the brand during as many promo appearances and performances as he can to get their name out there."
In 2021, Ed Sheeran went into business with artist Johnny McDaid, a good friend and member of Snow Patrol. The two decided to bring their songwriting skills together, launching McShaid Limited, a company focused on producing and writing music. It's not exactly clear how much the company is worth, but with such skilled and talented songwriters, it has the potential to earn millions.
Trivia: As a young, broke musician, Ed Sheeran used to sleep on the subway in London as soon as it opened because he didn't have a place to stay. In a book he wrote called A Visual Journey, he says: "I spent about a week catching up on sleep on the Circle Line".
What Assets Does Ed Sheeran Own?
Ed Sheeran's property in his hometown of Suffolk is so large that locals have dubbed it "Sheeranville". The superstar first bought the main house on his estate in 2012 for £895,000 before buying the home right next to it for £450,000. To continue jazzing up his estate, he also bought a bungalow in front of his new home for £525,000. Ed has made a number of improvements to his home, and one would guess that most of his time is spent in his underground studio and music room. However, he does spend some time at the local pub down the street, engaging with locals who call him "the most down to Earth guy you can imagine."
RELATED: The 10 Most-Watched Music Videos
Sheeran also likes spending time in the capital in his £19.8 million mansion in Notting Hill. As neighbors often complained about loud noises, when the properties around his home freed up, Ed spent 4 million to buy them up in order never to have to deal with noise complaints again. The hitmaker likes to have capital tied up in real estate; in total, he owns 22 different properties at the cost of £47 million.
While on tour in Hamburg promoting his album, Ed bought himself a Hublot Big Bang, a watch that he wore for two years on the road. His obsession for watches, however, came when he was offered a Patek Phillippe Nautilus for performing at a friend's daughter's Bat Mitzvah. Ed now has quite the watch collection, including a Rolex Daytona, a Patek Phillipe 5004 Grand Complication, and even some from obscure brands such as Sturmanskie Gagarin Vintage from Russia.
Trivia: Ed Sheeran was once ranked number one on GQ's Worst Dressed Man of the Year list, and he was proud. "I got voted worst dressed in 2012's GQ so I've been trying to keep it up. I got worst dressed at the Billboard Awards as well."
Personal Life
Ed Sheeran has been married to Cherry Seaborn since 2018, a woman he has known since high school but with whom he reconnected in New York City in 2015. Notorious for preferring to keep their private life under wraps, the two got hitched in a small ceremony with only 40 guests. Before that, he was in relationships with a number of different celebrities, including Nicole Scherzinger, Francesca Eastwood and Barbara Palvin. Seaborn gave birth to a baby girl called Lyra Antarctica in 2020, but we don't know much else.
Selected Discography
| | | |
| --- | --- | --- |
| Work | Release Date | U.S. Sales |
| + | September 9, 2011 | 1,210,000 |
| x | June 23, 2014 | 2,170,000 |
| ÷ | March 3, 2017 | 1,534,000 |
| No.6 Collaborations Project | July 12, 2019 | 251,000 |
| = | October 29, 2021 | 68,000 |
Notable Award Wins
| | | | |
| --- | --- | --- | --- |
| Year | Nominee/Work | Award | Category |
| 2015 | Ed Sheeran | American Music Awards | Favorite Pop/Rock Male Artist |
| 2016 | "Thinking Out Loud" | Grammy Award | Song of the Year & Best Pop Solo Performance |
| 2018 | Ed Sheeran | Billboard Music Award | Top Song Sales Artist & Top Radio Songs Artist |
| 2018 | "Shape of You" | Billboard Music Award | Top Radio Song |
| 2018 | "Shape of You" | Grammy Award | Best Pop Solo Performance |
| 2018 | ÷ | Grammy Award | Best Pop Vocal Album |
| 2019 | Ed Sheeran | Billboard Music Award | Top Touring Artist |
Concert Tours
| | |
| --- | --- |
| Tour Name | Tour Date |
| + Tour | October 2011 – November 2013 |
| +–=÷× Tour | April 2022 – September 2023 |
| ÷ Tour | March 2017 – August 2019 |
| x Tour (Ed Sheeran) | August 2014 – December 2015 |