Elton John is worth $540 Million
| | |
| --- | --- |
| Name | Sir Elton Hercules John CH CBE |
| Other Name(s) | Reginal Kenneth Dwight |
| Net Worth | $540 Million |
| Birthday | March 25 1967 in Pinner, UK |
| Star Sign | Aries |
| Height | 5ft 6 ½ (168.9 cm) |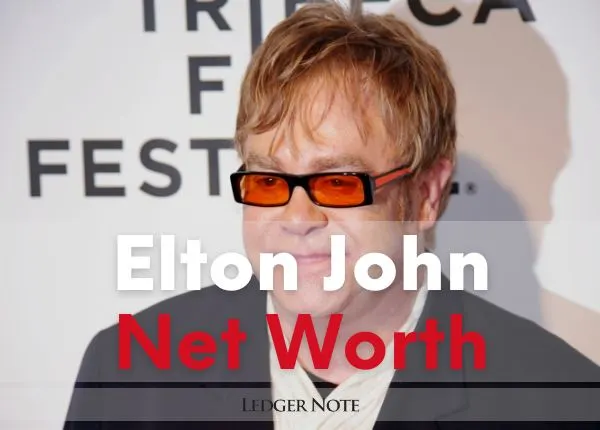 With such a huge figure in popular music for over fifty years, it's no surprise that we've written about Elton John before, and he pops up in our rundowns of the best-selling artists, richest rock stars in the world and, for our money, he wrote one of the best songs of all time to boot. From glam rock excess, to the incomparable Lion King soundtrack, through advancing same-sex rights, to his status as Britain and the US favorite, if occasionally slightly embarrassing, Uncle, there's so much to say and admire about the man. We're here today, however, to take a closer look at Elton John's net worth, so put on your largest jewel-encrusted sunglasses and dive in with us.
What is Elton John's Net Worth?
Perhaps unsurprisingly, considering the career highlights we've already outlined for you, Elton John is a seriously wealthy artist, worth $540 million. Having begun his recording career with songwriting partner Bernie Taupin in 1968 and released his first US album way back in 1970, there's no denying that he's had plenty of time to put his fortune together.
Trivia: Elton John, who was born Reginald Kenneth Dwight, officially changed his name in honor of the saxophonist Elton Dean and the singer Long John Baldry from his first band, Bluesology.
What Does Elton John Make From Music?
John's hard-earned reputation as a performer and pop-music legend has seen him achieve things that stand up against almost anyone else you could care to think of. Showing an admirable dedication to his craft, he has recorded prolifically throughout his career, with 31 studio albums along with dozens of live recordings, compilations and soundtracks to his name. He is also almost unparalleled when it comes to sales. He has over sixty RIAA classification awards, including a rare diamond award for Goodbye Yellow Brick Road, and the most successful pop single of all time, with 1997's reworked version of Candle in the Wind selling over 30 million copies, to his name.
Unsurprisingly, for such a popular artist, he has a massive draw as a live performer that has endured throughout his career. Taking cues from performers such as Elvis, Cher and Rod Stewart, Elton John had a long-running concert residency in Las Vegas which, by the time it ended in 2017, was pulling in $500,000 a night. Never one to do things by half, John also began the very definition, of a mammoth tour back in 2018 to mark his retirement, which is still ongoing, taking in over 300 dates across five continents. Proving that this is not grandstanding for the sake of it, it was announced that the first 60 dates of his Farewell Yellow Brick Road tour sold out. With Forbes reporting that the Rocket Man grosses $1.4 million per tour stop, the tour was set to be worth around $400 million. While the coronavirus pandemic obviously affected the schedule, John returned to the road when it was safe to.
It is not only in traditional areas that Elton John continues to excel, with a reported forty-seven million monthly streams on Spotify alone bringing in somewhere in the region of $3 million.
Trivia: Although he is much better known as the Rocket Man, especially since one of his best-known songs gave its title to the 2019 biopic, he could also lay claim to being the Pinball Wizard, after recording a cover of The Who's song for the 1975 rock opera, Tommy.
How Much Are Elton John's Businesses and Investments Worth?
When it comes to business ventures and investments outside music, it seems that Elton John has kept pretty quiet throughout his career, with one very notable exception. We are, of course, referring to his position as lifelong president of his boyhood soccer club, Watford FC, which he initially bought outright in 1976, and has remained on the board ever since.
Now when it comes to determining a club's outright worth it can be tricky, but there are generally three big indicators to pay attention to. The first is the club's annual turnover, which according to the most recent available figures, stands at around $65 million. The second is the value of the playing squad, which is effectively considered as a group of saleable assets, which currently stands at around $113 million. The third is the annual wage budget set aside for the playing staff, which indicates the level of active investment in the team, currently $46 million annually.
While John's active financial involvement is hard to gauge, as well as what return he might expect, it is well known that English soccer is an especially fruitful business to be involved in.
Elsewhere, Elton John is a noted investor in Qloo, a tech startup that analyses consumer taste patterns in order to help businesses profile and reach potential markets, which is currently valued at $60-90 million.
Trivia: Elton John invested heavily to increase Watford FC's sporting profile, stewarding them through multiple promotions not once, but twice. He initially sold his stake in the club in 1990, only to buy it back in 1997.
What Other Assets Does Elton John Own?
Anyone with even a passing familiarity with Elton John's flamboyant stage shows and elaborate costumes over the years will not be surprised to learn of his expensive tastes. Perhaps most notable has been his approach to buying and developing lavish properties, ranging from his Windsor estate, bought not long after the release of Goodbye Yellow Brick Road for the equivalent of $5.2 million, via a 1920's villa in Nice, France, to not one, but two Beverly Hills mansions.
Also, although it is de rigueur for wealthy musicians to own car collections, and John is no slouch in this regard, he also owns a Bombardier Global Express private jet estimated to be worth $22 to $36 million.
Trivia: John is not a man to shy away from a collection when he takes a liking to something, he claims to own 250,000 pairs of sunglasses.
Elton John's Private Life
Away, although not entirely separate, from his career in music and legendary spending habits, Elton John is a fiercely vocal advocate for LGBT+ rights. He was at the forefront of the campaign for civil partnerships in the UK, which preceded legalizing same-sex marriage and indeed one of the first high-profile such ceremonies was his own with long-time partner David Furnish. He also set up the Elton John AIDS Foundation in 1992, one of the leading independent AIDS organizations in the world, with the stated aim of being a powerful force at the end of the AIDS epidemic.
Despite the flamboyance associated with his career as a performer, John is much more reserved about his family life, which he has shared with Furnish since 1993, and their two children, Zachary and Elijah.
Trivia: Before David Furnish, Elton John married two women: his secretary Lisa Woodrow in the late 1960s and recording engineer Renate Blauel in 1984.
Here at Ledger Note, we find things are a little more straightforward if you follow the numbers, they have a way of framing the conversation and backing or even making a point for you. We're also, and we hope this goes without saying, massive music fans. So, when it comes to the select few who have been there, done that, sold that and kept themselves relevant in the industry for an extended period of time, we tend to nerd out a little, which brings us squarely to the Rocket Man himself, Elton John. After all, how many people do we get to talk about who can call themselves a knight of the realm, a commander of the British Empire and a Companion of Honour, all because of their services to music?
So, there we have it. A singular performer, one of the most highly recognized and decorated performers in the history of music, and a completely fascinating man as well, we hope you agree. With such a cornerstone of Western popular culture, there's so much more that could be said, but at the very least we now have a much better idea about what makes up Elton John's net worth.
Selected Discography
| | | |
| --- | --- | --- |
| Work | Release Date | U.S. Sales |
| Goodbye Yellow Brick Road | October 5, 1973 | 8,000,000 |
| Don't Shoot Me I`M Only The Piano Player | January 22, 1973 | 3,000,000 |
| Captain Fantastic & The Brown Dirt Cowboy | May 19, 1975 | 3,000,000 |
| Sleeping With The Past | August 29, 1989 | 1,000,000 |
| The Very Best Of Elton John | October 1, 1990 | 1,000,000 |
| The One | June 22, 1992 | 2,000,000 |
| Love Songs | November 6, 1995 | 3,000,000 |
| Made In England | March 17, 1995 | 1,000,000 |
| Rocket Man – Number Ones | March 26, 2007 | 3,000,000 |
| Diamonds | November 10, 2017 | 2,272,000 |
Notable Award Wins
| | | | |
| --- | --- | --- | --- |
| Year | Nominee/Work | Award | Category |
| 1987 | "That's What Friends Are For" | Grammy Awards | Best Pop Performance by a Duo or Group with Vocal |
| 1992 | "Basque" | Grammy Awards | Best Instrumental Composition |
| 1994 | "Can You Feel the Love Tonight", The Lion King | Academy Awards | Best Original Song |
| 1995 | "Can You Feel the Love Tonight", The Lion King | Grammy Awards | Best Male Pop Vocal Performance |
| 1998 | "Candle in the Wind 1997" | Grammy Awards | Best Male Pop Vocal Performance |
| 1999 | Elton John | Grammy Awards | Grammy Award Legend |
| 2001 | Elton John & Tim Rice's Aida | Grammy Awards | Best Musical Show Album |
| 2019 | "(I'm Gonna) Love Me Again", Rocketman | Academy Awards | Best Original Song |
Selected Concert Tours
| | |
| --- | --- |
| Tour Name | Tour Date |
| All the Hits Tour (Elton John) | January 15 – December 2015 |
| Breaking Hearts Tour | August 1984 – November 1984 |
| The Captain and the Kid Tour | September 2006 – January 2008 |
| The Diving Board Tour | November 2013 – February 2014 |
| Elton John 2010 European Tour | May 2010 – June 2010 |
| Face to Face 2010 | February 2010 – March 2010 |
| Farewell Yellow Brick Road | September 2018 – July 2023 |
| The Final Curtain Tour | August 2015 – October 2015 |
| Ice on Fire Tour | November 1985 – October 1986 |
| Jump Up Tour | March 1982 – October 1983 |
| Louder Than Concorde Tour | April 1976 – August 1976 |
| Made in England Tour | May 1995 – November 1995 |
| The One Tour | May 1992 – June 1993 |
| Peachtree Road Tour | November 2004 – December 2005 |
| Rock of the Westies Tour | September 1975 – October 1975 |
| Sleeping with the Past Tour | July 1989 – May 1990 |
| The Union Tour | October 2010 – November 2010 |