Eminem is Worth $230 million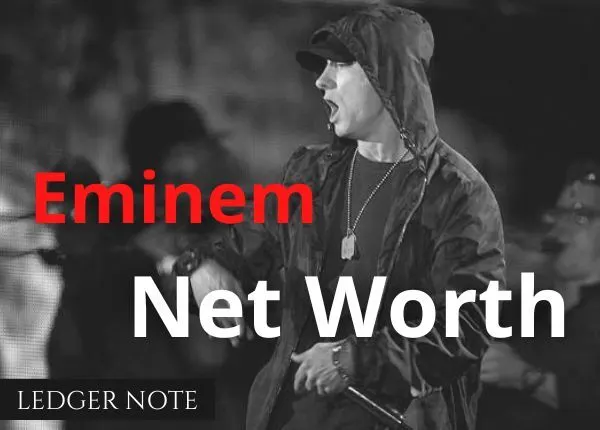 | | |
| --- | --- |
| Name | Eminem |
| Other Names | Marshall Bruce Mathers III, Slim Shady, MC Double M, M&M |
| Birthday | October 17, 1972 |
| Birthplace | St. Joseph, Missouri, U.S. |
| Star Sign | Libra |
| Height | 5 foot 8 (173 cm) |
Early Life
Eminem had a difficult childhood marked by poverty and allegations of abuse. He was raised in a primarily African-American neighborhood on the east side of Detroit, Michigan. Eminem's father, Marshall Mathers Jr., abandoned the family when Eminem was just a baby, and he was raised primarily by his mother, Debbie Nelson Mathers-Briggs. He was bullied in school, and his home life was often tumultuous. His mother worked several low-paying jobs to support the family, and they often struggled to make ends meet. By the age of 14, he had begun to rap in clubs in Detroit, Michigan, and committed himself entirely to music following his decision to drop out of school after he was held back in the ninth grade for the third consecutive year.
Trivia: Eminem wanted to be a comic book artist before pursuing a rap career
How Much Does Eminem Make Through His Music?
Eminem is one of the bestselling artists of all time with a total of 15 albums. His combined music sales include over 42 million tracks and 49.1 million albums sold in the U.S. alone, as well as 100 million albums worldwide.
Not only does Eminem rank highly in record sales but he is also a prominent artist on Spotify with 53 million monthly listeners, making him the eighth-most-streamed artist on Spotify. The streaming giant could be paying him more than $10M on an annual basis. And it's easy to see why, with smash hits such as The Real Slim Shady racking up over one billion streams.
All of this success has resulted in Eminem making $20 million in a single year. In the years that he goes on tour, his income is closer to $30 million-50 million. 2019 was one of his most profitable years, with his income being calculated at $50 million.
His most commercially successful tour — the "Monster" tour with Rihanna in 2015 — earned the rapper over $36 million.
Such sales come off the back of his musical talent, recognized through his 15 Grammy wins and 44 nominations. His first major award came in the form of Best Rap Solo Performance for his song "My Name Is". He has since performed four times at the Grammy Awards between 2001 and 2011, including a collaboration with Elton John at the 43rd Grammy Awards on the duet "Stan".
And the impressive nature of Eminem's career doesn't stop there. With 73.5 million new certified units, Eminem is now the #1 singles artist in gold and platinum history with over 166 million certifications for his singles, and 61.5 million certifications for his album sales.
Trivia: Eminem was the first artist to have 10 consecutive No. 1 debuts on the Billboard 200.
How Much Are Eminem's Businesses And Investments worth?
Eminem owns a charitable organization and invests considerable sums of his own money into it. The Marshall Mathers Foundation is dedicated to providing help to at-risk and disadvantaged youth in Detroit.
As well as his charitable projects, Eminem also jointly owns a restaurant called Mom's Spaghetti, which opened in late September 2021 and is the permanent realization of a 2017 pop-up shop.
Eminem is no stranger to business and his record label, Shady Records, has represented some of the biggest musicians in the world. 50 Cent was signed to the label from 2002 to 2014 and released five albums, including his debut album Get Rich or Die Tryin', which reportedly brought millions to the label.
Alongside his own record label, Eminem has invested in lyric generating website Genius and is now part of an exclusive group of famous investors, including Nas and Pharrell, who have helped attract roughly $60 million in investments for Genius since 2011.
And finally, although not quite a business, Eminem has invested in his acting career by starring in the biographical movie "8 Mile", which brought in a total of $54.5 million during its opening weekend and grossed over $240 million in total.
Trivia: During the pandemic, Eminem's restaurant delivered meals to frontline medical workers.
What Assets Does Eminem Own?
Eminem has made several investments in the NFT world, including purchasing a Bored Ape Yacht Club NFT for 123.45 ETH, the equivalent of almost $500,000. The NFT, bought in January 2022, is part of his collection of 22. And his interest in the world of NFTs goes further.
Not only is he interested in the NFT marketplace for himself, but he has also invested in the NFT buying and selling market MakersPlace. As of 2021, the company had amassed over $40 million in funding from investors, including Eminem and Sony Music Entertainment.
Aside from business, Eminem has invested in property, most notably his Rochester Hills estate in Michigan, which he bought for $4.8 million in 2003 and has now put on the market for $2 million, meaning Eminem will take a hit of at least $2.8 million. But that doesn't seem to bother the rapper who instead lives primarily in his home in Clinton Township in the neighboring county.
He also boasts a very large car collection with at least 12 luxury sports cars, including a 2004 Porsche Carrera GT, and an Aston Martin V8 Vantage. His car collection is estimated to be worth more than $2.5 million.
Trivia: Eminem's Rochester Hills estate includes a "wild game room"!
Thanks to Eminem's massive success and sales he is a certified music legend and his career has placed him at #6 in the list of top 10 bestselling artists of all time.
Selected Discography
| | | | |
| --- | --- | --- | --- |
| Work | Release Date | Form | U.S. Sales |
| Infinite | November 12, 1996 | Studio LP | 1,000 |
| The Slim Shady LP | February 23, 1999 | Studio LP | 5,433,000 |
| The Marshall Mathers LP | May 23, 2000 | Studio LP | 11,000,000 |
| The Eminem Show | May 26, 2002 | Studio LP | 10,600,000 |
| Encore | November 12, 2004 | Studio LP | 5,343,000 |
| Relapse | May 15, 2009 | Studio LP | 2,363,000 |
| Recovery | June 18, 2010 | Studio LP | 4,867,000 |
| The Marshall Mathers LP 2 | November 5, 2013 | Studio LP | 2,244,000 |
| Revival | December 15, 2017 | Studio LP | 435,000 |
| Kamikaze | August 31, 2018 | Studio LP | 493,000 |
| Music to Be Murdered By | January 17, 2020 | Studio LP | 1,100,000 |
Notable Award Wins
| | | | |
| --- | --- | --- | --- |
| Year | Nominee/Work | Award | Category |
| 2003 | Lose Yourself | Academy Award | Best Original Song |
| 2003 | Eminem | American Music Awards | Favorite Hip-Hop/R&B Male Artist & Favorite Pop/Rock Male Artist |
| 2003 | The Eminem Show | American Music Awards | Favorite Hip-Hop/R&B Album & Favorite Pop/Rock Album |
| 2006 | Eminem | American Music Awards | Favorite Rap/Hip-Hop Male Artist |
| 2010 | Recovery | American Music Awards | Favorite Rap/Hip-Hop Album |
| 2010 | Eminem | BET Hip Hop Awards | Lyricist of the Year |
| 2011 | Recovery | Billboard Music Awards | Top Rap Album |
| 2014 | The Marshall Mathers LP 2 | Billboard Music Awards | Top Rap Album |
| 2014 | Eminem | Billboard Music Awards | Top Rap Artist |
Concert Tours
| | |
| --- | --- |
| Tour Name | Tour Date |
| Anger Management Tour | October 2000 – August 2005 |
| The Home & Home Tour | September 2010 – September 2010 |
| The Monster Tour | August 2014 – August 2014 |
| Rapture Tour | February 2014 – July 2014 |
| The Recovery Tour | July 2010 – August 2013 |