Future is Worth $70 Million
| | |
| --- | --- |
| Name | Future |
| Other Name | Nayvadius DeMun Wilburn |
| Net Worth | $70 Million |
| Birthdate | November 20, 1983 in Atlanta, GA |
| Star Sign | Scorpio |
| Height | 6 ft 2 (187 cm) |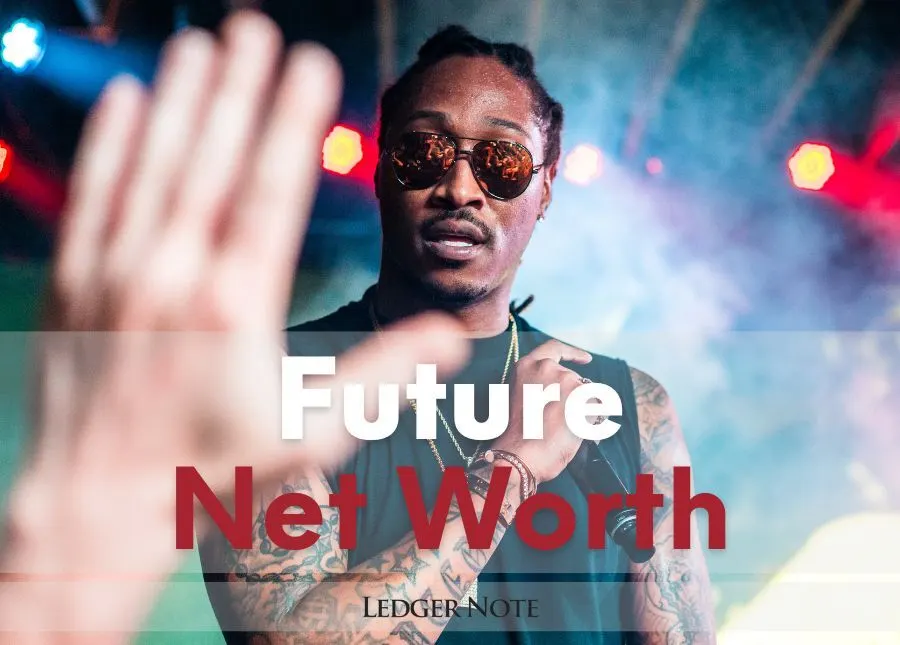 When talking about the best and most influential music artists in the rap game, Future might not be the first that comes to mind, but he must be a part of the conversation. From his early days as a member of the Dungeon Family collective to paving the path to a new subgenre of hip hop, Future has continuously refined his craft.
The rapper is no stranger to the industry, with a career that dates back to the early 2000s. Having amassed numerous albums that topped the Billboard charts and highly acclaimed features with the hottest artists in music, Future has secured his spot in the history books – and he's raking in the cash while doing so.
How Much is Future Worth?
Future's net worth is $70 Million. Though this doesn't place him on this year's list of richest rappers in the world, it does show the scope of his success through touring, streaming, features, and endorsement deals.
How Much Money Does Future Make from His Music?
From 2016 to 2017, we estimate future grossed $19 million, most of which came from streams. This was largely because the rapper released two albums within one week of each other, and both claimed the #1 spot on the Billboard charts. Throughout this period, Future's songs were streamed three billion times.

The next couple of year were also incredibly profitable for Future as he brought in $25 million, thanks to touring, streaming royalties and brand partnerships. Future is said to charge a hefty $40,000 a feature, and he's got quite the discography of chart-toppers that includes collaborations with artists like Taylor Swift, Drake, Travis Scott, Kendrick Lamar, Rihanna, Meek Mill, and more.
The rapper, who is widely regarded as the founder of mumble rap and an influential figure in creating the distinguishable sound of trap music, has also suggested he charges $1 million for live performances. In September, Future reportedly sold his publishing catalog, which included 612 titles from 2004 to 2020, to Influence Media Partners in an eight-figure deal. In 2022, the Recording Industry Association of America (RIAA) declared that Future's ninth studio album I Never Liked You went gold. The record also took the #1 spot on the Billboard Hot 100 chart.
Trivia: In July, the RIAA recognized Future for having 95 million units certified — one of the highest totals in the program's history — throughout his lengthy career. This accomplishment included nine albums and 68 individual songs.
How Much are Future's Business Ventures Worth?
Future has recently set his sights on becoming hip hop's next billionaire, and his money-making ventures reach beyond the music world. In an interview with GQ, the rapper expressed interest in both real estate and publishing as investments.

He also enjoys millions of dollars from partnerships and endorsement deals with notable brands like Nike and Rolex.
Trivia: While Future brings in money through numerous endorsement deals and seems to have his mind on future business plans, he still makes most of his money through his wildly high streaming numbers.
What Other Assets Does Future Own?
Future is reported to own five cars, 12 real estate properties, and cash reserves that are valued at over $8 million. He's also said to have an investment portfolio that includes nine stocks worth over $6 million. His car collection is said to include a $280,000 Porsche 911, a $300,000 Audi RS Q8, a Land Rover Defender, Alfa Romeo Giulia, Lamborghini Aventador, Rolls-Royce Ghost, Bentley Bentayga, and a Mercedes-Benz EQC.
Trivia: The rapper is one of several high-profile individuals, such as Snoop Dogg and Eminem, to own a Bored Ape Yacht Club NFT. He reportedly dropped 49 ETH, valued at $200,000, on BAYC #4672.
Future's Career Start and Personal Life
Future was born Nayvadius DeMun Wilburn on November 20, 1983, in Atlanta, Georgia, to real estate broker Stephanie Jester. He went on to attend Columbia High School in Decatur, Georgia. To stay off the streets, Future dabbled in music, and initially went by the stage name Meathead. He then teamed up with his cousin and present-day producer Rico Wade, and joined the Dungeon Family collective.
Future largely credits Wade for his decision to hone in on his mumble-rap style and witty penmanship, often using his personal life as the inspiration for his rhymes.
The rapper is known to be quite the flirt and has eight children with eight different women, one being his ex-fiancée, singer Ciara. The two were engaged from 2013 to 2014 but split due to the rapper's inability to remain faithful. Their son, Future Zahir Wilburn, was born in May 2014. In 2016, Ciara sued Future for defamation, libel, and slander, and asked for $15 million; Future counter-sued. However, a judge later ruled that the series of tweets that the rapper sent on which the case was based did not equate to the amount she was pursuing. In 2017, Ciara dropped the lawsuit, and Future also dropped his counter-suit once a judge ruled that he could have joint custody of their son.
Future also dated Lori Harvey from 2019 to 2020, with the two making headlines due to their 13-year age gap. Shortly after splitting with Harvey, the rapper started dating fellow music artist Dess Dior, born Destiny Bailey.
The two were still together as of January 2022 per an Instagram post, but it's rumored they have since split due to the fact that neither has mentioned the other on social media. However, Future shared that he had downloaded Dior's new album in a screenshot posted to his IG Story, leading the rumor mill to churn as many wondered whether the two had rekindled.
Trivia: Future has a total of 31 tattoos; most of them represent something or someone significant in his life.
Selected Discography
| | | |
| --- | --- | --- |
| Work | Release Date | U.S. Sales |
| Pluto | April 17, 2012 | 500,000 |
| Honest | April 22, 2014 | 500,000 |
| DS2 | July 17, 2015 | 2,000,000 |
| Evol | February 6, 2016 | 1,000,000 |
| Future | February 17, 2017 | 1,000,000 |
| Hndrxx | February 24, 2017 | 500,000 |
| The Wizrd | January 18, 2019 | 500,000 |
| High Off Life | May 15, 2020 | 1,000,000 |
| I Never Liked You | April 29, 2022 | 500,000 |
Notable Award Wins
| | | | |
| --- | --- | --- | --- |
| Year | Nominee/Work | Award | Category |
| 2014 | 56 Nights | BET Hip Hop Awards | Best Mixtape |
| 2016 | Future and Drake | BET Awards | Best Group |
| 2019 | "King's Dead" (with Jay Rock, Kendrick Lamar, and James Blake) | Grammy Awards | Best Rap Performance |
| 2020 | "Life Is Good" (with Drake) | BET Hip Hop Awards | Best Hip Hop Video |
| 2022 | "Wait for U" (with Drake & Tems) | BET Hip Hop Awards | Best Collaboration |
Concert Tours
| | |
| --- | --- |
| Tour Name | Tour Date |
| Future Hndrxx Tour | 2017 |
| Legendary Nights Tour (with Meek Mill) | 2019 |
| Nobody Safe Tour | 2016 |
| Summer Sixteen Tour (with Drake) | 2016 |