Garth Brooks is Worth $430 Million
It's always important to keep up to date with who's who in the country music world and since we recently updated the list of top richest country singers, it's time to take a closer look at one of the top three country earners, Garth Brooks.
Garth Brooks is an American country singer originally from Oklahoma. The second-youngest of six children, Brooks grew up surrounded by music—you could often find him singing at family events. He moved on from living rooms to clubs and bars following his graduation from Oklahoma State University, where he earned a degree in advertising in 1984. From there, his career skyrocketed with music deals and massive chart success. His career has continued to flourish, selling more solo albums in the U.S. than anyone else… ever. Even crazier? He's got eight diamond-certified albums to his name. All these hit records have surely played a major role in his massive fortune, totaling 157 million albums sold worldwide, making him one of the bestselling artists of all time.
So, with such a stellar reputation and music career, how much is Garth Brooks worth?
| | |
| --- | --- |
| Name | Garth Brooks |
| Other Name | Troyal Garth Brooks |
| Net Worth | $430 million |
| Birthplace | Tulsa, Oklahoma, USA |
| Birthday | February 7, 1962 |
| Star Sign | Aquarius |
| Height | 6 ft (182 cm) |
| Relationship Status | Married to Trisha Yearwood |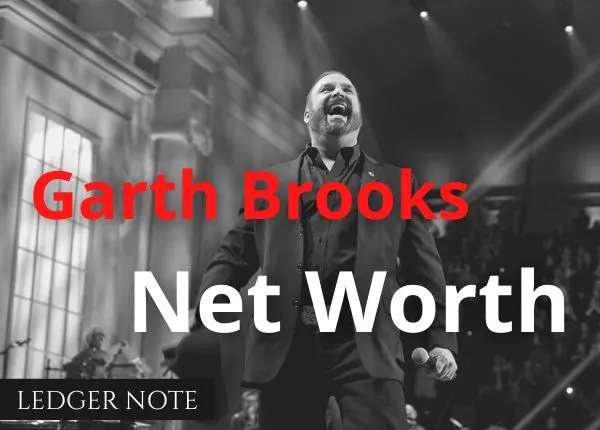 What is Garth Brooks's Net Worth?
Overall, Brooks has risen by three places in our ranking with an overall net worth of $430 million. This reflects a colossal increase of $70 million. Far from being an overnight success, Brooks amassed such a fortune over a career spanning 40 years, which started with the early success of his debut album, Garth Brooks. The album, which was released in 1989, peaked at #2 on the country music charts, and was propelled by sold-out live shows.
Far from being ONLY a music singer, Garth is also a businessman, and has raked in a ton of dough from endorsement deals and real estate. Oh, and let's not forget GhostTunes, his very own music store. So while he may be a country music star, he doesn't rely on solely his music to sustain him.
How Much Money has Garth Brooks Made Through Music?
Through his hybrid of rock 'n' roll and country music, Garth Brooks has achieved very high sales and is now one of the bestselling solo artists in the world, boasting over 170 million albums sold. He even ranks higher than the famous Dolly Parton in terms of music sales—a fact that may surprise some. Such an achievement has translated into annual earnings of $80 million at times.
The 1991 album Ropin' the Wind had Brooks stepping out of the country box, blending honky-tonk tunes with some good old-fashioned rock 'n' roll. Fans loved it—so much so that the album shot straight to the top of the Billboard pop chart and sold a massive 14 million copies. The success of this genre-bending album and the rest of Brooks's discography, which has blurred the line between several genres, has played a huge part in Brooks's financial success.
Garth Brooks is one of several notable artists, including Jay Z, who has chosen to withhold his entire music catalog from streaming giant Spotify, instead signing an exclusive deal with Amazon Music in 2016. His total music catalog, by the way, includes 16 studio albums, three compilation albums, two live albums, and 67 singles. He has also released seven box sets and 13 other charted songs.
In spite of his commitment to Amazon, Garth has stated his preference for radio over streaming. While his income from the Amazon deal is difficult to ascertain, his sales record is much more transparent and puts him close to the top of our best selling artists ranking of all time.
Garth Brooks's tours are just as impressive. He has toured five times, and has taken part in charitable performances besides. His first—the "Ropin' the Wind" tour (1991-92)—included 94 cities and 111 performances, drawing $17 million by December 1991.
His later tours, including the "Garth Brooks" world tour of 1996-98 and the more recent "Garth Brooks" stadium tour, which ran in 2019, have all contributed to over $771 million in earnings. The "Garth Brooks" world tour, which began in 2014 and ran until 2017, was the 14th-highest-grossing tour of all time and brought in total revenue of $364.3 million.
Trivia: Garth Brooks was making $1 million a concert during the second "Garth Brooks" world tour.
How Much are Garth Brooks's Business and Investments Worth?
Garth Brooks's assets took a major hit when he and his first wife, businesswoman Sandy Mahl, divorced in 1999. It was reported at the time that Brooks spent over $125 million on the divorce settlement, not to mention the legal fees involved.
Despite this, his comeback tour enabled him to bounce back both in terms of his career and his fortunes.
Garth Brooks used to have an extensive real estate portfolio, but in 2014 he sold his $3.5-million 14,089-square-foot French country-style home in Oklahoma following a promise he made to his wife Trisha to move back to Tennessee. He also sold their Malibu home for $7 million. He owns a 5,551-square-foot property near Nashville that sits on a massive 19.8-acre lot bought in 1990 for $432,500.
In 2019, it was rumored that Brooks had bought the Layby Hotel on Holmes Beach, Anna Maria Island, Florida, for $8.825 million.
More recently, in 2022, Brooks bought the 411 Broadway, previously the Downtown Sporting Club, in downtown Nashville, for just under $48 million, with plans to transform it into a classic honky-tonk bar.
Trivia: Garth Brooks sold then eventually bought back his 1993 maroon Chevy (the first truck he bought brand-new) at a charity auction.
Garth Brooks's Charitable Work
Brooks has never been one to hoard his wealth. He has invested heavily in charities, even founding the Teammates for Kids Foundation in 1999, which focuses on children's sports. He also supports Habitat for Humanity's work. The organization has provided more than $1 million in funding to help fund the rebuilding of homes in Thailand following the devastating tsunami.
Trivia: In order to raise money for those affected by the May 2010 Nashville disaster, Brooks performed nine gigs at Bridgestone Arena in the city in less than a week in December 2010. More than 140,000 tickets were purchased, raising $5 million.
Garth Brooks's Personal Life
Garth is on his second marriage. He first got hitched to his college girlfriend, Sandy Mahl, back in 1986. Fun Fact: He met Sandy at a bar where he was working as a bouncer! They went on to have three lovely daughters: Taylor, August, and Allie. However, their marriage ended in 2001. The pair remain amicable, however, as Garth realized (too late, it seemed) just how much of a toll his career had on his marriage and Sandy. The divorce would cost Garth considerably, though he always speaks of his former wife in the brightest of lights.
Garth would find love again—this time with fellow country star Trisha Yearwood. The singers tied the knot in 2005. Despite all their fame and success, they've managed to keep their relationship real and down-to-earth.
One thing's crystal clear about Garth: he's a family man through and through. He's even stepped away from his musical career at its peak to spend time with his daughters, which shows just how much he prioritizes family. Now all grown up, his girls Taylor, August, and Allie are hustling hard, living their own lives, and Allie is even following her dad's musical legacy.
Selected Discography
| | | |
| --- | --- | --- |
| Work | Release Date | U.S. Sales |
| Garth Brooks | April 12, 1989 | 10,000,000 |
| No Fences | August 27, 1990 | 18,000,000 |
| Ropin' the Wind | September 10, 1991 | 14,000,000 |
| Beyond the Season | August 25, 1992 | 3,000,000 |
| The Chase | September 14, 1992 | 10,000,000 |
| In Pieces | August 31, 1993 | 10,000,000 |
| Fresh Horses | November 21, 1995 | 8,000,000 |
| Sevens | November 25, 1997 | 10,000,000 |
| Garth Brooks in…the Life of Chris Gaines | September 28, 1999 | 2,000,000 |
| Garth Brooks & the Magic of Christmas | November 23, 1999 | 1,000,000 |
| Scarecrow | November 13, 2001 | 5,000,000 |
| The Lost Sessions | November 25, 2005 | 3,000,000 |
| Man Against Machine | November 11, 2014 | 1,000,000 |
| Gunslinger | November 25, 2016 | 1,000,000 |
| Fun | November 20, 2020 | 500,000 |
Notable Award Wins
| | | | |
| --- | --- | --- | --- |
| Year | Nominee/Work | Award | Category |
| 1991 | Garth Brooks | American Music Awards | Favorite Country Male Artist |
| 1991 | Ropin' the Wind | Grammy Awards | Best Male Country Vocal Performance |
| 1992 | No Fences | American Music Awards | Favorite Country Album |
| 1993 | The River | American Music Awards | Favorite Country Single |
| 1994 | In Pieces | American Music Awards | Favorite Country Album |
| 1996 | The Hits | American Music Awards | Favorite Country Album |
| 1997 | Sevens | American Music Awards | Favorite Country Album |
| 1997 | "n Another's Eyes (with Trisha Yearwood) | Grammy Awards | Best Country Collaboration with Vocals |
| 1998 | Garth Brooks | American Music Awards | Favorite Country Male Artist |
| 2002 | Garth Brooks | American Music Awards | Award of Merit |
| 2014 | Blame It All on My Roots: Five Decades of Influences | American Music Awards | Favorite Country Album |
Concert Tours
| | |
| --- | --- |
| Tour Name | Tour Date |
| Ropin' the Wind Tour | February 1991 – December 1992 |
| 1st The Garth Brooks World Tour | January 1993 – October 1994 |
| 2nd The Garth Brooks World Tour | March 1996 – November 1998 |
| 3rd The Garth Brooks World Tour | September 2014 – December 2017 |
| 4th The Garth Brooks World Tour | October 2018 – September 2022 |