James Hetfield's Net Worth is $300 Million
| | |
| --- | --- |
| Name | James Hetfield |
| Other Name | James Alan Hetfield |
| Net Worth | $300 Million |
| Birth Date | August 3, 1963 in Downey, CA |
| Star Sign | Leo |
| Height | 6ft (184 cm) |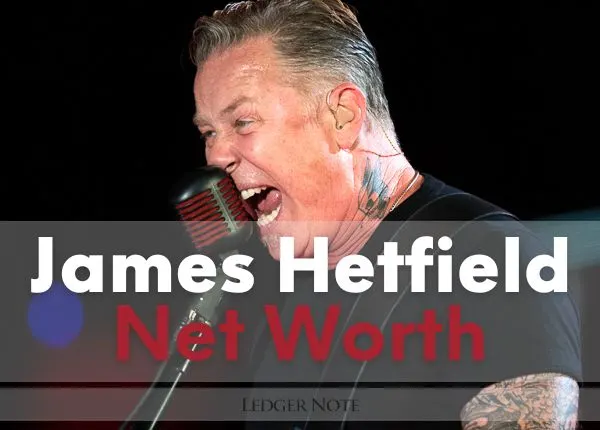 Since the formation of Metallica more than forty years ago, James Hetfield – frontman, rhythm guitarist and gravelly voice of the iconic thrash metal band – is arguably one of the most recognizable metal performers in the world. Over the years, Metallica has run the gamut from the sublime – the band reshaped the musical landscape of the 1980s through sustained excellence and force of will; to the ridiculous – the 2004 documentary Some Kind of Monster really needs to be seen to be believed.
Armed with a voice to launch a million mosh pits, an introspective lyrical focus that helped to move the genre past sword-and-sandals mysticism, and an almost belligerent commitment to riffing, Hetfield has remained remarkably grounded throughout his career.
Born to a truck driver and an opera singer, it is perhaps no surprise that Hetfield, who started his musical journey with piano lessons at the age of nine, has made a career of melding grit and artistry.
So, having covered some of his career highlights with our rundown of the ten best rock albums of all time and examined how he stacks up against the world's richest rock stars, we've gathered here today to take a closer look at James Hetfield's net worth, and how he's put it together.
What is James Hetfield worth?
James Hetfield is worth a hefty $300 million. Unlike many modern musical entrepreneurs and moguls who have expanded their careers in all manner of directions, Hetfield's net worth, as we'll soon learn, is built simply on how very hard and consistently the man rocks.
How much money does James Hetfield make from music?
When it comes to Hetfield and the band he formed with Danish drummer Lars Ulrich, we're dealing with some serious numbers. Having sold an incredible 120 million albums worldwide, Metallica is comfortably within the twenty top-selling acts of all time, an awesome achievement for any band or artist, but especially impressive for a metal band. In fact, despite their music never having gone fully mainstream, they're popular enough to have outsold iconic acts such as Bruce Springsteen, Fleetwood Mac and Stevie Wonder. It is not only commercial success that has followed the band: their critical standing is underpinned by Hetfield's 21 Grammy nominations and eight wins.
Metallica transcends traditional record sales, with almost 24 million monthly hits on Spotify netting the band around $1.2 million on that platform alone. The bulk of Hetfield and the band's income, though, stems from their reputation as an incredible live band. From playing to one of the biggest concert crowds in history in Moscow in 1991, to headlining Glastonbury in 2014, Metallica's legacy is absolutely breathtaking. These achievements have secured the band as one of the most profitable live acts in metal, grossing over $1.4 billion in ticket sales alone.
Trivia: Showing a typical determination to do things on their own terms, Metallica launched their record label, Blackened Recordings, in 2012 and negotiated for ownership of their back catalog.
How much are James Hetfield's business ventures worth?
In contrast to the prevailing mode of the modern world, in which it seems everyone needs to have a side hustle to get by Hetfield, as mentioned previously, seemingly has little interest in making moves outside his music. Other than investing in Triller, an app that allows users to create their own music videos, there is very little indication that Hetfield has any extra-curricular business interests.
Trivia: James Hetfield's upbringing was staunchly religious, due to his parents' Christian Science faith.
What other assets does James Hetfield own?
You'd be forgiven for not immediately associating one of metal's most prominent faces with conservationism. But a long-running legal dispute over development rights on a large tract of land owned by Hetfield in Marin County, San Francisco, was ended by the singer in 2018. Hetfield had originally planned to develop the land into home sites, to the objection of his neighbours. But he surprised everyone by donating 1,100 acres to the local trust, protecting the land from developers in perpetuity.
In potentially more expected news, Hetfield has a collection of classic and restored cars that wouldn't look out of place in the garage of the villain in a Disney movie.
Trivia: Showing that metal can be a force for positive change in the world, Metallica's charitable All Within My Hands Foundation donated $500,000 to help feed Ukrainian refugees in April 2022.
Personal life
The demands of being at the forefront of American music for as long as Hetfield has is bound to result in some intense pressure, an impression borne out by his recent stint in rehab and divorce from his wife of 25 years, Francesca.
And there we have it, a more detailed look at the net worth of one of metal's leading lights. While of course not just anyone is able to launch an empire, we do think that Hetfield's story is a rare one of success borne out of single-minded dedication to his craft. In a world of influencers, entrepreneurs and quadruple threats, the relative straightforwardness of his career stands out.