Justin Bieber Is Worth $300 Million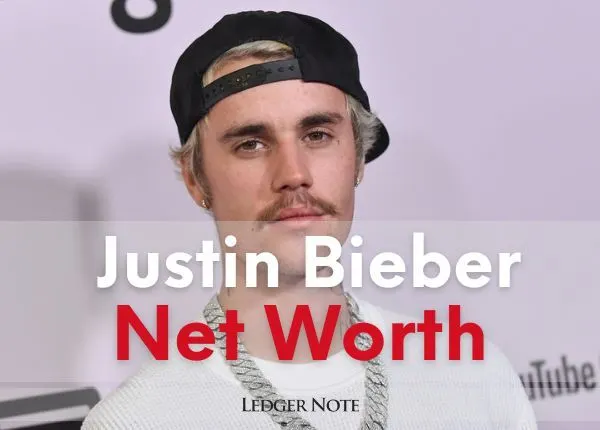 | | |
| --- | --- |
| Name | Justin Bieber |
| Other Name | Justin Drew Bieber, JB, the Biebs |
| Net Worth | $300 Million |
| Birthdate | March 1, 1994 in London, Canada |
| Star Sign | Pisces |
| Height | 5 ft 9 (179 cm) |
Justin Bieber — one of the world's biggest artists — has greatly impacted the sound of popular music. He was discovered by Scooter Braun at just 13 years old and has gone on to release some of the bestselling pop albums of all time, establishing himself as a global icon before turning 30. Bieber has also amassed an impressive collection of awards, including two Grammys, 26 Billboard Music Awards, 23 Teen Choice Awards, and has set 33 Guinness World Records. Though he has been the subject of several controversies, he has remained relevant in music for almost 15 years. Here is a look at the astonishing net worth of Justin Bieber.
Early Life
Justin Bieber was born in London, Ontario, Canada, on March 1, 1994. He grew up nearby, in Stratford, Ontario, in the care of his mother Pattie Mallette, who had Justin when she was 18 years old. Bieber's father Jeremy was absent for many of Justin's younger years and had little influence on his upbringing. As a child Justin showed an interest in music and enrolled in singing lessons when he was 12. He is also a self-taught musician, having learned how to play a variety of instruments, including the guitar, drums, and piano. In 2007, he quickly attracted a considerable audience when he started posting videos of himself singing on YouTube.
How Much Does Justin Bieber Make From His Music?
Bieber signed a deal with music manager Scooter Braun and Usher's Raymond Braun Music Group in 2008 when he was 13 and soon recorded demo tapes at a studio in Atlanta. His first single, "One Time", was a massive hit and enhanced Bieber's star potential.
RELATED: Ariana Grande's 'SNL' Singer Impressions vs Original Artists
Although Bieber was initially known as a teen idol, his sound matured throughout his career and helped him reach a wider audience. On 2015's Purpose – his fourth studio album – Bieber experimented with genres outside of pop, including R&B, hip hop, and EDM, with features from huge names like Travis Scott, Skrillex, and Halsey. Because of the album's success, Bieber was able to transcend the "teen pop star" label and come into his own as a full-fledged adult performer.
Trivia: Justin showed an interest in music at an early age, and subsequently taught himself how to play the guitar, piano, drums, and trumpet. His mother posted homemade videos on YouTube of her son's musical talents, which attracted the attention of Scooter Braun.
Justin Bieber has a diverse portfolio of businesses, though a majority of his earnings is generated by his music career.
Bieber's discography consists of six studio albums, three remix albums, three compilation albums, two extended plays, 72 singles (including 20 as the featured artist), and 10 promotional singles. Bieber has sold over 150 million albums worldwide, which makes him one of the most successful musicians in history. He also boasts over 68.8 million monthly listeners on Spotify, making him one of the top-streaming artists of all time.
In January 2023, Billboard reported that Justin Bieber sold his entire music catalog to song management company Hipgnosis for $200 million, one of the largest deals of its kind for an artist under 70. The sale boosted his net worth to $300 million.
Bieber also makes a substantial amount of money from touring. According to Forbes, he makes an estimated $1 million a night while on tour; his first-ever tour – "Urban Behavior" in 2009 – brought in an estimated $53 million.
From 2012 to 2013, his "Believe" tour brought in $110 million; his "Purpose" tour from 2016 to 2017 brought in over $250 million. His world tour in support of his 2020 album Changes and 2021 album Justice is expected to bring in hundreds of millions of dollars.
Bieber's 2011 documentary "Never Say Never" is the most successful concert film in history, earning $29.5 million on opening night. It went on to gross over $73 million. His follow-up, "Believe", opened with $4.5 million in sales.
Bieber recently signed a massive, new deal with Universal Music Group. He released the "Honest" single featuring Don Toliver while he works on his seventh studio album. For years during which he tours, Bieber earns an annual salary of $60 million to $80 million, which is generated by his music career, as well as brand partnerships, endorsements, and other business ventures.
Trivia: According to LA Reid, one of the music executives who first signed Bieber, the singer's good looks contributed greatly to his first record deal. In his memoir Sing To Me, Reid writes, "Justin was simply beautiful, his superpower was his face," and credits Bieber's looks for much of his early success.
How Much Are Justin Bieber's Business Ventures Worth?
The Canadian singer makes a considerable amount of money from brand deals and has partnered with huge companies like Proactiv, Walmart, and Adidas.
He has modeled for companies such as Beats by Dre, Balenciaga, and Calvin Klein. He has also launched his own clothing line and debuted several fragrances available at stores like Macy's, Belk, Dillard's, Nordstrom, and Sephora. Bieber also collaborated with Canadian coffee chain Tim Hortons to release a specialty donut, which led to a 10% increase in the company's sales in the fourth quarter of 2021. He has also made a foray into the beauty industry by launching a deodorant called Here + Now and teaming up with nailcare company Nicole by OPI to create the One Less Lonely Girl collection, sold exclusively at Walmart.
Bieber also has his own clothing line. Launched in 2019, Drew House is easily recognizable for sporting a yellow smiley face upon its variety of products. Justin frequently promotes the line on Instagram.
In 2021, South Korean entertainment company HYBE acquired Scooter Braun's Ithaca Holdings for $1.05 billion, awarding Braun's staff and artists over $40 million in equity. Ariana Grande and Bieber, among the biggest winners of the deal, were granted 53,557 shares apiece, each taking home $11 million.
Bieber is also an avid investor in startups. He made his first investment in 2009. Over the years he has invested in a dozen small companies, including an app called Stamped and a gaming company called SoJo Studios. He also invested in Spotify in 2011.
Trivia: Bieber is one of the top artists on YouTube, with over 70 million subscribers and 28.5 billion views. In 2020, he released a 10-part documentary called Justin Bieber: Seasons after YouTube paid him $20 million to debut it on its platform.
What Other Assets Does Justin Bieber Own?
In 2012, when he was 18, Bieber purchased a $6.5-million home in Calabasas, which he sold to Khloe Kardashian for $7.2 million in 2014. He then lived out of several multi-million-dollar properties, paying $132,000 a month for a mansion in London. He later dropped $5 million on a home in Ontario, Canada. After marrying Hailey Bieber (nee Baldwin), he purchased an $8.5-million mansion in Beverly Hills. He later sold it and upgraded it to a $28.5-million mansion in L.A.
Bieber is a car enthusiast and has a collection that includes 15 vehicles worth around $4 million. He also frequently charters private jets to accommodate his hectic work schedule.
Trivia: Bieber is one of the many celebrities involved in the crypto universe. He joined the Bored Ape Yacht Club earlier this year with his purchase of Bored Ape #3001 for 500 ETH (or $1.3 million).
Justin Bieber Personal Life
Bieber has been in several high-profile relationships. A list of his exes includes Selena Gomez, Ashley Moore, and Chantel Jeffries. He began an on-again-off-again relationship with Hailey Baldwin, the daughter of Stephen Baldwin, in 2015. They married in 2018.
In May 2020, Bieber's charitable collaboration with Ariana Grande, Stuck with U, raised $3.5 million for the First Responders Children's Foundation. He and Chance the Rapper also donated $250,000 to fans struggling during the pandemic by partnering with Cash App.
Trivia: In 2022, Bieber was diagnosed with Ramsay Hunt syndrome, a rare disease that can lead to facial paralysis. He was consequently forced to cancel the remainder of his North American tour to focus on his recovery.
Selected Discography
| Work | Release Date | U.S. Sales |
| --- | --- | --- |
| My World 2.0 | March 19, 2010 | 3,400,000 |
| Under the Mistletoe | November 1, 2011 | 1,600,000 |
| Believe | June 15, 2012 | 1,700,000 |
| Purpose | November 13, 2015 | 1,900,000 |
| Changes | February 14, 2020 | 205,000 |
| Justice | March 19, 2021 | 123,000 |
Notable Award Wins
| Year | Nominee/Work | Award | Category |
| --- | --- | --- | --- |
| 2010 | Justin Bieber | American Music Awards | Artist of the Year |
| 2011 | Justin Bieber | Billboard Music Awards | Top New Artist |
| 2012 | Believe | American Music Awards | Favorite Pop/Rock Album |
| 2016 | Where Are Ü Now | Grammy Award | Best Dance/Electronic Recording |
| 2016 | Love Yourself | American Music Awards | Favorite Pop/Rock Song |
| 2016 | Purpose | American Music Awards | Favorite Pop/Rock Album |
| 2016 | Sorry | American Music Awards | Video of the Year |
| 2018 | Despacito | Billboard Awards | Top Hot 100 Song |
| 2020 | Justin Bieber | American Music Awards | Favorite Pop/Rock Male Artist |
| 2021 | 10,000 Hours | Grammy Award | Best Country Duo/Group Performance |
| 2022 | Essence | BET Awards | Best Collaboration |
| 2022 | Stay | Billboard Awards | Top Hot 100 Song |
Concert Tours
| | |
| --- | --- |
| Tour Name | Tour Date |
| Believe Tour | September 2012 – December 2013 |
| Justice World Tour | February 2022 – September 2022 |
| My World Tour | June 2010 – October 2011 |
| Purpose World Tour | March 2016 – July 2017 |