Kanye West is Worth $400 Million
| | |
| --- | --- |
| Name | Kanye West |
| Other Name(s) | Ye, Kanye Omari West |
| Net Worth | $400 million |
| Birthday | June 8, 1977 in Atlanta, GA |
| Star Sign | Gemini |
| Height | 5ft 8 (173 cm) |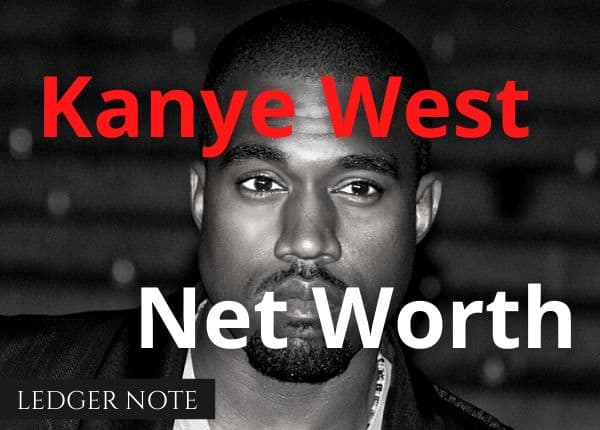 Updating our list of the Top Richest Musicians in the World is always exciting but usually not too surprising. Some artists move up and others move down, but the overall ranking tends to be relatively stable. Two years ago was an exception as it saw a huge jump in rank and net worth by Kanye West (Ye). Kanye use to comfortably lead the ranking, peaking at more than $6 billion. However, that number was recently revised down significantly following a controversy around the rapper's antisemitic statements. We will tell you all you need to know about Kanye West's net worth below.
How Much is Kanye West (Ye) Worth?
Kanye West is worth $400 million. However, as we will explain below, his net worth has been the source of debates with major media outlets disagreeing on the number. Bloomberg reported the $6.6 billion number in 2020, but Forbes argued a few months later he was "only" worth $2 billion. This is because a large part of his net worth comes from his business investments which are difficult to value.
Forbes reduced their estimate further in October 2022, as several brands cut ties with the celebrity rapper following various antisemitic statements made in the press.
How Much Money Does Kanye West Make from His Music?
Kanye West is one of the greatest and most successful hip-hop musicians in history. He has experimented in several genres, from pop to gospel and even electro but he remains most famous for his hip-hop hits and his collaborations with other major artists like Jay Z, John Legend, and Rihanna.
Kanye West is one of the best-selling artists of all time and has accumulated close to 250 million certified units in his career. His music catalog was estimated to be worth $110 million in 2020. He is the highest decorated hip-hop artist in history with 24 Grammy awards, tied with Jay Z.
Based on his number of monthly listeners on Spotify, it is estimated that he receives more than $15m annually from the streaming platform. We estimate he receives a comparable amount from other streaming services like Apple Music and Amazon Music.
His tours have been among the most successful in history grossing an incredible $200 million:
The Watch the Throne Total Gross (with Jay Z): $75.6M – 68 shows in 2011 / 2012
The Saint Pablo Total Gross: $52.8M – 41 shows in 2016
The Yeezus Total Gross: $31.8M – 45 shows in 2013
Glow in the Dark Total Gross: $30.8M – 88 shows in 2008
He also owns his music label called GOOD Music and produced several critically acclaimed artists like Pusha T.
Trivia Facts: He dropped out of university at age 20 to focus on his musical career but he received an honorary doctorate from the School of the Art Institute in his hometown Chicago in 2015. The name of his label is an acronym for "Getting Out Our Dream".
How Much is Kanye West's Business Ventures Worth?
Looking at the above music section, it is clear that Kanye West's very successful musical career isn't enough to explain his current net worth. Let's now turn to his various business ventures.
His most successful business venture were in the fashion industry. His fully owned brand Yeezy had secured several high-profile partnerships with major brands:
However, both brand decided to end the lucrative deals. Adidas put an end to its partnership with the rapper on October 2022 while Gap confirmed they would "wind down" the Yeezy Gap collaboration. Adidas acted following controversy around antisemitic comments made by Kanye West over the month of October.
After warning that Kanye's billionaire status would be at risk should Adidas abandon their collaboration with Yeezy, Forbes eventually revised Kanye's net worth to $400 million, a shocking drop from the $6.6 billion estimated by Bloomberg in 2020.
A large part of Kanye's net worth is now likely tied to his undisclosed but small stake in his ex-wife's apparel company Skims which was recently valued at $3.2 billion.
Trivia Facts: He was one of the minority owners of streaming service Tidal but it is reported that he received $8.9m when Tidal got acquired by Square in 2021. He owns several Burger King franchises across Europe.
What Other Assets Does Kanye West Own?
Bloomberg reported in 2021 that West owned $122 million in cash and stocks.
He owns several houses, including a $57.3 million Malibu beach villa designed by Japanese architect Tadao Ando, a ranch in Wyoming estimated at more than $10 million, and a $2.2 million ranch in Los Angeles.
He also owns several luxury cars including a Lamborghini Urus, a Mercedes SLR, and a Bugatti Veyron. The value of his car collection could surpass the $4m mark.
He is often seen flying on private jets but it is unclear if he owns one. It is also unknown if he owns a yacht.
Trivia Facts: Following their divorce, he received $20 million from his Kim Kardashian for their marital home in Hidden Hills and an additional $3 million for the art it contained. He however purchased a smaller home opposite for $4.5 million to simplify the logistics when seeing his 4 kids.
You now understand why Ye dropped from the top of the list of richest musicians and richest rappers.