Keith Richards is Worth $520 Million
| | |
| --- | --- |
| Name | Keith Richards |
| Other Name | Keith Richard |
| Net Worth | $520 Million |
| Birthdate | December 18, 1943 in Dartford (UK) |
| Star Sign | Sagittarius |
| Height | 5ft 9 (175.3 cm) |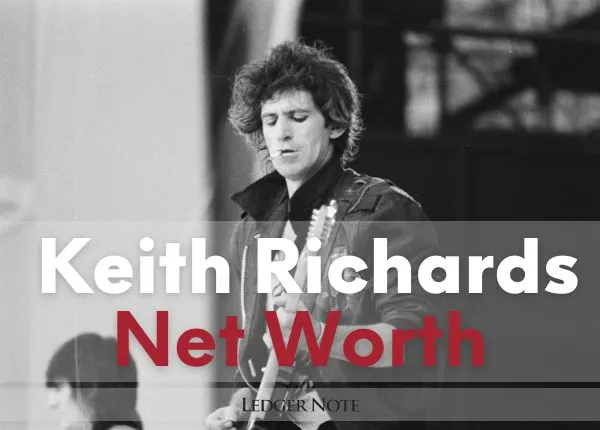 Keith Richards is one of the founding members of the legendary rock 'n' roll band The Rolling Stones and as a result is one of the most famous faces on the planet with an enduring musical legacy. So how did the London boy become a global superstar and part of a band ranked second on our list of Top 10 Bands of All Time with a total sales of 102.4 million? Having achieved recognition as a standalone guitarist (he is included in our ranking of Top 10 Best Guitarists of All Time) and with a career spanning over 50 years it's not hard to see why Keith Richards is worth $520 million.
Trivia: Richard's grandfather, Gus Dupree gave the musician his very first guitar.
How Much Is Keith Richards Worth?
So, what is Keith Richards' net worth and how did he make his fortune? Richards has $520 million to his name and it is not hard to see how he made his fortune when you take into account both his long career as a member of The Rolling Stones as well as his solo career.
Keith Richards isn't just a guitar hero, he is also a talented songwriter and the second half of the Glimmer Twins, the songwriting pseudonym he and fellow bandmate Mick Jagger adopted. The 50/50 relationship has also provided Jagger with a nice $520 million net worth. They say "don't mix business with pleasure" but Richards and Jagger have managed to make it work. That's not all, Keith Richards has also made good on book deals, films and documentaries as well as owning an impressive property portfolio.
Even with all that Richards hasn't been immune to monetary woes. In 1971 The Rolling Stones fled the UK due to financial mismanagement by their manager that left them owing millions in back taxes. The band instead turned to the French coast and has been tax exiles ever since.
Trivia: Keith Richards made two cameos in Pirates of the Caribbean: At World's End, and in On Stranger Tides, playing Captain Teague. Johnny Depp also reportedly based the character of Jack Sparrow on the legendary rocker.
How Much Does Keith Richards Make Through His Music?
Keith Richards and The Rolling Stones are so deeply intertwined it's difficult to separate the earnings of Richards and the band. The British rock 'n' roll band has over their 60-year career recorded 25 studio albums but in his solo career, Richards has recorded three studio albums, one live album, one compilation album and 9 singles since his breakout individually in 1978.
So how much does Richards make from his solo career. Richards signed a new deal to bring his solo catalog to BMG so be assured there's plenty of steam behind the guitarist.
As part of the Rolling Stones however, the bulk of their income is made through touring. A Bigger Bang tour grossed $147.3 million in the US for just 45 shows. The largest grossing tour was however their 1994 Voodoo Lounge tour which grossed over $300 million making it the most successful tour in North American history through a combination of ticket sales for their 117 shows, t-shirts, and TV rights! Following a series of setbacks on the No Filter tour including the death of drummer Charlie Watts in August 2021, the Stones started a new tour in March 2022
Trivia: The feud between Paul McCartney of The Beatles and Keith Richards which was reignited in 2021 was quickly extinguished by a note from McCartney explaining any upsetting remarks were taken out of context.
How Much Are Keith Richards' Businesses and Investments Worth?
Richards may be best known for his music but he's also just as well known for his rock 'n' roll lifestyle and his memoir is one of the best selling of all time selling over 1 million copies in its first year alone with sales being on top of the hefty $7 million advance.
Trivia: Keith Richards has an expansive collection of over 3,000 guitars that he spends a small fortune on storing even though he only ever plays 15 of them onstage or when recording.
What Assets Does Keith Richards Own?
Richards also has a very impressive property portfolio, recently selling his Manhattan penthouse for $11 million. Richards however isn't one to flip his houses for a quick buck. In fact the rocker still owns his infamous Redlands Cottage that he bought back in 1966 for £20,000 and was the site of a drugs bust and a fire! Richards and his wife Patti also own a Connecticut estate where they brought up their daughters. The house was purchased in 1985 and is 8,000 square ft on 8 acres with a river and a lake.
Not a big fan of planes, Keith Richards' was known to drive from one gig location to another instead of flying when possible. He owned several luxurious cars, including a Pontiac Silver Streak bought in 1971 when the Rolling Stones were living in tax exile in France as well as a Ferrari Dino 246 GT.
Trivia: Keith Richards was involved in several car crashes, including a 1969 crash of his Mercedes-Benz convertible as well as a 1976 crash of his Bentley S3 Continental Flying Spur.
Keith Richards' Personal Life
Keith Richards grew up in Dartford, a small town 18 miles south-east of Central London, in a working-class family. The only child of parents Herbert and Doris Richards he attended technical high school and college in his hometown before being expelled and embarking on a career as a rock 'n' roll and blues musician instead.
Despite his roaring fame, Keith Richards has only had two major romantic relationships. Richards has two children, Marlon Leon Sundeep and Dandelion Angela, with Anita Pallenberg, an artist and model with whom he was in a relationship from 1967 to 1980, although the two never married. They also had a third child, Tara Jo Jo Gunne who unfortunately died at two months old of sudden infant death syndrome.
Richards also has two daughters from his marriage to Patti Hansen, named Theodora Dupree and Alexandra Nicole. The rocker married the model and actress in 1983 and the two have been inseparable ever since.
The 78-year-old is also a grandfather to five, three grandchildren from his son Marlon, including the model Ella Richards, and two from his daughter Angela.
Trivia: Keith Richards was childhood friends with bandmate Mick Jagger living only streets away from each other, however the two parted ways at age 11 and didn't meet again until 1961, aged 18, at a train station.
With such a long and eventful personal and musical life, it's not difficult to see how Keith Richard's is worth a massive $520 million and with the Rolling Stones' touring showing no signs of slowing down despite their age, we can be confident he will continue to rake it in for many years to come.