Machine Gun Kelly's Net Worth is $28 Million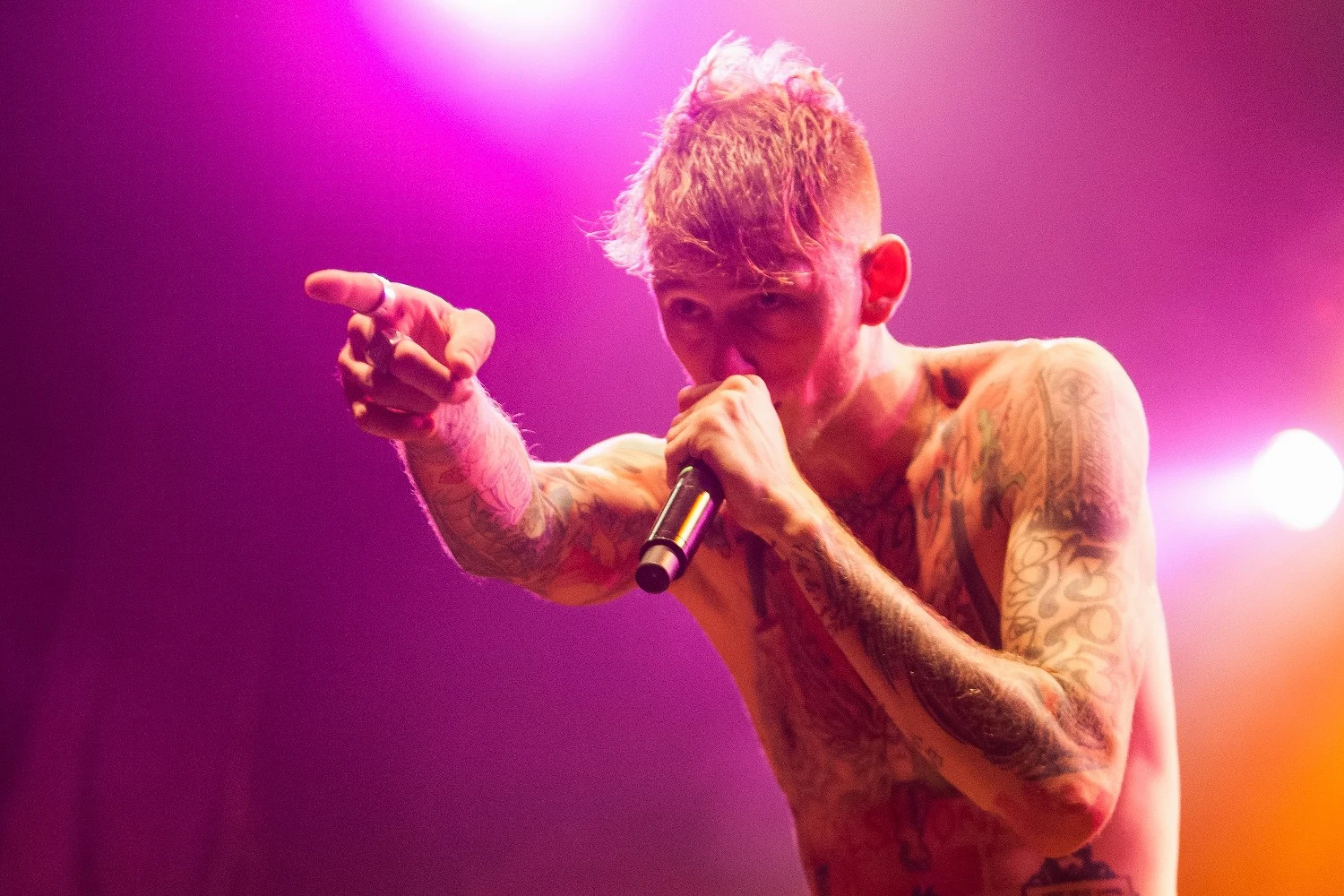 Give a big, glam greeting to a star who's famous for his offstage antics as much as his onstage magic. Machine Gun Kelly, this one's for all the wacky sparkle and bold awesomeness you bring to showbiz.
Don't let the nickname give you the jitters. Machine Gun Kelly might not be toting a firearm, but he sure knows how to set the stage on fire—figuratively, of course. This Texas native, born Richard Colson Baker, has caused quite a stir in Tinseltown and Rockville. And boy, has he raked it in big—$28 million big, as of 2023.
MGK has stormed the entertainment scene like a true rock star. His forays into music, acting, and even starting up his own business ventures have done him good—very, very good, if his fortune is anything to go by. He has busted the 'rapper' pigeonhole and proven that he's got more up his sleeve. So, ready to dive headfirst into the wild, hit-the-road story of this pop-punk sensation? Let the unpolished glamor and high-flying drama begin!
| | |
| --- | --- |
| Name | Richard Colson Baker |
| Profession | Rapper, Singer, Songwriter, Actor |
| Net Worth | $28 million |
| Birthplace | Houston, Texas, USA |
| Birthday | April 22, 1990 |
| Nationality | American |
| Height / Weight | 6ft 4 / 176 lb. |
| Relationship status | Engaged to Megan Fox |
Early Life and Career Breakthrough
Richard Colson Baker (Machine Gun Kelly or MGK to you and me) was born on April 22, 1990, in Houston, Texas, though, thanks to his parents' role as missionaries, he spent little time in the Lone Star State. The clan rolled between Egypt, Germany, and various places across the U.S., including Cleveland, where he spent his formative years. Amid the instability, MGK seized upon music and subsequently set himself on a crazy, life-altering journey.
From a young age, MGK felt the rhythm. He started to spit his rhymes into fiery rap verses and edgy punk rock tracks. He snagged his name from that notorious gangster George "Machine Gun" Kelly—a fitting epithet in light of his trademark rapid-fire lyrics—when he burst onto the rap scene in the early 2010s.
He exploded overnight (nearly as quickly as his verses!). He grabbed the spotlight by featuring in Juicy J's single "Inhale". The appearance caught the attention of the music world, not to mention big shot music mogul Sean Combs. By 2011, MGK was scooped up by Bad Boy Records and Combs himself, making a hefty mark in his career.
But Machine Gun Kelly wasn't just about spitting rhymes faster than anyone else, he was all about pushing boundaries and venturing into wild new zones. His project in 2020—Tickets to My Downfall—was a total U-turn from his previous work. Gone was rap; in its place were tunes in a more pop-punk vein. It was a side of the artist we had yet to hear.
Revenues from Music Career
Our multi-talented star has racked up an impressive fortune from his music career, putting him in the elite league of A-list celebs. With electric performances, his in-your-face style, and relatable lyrics, MGK's gigs are not just regular concerts, they're full-on experiences. And fans are ready to splash the cash for it.
Of course, the music man isn't just all about the live gigs. Streaming and album sales bring in a decent wage. MGK has 13.2 million monthly listeners on Spotify alone. With fans on tenterhooks for his next big release, it's no shocker his bank balance is on a constant upsurge.
On the international front, MGK's tunes have gone global, earning respect (and hard cash) in the international markets. Thanks to his signing with top-tier labels Bad Boy and Interscope Records, his royalty share is just soaring, significantly upping his earnings.
Other Revenue Streams
MGK isn't just rockin' the mic anymore. This rising star has dipped his beak into a number of ponds. Hollywood is quickly becoming his neighborhood, gifting him both fame and fortune. He's given us some impressive acting gigs in flicks like Nerve (2016) and Bird Box (2018), but nothing compares to his role as Mötley Crüe's resident badass, Tommy Lee, in "The Dirt". This performance alone has amped up his celebrity status, along with his ever-growing bank balance.
He's also testing the waters in the world of business. 2021 saw him making waves in the cosmetics scene with the launch of his genderless nail polish line, Un/dn Laqr. This venture not only boosted his bank account but also marked him as a trailblazer leveling up the beauty game.
He also invested in Liquid Death canned water in May 2021. He, along with Live Nation, Steve Aoki, Tony Hawk, and others, contributed $15 million to the company's operations. This bold move just reaffirms MGK's financial genius and mogul potential.
Endorsements are also part of the MGK's diversified money-making game. He has teamed up with several major brands, like Ethika (2011), Reebok (2017), and Young and Reckless (2017), which have all showered him with enviable sponsorship deals.
Notable Possessions and Philanthropy
Let's talk homes. Kelly used to live in Sherman Oaks, California, renting a place for $30,000 a month (we wonder whether that includes internet and utilities). To welcome his 32nd birthday in 2022, he went all out and bought Logan Paul's mansion—$7.5 million worth of awesomeness. It was a major upgrade and proof that his bank account is hitting the big leagues.
We hope that property has a sizable garage. He'll need it to house his car collection, stacked with heavy hitters like the Aston Martin DB11, Lamborghini Gallardo, Mercedes Maybach S Class, Rolls Royce Phantom, Jaguar F-Pace, and the McLaren 720s.
When it comes to bling, MGK became a Rolex fanboy in 2022 adding some serious sparkle to his already flamboyant lifestyle.
But MGK isn't just about flash, he's got a heart of gold, too. In 2022, he showed his softer side by donating extra meals to local veterans in Pittsburgh.
Personal Life
Unless you call the underbelly of a rock your home, you know that MGK has been dating Megan Fox, even putting a ring on it in 2022. Their relationship is always the talk of the town, thanks to their flair for style and salacious posts on social media.
The other young woman frequently seen on his arm is his daughter Casie Colson Baker. The 14-year-old is the product of MGK's relationship with Emma Cannon. Judging from their posts on social media, the father-daughter duo have a close bond.
He's also a die-hard Cleveland Browns superfan and has gone all out to support them. This love for football is another slice of MGK's colorful life, proving that he's just a regular guy who loves rooting for his favorite team.
Major Events
MGK is a lover, but he's also a fighter, engaging in one notable feud with Eminem. It started with a 2012 tweet (as these things usually do) in which Kelly called Em's daughter "hot." The mudslinging has involved diss tracks from both parties over the years, suggesting this one has no real end in sight.