Master P's Net Worth is $210 Million
| | |
| --- | --- |
| Name | Master P |
| Other Names | Percy Robert Miller Sr. |
| Birth Date | April 29, 1970 in New Orleans, LA |
| Birth Place | New Orleans |
| Height | 6 ft 3 (192 cm) |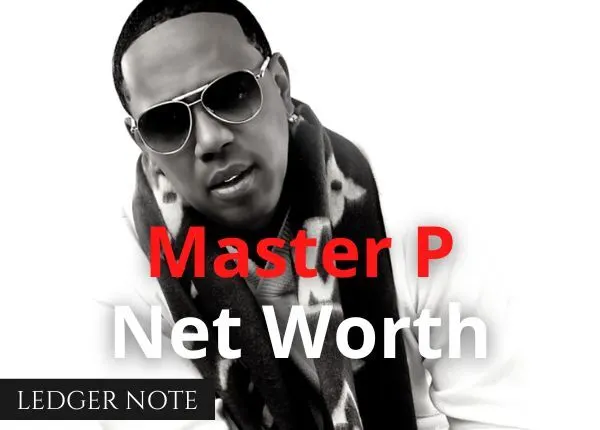 Master P is one savvy entrepreneur. With a net worth of $210M, he ranks well on our list of Top 10 Richest Rappers in the World. Here is how he built his empire.
How Much is Master P Worth?
Thanks to the record label he founded back in the '90s and the countless business ventures he has undertaken, the highly esteemed rapper is now worth a whopping $210M. In 1998, he was the only rapper featured on Forbes' list of America's 40 Highest-Paid Entertainers. He ranked 10th, earning $56.5 million in that year alone.
Trivia: After Hurricane Katrina hit his hometown of New Orleans, Master P donated millions of dollars and rented boats to help people navigate the floods.
How Much does Master P Make through his Music?
Master P can boast quite an illustrious music career, with 14 studio albums, 40 singles, 16 compilation albums, one collaboration album,11 mixtapes, and 33 music videos under his belt. Today, he counts 700,000 monthly listeners on Spotify, which earns him an estimated $160,000 annually. The versatile entertainer is more than just a rapper; ever since the '90s, he has appeared in countless movies and TV shows, often playing himself.
Following the death of his grandfather, Master P received $10,000 as a part of a malpractice settlement, allowing him to launch a record store in his hometown of New Orleans. The business would later turn into the music label No Limit Records. He signed a distribution deal with Priority Records but retained all of his masters, giving him ownership of all his music. What's more, he even managed to negotiate to earn 85% of sales, which was far from common in the industry at the time. "If you can't work that good of a deal, at least get a piece of the piece. It has to start with owning property, owning your business," he told Jen Rogers in an interview for YahooFinance.
His label, home to artists like Snoop Dogg and Mystikal, released music almost weekly for an entire year, netting millions in the process. The label was blessed with unique production from the Medicine Men, who ranked 5th in our list of Top 10 Hip-Hop Producers of All Time. In total, No Limit sold over 80 million records.
Trivia: Master P starred on the reality TV show "Master P's Family Empire" along with his family, which showcases the struggles of juggling between being a father and a businessman.
How Much are Master P's Businesses and Investments Worth?
Following the success of his record label, Master P branched out to maximize his wealth. His first venture outside of music was in the clothing industry. He launched No Limit Clothing, which became famous for its T-shirts featuring the No Limit tank logo. Initially, Master P's clothes could only be purchased at concerts or through mail order. However, the brand soon made its way to independent retailers and department stores.
The highly esteemed entertainer then made strides in the movie industry. No Limit Films' first feature, the direct-to-video release "I'm 'Bout It", sold 220,000 copies independently in its first week. The savvy entrepreneur managed these sales through the same outlets that carried his music and clothing line.
In 1998, he launched No Limit Sports Management to handle contract and endorsement negotiations, with notable clients including NFL running back Ricky Williams.
Master P also has a hand in the real estate market, founding PM Properties, a property management company with more than 100 properties in the United States.
Launching Big Poppa Burgers in 2018, the "Ice Cream Man" (as he is known by his fans) went one step further to diversify his earnings. The entertainer claims the successful franchise uses secret sauces invented by his grandfather, who goes by Big Poppa.
Master P remained in the food industry with his next venture: Uncle P's, a rice and noodles brand. Chef Boyar P – as he is known – is responsible for the "Icon" ramen noodles, which features famous rappers on its packaging.
Master P tied together his interests in sports and food to produce Make 'Em Say Ughh energy drinks. It is estimated to be worth $100 million today.
In February 2022, the rapper announced a 50/50 collaboration with Snoop Dogg to create Snoop Dogg Icon Chips.
Trivia: Percy Miller is a skilled basketball player; he once made the Toronto Raptors training camp but was waived a week later. He also played pre-season ball for the Charlotte Hornets.
What assets does Master P own?
Aside from owning over 100 properties, the entertainer is a huge car buff. He partnered with a former Tesla engineer to develop Trion Supercars, intent on creating one of the world's most powerful cars.
The breadth of Master P's assets was revealed during a harsh divorce battle with ex-wife Sonya Miller. Master P owns a fleet of luxury cars – 13, to be precise — including a $270,000 white Rolls-Royce Ghost, a Bentley, a Jaguar, and an Escalade. The couple's communal assets, which include 45 companies, were estimated at over $178,000,000.
Trivia: In 2013, Master P was the first rapper to ever make it into the Louisiana Music Hall of Fame.

Selected Discography
| | | |
| --- | --- | --- |
| Work | Release Date | U.S. Sales |
| Get Away Clean | September 13, 1991 | – |
| Mama's Bad Boy | April 20, 1992 | – |
| The Ghettos Tryin to Kill Me! | March 18, 1994 | – |
| 99 Ways to Die | February 7, 1995 | – |
| Ice Cream Man | April 16, 1996 | 1,000,000 |
| Ghetto D | September 2, 1997 | 3,000,000 |
| MP da Last Don | June 2, 1998 | 2,000,000 |
| Only God Can Judge Me | October 26, 1999 | 500,000 |
| Ghetto Postage | November 28, 2000 | 500,000 |
| Game Face | December 18, 2001 | – |
| Good Side, Bad Side | March 23, 2004 | – |
| Ghetto Bill | June 21, 2005 | – |
| Living Legend: Certified D-Boy | November 25, 2005 | – |
| The Gift | December 6, 2013 | – |
| Empire, from the Hood to Hollywood | November 27, 2015 | – |
Notable Award Wins
| | | | |
| --- | --- | --- | --- |
| Year | Nominee/Work | Award | Category |
| 2001 | Master P | American Music Awards | Favorite Rap/Hip-Hop Artist |
| 2013 | Master P | Louisiana Music Hall of Fame | Hall of Fame |
| 2021 | Master P | Doctorate Lincoln University in Pennsylvania. | Honorary Doctorate |
Concert Tours
| | |
| --- | --- |
| Tour Name | Tour Date |
| Pop-Up Tour | 2016 |