Mick Jagger is Worth $520 million
Mick Jagger is one of the richest musicians in the world.
| | |
| --- | --- |
| Name | Mick Jagger |
| Other Name(s) | Sir Michael Philip Jagger |
| Net Worth | $520 million |
| Birthday | 26 July 1943 |
| Birth Place | Dartford, England |
| Star Sign | Leo |
| Height | 5'10 |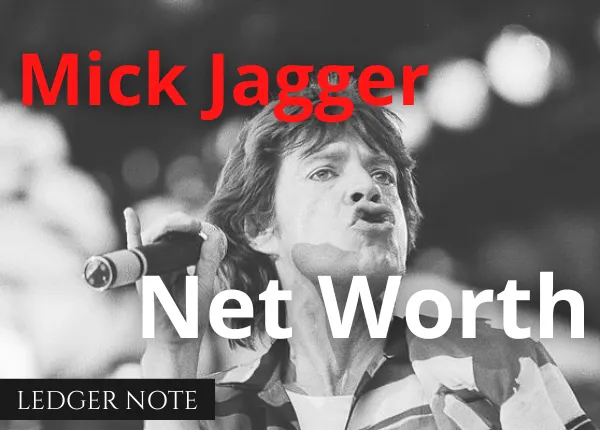 Mick Jagger is a name synonymous with Rock and Roll. As frontman of The Rolling Stones, one of the greatest bands of all time, the iconic singer-songwriter would change music history.
It's hardly surprising that his staggering success would result in a net worth that would put him in our ranking of top ten richest musicians on earth.
So, how much is Mick Jagger worth exactly?
Trivia: Before dropping out of college to pursue music full-time, Mick Jagger was enrolled to study finance at the London School of Economics.
How Much is Mick Jagger Worth?
The rocker from Dartford, England is worth a staggering $520 million. His income is not solely from music but comes to him through several different avenues.
Jagger earns income from merchandise royalties, tours, licensing as well as musical sales and downloads.
Jagger also has several business investments and assets that add to his very healthy net worth.
Trivia: Jagger, along with bandmate Keith Richards, was arrested for drug possession in 1976, and was sentenced to three months in prison. This sentence would later be overturned on appeal.
How Much does Mick Jagger Make Through his Music?
The Rolling Stones have long been known as a band with unusual business acumen. The band has successfully managed its brand to make it an earning behemoth.
The band uses different corporate entities to control various aspects of their business, with divisions dedicated to touring, recording, publishing and merchandise.
It is difficult to separate Mick Jagger's music earnings from those of The Rolling Stones, as his finances are so intrinsically linked to the band's. His income streams include album sales, merchandising, concert tours, music sales, music streamed, licensing agreements (such as Guitar Hero), and songwriting royalties for both Jagger and Richards.
Jagger also has a prolific career as a solo artist and has released several albums in his own right.
From his Spotify data alone, Jagger's annual earnings are estimated to be in excess of $1.5 million.
The Rolling Stones made a staggering amount of money through their arena tours, and in 2021, the band had the highest-grossing tour of the year. They sold 516,000 tickets and earned $115 million from that tour alone.
Other tours, such as 1994-1995's "Voodoo Lounge Tour", grossed a massive $320 million and sold 6.4 million tickets. They would then go on to outdo themselves with their follow-up tour "Bigger Bang" which brought in $558 million.
Trivia: Mick Jagger and Dave Grohl released a track together called "Easy Sleazy" that was inspired by the coronavirus pandemic.
How much are Mick Jagger's Businesses and Investments Worth?
Mick Jagger's business ventures are closely tied to The Rolling Stones brand. The decision to trademark the iconic lips and tongue that The Stones were known for allowed the band to generate lucrative merchandising and branding opportunities.
The Rolling Stones themselves are a corporation, capitalizing on the band as a brand long before the internet and social media.
This unexpectedly savvy attitude towards business from a larger-than-life rocker allowed the band to amass $1.5 billion in gross revenue. This revenue will come from the sales of tickets, song rights, sponsorship touring and other merchandising opportunities.
Jagger has also diversified as an artist and has had success as an actor, starring in 8 feature films. This led him to found "Jagged Films", a film production company. His first film role was in the film "Ned Kelly" which opened on 15 June 1970.
Trivia: Before reaching fame, Mick Jagger worked as a porter at the Bexley Mental Hospital in London, earning 4 pounds, 10 shillings per week.
What Assets does Mick Jagger Own?
Mick Jagger's property portfolio is equally impressive. Jagger owns several properties internationally, with property in both Europe and the United States. His real estate portfolio is estimated to be worth several hundreds of million of dollars.
Jagger owns houses in London, New York, Los Angeles and recently acquired a $2 million house in Florida.
Jagger also owns a vacation property on the private island of Mustique which he opened for guests to rent; the property can accommodate up to 10 guests and is rumored to cost from $16,500 to $30,500 per week. He also owns a castle in south of France which he acquired for $3 million in 1982. The property was originally owned by the Duc de Choiseul, Louis XVI's finance minister.
In addition to his extensive real estate portfolio, Mick Jagger is also an avid car collector. Jagger's car collection includes a Rolls Royce Silvercloud III, a classic collector's vehicle produced between 1962 and 1966. This vehicle has prices starting at $100,000.
Jagger also owns an Aston Martin DB6 worth $400,000, another vintage car built in 1966.
Another vehicle in Jagger's collection is a Mercedes S550, a luxury vehicle from Mercedes that has a starting price of $111,000 and features a luxury interior and infra-red night view assistance.
Trivia: On 28 May 1969, police raided Jagger's home and arrested him, and then-girlfriend Marianne Faithful, for cannabis possession.
Mick Jagger's Personal Life
While Mick Jagger has only been married once (with Nicaraguan-born human right activist and former actress Bianca Pérez-Mora Macias), he has had several other meaningful relationships. The most notable ones include British singer Marianne Faithfull, Texas-born model Jerry Hall, fashion designer L'Wren Scott and former ballerina Melanie Hamrick, his current partner.
Mick Jagger has had eight children (with five women) born over 46 years, between 1970 (his eldest daughter Karis) and 2016 (his youngest son Deveraux).
Let's not forget that Mick Jagger, the bad boy of rock, is also Sir Mick Jagger, the bad boy of rock.
In 2003, Mick Jagger appeared before Her Royal Highness Queen Elizabeth and was knighted for services to popular music. However, he very nearly wasn't knighted. Never far from a little drama, in order to receive his knighthood, Jagger had to seek the Queen's forgiveness for a prior 1967 drug conviction and the album titled "Their Satanic Majesties Request". The Queen clearly granted her forgiveness, and Jagger went on to receive this royal honor.
Trivia: Bianca Pérez-Mora Macias reportedly said that Said her Marriage to Mick Jagger Was "Over on the Wedding Day.
With a career that spans several decades and includes numerous number 1 hits as well as more than one grammy award, it is not really surprising that Sir Mick Jagger is worth $520 million.
Jagger and his bandmates in The Rolling Stones were a cornerstone of the sound that we know as rock and roll. But they were not alone. Chart-toppers like Santana and Fleetwood Mac would also shape the sound of the '70s.
That sound would be defined by a shift away from the Flower Power movement of the 1960s and into a heavier era of rock. With bigger amps and louder guitars, music was ready to rumble.
In our list of best 70s rock bands you can explore some of the most interesting and influential bands that would define that gritty 1970s sound.