Nicki Minaj's Net Worth Is $130 Million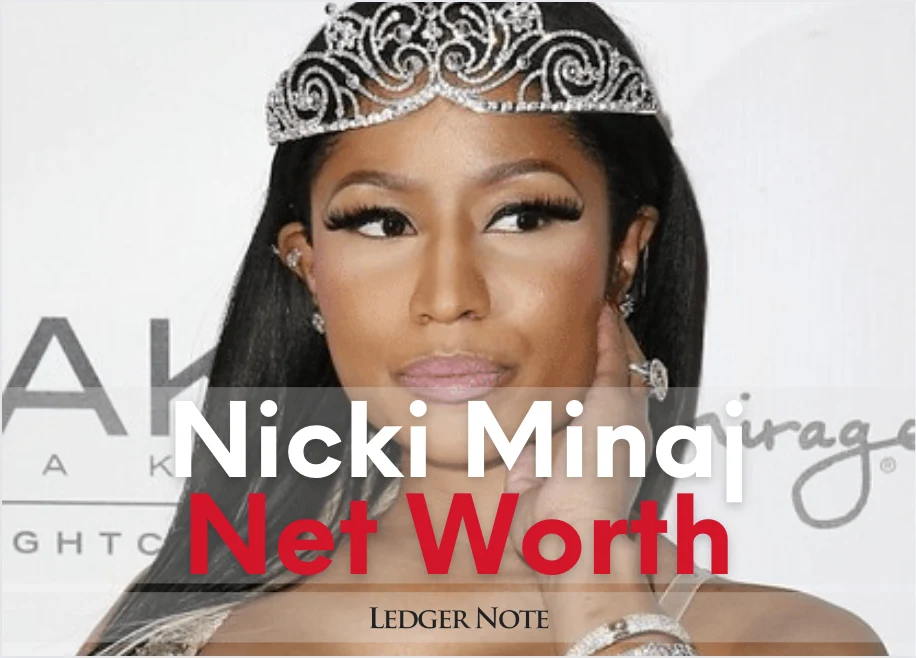 | | |
| --- | --- |
| Name | Nicki Minaj |
| Other Names | Onika Tanya Maraj, Barbz |
| Net Worth | $130 Million |
| Birthdate | December 8, 1982, in Saint James, Port of Spain, Caribbean |
| Star Sign | Sagittarius |
| Height | 5' 2" (1.57 m) |
Early Life
Nicki Minaj was born Onika Tanya Maraj on December 8, 1982, in Saint James, Trinidad and Tobago. She grew up in Queens, New York, and attended LaGuardia High School, where she studied singing and acting. Minaj's father was abusive, and her parents' marriage was tumultuous. She has said that her childhood was difficult and that she often felt neglected. Despite these challenges, Minaj was determined to make a name for herself in the music industry.
How Much Is Nicki Minaj Worth?
Today, Nicki Minaj is estimated to be worth a whopping $130 million, thanks to her music, her entrepreneurial work and her many endorsements. In 2014, she ranked 11th on Forbes' Hip-Hop Cash Kings List, and it was estimated that she earned $14 million in that year alone. In our list of Top 10 Richest Rappers in the World, she missed the cut but was still close enough to warrant a mention.
Trivia: In 2017, Nicki Minaj paid for many of her fans' educational expenses like college fees and student loans, but only if they had straight A's or a 4.0 GPA.
How Much Does Nicki Minaj Make Through Her Music?
In 2009, Nicki was noticed by none other than Lil Wayne, who signed her to his label Young Money Entertainment, making her the label's first female artist. The figures of that deal weren't made public, but it was estimated to be seven figures.
Although Nicki is a versatile entertainer, the bulk of her wealth comes from her many chart-topping singles and sold-out shows. For her world tour in 2015, she bagged $13 million, while her debut album Pink Friday sold two million traditional copies worldwide. The earnings for that album alone were estimated at $1.89 million.
Her second album, Pink Friday Reloaded earned the artist $859,000, and while the figures for her third album were never made public, 2 million copies of The Pinkprint were sold worldwide. While touring for The Pinkprint, she reportedly earned $22 million, while the tour for her second album netted her $3.5 million. Her highest-earning singles were "Starships" — certified six times platinum and made the cut for one of the best-selling singles of all time – and "Chun Li", also certified platinum after moving more than 1,000,000 units.
According to Nigerian superstar Davido, the Queen of Rap charges $500,000 for a guest feature, meaning she takes home half-a-million dollars any time she appears on another artist's song. Minaj has always known her worth and believed that she should be compensated well.
One thing I learned along the way in business is the necessity for you to be unapologetic about asking for how much money you deserve.

Nicki Minaj to Time magazine
When your singles consistently top charts, you can bet that your streaming numbers will earn you a fat compensation. Nicki has almost 50 million monthly listeners on Spotify, and she became the first artist in history to have over 26 billion streams.
Trivia: Nicki Minaj is a massive Barbie fan (her fans even call her Barbz), and she often references the doll in her songs. In 2011, a doll was made in her likeness and was auctioned off for $4,855, with all the proceeds going to charity.
How Much Are Nicki's Businesses & Investments Worth?
Aside from creating massive hits and touring the world, which nets her millions, Minaj has several other sources of income. Fans of "American Idol" will remember her as one of the judges in the show's 12th season, earning her a hefty $12 million.
Let's not forget her appearances on the big screen, too. The Trinidadian artist starred in Barbershop: The Next Cut, and although it's not clear exactly how much she earned from this, we know that the movie grossed $55M worldwide. She also starred in the romantic comedy The Other Woman featuring Kate Upton and Cameron Diaz, a film that brought in $24.7 million. She also had voice roles in Ice Age: Continental Drift and The Angry Birds Movie 2.
Back in 2012, she became the face of Pepsi, and again, the official terms weren't disclosed but the deal is estimated to be worth seven figures.
Nicki has signed deals with brands in different industries, and one of the most lucrative ones is her collaboration with MaximBet, making her the brand's creative director. In 2022, the brand announced that "Minaj will work with MaximBet on merchandise, parties, partnerships, fan experiences and branding, all designed to bring together entertainment, sports, celebrity, and betting".
RELATED: The 10 Richest Rappers In The World
She partnered with Master P's Rap Snacks to bring us Barbie-Que chips, becoming the first female artist to get her own snack. This was reportedly her biggest collaboration since 2016. She has also collaborated with other massive brands such as Adidas, M.A.C., H&M and Luxe.
Last but not least, Nicki Minaj is a massive influencer on social media platforms, and she reportedly makes more than $1 million per sponsored post.
Trivia: In 2011, Nicki Minaj was on Time's 100 Most Influential People list, thanks to her massive success in the music industry and her business savvy.
What Assets Does Nicki Minaj Own?
Nicki Minaj spends an exorbitant amount of money on cars: You may have seen some of her unique-looking vehicles on her socials. In keeping with the "Barbie" theme, the artist owns a $450,000 pink Lamborghini Aventador, a $1-million pink Bugatti Veyron, as well as a $290,000 pink Mercedes-Benz SLS AMG. Not all her cars are pink though; she also owns a $277,000 red Ferrari 458 Pista and a $380,000 black Rolls-Royce Cullinan, among others, making her garage look like a showroom.
Additionally, Minaj has some capital tied to real estate. She lives in a $10-million home in Beverly Hills with her family. The mansion features six bedrooms, eight bathrooms, and an outdoor pool with views that would take your breath away.
According to the rap star's Instagram posts, she travels in style in her $36-million private jet, and many sources claim that she owns a large stock portfolio, though that remains to be verified.
Trivia: Nicki Minaj does not shy away from confrontation, and once had a public bust-up with fellow rap artist Cardi B who threw a shoe towards her after an argument at a New York Fashion Week party.
Personal Life
Today, Nicki lives in Beverly Hills with her husband Kenneth Petty, whom she met in high school. In 2020, they welcomed their first child, a little boy Nicki calls "Papa Bear". That's pretty much all we know though, as the couple prefer to keep their family's private life under wraps.
Trivia: Before getting married to Kenneth Petty, Nicki was in relationships with a number of different rappers, including Nas and Meek Mill. She also had a few moments with Drake that caused fans to speculate they were together, though the two never confirmed that rumor.
Selected Discography
| | | |
| --- | --- | --- |
| Work | Release Date | U.S. Sales |
| Pink Friday | November 22, 2010 | 2,000,000 |
| Pink Friday: Roman Reloaded | April 2, 2012 | 905,000 |
| The Pinkprint | December 12, 2014 | 682,000 |
| Queen | August 10, 2018 | 147,000 |
Notable Award Wins
| | | | |
| --- | --- | --- | --- |
| Year | Nominee/Work | Award | Category |
| 2010 | Nicki Minaj | BET Awards | Best New Artist |
| 2011 | Pink Friday | American Music Awards | Favorite Rap/Hip-Hop Album |
| 2012 | Nicki Minaj | BET Awards | Best Female Hip-Hop Artist |
| 2012 | Nicki Minaj | American Music Awards | Favorite Rap/Hip-Hop Artist |
| 2012 | Pink Friday: Roman Reloaded | American Music Awards | Favorite Rap/Hip-Hop Album |
| 2015 | "Only" (Nicki Minaj featuring Drake, Lil Wayne and Chris Brown) | BET Awards | Viewer's Choice |
| 2020 | Nicki Minaj | American Music Awards | Favorite Female Artist – Rap/Hip-Hop |
| 2020 | "Hot Girl Summer" | BET Awards | Coca-Cola Viewers' Choice |
Concert Tours
| | |
| --- | --- |
| Tour Name | Tour Date |
| Nicki Wrld Tour | February 2019 – March 2019 |
| Pink Friday Tour | May 2012 – August 2012 |
| Pink Friday: Reloaded Tour | October 2012 – December 2012 |
| The Pinkprint Tour | March 2015 – August 2015 |