Paul McCartney is Worth $1.2 Billion
| | |
| --- | --- |
| Name | Paul McCartney |
| Other Name(s) | Sir James Paul McCartney, Paul Ramon, Bernard Webb, Fireman, Apollo C. Vermouth, and Percy "Thrills" Thrillington |
| Birthday | June 18, 1942 |
| Birth Place | Liverpool, England |
| Star Sign | Gemini |
| Height | 5 ft 9 1/2 (176.5 cm) |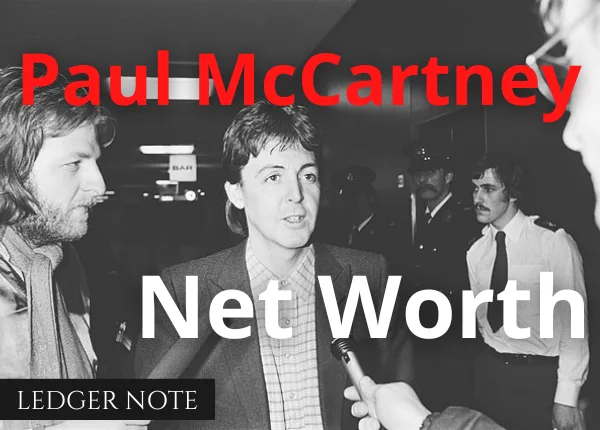 Sir Paul McCartney is an undisputed music icon. His fame comes not only from his days in the world-famous band, The Beatles, but also from his own long and impressive solo career following the break up of The Beatles in 1969. McCartney has been active in music since 1962 when he signed with The Beatles to Parlophone Records and has continued to release albums and tours across the globe. With business as well as music ventures, it's not hard to see why Sir Paul McCartney sits at #4 on our Top 10 Richest Musicians in the World list!
Trivia: Before becoming a musician, McCartney was an electrician!
How Much is Paul McCartney Worth?
So, how much exactly is McCartney worth? The octogenarian is a staple of British and world pop culture, and with such a famous musical history, you'd expect him to be worth the big bucks. McCartney is worth an estimated $1.2 billion! Whilst that might be enough to satisfy anyone else's appetite, McCartney is still working away. His most recent tour concluded in 2019 and he recently performed at Glastonbury Festival, making him the oldest musician ever to headline the main stage. McCartney shows no signs of slowing down and so we can be sure his net worth will continue to reach dizzying heights.
Trivia: Sir Paul McCartney faced serious backlash after showing a music video clip including Johnny Depp in his historic Glastonbury set.
How Much does Paul McCartney Make from his Music?
Sir Paul McCartney has a pretty impressive discography to say the least. The British singer boasts 26 studio albums, four compilation albums, nine live albums, 37 video albums, two EPs, 111 singles, seven classical albums, five electronica albums, 17 box sets, and 79 music videos! It's enough to make your head spin. And not only that, in the digital music world, McCartney can also proudly say he has almost 10 million monthly listeners on Spotify in addition to the Beatles 26 million monthly listeners.
It is reported that McCartney earns around $70 million a year from his music portfolio! This portfolio includes the incredibly popular Beatles catalog, his solo hits like Every Night and collaborations with Kanye West and Rihanna such as FourFiveSeconds, as well as a huge music publishing catalog which allows him access to over 25,000 copyrights of musicals including the iconic Guys and Dolls, Annie, and Grease.
Such a widely enjoyed music portfolio is the gift that keeps on giving for rock n' roll royalty McCartney who has 18 Grammy wins and a staggering 81 nominations to his name.
And crowds continue to flock to see the legend in action. McCartney earns the bulk of his income through touring. In 2019, he finished his Freshen Up tour, which catapulted him into the list of the top 10 highest-earning tour performers of all time. And how could it have been anything other than a raging success? With 37 concerts in 299 days starting in September 2018 and ending in July 2019, McCartney sold 928,252 tickets and grossed $129.2 million.
Not only that, Sir Paul McCartney made history when he performed at Glastonbury Festival 2022 on the main stage at the ripe old age of 80, making him the oldest performer in Glastonbury's history!
Trivia: After the horror of 9/11, McCartney organized a concert to give thanks and honor the firefighters and first responders in Madison Square Garden.
How Much Are Sir Paul McCartney's Businesses and Investments Worth?
Ever the music lover, even McCartney's business ventures are music based. In 2021, Sir Paul was one of a number of investors behind an approximate $3 million funding round for music start-up 'Audoo'. Other investors included ABBA's Bjorn Ulvaeus. Audoo is a music tech company hoping to change the way royalty payments are made to musicians, an issue which is no doubt close to McCartney's heart.
Trivia: On March 11, 1997 Paul McCartney received a knighthood from Queen Elizabeth II for 'services to music' making him officially Sir Paul McCartney
What Assets Does Sir Paul McCartney Own?
As well as interests in the business side of the music industry, McCartney has a pretty sizable property portfolio. Just earlier this year (2022), McCartney and his current wife Nancy Shevell sold their NYC penthouse for a $8.5 million. Unfortunately, Sir Paul seems less successful in his property ventures than in his music. After originally buying the property back in 2015 for $15.5 million, his sale at $8.5 million is a loss of $7 million.
Despite such a loss, McCartney's London home, bought for a measly $48,000 way back in 1965 has skyrocketed in value after a neighboring property was sold for almost $20 million, making the house in St John's Wood, just round the corner from the famous Abbey Road Studios, a very sensible investment.
More of a passion project for Sir Paul is vintage cars, and he has quite the collection with cars such as the Aston Martin DB5 (1964) and the hybrid Lexus LS 600h (2008), making Sir Paul both environmentally forward-thinking and a pop culture vehicle fashionista.
Trivia: The Beatles legend has been a long-time vegetarian and animal rights activist.
With all of this, it's easy to wonder why Sir Paul McCartney isn't worth even more than $1.2 billion! Such an iconic voice and musical presence have made Sir Paul not only #4 on our Top 10 Richest Musicians in the World list but also #1 on our Top 10 Richest Rock Stars in the World!
Selected Discography
| | | |
| --- | --- | --- |
| Work | Release Date | U.S. Sales |
| McCartney | April 17, 1970 | 2,000,000 |
| Ram | May 17, 1971 | 1,000,000 |
| Red Rose Speedway | April 30, 1973 | 500,000 |
| McCartney II | May 16, 1980 | 500,000 |
| Tug of War | April 26, 1982 | 1,000,000 |
| Pipes of Peace | October 31, 1983 | 1,000,000 |
| Give My Regards to Broad Street | October 22, 1984 | 500,000 |
| All the Best | November 2, 1987 | 2,000,000 |
| Tripping the Live Fantastic – Highlights! | November 12, 1990 | 1,000,000 |
| Off the Ground | February 2, 1993 | 500,000 |
| Flaming Pie | May 5, 1997 | 500,000 |
| Driving Rain | November 12, 2001 | 500,000 |
| Back in the U.S. | November 11, 2002 | 1,000,000 |
| Chaos and Creation in the Backyard | September 12, 2005 | 500,000 |
| Memory Almost Full | June 4, 2007 | 500,000 |
Notable Award Wins
| | | | |
| --- | --- | --- | --- |
| Year | Nominee/Work | Award | Category |
| 1971 | Let it Be | Academy Awards | Best Original or Adaptation Score |
| 1972 | Uncle Albert/Admiral Halsey (with Linda McCartney) | Grammy Awards | Best Arrangement Accompanying Vocalist(s) |
| 1975 | Band on the Run | Grammy Awards | Best Pop Vocal Performance by a Duo, Group or Chorus |
| 1980 | Rockestra Theme | Grammy Awards | Best Rock Instrumental Performance |
| 1986 | Paul McCartney | American Music Awards | Merit Award |
| 1990 | Paul McCartney | Grammy Awards | Lifetime Achievement Award |
| 1997 | Free as a Bird | Grammy Awards | Best Short Form Music Video |
| 2011 | Helter Skelter (from Good Evening New York City) | Grammy Awards | Best Solo Rock Vocal Performance |
| 2012 | Band on the Run | Grammy Awards | Best Historical Album |
| 2013 | Kisses on the Bottom | Grammy Awards | Best Traditional Pop Vocal Album |
| 2014 | Cut Me Some Slack (with Dave Grohl, Pat Smear and Krist Novoselic) | Grammy Awards | Best Rock Song |
Selected Concert Tours
| | |
| --- | --- |
| Tour Name | Tour Date |
| The Paul McCartney World Tour | September 1989 – July 1990 |
| Unplugged Tour 1991 | May 1991 – July 1991 |
| The New World Tour | February 1993 – December 1993 |
| Driving World Tour | April 2002 – November 2002 |
| Back in the World Tour | March 2003 – June 2003 |
| '04 Summer Tour | May 2004 – June 2004 |
| The 'US' Tour | September 2005 – November 2005 |
| Secret Tour 2007 | June 2007 – October 2007 |
| Summer Live '09 | July 2009 – August 2009 |
| Good Evening Europe Tour | December 2009 |
| Up and Coming Tour | March 2010 – June 2011 |
| On the Run Tour | July 2011 – November 2012 |
| Out There Tour | May 2013 – October 2015 |
| One on One | April 2016 – December 2017 |
| 2018 Secret Gigs | June 2018 – July 2019 |
| Freshen Up | September 2018 – July 2019 |
| Got Back | April 2022 – June 2022 |