Pete Davidson's Net Worth is $10 Million
When it comes to absolutely nailing comedy, Pete Davidson delivers. He's got this wicked funny bone, undeniable charm—not to mention, an insane amount of tattoos—that really make him stand out from the crowd. They also translate into serious green. Our favorite joke-cracking hottie, known for his razor-sharp wit and memorable one-man shows, is sitting on a cool $10 million net worth as of 2023.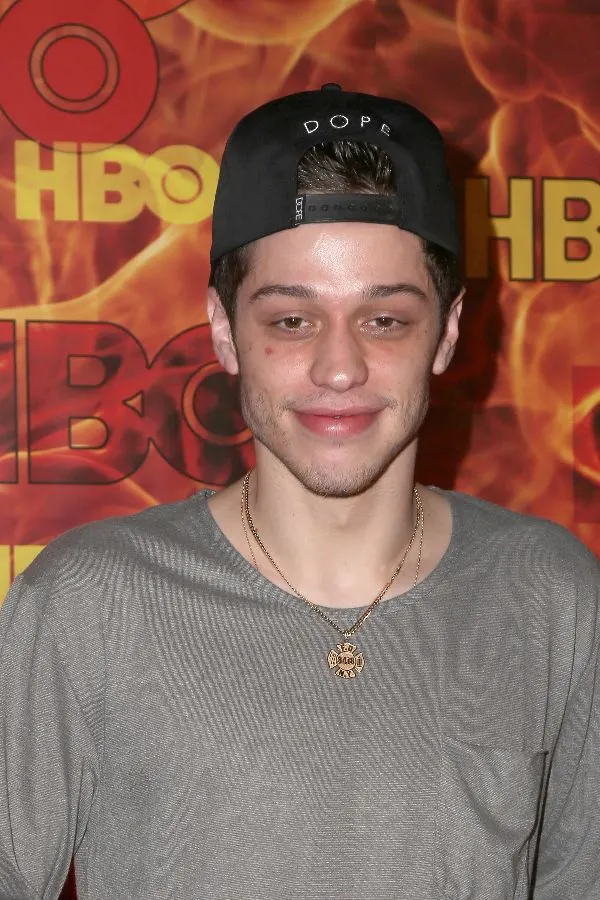 But Davidson hasn't just cashed in on his natural knack for comedy. He's turned it into a career, from gracing our TV screens on some top reality shows to tearing it up in the cinema. Now, with his fresh new gig on Peacock, Pete's been growing both his popularity and wallet. And we're only scratching the surface here!
| | |
| --- | --- |
| Name | Peter Michael Davidson |
| Profession | Comedian, Actor, Writer |
| Net Worth | $10 Million |
| Birthplace | Staten Island, New York, USA |
| Birthday | November 16, 1993 |
| Nationality | American |
| Height / Weight | 6'3″ / 83 kg |
| Relationship Status | Dating |
Going to Manhattan: Pete Davidson's Early Career and Initial Breakthrough
Born on November 16, 1993, and raised in Staten Island, this NY native was born to be a star. Born on November 16, 1993, Pete didn't exactly have a rosy path to fame. In fact, he got dealt a rough hand when his dad, Scott Davidson, a NYC firefighter, died in the 9/11 attacks. It was a tough blow for this teenager. Dealing with anxiety and grief became a part of Pete's daily life. But then, he discovered the magic of making people laugh. His first gig? A stand-up performance at the age of 16 in a local bowling alley, which kicked off his love affair with comedy.
He started getting noticed and was a regular face on MTV shows like "Guy Code" and "Wild 'N Out". He hit the jackpot when he landed a small role in the movie "Trainwreck". This gig introduced him to two game-changers in his career. Judd Apatow, who would later direct Davidson in the somewhat-biopic "The King of Staten Island", and Bill Hader, who introduced Pete to Lorne Michaels, the boss man of "Saturday Night Live". Landing a role on "SNL" while only 20 makes him one of the youngest ever to join the crew.
Reaping the Rewards: Davidson's Revenues from his Primary Career
Pete Davidson knows how to make people laugh. He also knows how to turn those laughs into some serious earnings.
Davidson stole the show at "SNL", from his debut in 2014 until he waved goodbye in 2022. His unique flavor of humor quickly made him a crowd favorite. According to the gossip mill, Pete pocketed a neat $7,000 for every episode during his rookie year, which works out to around $147,000 for his first 21 episodes of work.
Moving on, Davidson next hit the screen with "Bupkis", his new show on the Peacock network. This one also turned out to be a goldmine for the star, earning half a million dollars per episode for eight episodes in the first season—a total of $4 million.
Expanding the Portfolio: The Many Revenue Streams of Pete Davidson
Okay, so we all know Pete Davidson for his killer jokes and crazy characters on SNL, but did you know he's also a bit of a money-making wizard offstage? His paychecks come in from TV, the big screen, sponsorship deals, and business ventures in the form of restaurants in NYC.
Along with "SNL" bud Colin Jost and real estate mogul Paul Italia, Pete bought an old Staten Island ferry for a cool $280,100. The plan? Transform that boat into a hip venue featuring a restaurant, bar and hangout spot. Not just showcasing his love for his hood, the venture's got the potential to pack his wallet even more.
Speaking of bars, let's drop into Red Bupkis, a swanky Manhattan bar our comedy king co-owns along with Jason Sudeikis, Justin Theroux, Mark Ronson, and "Succession" star Nicholas Braun. And it's not just any dive, it's nestled in a fancy part of Manhattan, and the building dates back to the 1890s. Call it a slice of stylish history.
Pete's face has also been popping up all over the place, thanks to his numerous sponsorship deals. In 2022, he emerged as the frat boy-next-door face of H&M, demonstrating his fashion game influence on young men everywhere. And the famous partnerships don't stop there. Pete's promo game includes brands like Manscaped, Smartwater, Hellmann's, Calvin Klein, and Moose Knuckles.
Assets and Altruism: Pete Davidson's Possessions and Charitable Activities
Pete Davidson, with all those millions in his pocket, sure knows how to treat himself to some cool stuff. From swanky homes to weird and wonderful business ideas, Pete's living that luxury life. But let's not forget, he's also big on spreading the love. Let's dig into the good, the glam, and the giving back.
Real estate? Heck yeah, Pete's got not one, but two digs kicking around his stomping ground of Staten Island. His first pad, a cool $1.3-million home, was reportedly snapped up for his mother back in 2016. He's also got a $1.2-million condo for himself, just a stone's throw away from his mom's place. But Pete's not just all about Staten Island life; he splashed out on a snazzy $30K/month apartment in Brooklyn last year.
Of course, it's not just about living the high life. Pete's all about giving back, too. He hosted a comedy event in 2021 for 9/11 charities—a benefit close to Pete's heart in light of losing his dad, a firefighter, during the attacks.
Behind the Laughter: An Intimate Look at Pete Davidson's Personal Life
Though Pete plies his trade as a comedian, his personal life is no stranger to drama and tears.
After losing his father, Pete found his own way of remembering his dad – through ink. Lots and lots of ink. Among his body art collection, you can find a firefighter on one knee on his left arm, the firefighter's prayer and the number nine in Roman numerals, and his dad's initials 'SMD', all present as a tribute to his fallen hero.
And who's the special woman in his life? That would be his mom, Amy. They were roomies until Pete snagged his own place in 2021, proving that, through adversity, their bond has only grown stronger.
When it comes to love, Pete's kept himself busy. Carly Aquilino, Cazzie David, chart-topping megastar Ariana Grande, Kaia Gerber (daughter of Cindy Crawford), Kate Beckinsale, Phoebe Dynevor, and reality TV legend Kim Kardashian have all had a taste of Pete's charm. In 2022, he started seeing actress Chase Sui Wonders, though the pair reportedly broke up in August 2023.
Life in the Fast Lane: Pete Davidson's Not-So-Funny Run-In with the Law
Pete Davidson's spotlight got a little too hot in March 2023, when he found himself behind the wheel and straight into a bunch of trouble—and a Beverly Hills pad. He was charged with reckless driving; luckily, no one was seriously injured. Regarding the cause of Pete's vehicular indiscretion, his PR team's lips are zipped tight, leaving fans and skeptical side-eye throwers alike left to speculate.