Pharrell Williams' Net Worth is $260 Million
| | |
| --- | --- |
| Name | Pharrell Williams |
| Other Names | Pharrell Lanscilo Williams |
| Net Worth | $260 Million |
| Birthday | April 5, 1973 in Virginia Beach, VA |
| Star Sign | Aries |
| Height | 5ft 8 ½ (174 cm) |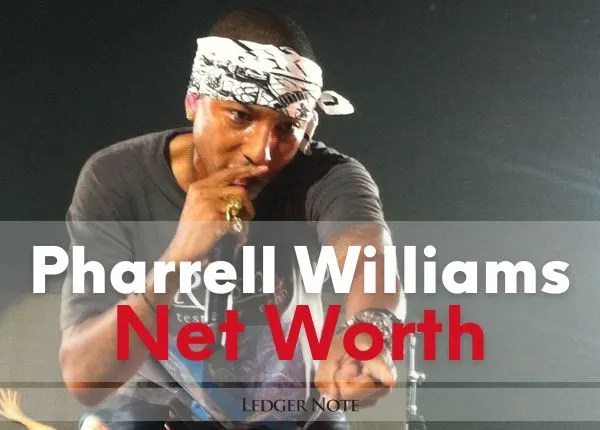 Pharrell Williams is among hip hop's heavyweights, standing next to such luminaries as Dr. Dre, Kanye West, and Diddy. In his three decades in the music industry, he has mastered every craft, from composing and performing to producing and marketing. Today, he is a primary stakeholder of a genre and culture he has invested heavily in.
Born and raised in Virginia Beach, VA, Williams first crossed paths with Chad Hugo, his career-long collaborator, while playing in the Princess Anne High School band. The duo soon moved beyond the fundamentals of percussion and saxophone to focus on beat production – with that, the Neptunes were born. After being discovered by music producer Teddy Riley at a high school talent show, they were recruited to assist hip-hop group Wreckx-n-Effect. In 1992, Williams wrote a verse for their most popular single, "Rump Shaker", while the Neptunes produced the track "Tonight's the Night" on Blackstreet's eponymous debut album two years later.
Meanwhile, Williams attended Northwestern University for two years before dropping out to pursue music full time. The Neptunes would go on to make a name for themselves as producers, working with such artists as the aforementioned Blackstreet, Mase and N.O.R.E.
How Much is Pharrell Williams Worth?
Pharrell Williams is estimated to be worth $260 million. Over the span of a prolific music career supplemented with various business endeavors, he has become one of the most successful names not only in hip hop but the music industry at large. Today, he is a titan whom other creatives aspire to work with.
How Much Money Does Pharrell Williams Make From His Music?
Williams's loaded catalog consists of eight studio albums (one with the Neptunes, two as a solo artist and five with N.E.R.D), two EPs, one mixtape, 21 solo singles, and over 50 features. With over 27 million monthly listeners on Spotify, he boasts an annual revenue from music streaming estimated at $6 million. The Grammy-winning artist also recently became the chief brand officer of web3, a Doodles NFT project, which will involve an album produced by Williams titled "Doodles Records: Volume 1". It will be sold as NFTs but also made available for streaming on various platforms.
Trivia: Williams admits that the controversy surrounding "Blurred Lines", his collaboration with Robin Thicke and T.I., made him realize how some of his songs "catered" to a sexist culture. Though he initially did not understand why the lyrical content was seen as innapropriate, he later conceded, "There are men who use the same language when taking advantage of a woman." The song came under fire after many perceived it to be a trivialization of non-consensual sex.
How Much Is Pharrell Williams's Business Ventures Worth?
Williams appreciates finely crafted products and goods of high value. A sculpture he made with renowned Japanese artist Takashi Murakami was estimated to be worth up to $3.8 million. Comprising 26,000 diamonds, precious gems, and gold by Jacob & Co., 'The Simple Things' is an art piece that explores how the most valuable assets in life are often the simplest. In 2014, he signed a deal worth $8 million a season to appear as a coach on "The Voice".
He has worked on a jewelry line for Louis Vuitton called Blason, co-designing pieces that ranged from $2,070 to $621,000. He also designed the company's first sunglasses line in 2005. Aside from that, he has a partnership with Adidas Originals to meld fashion, design, and functionality to create quality everyday products. Williams was involved in a collaboration between Chanel and Adidas Originals that was limited to 500 pairs of sneakers, each selling for $1,180.
In 2003, Williams and fashion designer Nigo launched the clothing, accessories, and lifestyle brand Billionaire Boys Club, which grew to include such offshoot brands as ICECREAM, Bee Line and Billionaire Girls Club. He also founded Humanrace, a wellness and skin-care product company centered on the idea that "taking better care of ourselves can teach us to take better care of each other." In 2019, he launched the Something in the Water music festival, which takes place annually in his hometown of Virginia Beach, VA.
Trivia: Williams's entrepreneurship extends to charitable work. He has launched an initiative to help Black and Latinx startup founders realize their dreams. His non-profit Black Ambition is inspired by the opening lyrics of his song with Jay Z, "Entrepreneur": "I am Black ambition." Additionally, his non-profit organization Yellowhab aims to open small private schools for students from low-income families.
What Other Assets Does Pharrell Williams Own?
Pharrell Williams doesn't just sell luxury and well-being, he lives it, too. In 2020, he flipped a Beverly Hills Post Office home previously owned by Tyler Perry for $14 million. Williams took a financial hit with the sale, having purchased it for $15.6 million two years prior. Earlier this year, he sold his second California home, in the Hollywood Hills, for $9.2 million. The final sale didn't match the $12 million he was asking in 2020, but it still left him with a $2-million profit in light of what he paid for it in 2015. After listing his two-storey Miami penthouse for $10.999 million, he was able to sell it for $9.25 million in 2016.
He currently owns an expansive property located in Coral Gables, Florida. The 17,025-square-foot estate set upon the water includes 3.3 acres, nine bedrooms, a library, and a bar. Recently, Williams joined forces with Miami Beach-based hospitality business guru David Grutman to open a hotel on the Bahamas's Paradise Island — Somewhere Else is expected to open its doors in January 2024.
Aside from owning a private jet, a yacht, and a customized Harley-Davidson motorcycle, Williams also has a deep car collection that consists of
Black Ferrari Enzo
Porsche 550 Spyder
Mercedes SLR McLaren
Rolls-Royce Phantom Drophead Coupe
Rolls-Royce Phantom
Hybrid GMC Yukon
Trivia: Williams has remained loyal to Sony/ATV Music Publishing throughout his career. After 20-plus years of active involvement in the company's inner workings and creative output, he ranks in its roster's top-five most licensed artists. As his contract ran out in 2018, several major publishing companies reached out to him with hopes of having him onboard but Williams renewed his worldwide deal and entered the third decade of his partnership.
Personal Life
Williams and Helen Lasichanh were friends for a long time before their relationship turned romantic, even though Williams was in love with her from the very beginning. "I was like, 'Who and what is that?'" he told Oprah Winfrey in 2014. "I just knew. I knew at some point something was going to happen. I was just so enamored by the moment I was having with her. I just wanted to read that book — I didn't care what was in it."
After having a child in 2008, the couple married in 2013. Four years later, they welcomed triplets into the family, increasing the household tally to six members. Williams and Lasichanh have made an effort to keep their children out of the public eye, though Williams has recently started sharing details of his family life.
Trivia: Williams and Hugo were inducted into the Songwriters Hall of Fame in 2020. "He's a savant. He's a genius," Williams told "CBS This Morning" co-host Anthony Mason about Hugo. "He's a genius. He's savant," Hugo replied back. "No, no, no," Williams said. "I'm just an ant. The last three letters of that word."
Selected Discography
| | | |
| --- | --- | --- |
| Work | Release Date | U.S. Sales |
| In My Mind | July 25, 2006 | 406,000 |
| Girl | March 3, 2014 | 591,000 |
Notable Award Wins
| | | | |
| --- | --- | --- | --- |
| Year | Nominee/Work | Award | Category |
| 2014 | "Move That Dope" (with Future, Pusha T and Casino) | Best Club Banger | BET Hip Hop Awards |
| 2014 | "Blurred Lines"(with Robin Thicke and T.I) | Billboard Music Awards | Top R&B Song |
| 2014 | "Blurred Lines"(with Robin Thicke and T.I) | Grammy Award | Best Pop Duo/Group Performance |
| 2014 | Pharrell Williams | Grammy Award | Producer of the Year, Non-Classical |
| 2015 | "Happy" (live) | Grammy Award | Best Pop Solo Performance |
| 2015 | Girl | Grammy Award | Best Urban Contemporary Album |
| 2017 | Pharrell Williams | Producer of the Year | BET Hip Hop Awards |
| 2018 | "Apes**t" (as a producer) | Song of the Year | BET Hip Hop Awards |
Concert Tours
| | |
| --- | --- |
| Tour Name | Tour Date |
| Dear Girl Tour | September 2014 – October 2014 |