Rick Ross's Net Worth is $150 Million
He is one of modern rap's more recognizable faces, having put the game on notice even before the release of his debut single, "Hustlin'", in 2006. Rick Ross hit the ground running, receiving offers of representation from Bad Boy Entertainment and Murder Inc. before signing with Jay-Z and Def Jam Recordings.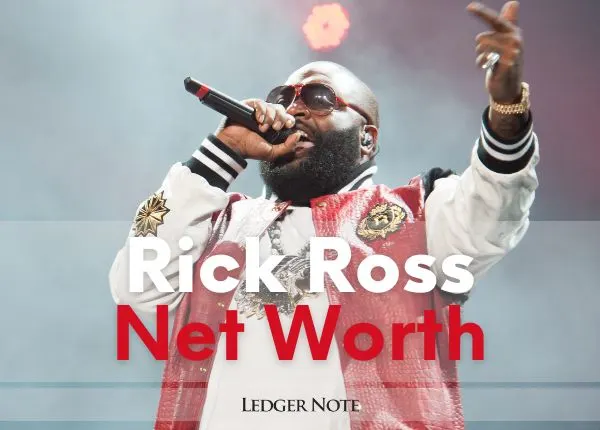 Rick Ross is walking proof of the old line that your network is your net worth, having worked with everyone from Drake and Lil Wayne to Kanye and Pusha T. In addition to being name-checked in our rundown of the best hip-hop producers in the world, Ross is known to fly the flag for a more simplistic, but always stylish, boom-bap style of hip hop. His smooth baritone flow is part throwback, part contemporary classic and Ross has made some big moves in a relatively short time in the industry.
| | |
| --- | --- |
| Name | Rick Ross |
| Other Name | William Leonard Roberts II |
| Net Worth | $150 Million |
| Birthplace | Clarksdale, Mississippi, USA |
| Birthdate | January 28, 1978 |
| Star Sign | Aquarius |
| Height | 5 foot 9 (180 cm) |
Rick Ross is worth a cool $150 million. Although his rap career has been productive, with dozens of high-profile features to go alongside his 11 studio albums and 145 singles, Ross is a thoroughly modern rapper in the sense that his portfolio and interests stretch in all sorts of directions beyond music.
Clarksdale & Cartels: Rick's Early Life and Breakthrough
Born January 28, 1976, in Clarksdale, Mississippi, Rick Ross and sister Tawanda Roberts grew up in Miami, Florida, after his parents, Tommie and William Leonard Roberts Sr., decided to pack up and move.
After finishing up at Carol City Senior High School, he started his university journey at Albany State University, a historically black university in Albany, Georgia. His passion for music started young, with him being a part of a rap group in the 1990s called the Carol City Cartel.
His big break came when he began his recording career using the nickname Teflon Don with Suave House Records. He first approached the mic in the mid-2000s with the track "Ain't Sh** to Discuss" from Erick Sermon's album for DreamWorks, Def Squad Presents: Erick Onasis.
Choosing to rep the name Rick Ross, which he admittedly snagged from former drug bigshot "Freeway" Rick Ross, he put out his first studio album Port of Miami in 2006. The album portrays Miami's infamous cocaine trade, which Ross was no stranger to before his rise to stardom. You might recognize the chart-topping singles "Hustlin'" and "Push It", which further illustrate his ties to Miami's cocaine trafficking scene.
Ross The Boss: Rick's Earnings From Music
Rick Ross is not merely prolific; he is also extremely popular. With an impressive 22 Recording Industry Association of America gold and platinum awards as a solo artist, and nine more as a featured artist, Ross, a.k.a. the Biggest Boss, has no problems when it comes to putting up big numbers in terms of sales.
In the modern world, of course, it is not only traditional sales that count, but also streams. This is another area in which Ross has no problems, with 12.2 million monthly hits on Spotify alone. He also earns residuals from such massive tracks as "Monster" by Ye.
Trivia: Rick Ross initially anointed himself the Biggest Boss on his second album, 2008's Trilla, on his song named, you guessed it, "The Boss."
Playin' Chicken: Rick's Other Revenue Streams
As noteworthy as Rick's musical career has been to this point, he's proven to be a successful businessman and entrepreneur as well. To start with, only three years after his own debut single had been released, suitably named "Hustlin'", he founded his own label imprint, Maybach Music Group in 2009. With a distinctive breathy female vocal sample embedded in most of the tracks distributed by the label — possibly taking cues from Lil Wayne and Young Money — Maybach Music Group quickly carved a niche for itself, representing artists such as Wale and Meek Mill, along with Ross himself.
Elsewhere, the rapper has several ventures related to food and drink. As the owner of several Wingstop locations, Ross was partly responsible for promoting the brand's novel response to a shortage of chicken wings in 2021. The chain launched an online-only brand, Thighstop, to help encourage customers to give the darker meat a try.
Ross has also used his considerable marketing skills to increase the profile of the French sparkling wine label Luc Belaire within the hip-hop world, following in the grand tradition of Moet, Cristal and Armand de Brignac.
Trivia: It seems Ross' commitment to the finer things in life also extends to male grooming, with the 2018 launch of a range of beard-centric cosmetic products featuring champagne and caviar extracts, of course.
Flying & Philanthropy: Rick's Possessions and Acts of Charity
Rick Ross, again displaying an uncommonly clear-headed knack for building wealth, has invested a great deal of his fortune in real estate.
One of the boss's sickest moves? Buying some of the most ostentatious houses across the globe. Number one on his list has to be the 54,000-square-foot mansion in Fayetteville, Georgia, that comes with more than 200 acres of land. This beast once belonged to boxing boss Evander Holyfield, and Ross snagged it for $5.8 million back in 2014. He later flashed the cash and dropped $4.2 million on a three-storey stunner in Atlanta that used to be Meek Mill's crib. And let's not forget his resort-style estate in Florida, a 2.3-acre beauty he bought with a cool $3.5 million.
Not impressed yet? Rick also owns a 2012 Gulfstream G 550 private jet because, clearly, walking from one home to the next is not an option.
But Ross isn't all about ruling the globe from his castles and private aircraft, he has a habit of giving back too. He's known for dropping big bucks on his local community. Like, in 2020, he teamed up with Habitat For Humanity and built a house for a veteran in his local area, Fayette County, Georgia. Then in the summer of 2023, he forked over $30,000 to keep a Georgia health clinic from closing its doors. And the previous year, he even partnered with Foot Locker down in Miami to give much-needed school supplies to kids who could use a little help7.
Trivia: Like many other rappers, Rick Ross has an extensive car collection, with a fleet of around 100 vehicles including Ferraris and Lamborghini. Unlike many other rappers, Rick Ross did not receive his driver's license until his mid-forties.
Billion & Bliss: Rick's Personal Life
Rick Ross is not the first person to find that life in hip hop can lead to a turbulent family life. He probably learned this following a recent settlement in which he agreed to pay $11,000 monthly in child support to the mother of his three children, Briana Singleton.
He also has another child from an earlier relationship with Tia Kemp. That makes five kids: Toie Roberts (the eldest, whom he had with ex-partner Lastonia Leviston), William Roberts III (with Kemp), and Berkeley Hermès Roberts, Billion Leonard Roberts, and Bliss Allah Roberts, with Briana.
He's also dated women he hasn't had children with: the fabulous Tanzanian socialite Hamisa Mobetto; starlet and influencer Lira Galore, whom he nearly married; and even had a thing with Puerto Rican celeb Joseline.
Trivia: Rick Ross found out over the summer that being a boss in the hip-hop game doesn't open every door, when he was denied entry to Buckingham Palace in the UK.
Rick Ross: Success Amid Controversy and Legal Battles
In 2010, ex-drug kingpin "Freeway" Ricky Ross tried to sue our Rick Ross for nicking his name. Jay-Z even got dragged into it because he was running Def Jam when Rick Ross got signed. The old-dope slinger wanted $10 million in damages. Despite a small hiccup when the case got moved to California, Rick Ross ended the marathon lawsuit in 2013 on a high note, taking the win, all thanks to the First Amendment.
Rick's run-ins with the law didn't stop there. In 2011 and again in 2014, Rick Ross was caught with a bit of weed. Things got more serious in 2015 when he was hit with kidnapping and assault charges. He would ultimately be fined $10,000 in 2017, charged with a few misdemeanors, and five years of probation—the relatively light sentence a result of being a first-time felony offender.