Snoop Dogg is Worth $160 Million
| | |
| --- | --- |
| Name | Snoop Dogg |
| Other Name(s) | Calvin Cordozar Broadus Jr., Snoop Doggy Dogg, Snoop Lion |
| Net Worth | $160 Million |
| Birthday | 20 October 1971 in Long Beach, CA |
| Star Sign | Libra |
| Height | 6ft 4 (193 cm) |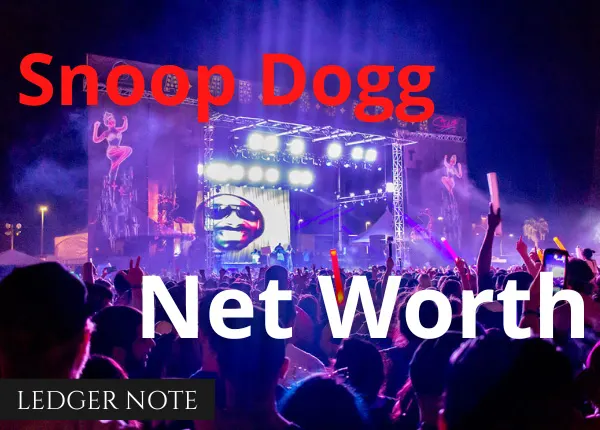 One of the most famous rappers in the world, a giant of the entertainment industry and a household name to boot, we've dedicated a lot of time to Snoop here at LedgerNote. For example, check out his ranking on our list of richest rappers or, for a deep dive into his music career, look no further than our rundown of his top ten tracks. Right now, though, we're taking a moment to take a closer look at Snoop Dogg's net worth.
As a youngster, Broadus was a dedicated student and enjoyed attending church services. This will come as no surprise to anyone familiar with his 2018 gospel album, Bible of Love. He also worked basic retail jobs in order to help his family make ends meet. Unfortunately, despite his mother's best efforts, he became embroiled in unlawful gang activities as a teenager, leading to repeated incarcerations and controversies. Even while this was happening, Broadus was honing the emcee skills that would eventually grab the attention of Dr. Dre and lead him to feature heavily on the classic album, The Chronic in 1992, sparking a decades-long career spanning entertainment and wider business.
Trivia: Snoop was a keen and dedicated football coach, active for fifteen years, as he coached his youth team, "Snoop's Steelers" in the Snoop Youth Football League. Snoop set up the SYFL himself, in order to help Los Angeles area kids to stay focused on their goals, and to avoid the kind of trouble he himself had been through. Netflix series, "Coach Snoop" centers around his last year of coaching before his recent retirement.
What is Snoop Dogg's Net Worth?
Snoop Dogg is worth $160 million dollars. While that's the kind of money that many people only ever dream of having, he doesn't currently feature in our top ten richest rappers list, which just goes to show the crazy levels of success that are possible at the top of the entertainment game. We've broken down his net worth into three notable areas, as follows.
How Much Money Does Snoop Dogg Make From His Music?
Snoop Dogg's music career at this point spans thirty years, and he's been prolific throughout that time, releasing (deep breath) 19 albums, five collaborative albums, 17 compilations, three EPs, 25 mixtapes, 175 singles, and 16 promo singles. His solo output accounts for over seventeen million sales, and his prominent features on classic hip hop albums by Dr. Dre and Eminem among many others have also been incredibly popular.
Of course, in the modern era, streaming stats are also extremely important, and Snoop is no slouch on that front. He has amassed over thirty million monthly Spotify hits at the time of writing, which are worth anywhere between 300 and 500 thousand dollars a month.
Snoop is also a prolific live performer, notably playing 70 shows between June 2013 and June 2014 alone. In March 2017, the "Mt. Kushmore Wellness Retreat" tour ballooned from a scheduled two-day concert festival, into a 16-city North American tour, which gives us an idea of the kind of numbers Snoop is still pulling in.
Forbes suggested he earned $10 million in 2014 through deals with companies such as Hot Pockets and Airbnb, and in 2015 he earned a similar amount through touring and endorsements.
Snoop has also recently acquired Death Row Records, the label that launched his career in the early 90s, with a view to creating a dedicated streaming platform for classic Death Row releases, such as The Chronic and Doggystyle.
Trivia: An iconic stage name like Snoop Doggy Dogg needs a good backstory, and Calvin doesn't disappoint us on that front. He was given Snoop as a nickname by his mother because of his love of cartoons, and lifted Doggy Dogg straight from his cousin, who went by Tate Doggy Dogg in the mid-late eighties.
How Much are Snoop Dogg's Business Ventures Worth?
Perhaps unsurprisingly, a lot of Snoop's extracurricular business activities are centered around that real sticky icky. 2017 saw an income of around $10 million through his unexpected but highly profitable partnership with Martha Stewart on the "Potluck Dinner Party" series and from his cannabis/lifestyle platform, "Merry Jane".
Along with his Death Row Records plans mentioned above, Snoop's investments and interests are as varied as the rest of his career, including ventures in:
NFTs and the Metaverse, including a plan to digitally farm, you guessed it, cannabis and distribute it through the digital game, MOBLAND
Investment in cannabis tech and infrastructure as part of a capital fund, Casa Verde
Snoop Dogg is a co-owner of the popular website Reddit
Snoop's investment fund has also made significant investments in medical cannabis in Europe
As we can see, the Doggfather has been making significant moves in developing industries and spaces, meaning that we may well be taking another look at his net worth in a few years time.
Trivia: Never one to let an opportunity go by, and not afraid to take a chance in an emerging market, Snoop is also involved with esports organization "FaZe Clan" and even referenced them during his famous Super Bowl Halftime Show performance featuring Dr. Dre and Eminem.
How Much are Snoop Dogg's Assets Worth?
Snoop Dogg's mansion in Diamond Bar, California, a super-luxury complex that he has remained secretive about since its purchase in 1998, is worth $1.7million.
He also owns a collection of customized cars, including several highly stylized Cadillacs, a school bus, a Tesla and a real-life Batmobile. Because, why not?
Trivia: Among Snoop's more interesting partnerships and assets, is a deal with Australian wine brand "19 Crimes", which has launched wines featuring Californian grapes and the West Coast icon's name, including "Snoop Cali Red"'.
So, there we have it. Even a brief look into Snoop's net worth tells the story of a man whose activities beyond the music industry are as varied and creative as his music. At this point, there is truly nothing about the Doggfather that could surprise us.
Selected Discography
| | | |
| --- | --- | --- |
| Work | Release Date | U.S. Sales |
| Doogystyle | November 23, 1993 | 5,483,000 |
| Tha Doggfather | November 12, 1996 | 2,000,000 |
| Da Game Is to Be Sold, Not to Be Told | August 4, 1998 | 2,000,000 |
| No Limit Top Dogg | May 11, 1999 | 1,000,000 |
| Eastsidaz | February 1, 2000 | 1,000,000 |
| Tha Last Meal | December 19, 2000 | 1,000,000 |
| Paid Tha Cost to be Da Bo$$ | November 26, 2002 | 1,000,000 |
| R&G (Rhythm & Gangsta): The Masterpiece | November 16, 2004 | 1,000,000 |
| Tha Blue Carpet Treatment | November 21, 2006 | 2,000,000 |
| Ego Trippin' | March 11, 2008 | 401,000 |
Notable Award Wins
| | | | |
| --- | --- | --- | --- |
| Year | Nominee/Work | Award | Category |
| 1999 | Snoop Dogg | American Music Awards | Favorite Rap/Hip-Hop Artist |
| 2003 | Beautiful (featuring Pharrell & Charlie Wilson) | BET Awards | Best Collaboration |
| 2005 | Drop It Like It's Hot (featuring Pharrell) | Billboard Music Awards | Hot Rap Track |
Concert Tours
| | |
| --- | --- |
| Tour Name | Tour Date |
| Up in Smoke Tour | June 2000 – August 2000 |