Travis Barker's Net Worth is $50 Million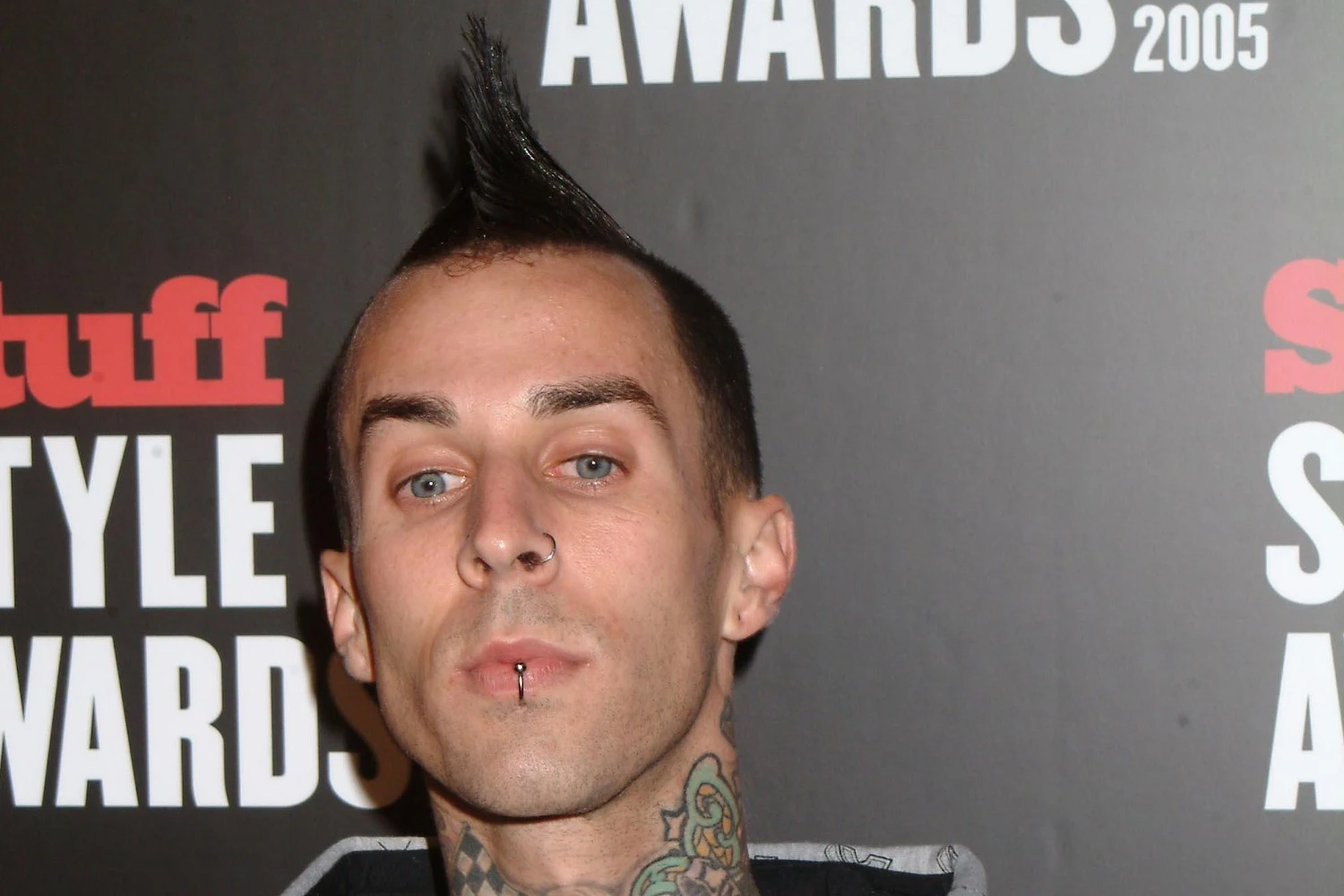 When you hear those sticks getting a roll on and hear that booming drum, you know it's showtime with Travis Barker. He was born on November 14, 1975, and went from emptying garbage cans to drumming the heartbeat of blink-182. He's proof of what you can achieve when you pair your talent with a whole lot of grit and passion. Today, Barker's claimed a spot at the top of the pop-punk drumming world, and that is reflected in his bank account, sitting as he does on a net worth of $50 million as of 2023.
Barker didn't just stick to one thing though. He's been all over the music map, and he's created some unique beats along the way. Blink-182 may be his claim to fame, but his journey to rolling in the dough doesn't begin and end with them. Investing in everything from real estate to fashion lines, he's shown he's no one-trick pony. All these different projects have helped to steadily bump up his fortune over the years.
| | |
| --- | --- |
| Name | Travis Landon Barker |
| Profession | Musician, songwriter, and record producer |
| Net Worth | $50 million |
| Birthplace | Fontana, California, USA |
| Birthday | November 14, 1975 |
| Nationality | American |
| Height / Weight | 5'9″ / 145 lb. |
| Relationship status | Married |
Garbage Guy to Drumming Dude: Travis Barker's Early Life and Journey to Fame
Little Travis Barker, a four-year-old Cali kid from Fontana, picked up his first drumstick and never looked back. His dad, Randy, a mechanic, and mom, Gloria, a babysitter, saw that their boy was a natural at knocking out rhythms, so they got him drum lessons with this guy named Thomas Hogan. A smart move.
Through high school, Barker was all about that band life, showing up in marching bands and drumming at festivals. Even had a band called Feeble, which he toured with during his final year. But adulthood hit, and for a while, Travis had to put his music dream on pause to earn money as a trash man—that was until he jammed with the Aquabats in 1994 and became their go-to drummer.
The real game-changer came in 1998. Pop-punk band blink-182, in need of a drummer, asked Travis, who was serving as drum man for the Aquabats, blink-182's openers at the time. What was intended as a temporary thing became a full-time position. In '99, they went all out with a tour following a hit album and even popped up in American Pie.
Striking Gold: Revenues From Barker's Primary Career
Thanks to blink-182's trailblazing tour in '99, Travis was shot into the stratosphere of millionaire musicians. The band kept pumping out killer hits and Travis kept raking in the cash. From Enema of the State in 1999 to Nine in 2019, Barker has been bringing it hard.
Ever the work horse, Travis would lend his services to other bands: +44 (with blinks bassist Mark Hoppus), the Transplants (with Rancid vocalist Tim Armstrong), and Box Car Racer (with blinks guitarist Tom DeLonge), among others. With his status as drummer supreme secure, Travis branched out into production, sitting at the desk for rap artists Bun B and T.I., as well as his own material. He has remixed tunes for Eminem and worked with Guns n' Roses axeman Slash. In 2020 he worked with Machine Gun Kelly on the latter's pop-punk album Tickets to my Downfall; in 2022, he executive-produced Kelly's album Mainstream Sellout. The pair seem to work well together, as evidenced in this clip of the pair performing a cover of Rage Against the Machine's "Killing in the Name Of".
The Extra Beat: Amplifying Revenues Outside Music
Back in 1999, shortly after joining blink-182, Barker launched his own gear, Famous Stars and Straps. He translated his love for punk rock and rap into cool threads for fans. Aside from his own label, he also teamed up with other brands (like DC Shoes) to double up his cash flow.
Travis also did the whole reality TV thing in 2005 with "Meet the Barkers". Ironic given he would eventually call Kourtney Kardashian—star of one of the biggest reality series ever—his wife. The man must have a thing for the genre.
Barker set up LaSalle Records in 2004, then DTA Records in 2019. Even though some of the OG artists have moved on, LaSalle is still home to Barker and his punk rock/rap squad the Transplants, so he takes home two paychecks through their efforts.
Our drummer dude also knows his way around a killer property deal. With a portfolio of homes and rentals, Barker's been raking in the dough in unique ways. Want Travis as a landlord? Rent his $2.8-million crib for a hefty $27,000 a month.
Beyond clothes, music, and bricks, Barker's put some money into the vegan eatery Crossroads Kitchen's first spot on Melrose Avenue and invested in MindRight, in a seed round worth $1.8 million.
A Drummer's Treasures: Barker's Notable Possessions and Philanthropic Ventures
Real estate is Travis's go-to gambling chip. He has had numerous properties, including a sleek 4-bedroom home in Cheviot Hills that he sold for a cool $4.5 million in 2017, and not forgetting his super extravagant Calabasas crib that he bought for a whopping $9.5 million in 2007.
And cars? Barker's got a crazy lineup that would make any car freak drool. More than 20 beauties, including a few Cadillacs, a Rolls-Royce, some Ferraris, a couple of Porsches, and a few G-wagons.
But don't let all the lush life fool you. Barker's not only about cash and flash. Back in 2017, he teamed up with PETA for an awesome campaign. Their aim: sparking chatter about animals in danger and being abused.
Behind the Drum Set: Barker's Personal Life
Travis tied the knot with Kourtney Kardashian, the OG Kardashian sister, and their global wedding spree was one for the books—from fun-filled Vegas to the dreamy Italian town of Portofino, all in 2022.
Travis is the doting dad to two kids—Landon Asher Barker and Alabama Luella Barker. There's also his former stepdaughter from an earlier marriage, Atiana De La Hoya—he's super close to her, treating her just like his own daughter.
Barker's all about family, and he's open about his past, including his first marriage to Shanna Moakler that ended back in 2008. Fans dig this raw, vulnerable side about him.
Living Life Loud: The Ups and Downs of Travis Barker
On September 19, 2008, Barker barely survived a plane crash that tragically took the lives of four out of the six people on board, including some of his close pals. With horrible third-degree burns covering 65 percent of his body, he had to undergo 26 surgeries before he made a complete comeback.
After that nightmare, he went head to head with the companies responsible for the plane, suing them over their part in the crash. They ended up reaching a settlement, though the details have not been disclosed. Barker's health took another hit in 2018, when he got diagnosed with blood clots; he would sue the hospital that messed up his treatment that led to the condition.
Just like in his music, Barker's life is filled with high-pitched drama. He was once involved in such an intense fight with his ex-wife Shanna in 2014 that the police had to get involved. Such was the kind of volatile chemistry they had.