Travis Scott is Worth $65 million
| | |
| --- | --- |
| Name | Travis Scott |
| Other Names | Travi$ Scott, Jacques Bermon Webster II |
| Net Worth | $65 million |
| Birthday | 30 April 1991 |
| Star Sign | Taurus |
| Height | 5ft 10 (177 cm) |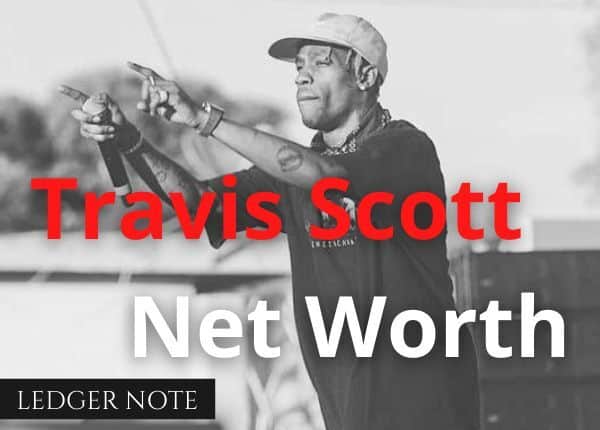 Travis Scott burst onto the rap scene in 2012 when he signed his first major record deal with Epic Records, and a publishing deal with Kanye West's GOOD music.
Since his big break, Scott has released three studio albums, including 2015's 'Rodeo', and 2018's 'Astroworld', which would give us his hit single 'Sicko Mode'. This single was also his first to reach number one on the Billboard Hot 100.
Scott went on to support his first album with his 'Rodeo' tour, which consequently launched Travis Scott into the rap stratosphere. Is it any wonder he is a runner-up in our Top 10 Richest Rappers in the World List?
How Much is Travis Scott worth?
Travis Scott is worth an estimated $65 million. He has several different income streams that contribute to this figure. He of course earns royalties from his music, but beyond that, he has a variety of creative ventures that include a line of merchandise. Scott has also successfully partnered with many major brands.
The 31-year-old rapper has several impressive properties in his portfolio in addition to a pricey luxury car collection.
So let's take a closer look at how Travis Scott's impressive income and assets breakdown.
How much money does Travis Scott make with his music?
Obviously, the first place you would look would be the income from his music. In this regard, Travis Scott has undoubtedly cracked the streaming market.
Racking up over 38 million monthly listeners on Spotify alone, it is estimated that Travis Scott gets paid close to $7 million annually by the streaming platform. He likely receives comparable amounts from other streaming services such as Apple Music and Amazon Music. His most successful songs have been 'Sicko Mode' with 1.3 billion streams and 'Goosebumps' with 1.1 billion streams.
And we haven't even begun to look at his staggering tour income. Scott's 'Astroworld' tour was the top-grossing hip hop tour of 2019 at $53.5 million, making him one of the best-paid rappers in the world. Sadly, in 2021 one of his concerts took a tragic turn when 10 people died after being crushed in the crowd at his Houston show. Travis Scott (along with the event organizer Live Nation) is the target of several lawsuits arising from this dramatic incident, and he may be forced to pay large amounts of money to the victims.
Trivia Fact: During the pandemic, he participated in a critically acclaimed virtual show on the Battle Royale game Fortnite. The show drew more than 27 million players and brought in an estimated $20 million in revenue.
How Much Are Travis Scott's Business Ventures Worth?
Scott is a savvy businessman and has been involved in several business ventures with well-known brands. Scott's partnership with Nike would result in his signature sneaker line, 'Cactus Jack'. It has been estimated that this successful partnership nets him $10 million per year.
An unlikely partnership with McDonald's resulted in a Travis Scott celebrity happy meal that netted the rapper $5 million for the endorsement deal, and a further $15 million in merchandise sales.
Like most major artists, Scott runs a successful merch line that supports his tours. The line is often only available to be bought online or through major online retailers such as Amazon. To drive sales, his tours will often generate hype around this merchandise.
Another income stream for Scott is derived from trademark royalties. In 2018, Scott trademarked the brand 'Astroworld'. This trademark would be very broad, encompassing everything from the music to an annual performance at the Houston Festival.
Following the success of his first trademarks, he would go on to trademark the phrase "Look Mom I Can Fly", "No Bystanders" and "Wish You Were Here".
Trivia Fact: A lawsuit has been filed against his agave seltzer brand, 'CACTI' for deceiving customers into thinking the drink was made with agave spirits when it only contained agave as a sweetener.
What Other Assets Does Travis Scott Own?
Travis Scott is a property investor who owns several luxury properties across a number of cities and states, including Houston, Chicago, Los Angeles, New York, and Las Vegas.
In 2018, Scott purchased a Beverly Hills home with his partner, Kylie Jenner, for a reported $13 million. His Houston home spans more than 12,000 square feet on 1.5 acres of land.
Additionally, Scott owns a $23.5 million property in Brentwood, Las Vegas. The property features 11 bathrooms and 7 bedrooms and is nothing short of a mansion.
Houses aren't the only assets Scott owns, though. Scott has an impressive luxury car collection that includes a Bugatti Chiron, a Mercedes Mayback G650, and several other exquisite vehicles. His car collection may be worth more than $5 million.
Trivia Fact: In 2015 Travis Scott produced and starred in a Netflix documentary titled 'Look Mom I Can Fly'.
Conclusion
Travis Scott has a diverse income portfolio as a musician, music producer, fashion designer, and businessman. However, he remains significantly below both his partner Kylie Jenner (reported to be worth $700 million) and the one and only Kanye West (who tops our list of richest rappers in the world with a reported net worth of $6.6 billion).
Selected Discography
| | | |
| --- | --- | --- |
| Work | Release Date | U.S. Sales |
| Rodeo | September 4, 2015 | 110,000 |
| Birds in the Trap Sing McKnight | September 2, 2016 | 53,000 |
| Astroworld | August 3, 2018 | 648,2000 |
Notable Award Wins
| | | | |
| --- | --- | --- | --- |
| Year | Nominee/Work | Award | Category |
| 2016 | "Antidote | BET Hip Hop Awards | People's Champ Award |
| 2019 | "Sicko Mode" (with Drake) | BET Awards | Best Collaboration |
| 2019 | Travis Scott | BET Hip Hop Awards | Video Director of the Year |
| 2019 | Astroworld | BET Hip Hop Awards | Album of the Year |
Concert Tours
| | |
| --- | --- |
| Tour Name | Tour Date |
| Astroworld – Wish You Were Here Tour | November 2018 – July 2019 |