Travis Scott is Worth $65 million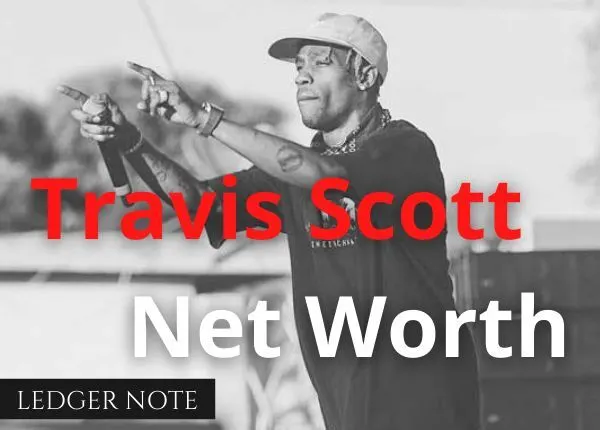 Ever wondered about the life and hustle of Jacques Berman Webster II? What about the hustle of Travis Scott? If that last one intrigues you, then read on. The shining hip-hop heavyweight has stacked up a stunning $80 million. Is it any wonder he is a runner-up in our Top 10 Richest Rappers in the World?
Travis Scott burst onto the rap scene in 2012 when he signed his first major record deal with Epic Records, and a publishing deal with Kanye West's GOOD music. But a good start isn't enough to keep afloat a career with the quality of Scott's. It requires hard work, relentless dedication, and raw talent—just the qualities that took him from being a tough hood in Houston to the top of the hip-hop industry.
| | |
| --- | --- |
| Name | Travis Scott |
| Other Names | Travi$ Scott, Jacques Bermon Webster II |
| Net Worth | $65 million |
| Birthplace | Houston, Texas, USA |
| Birthday | 30 April 1991 |
| Star Sign | Taurus |
| Height | 5ft 10 (177 cm) |
The Genesis: Travis Scott's Rise from the Ashes
Born in Houston, Texas, on April 30, 1991, Travis lived in Missouri City, a suburb nearby, with his parents. His mother worked for Apple while his father was a business owner. He did however spend much of his youth with his grandmother in South Park, Houston. There, he witnessed crime and poverty, and strove to avoid a fate consumed by both.
After scoring his high school diploma, he was off to the University of Texas San Antonio. Travis didn't take to college life, though, and, bursting with untapped creativity, he dropped out in his second year to commit his time and energy to his real passion: music.
2012 proved a lucky year for Travis, as he bagged his first big-time record deal with Epic Records. The luck continued when Kanye West saw something special in this young man and offered him a gig at GOOD Music's production wing, Very GOOD Beats. Travis entered the spotlight and, the following year, T.I. snapped him up for his Grand Hustle imprint.
Trivia: During the pandemic, he participated in a critically acclaimed virtual show on the Battle Royale game Fortnite. The show drew more than 27 million players and brought in an estimated $20 million in revenue.
Rolling in Royalties: Travis Scott's Primary Career-Based Revenues
Travis's star really began to shine in 2016. His second album, Birds in the Trap Sing McKnight, clinched that sweet #1 spot on the Billboard 200. From then on it was hit after hit, including "Astroworld" and "Sicko Mode" in 2018. He teamed up with big names like Drake, Young Thug, Kid Cudi, and Offset—an indication of the level of success Scott had attained.
That success can be defined by the company he was keeping but also the thickness of his wallet. From September 2017 to September 2018, for instance, he made $20 million thanks to his hit records, wild tours, and a sweet endorsement deal with Nike. Such a crazy figure landed him in the 15 highest-earning rappers worldwide.
But it was his 2019 "Astroworld" tour that really hit the jackpot. Named after one of his chart-dominating albums, this tour raked in $53.5 million, becoming the biggest hip-hop tour of the year. This made Travis bag a cool $60 million from June 2018 to June 2019. Even though the figures diminished as time wore on, Travis still pulled in a solid $40 million the following year.
Off the road, Travis still racks up over 65 million monthly listeners on Spotify alone. It is estimated that Travis Scott gets paid close to $7 million annually by the streaming platform, with much of that amount drawing from the 1.9 billion streams of "Sicko Mode" and 2 billion streams of "Goosebumps".
How Much Are Travis Scott's Business Ventures Worth?
Scott is a savvy businessman and has been involved in several ventures with well-known brands. His partnership with Nike would result in his signature sneaker line, 'Cactus Jack'. It has been estimated that this successful partnership nets him $10 million a year. The name would pop up again in Scott's portfolio when, in 2017, he launched Cactus Jack Records to help nurture emerging artists.
An unlikely 2020 partnership with McDonald's resulted in a Travis Scott celebrity happy meal that netted the rapper $5 million for the endorsement deal, and a further $15 million in merchandise sales.
Travis's creative ways to earn money is admirable, with his partnership with General Mills attracting particular praise. Together they rolled out an exclusive Reese's Puffs cereal box that had fans scrambling. Even with a price tag of $50, it was sold out in 30 seconds.
Scott also turns a profit from trademark royalties. In 2018, Scott trademarked the brand 'Astroworld', which encompasses everything from the music to an annual performance at the Houston Festival. He would go on to trademark the phrase "Look Mom I Can Fly", "No Bystanders" and "Wish You Were Here".
Trivia: A lawsuit has been filed against his agave seltzer brand, 'CACTI' for deceiving customers into thinking the drink was made with agave spirits when it only contained agave as a sweetener.
Luxury and Giving Back: Travis Scott's Possessions and Philanthropy
Travis Scott is a real estate investor who owns several luxury properties across a number of cities and states, including Houston, Chicago, Los Angeles, New York, and Las Vegas.
In 2018, Scott purchased a Beverly Hills home with his partner, Kylie Jenner, for a reported $13 million. His Houston home spans more than 12,000 square feet on 1.5 acres of land.
Additionally, Scott owns a $23.5-million property in Brentwood, Las Vegas. It features 11 bathrooms and seven bedrooms.
Houses aren't the only assets Scott owns, though. Scott has an impressive luxury car collection that includes a Bugatti Chiron, a Mercedes Mayback G650, and several other exquisite vehicles. His car collection may be worth more than $5 million.
Between living large and making hits, Scott's also big on giving back. In 2020, he kickstarted the Cactus Jack Foundation, pitching in to cover education and creative projects for Houston' youth. The foundation recently launched Project HEAL, a multi-level initiative aiming to tackle issues faced by the youth, particularly those from underserved communities. It put $5 million on the table for Texas-based community projects.
Trivia: In 2015 Travis Scott produced and starred in a Netflix documentary titled 'Look Mom I Can Fly'.
Off the Stage: Personal Tidbits about Travis Scott
A major part of Travis's life offstage is spent navigating his complicated love life with Kylie Jenner, the reality TV bombshell and business queen. Sparks flew between the pair at Coachella in April 2017. Since then, they've had their ups and downs, but a constant has been their love of Stormi, their daughter since February 2018. Four years later, in Feb 2022, they added another bundle of joy, their son Aire, to their little fam. As of 2023, Travis and Kylie have gone their separate ways but unite regularly to serve as co-parents.
Shaken and Stirred: Controversies and Legal Issues Involving Travis Scott
In 2015 at the Openair Festival in Switzerland, one of Travis's sneakers went missing while he was crowd-surfing. Travis halted the show and instructed the crowd to search out and beat the culprit who removed the shoe from the performer's foot. The Swiss festival goers censured Travis's approach, condemning him for overlooking fan safety in the name of stolen footwear.
But the real bombshell came in 2021, at the Astroworld Festival. In a horrific twist of events, a human stampede broke out during Travis's gig causing the tragic deaths of 10 fans and injuring hundreds more. Travis unwisely kept the show going, despite the hysterics of the crowd. He came under heavy scrutiny for the move, though he maintains he was unaware of the severity of the situation.
Most recently, in 2023, Travis got involved in a violent incident at a New York nightclub named Nebula. It is rumored Travis got physical with a sound tech who kindly asked the singer to turn the decibel levels down a notch. Travis apparently responded by punching him and smashing up $12,000 worth of audio gear. Travis ended up settling, dodging any charges.
Selected Discography
| | | |
| --- | --- | --- |
| Work | Release Date | U.S. Sales |
| Rodeo | September 4, 2015 | 110,000 |
| Birds in the Trap Sing McKnight | September 2, 2016 | 53,000 |
| Astroworld | August 3, 2018 | 648,2000 |
Notable Award Wins
| | | | |
| --- | --- | --- | --- |
| Year | Nominee/Work | Award | Category |
| 2016 | "Antidote" | BET Hip Hop Awards | People's Champ Award |
| 2019 | "Sicko Mode" (with Drake) | BET Awards | Best Collaboration |
| 2019 | Travis Scott | BET Hip Hop Awards | Video Director of the Year |
| 2019 | Astroworld | BET Hip Hop Awards | Album of the Year |
Concert Tours
| | |
| --- | --- |
| Tour Name | Tour Date |
| Astroworld – Wish You Were Here Tour | November 2018 – July 2019 |