A gentleman on Youtube named Vulf has been doing the music world a huge favor by EQing and boosting the killer bass lines on some of our favorite classic tunes.  He's particularly focused on one bassist, and when you hear James Jamerson isolated and watch this visualization, you'll want to hear more.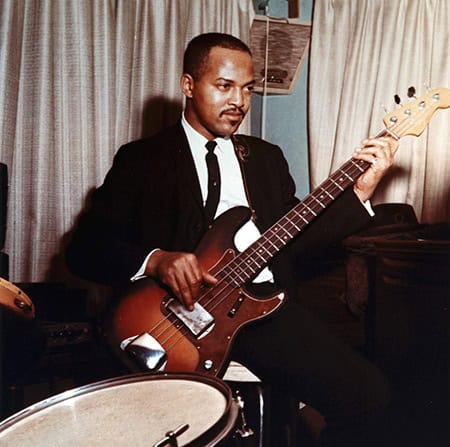 No worries, because there's two more.  But let's start here on my favorite:
That's the king, James Jamerson thumping it out on Marvin Gaye and Tammi Terrell's version of that song I know and love from the movie Sister Act (what up, Whoopie?) called "Ain't No Mountain High Enough".  We can thank Jack Stratton for creating the Tron-esque visualizations.
To save you time from hunting down the other two videos, I'll include them here.  Here's Mr. Jamerson getting it done on Stevie Wonder's song "I Was Made to Love Her."  My favorite part is you can still hear Stevie getting down, since this one's not quite as isolated.
And finally, what has the potential to become my new favorite thanks to the killer electric piano that was left in the track, is another Stevie Wonder track called "For Once in My Life."  Stevie and James could have formed a piano/bass band and nothing more, and I'd have been totally satisfied.  You'll see why right here:
They can hire me to be the guy who replaces the click track.  I can keep the beat on the spoons or tambourine or something.  Just let me be involved!  Please?  Fine.  *Gets ready for my Burger King shift*