A gentleman on Youtube named Vulf has been doing the music world a huge favor by EQing and boosting the killer bass lines on some of our favorite classic tunes.  But he's not just doing the bass boosting, he's also working with a partner to create these amazing videos that show the bass notes and how the melody moves up and down.  They look like some crazy behind-the-scenes look at the Pac-Man world.
Vulf has been focused on one bassist in particular, and when you hear this guy, named James Jamerson, isolated with his notes dancing along with the visualization, you'll want to hear more.  Something about watching the melody helps us connect to the music a lot more deeply.  Bass is often in the background providing a foundational harmony and home for the chords is the rest of the song.  Most of us usually gloss over it, but in this format we can really appreciate the skill required to play and the uniqueness of the instrument.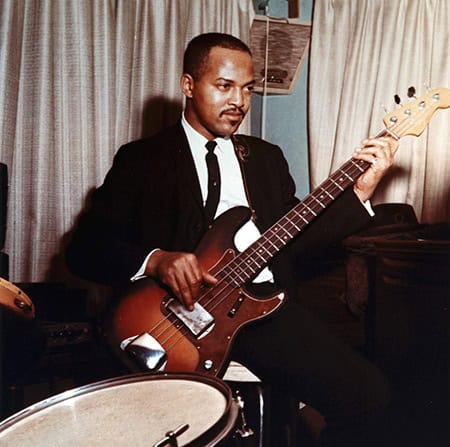 You may be afraid I'm only going to share one of these videos, but have no worries, because there's two more below.  But let's start here on my favorite:
That's the king, James Jamerson, thumping it out on Marvin Gaye and Tammi Terrell's version of that song I know and love from the movie Sister Act (what up, Whoopie?) called "Ain't No Mountain High Enough".  We can thank Jack Stratton for creating the Tron-esque visualizations.
To save you time from hunting down the other two videos, I'll include them right here.  Here's Mr. James Jamerson getting it done on Stevie Wonder's song "I Was Made to Love Her."  My favorite part is you can still hear Stevie getting down on vocals and keys, since this one's not quite as isolated as the previous one.  This one shows that the bass has quite the range, from almost sub-bass up to the upper reaches of the bass region of the frequency spectrum.
And finally, what has the potential to become my new favorite thanks to the killer electric piano that was left in the track, is another Stevie Wonder track called "For Once in My Life."  Stevie and James could have formed a piano/bass band and nothing more, and I'd have been totally satisfied.  You'll see why right here:
What I like about Jamerson's style is he'll really thump it out with 16th notes and triplets, but then he'll completely let the track breathe for a second so the listener can re-latch on to the next sequence of insanity.  It's an important trick, otherwise you'd just become fatigued to the instrument and start paying attention to something else instead.  My brother claims Jamerson only ever plucked with his first finger, which is hard to believe.  I'd do some research on that if I wasn't lazy.
When Vulf needs some help with these videos, they can hire me to be the guy who replaces the click track.  I can keep the beat on the spoons or tambourine or something.  Just let me be involved!  Please?  Fine.  I'll be here posting on Ledger Note when you need me!