This article originally appeared on RapGlobal.com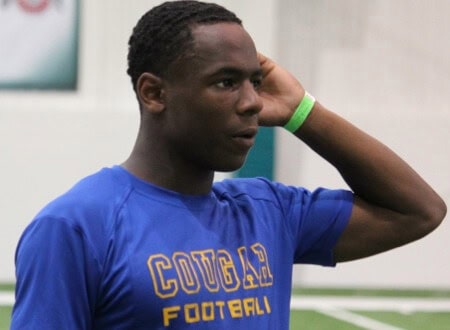 Jay "DatBull" Harris had better be a great rapper – to give up a free education for a budding rap career with no professional backing so far seems like a silly move, but it's what the young man wanted to do so we have to give him props for being bold and going after his dreams. While Harris says that it was his decision to forgo the scholarship to Michigan State University, it is possible that his decision was spurred when the college pulled his educational funding from him after a rap video with explicit lyrics depicting Harris smoking a marijuana cigarette was aired on YouTube. One could certainly understand why the youth would shy away from telling his parents about his "big dream" of being a rapper.
Jay was a three star football scholarship recruit from Philadelphia for Michigan State, but states he has "always had this [being a rapper] in the back of my head." Harris maintains that he wanted to drop the scholarship but Michigan State claims that the removal of the burgeoning rapper was mutual. Jay dropped the single "DatBull 4 Life" in April and so far has gotten 50,000 views, although the free publicity from the scholarship removal may send it well over 100,000 or even send it viral [Editor's note: And sure enough, the video's at 800,000 views now - looks like DatBull is going to reach a million thanks to this controversy.] The video has been met with scorn by YouTube users, some saying that his skills are zero, and others picking at the fact that the future football hero gave up a scholarship to a primo school  to pursue a career that has little chance of going anywhere if not treated properly.
The move has grabbed the attention of M. Stacks, a Cleveland producer that has worked with names like Wiz Kalifa and Mac Miller. The producer reportedly reached out to Jay Harris and the young athlete will seize the opportunity to work with him over the summer. The Downington East High School senior looks forward to the release of a mix tape around June. You can bet that we'll be going over it and likely bringing you a review once it drops, so look forward to that.