This article originally appeared on TeenWire.org


What's "too far" in today's music videos? Is "too far" something that makes you blush, turn away, become embarrassed? We surveyed teens like you to find out. But first, here's a list of terms of stuff that might be considered no-no's.
Intoxicants/drug use: From Maui-wowie smoke to glasses of bubbly and liquor (or anything that teens might need a fake I.D. to get).
Violence/illegal acts: Beat-downs, slaps, kicks, whippings, shootouts, police chases, kidnapping, stealing cars, etc.
Materialism: Excessive jewelry, exotic cars, showers of hundred dollar bills, etc.
Sexual content: From dental floss bikinis to those funny-looking censor blocks that make unveiled body parts appear fuzzy; from shaking and grinding to humpin' and lickin'...
Here's what Rashad Suede, music producer, had to say:
"It's all a form of creative expression. Kids can get access to whatever they want. There's regular TV and Internet content that's just as explicit. It's entertainment. Naw, it's not too far. Just be smart enough to know the difference between entertainment and reality."
Here's what you had to say concerning specific videos:
Da Brat featuring Tyrese
"Wha'cha Like"
From the beginning, this video represents Da Brat's "coming out" party, showing skin in a bikini. Hanging up the baggy jeans and oversized T-shirts, this lyricist flips the script, making herself an instant sex symbol being massaged by superhero-bodied dudes on the beach. (By the way, the topic of "Wha'cha Like" is not asking about your favorite yoga position.)
"It's cool. She looks cute, too, so that makes it even better. She's not showing too much, she's just expressing herself. That's a player's point of view."
- D.J., 12
"No, she's not showing that much. She's proud of her body."
- Jazzmine, 13
"My mom won't let me watch any of this stuff. I can only watch Disney, Discovery... the news. She buys my CDs, too. My mom would kill me if she caught me watching this."
- Mary, 13
After immediately bouncing Mary from the group, a fellow teen gave her opinion on the matter:
"See, that girl is always going to be in the dark. Then one day she'll see what she's been missing and go crazy. If I had kids, I'd sit them down and watch the videos with them. If they had questions, I'd answer them. No, her mom's not doing it right."
- Jennifer, 14
Matchbox 20
"Bent"
Here, we've got the Matchbox 20 lead singer, Rob Thomas, who got a lot of fame for his recent song with Santana titled "Smooth." In this video, smooth Rob is chased, hit by a car, kicked in the ribs... basically having a day from hell. Pretty violent stuff.
"I mean, look at this. This guy is getting kicked and beat up. He's on the ground. I dunno. It's... it's not good for kids."
- Danny, 13
"Oh, come on. That's the problem. A lot of people just see the violence and not the story. This guy getting beat up is Rob Thomas who sang with Santana. The guys beating him up are his band, and they're showing Rob that they didn't like him leaving them behind and getting famous. That's what this video's about."
- Melissa, 12
D'Angelo
"Untitled"
You might as well consider this muscular soul phenomenon butt-naked, with the bottom of the screen skimming the top of his pubes. Some people may claim this video is a tasteless method for D'Angelo's music to make a quick buck off the ladies, but I'm with the group who labels this visual art. If the lyrics were trashy and tasteless, it might be a whole different story.
"Eeeeeeeel. He's naked. It's like, they go down to here (pointing below her waist)."
- Lindsey, 14
"Aww, it's okay. Big deal. I love this song."
- Jazzmine, 14
"I like the song. He just needs to put some clothes on."
- Carise, 11
Kid Rock
"American Badass"
Wow, lots of "too far" possibilities here. Kid Rock and band are forcefully plucking electric guitars while being stormed by basically naked cover girls. Due to all the dropped jaws around the room, I think we can move on to the next video. No comment necessary here.
UGK/Triple Six Mafia
"Sippin' On Syrup"
This Three Six Mafia video has women in thongs drinking some sort of mystery punch from baby bottles. Our teens are convinced there's alcohol in there (it's far less tame than that). Although the chorus is catchy, it hopefully will only be repeated when teens are covering their pancakes with Canadian maple's finest.
"Do they really dance on tables in clubs?"
- Cedric, 13
"Aren't you gonna turn it off? These guys aren't ready for this stuff."
- Derrick, 14
"Oh, whatever, Derrick. Sip, sip, sip, sippin' on some syrup. I still wouldn't want my kids seeing those hoochies, though. Look at that girl!"
- Sharice, 13
And The Conclusions & Solutions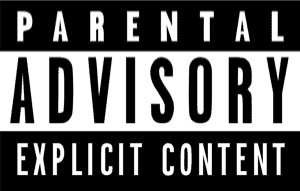 Teens reach maturity levels at various ages. There are some who can watch the hardest of hardcore videos and shrug them off afterwards. There are others who can't handle anything explicit due to a natural embarrassment and/or feeling that they just aren't ready for this type of material. Then there's that small group that has no self-control and adopt the "monkey see-monkey do" mentality.
I've heard tons of solutions from those who say videos go too far, including:
Use a rating system comparable to the one used currently with TV shows
Show the videos with explicit content after a certain time, i.e., 10 p.m.
Cut them out altogether if a board of censors finds the videos beyond normal limitations.
So, have music videos gone too far? After spending time with such an eclectic group of enlightening teens, there's only one answer… Depends.
1020 x 7272