My guitar virtuoso brother is a big fan of Bluegrass.  He says that these guys are all shredders and could slay some technical metal or rock.

That's why I got all giddy when I came across this video of an Enter Sandman Bluegrass rendition by Iron Horse:
If you dig this, check out their Youtube channel, where they rock out tons of the classics like Ozzy's Crazy Train and countless others.
This is the perfect Bluegrass orchestration:
Stand-Up Bass
Mandolin
Banjo
Guitar
Vocals
Everything cuts through so well.  Record it with a stereo mic and the song mixes itself with the right players.  I think it'd be interesting if they mixed the song with some distortion and 'screamo' vocals, maybe even slide in a metal guitar for a bridge solo.  Speaking of, I'm pretty sure that banjo has some of the same inlays on the neck that you see in some of our picks for best metal guitar.
And I'm a sucker for awesome vocal harmonies.  These guys stack up the melodies well.  I love that each takes turns as lead vocalist even within one song as well.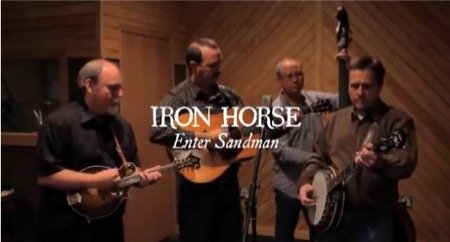 I've always felt that a band needs to hit the scene that features one male and one female, trading versus and choruses and harmonizing.  It doesn't even matter the genre, but just have two lead vocalists.  And no, Linkin Park doesn't count.
If you use this idea, I want royalties.
Don't miss out on the Pug perfectly playing the Enter Sandman drums.  (Yes, a dog.)