My guitar virtuoso brother is a big fan of Bluegrass.  He says that these guys are all shredders and could slay some technical metal or rock.  I guess that's probably true, but I respect them for different reasons.  I just like the sound of Appalachian bluegrass inspired by the old Irish and Celtic music.  To me, it's as roots as Folk and Reggae.  Bluegrass is authentic music that doesn't care what anyone else thinks about it, and it's chock full of culture.

That's why I got all giddy when I came across this video of an Enter Sandman Bluegrass rendition by the band Iron Horse:
If you dig this, check out their Youtube channel, where they rock out tons of the classics like Ozzy's Crazy Train, Just a Dream by Roger Daltrey, Elton John's Rocketman, and countless others.  They're all very interesting takes on the classics.
This band has formed with the perfect Bluegrass orchestration, especially because each player can control their volume and project clearly:
Stand-Up Bass
Mandolin
Banjo
Guitar
Vocals
Everything cuts through so well.  Record it with a stereo mic and the song mixes itself with the right players.  I think it'd be interesting if they mixed the song with some distortion and 'screamo' vocals, maybe even slide in a metal guitar for a bridge solo.  Actually, that'd probably suck pretty bad.  They're doing it right already.  Speaking of, I'm pretty sure that banjo has some of the same inlays on the neck that you see in some of our picks for best metal guitar.
And I'm a sucker for awesome vocal harmonies.  These guys stack up the melodies well, including the definitive perfect fifth interval you find in the genre.  I love that each takes turns as lead vocalist even within one song as well.  That definitely keeps things fresh.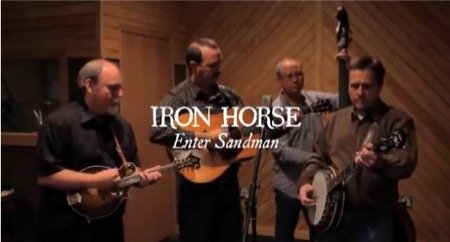 I've always felt that a band needs to hit the scene that features one male and one female, trading versus and choruses and harmonizing.  It doesn't even matter the genre, but just have two lead vocalists.  And no, Linkin Park doesn't count.  It doesn't count if one is a rapper and they're both male.
If you use this idea in your band, I want royalties.  I want a 5% commission on every dollar you make!
Iron Horse is a pretty active band.  They're constantly updating their website with new original albums, tribute albums, and free downloads.  For instance, their newest release is called "Pickin' On Nirvana" which is all bluegrass covers of Nirvana songs.  This band actually has it's first beginnings in the late 1970's, so that explains why they're able to transcribe these crazy rock and heavy metal songs into the bluegrass style while maintaining the sonic identity of the original tracks so well.  They have tons of experience!
These guys get around so make sure you're paying attention to your local shows.  They might come around and you can go check them out.  Don't miss out on our past post of  the Pug perfectly playing the Enter Sandman drums.  (Yes, a dog.)