Nothing is cooler when one guy on one instrument does the job of an entire band, let alone the best bands you've ever heard.  Ben Lacy does exactly that in this video called "Guitar Percussion."
What my man does here is tap the strings on the neck like the hammer in a piano does when you strike a key, as well as strumming them with his right hand like a normal fingerpicker would.  The difference is that he's simultaneously banging out a sick syncopated beat on the body of the guitar as well.

I think he might be a wizard.  He's literally your favorite guitar player's favorite guitar player.  You'll begin to wonder, like I did, why we put up with half of the crap that's played on the radio these days when there's fantastic music like this being written, played, or even improvised on the daily.  Check this out:
I just fired my drummer and told my guitarist to start pulling his weight.  If I have to, I'll fire him too and make the keyboardist play Keytar.  Screw it, I'll beat box the whole thing, while making this face.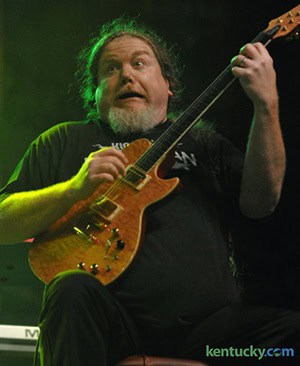 My favorite thing Ben Lacy is doing currently are his Morning Living Room Sessions.  He kicks back in his recliner and makes killer versions of famous songs we all know and love, like the Cantina Band song from Star Wars, tracks from Steely Dan, "Africa" by Toto, Tom Petty songs, The Beatles, Led Zeppelin, Michael Jackson, and so much more.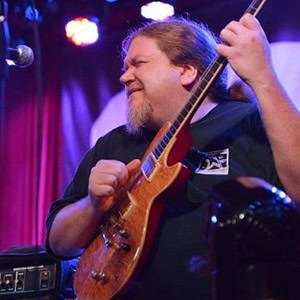 If you want to know what it takes to play on this level, first you need to go back in time and start learning how to play guitar at the age of 7, like Ben did.  Or better yet, start today! Ben got rolling professionally around Lexington, Kentucky, opening for Tower of Power a couple of times and playing tons of local gigs with his partner in crime, bassist Bob Bryant.  Fast forward to today and he's toured North America and Europe, playing with all of the guitar greats, including but not limited to Al Di Meola and Steve Vai, on stage and in the studio for some session work.  He was invited to tribute shows for Chet Atkins and Les Paul, and even got to award Les Paul with a lifetime achievement award.  He's done it all now!
These days you'll catch him on YouTube cranking out the covers in his living room, and every 6 months at the winter and summer NAMM shows.  That's when he's not busy getting awarded accolades by the likes of Guitar Player Magazine and more.  He still represents himself musically with his solo CD "One Track Mind" from 2003 and instructional DVD on percussive playing.
If you enjoyed the work of Ben Lacy above, check out this other gentleman called Andy McKee.  He's equally melodic with his playing and every bit as percussive.  These guys are incredible.
I want to like both of them so much, but I hate them for destroying my self-esteem.  I'm selling my guitar if anyone's interested.