When the Skrillex & Rick Ross single Purple Lamborghini came out, I couldn't stop listening to it.  The video was cool with tons of visually appealing swagadelic bossness.  Rick Ross did his thing (I love how much he lays back on the beat).
But it was Skrillex with his drum production and arrangement that once again blew me away.
Eventually I quit jamming the song on repeat, but I had done it enough times that Youtube pushed this video by Matt McGuire at me as soon as he uploaded it.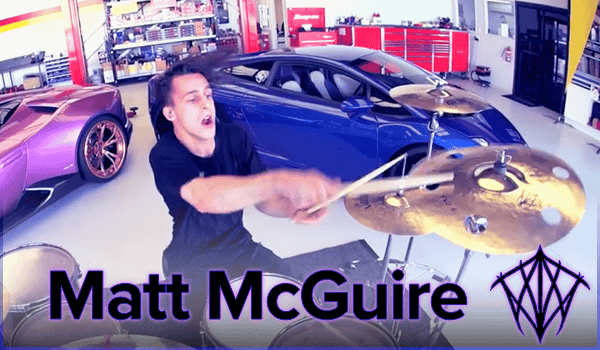 Twas none other than a drum cover of Purple Lamborghini, my favorite aspect of the song!
Let's do this right.  If you have time, peep out the original video first and make sure you pay attention to the drums.
Skrillex & Rick Ross - Purple Lamborghini
You have to admit, that's hype.  It was for the Suicide Squad soundtrack, some DC Comics movie that came out recently.
And now for Mr. McGuire's drum cover, where he not only faithfully reproduces every note but puts on a charismatic performance as well.  To add to it, he actually filmed this in a garage with two lambo's.  Pretty cool if you ask me.
Matt McGuire - Purple Lamborghini - Skrillex Drum Cover
What's masterful about Skrillex's writing and Matt's playing is that they both know to let the music breathe and build up, over and over.  The dude has a double kick and only sprinkles it in at just the right moments so it pops hard.  I like the last part too where he adds his own flavor at the end of the song.
Shout out to Matt McGuire, one of the few dudes I've seen really parallel the greats like Neil Peart.