The fellas over at ACPAD.com have painstakingly researched, developed, and manufactured a masterpiece.  The ACPAD is a wireless MIDI controller for acoustic guitar.  I suppose you could slap it on an electric too, but it do what it do.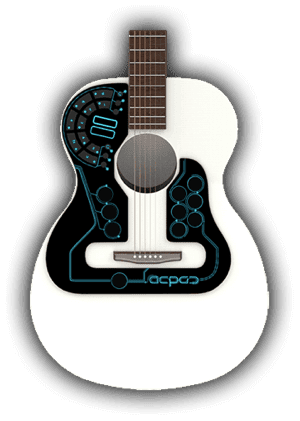 The ACPAD is slick.  Do you want to play back up chords while you rip out lead melodies?  Choose any flavor of an orchestra, or throw in a mixture such as a synthesizer and a set of drums.  The possibilities are truly endless with sound banks and can open a whole new realm of awesomeness (and another decade of practice).  Check out this guy make some dubstep style hybrid song with this bad boy.
Imagine being the only guy in your city with one of these and using it to rock out at a bar, a club, or even using softer strings and piano sounds to accompany you during your classy solo restaurant gigs.  If you sing along, that's game over.  You could command $500 - $1000 a night, 7 nights a week I bet, and still come away with several hundred in tips.
ACPAD Construction
Check out some of these details:
This mofo connects wirelessly, but you can also connect it with a USB cable.  I'm not sure if it can use a traditional MIDI cable or not, just a heads up.  But you can always use a converter so that's no big deal.
It features an internal battery that is rechargeable through USB and can be played indefinitely by keeping it plugged in.
Although there are presets, it's a MIDI controller.  That means you have unlimited sound options through any DAW or external sound bank of your choosing.
The triggering is basically super-duper low latency (inconsequential amounts) with pressure sensitive triggers so you can alter up your velocity.  You won't sound like a complete robot!
This sucker is only 2 millimeters thick!  It sticks to your acoustic like a pick guard and doesn't dampen the resonation of your acoustic so you remain loud and clear.
The designs are customizable.  Right now there's black, white, and wood grain options.  There's more to come, the site says.  I'd rock the wood grain, myself.
There are no external wires, no screws, and no protruding parts.
That's the shizz.  Now it's time to break your heart.  I know you had your wallet out and ready to press "go," however it's not even available yet.  They are real close to launching a Kickstarter campaign though, so head over to their site and join their newsletter so you know what's what.  In the meantime, pick up the best acoustic guitar you can to prepare for adding a new element to your game.
2018 Update: It's released! In addition to the refined and enhanced pad, they now have the ACPAD Replay software available for Mac OS / iOS and coming soon for Windows.  Looks like the color options have changed to blue and yellow, which refers to the wiring colors.  The circuit board itself is black in both options.
Be the first among your friends to have it.  Don't even tell them about it.  Just get it, practice for a month, and then show up with it one day and blow their minds.  That's how I like to sushi roll.