So many of us get caught in a position where we're in need of some music for some project of our own.  The problem is, there's quite a barrier to entry for creating what we need and doing it well enough to present to our fans, customers, bosses, etc.  That's where AudioJungle comes in!  No more worrying about music theory or recording quality when all you need is background music for a video.
AudioJungle is owned and operated by Envato.  The reason I know about them is because I've often needed graphic design work done but didn't know how to do it.  I didn't have the tools, the knowledge, the skills, or the time.  They can solve all of that for music as well.  AudioJungle covers the music side of things, but they have a lot of other sub-brands for most digital needs.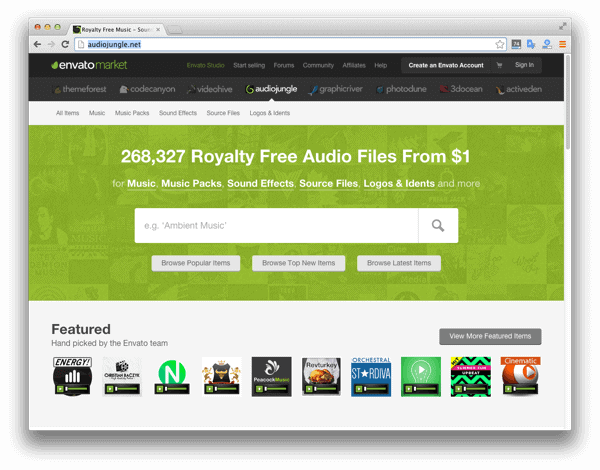 Let's see... who can benefit from this cost effective solution...
Video Game Creators
Music, Television, & Film Industry Workers
Podcasters & Audiobook Makers
Video Bloggers
Software Programmers
We could go on and on.  One of my buddies constantly gets complimented on the intro audio sequence to his podcast, and he just says "Thanks."  He's got all kinds of cool sound effects throughout too, like you'd hear on a radio show.  He never mentions his secret source for royalty free music material.  But screw it, I'm blowing the lid off the whole thing.  AudioJungle is my jam.  You can get sound effects, stinger segments, backing tracks, and even commission custom work like voice overs and more.  Anything you need audio-related can be had there, and better yet you can sign up as a musician and offer your services as well.  It's a nice side hustle that could lead to some bigger work if you come across the right people and treat them right.
Submit Your Work to AudioJungle
Not all of us are in dire need of music.  Most of you guys and gals reading are probably full of more ideas and recordings than you can spend time marketing and earning from.  AudioJungle let's you sell your own material to people in need.  Yes, you'll make money, but that's not even the best benefit to this type of system.
Here's how you leverage the game.  You upload full songs for movies and video games, 30 seconds versions for TV, and 10 second version for commercials.  You create all of the sound effects a video game maker or radio DJ could ever need.  Keep growing the number of assets you have on there and instead of marketing each individual song or sound, you just promote yourself as the brand who's main center of operations is AudioJungle.
Before long, you'll be able to put on your press releases, band promo kits, and resume that your music has been included on these TV shows and television stations, radio stations, movies, and video games.  That clout will carry you further than anything you might achieve trying to hustle your stuff alone.
So quit goofing off reading this and head over to AudioJungle and sign up!