Let's face it. Buying a guitar, like purchasing a home, or buying your first car, is a series of compromises. Even for those lucky (or cursed) enough to buy a perfect-sounding vintage instrument, fragility comes into play. Case in point, a friend of mine once turned pale-faced when I leaned his treasured Gibson on a couch for about 5 seconds. Does Guitar Center cover therapy?
In all seriousness, we're always looking for a good solution to these instrumental quandaries. So when a guitar comes along that packs a rocking punch without robbing your rent money (that's totally not going toward other instruments and gear), it's worth taking notice.

Introduction
Enter the Ibanez GIO Series GRG121DX. I know what you're thinking. For understandable reasons, Ibanez has a wholesome but chuckle-inducing reputation among guitar players. Ibanez is knowns for its commitment to providing quality instruments to players of all skill levels, but it's also known as the beater bike of the guitar world. It'll get you where you're going, but might lose a gear or two in the process.
Luckily, the GRG is easily playable, good-sounding, and with the caveat of some weaknesses that we'll discuss, is fairly durable. And did we mention it's one of the cheapest new guitars on the market? Let's get into it.
| Pros | Cons |
| --- | --- |
| Solid, well-made design | Just one volume and tone control, limiting the sonic palette |
| Great sound variety, good for different genres | Hardware might need more tune-ups than most players'd like |
| Comfortable and easy to play | Rough fret edges might cause some discomfort |
Full Review
Why We Like It
The GRG offers a distinct solid-body brightness across a wide variety of sounds. Its tone switch offers five options between dual humbucker pickups, allowing a player to cut through a shoe-gaze mix with full intensity, or provide a soft rhythm arpeggio in a three-piece group. Its mahogany double-cutaway simply looks cool, and might just steer you toward turning your RAT pedal into insanity (the GRG handles this kind of distortion remarkably well.)
This isn't the only aesthetic appeal of the instrument. The GRG's walnut finish, slim maple neck, purpleheart fretboard with shark tooth inlays. and chrome-colored jumbo frets make for a comfortable and easy playing experience (certainly smoother feeling than my Rickenbacker, but as you may know that might not be highest bar…)
The GRG's sound might not be the envy of a veteran session player, but I bet it would go further than you might expect in a studio shootout. Aside from its great sound, the GRG is
incredibly affordable, making it a solid choice for beginner and intermediate players in need of a great guitar that can play, travel, and looks great.
Limitations
There are some pretty predictable limitations to the GRG. The tuning pegs and bridge have been cited as durability concerns over time. Stock tuners and bridges are historically testy pieces of equipment, and an emphasis on cost-effectiveness by the manufacturer can amplify this issue. Luckily, the GRG is very easily modifiable, and the structural concerns with its bridge and tuners are both unlikely to be anything other than a nuisance (if they arise at all) and easy to fix.
There is the more holistic issue of long-term durability and robustness that must also be noted. Though the higher-end Ibanez models hold up remarkably well over the decades (my father's Ibanez jazz guitar has been in the family since the 70's), the GRG's lightness and slimness makes it a bit more susceptible to wear and tear. Yet this is also a predictable problem, and with care and the right case, your GRG will keep you rocking for many years.
Variations and Accessories
As stated, the GRG can be easily customized to fit your personal sound and visual aesthetic. The GRG comes in several different colors and finishes. My favorite combo is the black and silver sunburst that pairs well with the devil-horn cutaway. There are also special edition versions if the options prove too dizzying.
The looks aren't the only thing that can be modified. The GRG can easily be upgraded with different pickups, fret crowns, tuning pegs, and tailpieces.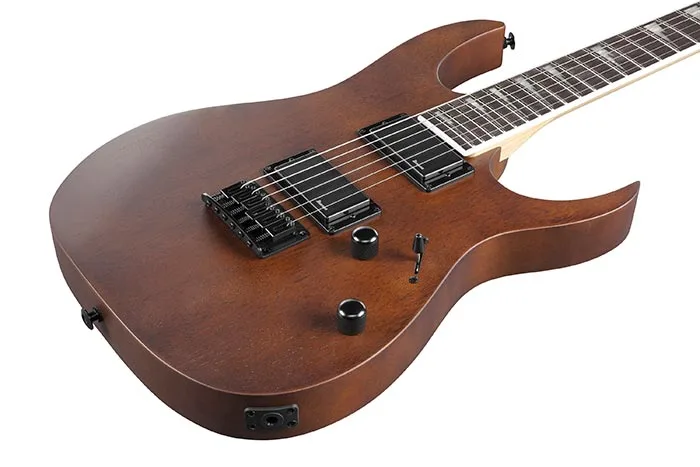 Alternatives
If you're looking for something in a more robust bracket with a higher but reasonable price point, I recommend the Yamaha Pacifica 112V. The 112V has the versatility of the GRG with a more reliable level of durability. The solid alder body and Alnico V pickups make for a comfortable playing experience and a sound that's both punchy and smooth.
Conclusion
The Ibanez GIO Series GRG121DX stands out with a balance of affordability, tonal variety, and reliably great performance. It's easy to play, easy to customize, and easy to take on the road. Though it has its technical limitations, it looks great and sounds great, and is so cheap that it's hard not to give a whirl.
So if you're looking for an affordable guitar that's both light on its feet and able to give you a cutting punch in any jam session, take a chance on the GRG. The GRG, like any Ibanez guitar, is a great ride.
Neck Type: GRGMaple neck
Top/Back/Body: Okoume body
Fretboard: Bound Purpleheart fretboard with White Sharktooth inlay
Fret: Jumbo frets
Number of Frets: 24
Bridge: F106 bridge
String Space: 10.5mm
Neck Pickup: IBZ-6 (H) neck pickup, Passive/Ceramic
Bridge Pickup: IBZ-6 (H) bridge pickup, Passive/Ceramic
This review may contain affiliate links which may earn us a small commission when you click on them, at no extra cost for you. As an Amazon Associate we earn from qualifying purchases.