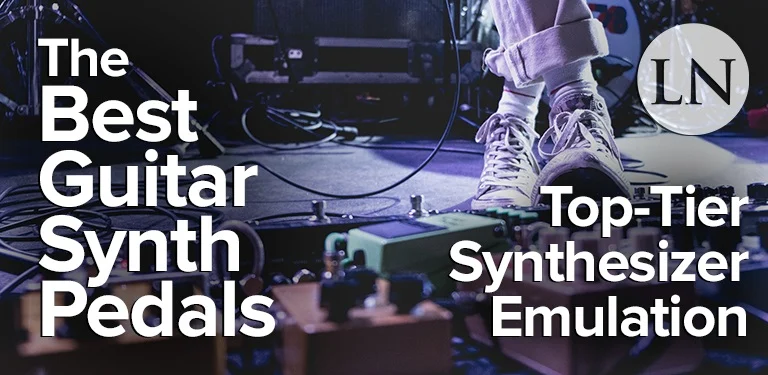 There's been all kinds of crazy mixtures between the guitar and synthesizer from the Keytar to MIDI guitars, but the most down to earth and useful are the best guitar synth pedals. Whether you're filling in for a keyboard player can't make it to the gig or are looking to expand your repertoire, these bad boys are right up your alley…
Technology has shaped every facet of culture in the modern age. The invention of the electric guitar back in the 1930's changed the landscape of contemporary music and paved the way for acts such as Jimi Hendrix and later U2.
Since then, the world has been exposed to a variety of innovations in the world of music. This has led to some strange and eccentric developments, and then got way more far out when people started combining these concepts.
Need more information in order to better understand your needs? We have got you covered! Visit our FAQs section.
INCLUDED IN THIS GUIDE:
The Best Guitar Synth Pedals
There's tons of these pedals on the market that are absolutely great, but we had to condense the list down somehow. When you're dealing with and comparing at the level of perfection, you have to start deciding what flavor of perfect you like the most.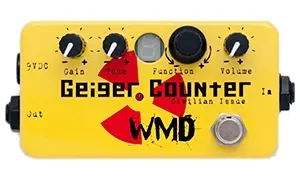 Have you ever plugged in your distortion pedal and thought that it sounded a little too clean? Well, if that's the case then the WMD Geiger Counter Civilian Issue pedal may just be the thing for you. At its core, the Geiger Counter is just like your typical distortion pedal, with a video game twist.
The only difference being that this pedal feeds the overdrive into an 8-bit chip, thus giving this pedal its unique jangly and broken sound. As far as the synth side of things goes, you can really launch yourself into Chiptune territory here. That's where it shines, versus any clean, high resolution synth lead sounds.
You get 16 presets using the Function knob, which you can also press in to get a LoFi version of each setting. This Civilian Issue version is a simplified version of its big brother that many felt was too involved to make useful in live settings. They really nailed it here. If you want distorted or clean chip music, this is your pick.
Specs:
Item Weight: 1 pound
Signal Format: Analog
Voltage: 9 V
Pros:
Easy to use and intuitive
Excellent build quality
Cons:
Has an accompanying hiss and buzz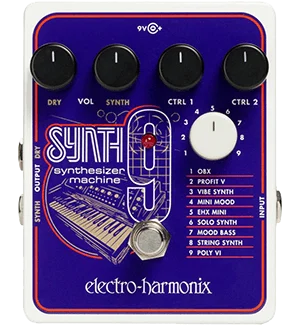 When I think about a synthesizer, I'm thinking about ripping leads that cut through a mix like the sounds we love from the '80's. That's what the EHX Synth 9 Synthesizer Machine brings to the table, used by pros like Peter Gabriel and P-Funk. For pads and ambience, I prefer their other pedal in this list.
It's called "Synth 9" because it has 9 main presets that each can be further tweaked to taste using the CTRL 1 and CTRL 2 knobs. Each has different parameters to change, so get an even larger variety of options that aren't obvious on the surface. From pop lead voicings to bass pads (yes, you still get a pad!), this versatile, rugged pedal does it all and well.
I'm assuming most are here for leads and not pads and arpeggios and all of that, and in that case I stand completely behind this beast as my top pick for the list. And it's not remotely even the most expensive! With the dry output you can play the role of both guitarist and synth player with ease (and collect double the gig money?)…
Specs:
Item Weight: 1.1 pounds
Signal Format: Analog
Voltage: 9V
Pros:
Offers a variety of musical range of synths
Good options for separation or blending
Cons:
No expression pedal implementation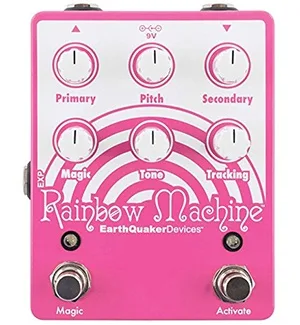 EarthQuaker Devices, an Ohio-based boutique, hand-made pedal company, has been one of the premier pedal makers in the industry since they first opened up shop in 2004. They've produced a wide range of them, but the EarthQuaker Devices Rainbow Machine is undoubtedly one of the company's most interesting pieces of work.
The EarthQuaker Devices Rainbow Machine V2 is a polyphonic pitch mesmerizer with a footswitch that's aptly labeled: "Magic." Its makers claim that no natural sounds will come from this box, and boy, are they right. It comes with unpredictable tracking control that shifts the pitch in real-time making for a truly unique sound.
In addition to this crazy pitch regeneration, you're getting an octave above and an adjustable harmony line, both with mix knobs. You get a tone knob, true bypass, and expression pedal capabilities. This one is wild. It's less "synthy" than others but give it a listen!
Specs:
Item Weight: 1.17 pounds
Signal Format: Analog
Voltage: 9V
Pros:
Excellent range of musical tones
Great built quality
Cons: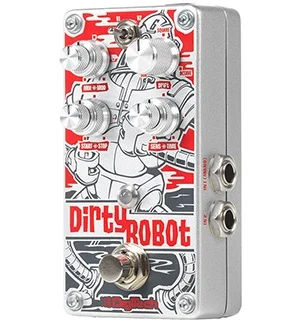 If you're looking for an extremely affordable option with a lot of knobs to tweak, look no further than the DigiTech Dirty Robot. When I think of this beast, I immediately start hearing Rush's Moving Pictures album and the synth sounds within. But there's also vocoder and 80's pop sounds too, all fully customizable with the 7 knobs.
Three of the four knobs have a secondary sub-knob if you look closely. You get Mix, Modulation, Start, Stop, Sensitivity, Time, and Drift controls. The Drift knob lets you select a square wave, suboctave, or octave above. The amount of sounds you can pump out of this thing is pretty impressive. It's very flexible.
Throw in an EQ pedal, reverb, delay, chorus, and whatever else you want and the sky is the limit. I'm giving this the award for the best budget pick. It's not cheap, but compared to the others on this list it's about half their price with everything you need for lead guitar. It's a hard deal to beat… give it an honest look!
Specs:
Item Weight: 1 pound
Signal Format: Analog
Voltage: 100 V
Pros:
Great built quality
Suitable for beginners
Cons:
A bit small
Quite heavy for its size
ELECTRO-HARMONIX SUPEREGO SYNTH ENGINE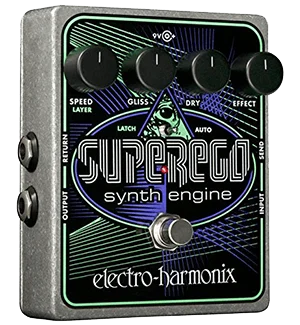 Electro-Harmonix's second entry on our list is the EHX SuperEgo Synth Engine. I said I prefer their Synth 9 pedal for lead lines, but a rhythm guitarist who's job it is so create intricate soundscapes of synth pads has found his or her choice in the SuperEgo.
It's core job is to capture small moments in time from your playing and freeze them, using them to create swells, clouds, angelic pads, and countless other ambience-based effects. I must say, of all the attempts out there, you won't find cleaner and higher quality sounds than you get out of this one.
When I hear what this one can do, I envision Pink Floyd's style or even Vangelis. It's that versatile. The Gliss knob is for glissando and can really spruce up the pads. You can get pulses and plucks too, don't let me over-emphasize the textures here. Slap a looper pedal in the mix and you're ready to blow the listener's minds.
Specs:
Item Weight: 1 pound
Signal Format: Analog
Voltage: 9 V
Pros:
Has flexible pedal expression assignment
A send/return loop is used to customize the effect.
Cons:
Somewhat strident high-end.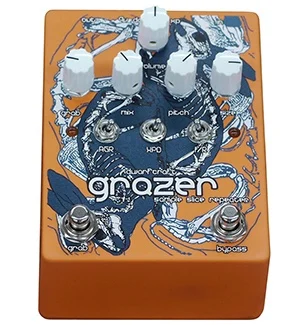 While we should never judge a pedal purely by its design, the Dwarfcraft Devices Grazer may just be the exception to this rule. At first glance, you already know that this pedal is about to do something really weird. It's a sample slice repeater.
The way the pedal works is simple: it takes snippets of your playing and repeats them at semi-random intervals, spitting them right back into your signal as you continue playing. You can also alter the pitch of the notes that are played back to you ranging from the sound you would get from a normal delay pedal to full-on digital madness as your guitar replicates a computer that's going haywire, playing sounds forward and reverse.
I'm including this one because it's so completely unique. I don't even think we as an industry have even discovered all the ways this can be put to use yet. I'd only use this in a band on the tamest settings, but if I was an experimental artist I'd be cranking out all kinds of tracks with this thing. It's nutty, I don't know what else to say, and I mean that in a good way.
Specs:
Item Weight: 0.75 pounds
Signal Format: Analog
Voltage: 9 V
Pros:
Reasonable price for its performance
Great built quality
Cons:
The very bizarre noises are not to everyone's taste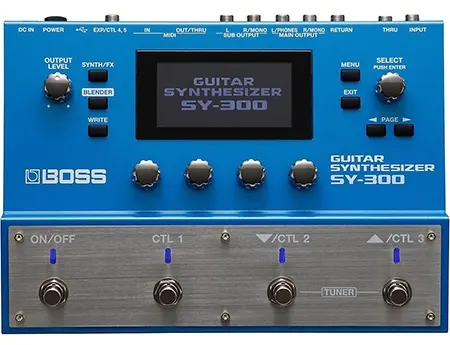 If you're looking for the most involved, full fledged choice possible, than look no further than the Boss SY-300. It's premium priced because it's the premium option, especially for the studio guitarist looking to create the exact sounds they want to represent their art.
We're talking about 4 effects processors driving up to 3 simultaneous synth sections, each with countless filters, oscillators, and amp simulators. Perhaps this is up your alley but you'd rather have a preset to start off with. You can base your customaziations off of 70 preset patches while saving 99 of your own user programmable patches.
If you thought that was all, get real. You can use a USB cable to hook this right up to your DAW to create synth sounds, you get three assignable footswitches, and everything else you could expect from the input and output. This is your full-fledged synthesizer option for those that know what they want and want to create it and personalize it.
Specs:
Item Weight: 5.85 pounds
Signal Format: Analog
Voltage: 9 V
Pros:
Easy to use
No hex pickup required
Cons:
Doesn't always sound as smooth
FAQs
In this section, we're going to take a deeper look into the topic by focusing on a tool that's often taken for granted: the guitar synth pedal.
What Are Guitar Synth Pedals?
Guitar synthesizers usually come in the form of an effects pedal that offers the ability to make a guitar sound like a synthesizer. This emulation process is different for each pedal, with some using analog circuitry to embed a squarewave LFO into your signal while others may use digital computer chips and algorithms.

The results will be different but similar, allowing you to create pure synth lead sounds, cosmic ambience, warm ripping sawtooth waveforms layered with fuzz, and so much more. These pedals aren't remotely as popular as their various cousins in the effects world, and that's why they never fail to impress.
What to Look for in the Best Guitar Synth Pedal
First and foremost, make sure you aren't looking into options that ask you to use a special pickup in your guitar. That's no longer necessary, and removing that step from the process saves us a huge annoyance. Modern guitar synth pedals can work with single-coil and humbucking pickups.
Past that, you'll want to consider how extreme you want to push this effect. There are fantastic monophonic analog options and there's newer digital pedals that can get into polyphonic territory, too. In that same vein, the digital ones will have many modes you can select from that'll provide a larger option of base sounds to start tweaking from.
Or perhaps you prefer one base mode with a ton of knobs to play with to create your own unique sounds. This is one niche of pedals where you really can have whatever you want. There's an offering for every taste here, so take your time when looking. You'll find the right choice.
How to Use a Guitar Synth Pedal
How you choose to tweak the knobs is up to you, but there's not a lot of choice in terms of when to use it in your signal path.
Where to Place It In the Signal Chain
There's a bit of variation in where you could place your synth pedal in your guitar pedal order. The logical order you should follow goes in this sequence:
Dynamics, Filters, & Pitch Shifters
Boost & Distortion
Modulation
Time
I'd absolutely consider this a filter and/or pitch shifter pedal, but I'd also consider placing it before a compressor pedal depending on how wild my settings were. If it was pretty tame then I'd compress before hand and feed it a more consistent signal. Either way, you'll place it fairly early on in the signal path.
Understanding the Knob Settings
It would be impossible to list out all of the various knobs out there on all of the models, but we can cover the most common ones. You'll often find a waveform knob that allows you to select the type of emulation you want, from sine waves to sawtooth or square waves.
There's octave knobs that let you jump up or down the frequency spectrum like an octaver or harmonizer pedal would let you do. Many have a mix knob that lets you bring some of your original tone back in, so you could have half of your normal tone with half of the synthesized version mixed in.
There's mode knobs, oscillator knobs to choose the how rapidly the synth cycles, attack and sustain knobs, and much more. You'll have to check out what each pedal you're interested in has, because they're all fairly different.