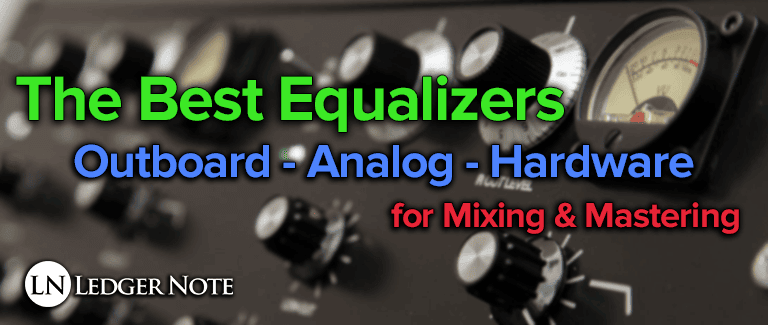 Click here to jump straight to the reviews!
Emulation is simply that... a game of pretend... a simulation of the real thing. Not the real thing.... Software can pretend to replicate the circuitry of hardware, but they'll never actually be one of the best equalizers.
It can even filter itself to act as if it's producing the subtle, pleasing artifacts of analog recording equipment. In the end it's still, relatively, cold and lifeless.
Does that mean software EQ's suck? Not by a long shot. They are fantastic. But they lack what can't be simulated accurately.
They don't feature the harmonic distortion transistors and tubes can offer. They dissociate you from the process of mixing, which can be very hands on.
We get it. Outboard equalizers aren't nearly as sexy as a preamplifier or effects processor. They imply effort and technological sophistication instead of the feeling of instant results a compressor gives off.
I say to let everyone think that and feel that way. Meanwhile you'll have a secret weapon in your signal path as a recording, mixing, and mastering engineer that gets you more results and more business than your competitors.
Heck, it's even nice to have an EQ for your car stereo system and your home entertainment system, and it's a thousand times nicer to work with one in the studio. So let's cut to the chase, glance at the options and point out what to look for, and then run through our recommendations for each type at various price levels.
Let's talk about EQ's in general, including the types available, why the top studios prefer hardware options, and what you should consider before making a purchase.
What Are Studio Equalizers?
Equalizers are a type of circuitry used as a controllable filter through which an audio signal is passed. In our case we're talking about music in live venues and recording studios.
This filter is designed to control the volume of specific frequency ranges, either boosting them (increasing the amplitude) or cutting them (reducing the amplitude).
What Types of Equalizers Exist?
You have two main types of equalizers these days:
Hardware - rackmount, desktop, & 500 series
Software - VST & AU plugins for DAW's
Of those two main categories there are two sub-types:
The two have significant differences in how you use them but can both be used to achieve the effect you seek.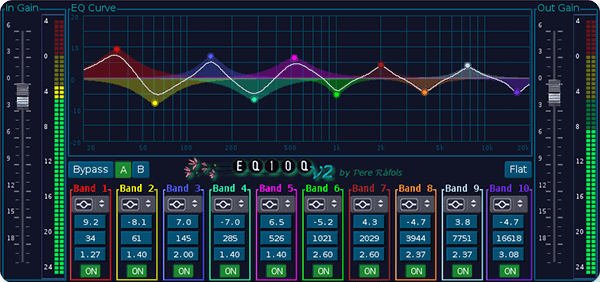 Parametric EQ's tend have far fewer bands (frequency ranges) you can control, but these bands can me moved up and down the frequency spectrum. Their bandwidth (or Q) can be adjusted to encompass a broader group of frequencies or made to be thin for laser-like precision.
The Q is sinusoidal like a bell curve without rigid boundaries. You center frequency and the bandwidth, and then boost or cut.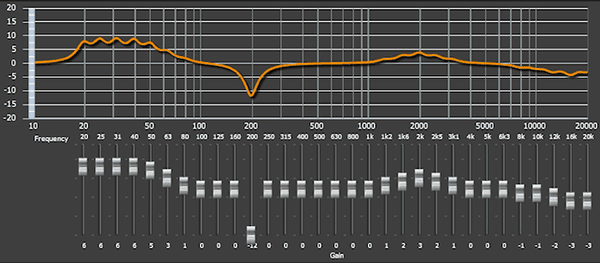 Graphic EQ's typically offer 15 or 31 bands per channel, far greater than the 3 to 5 you find on parametric equalizers. These bands, on the other hand, are static not only in the spectrum but in their bandwidth. Your choice is only to boost or cut.
Your consolation prize is that you can make many changes at once without having to bounce the track for a second pass. The Q on each band is typically 1/3rd of an octave although options with fewer bands will set the Q to 2/3rds of an octave.
If you're here, you know how to use an equalizer so we'll cut it short there and move on.
Why Are Outboard Analog EQ's Desirable?
Besides the fact that clients are wow'd by the visual impact of a ton of gear with knobs, sliders, switches, and lights all over them (this is incredibly important for gaining and retaining studio business)...
And besides the fact that it's far more enjoyable to mix with your hands as well as your ears (plugins tend to make you mix with your eyes, which is really bad), there are actual sonic quality reasons to go with outboard EQ's over software versions.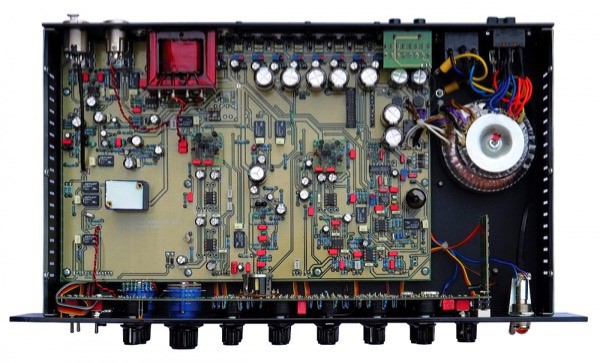 You'll see talk about transistors and vacuum tubes. You'll hear subjective jargon words like "warmth, fullness, color" and others. It's all true. What it boils down to is the saturation. The active electronics impart a very subtle and pleasing harmonic distortion to the signal.
This ends up boosting the harmonics above the normal range you expect to hear which creates a sense of fullness. When an entire song has each track featuring this warmth, you get an extremely full sound.
It's hard to explain. You've likely noticed that modern digital mixes sound extremely crystalline, to the point where you can "see" through the gaps in the stereo field.
Analog mixes (and even more so with recordings captured on tape first) aren't "see through" like this because this harmonic distortion basically fills the gaps. Listen to old recordings from the early 70's or before, or check out any newer record that intentionally recorded on tape and was mixed outboard and you'll hear what I'm talking about.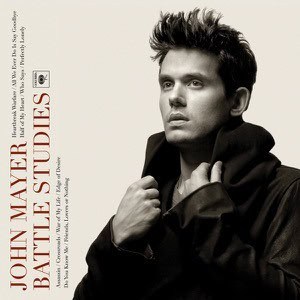 Stream a few samples of the newer John Mayer album, Battle Studies, here and you'll hear it immediately.
What To Consider When Making a Decision
The decision on which EQ to pick if you're only going to grab one seems tricky, but you can guide yourself along by asking:
What will I be using it for?
What is my work environment like?
By this I mean, do you intend on using it most heavily for live performances, recording, mixing, or mastering? "All of them" is an acceptable answer as well, which is why we have the second question too.
Let's start with live performances. You don't necessarily want or need a lot of bands with tight Q's because that type of laser precision won't help in a bar, stadium, or auditorium. You want wide curves that allow you to quickly create a pleasing sound.
The same goes for recording if you're in a garage or a room with very little acoustic treatment. You want broad actions that vastly improve the overall sound versus digging into specifically tight frequency ranges. Mixing results captured in these environments should be considered the same.
For the above applications I suggest a parametric EQ with 3 to 5 bands.
If you're recording in a very controlled acoustic environment that is capable of capturing a dry, natural signal then you may prefer a graphic equalizer. When mixing clean results like these in an equally treated mix room you'll be in a position to make very precise decisions about which frequencies to adjust.
For the above uses I recommend a graphic EQ with 15 to 31 bands.
A mastering engineer is going to be working in an impeccable mix room, but can't control the quality of the material sent in for mastering. Sometimes they will need to make precise fixes, but mostly they are adjusting broad swaths of the frequency spectrum to unify the feel of the songs across an album. This type of work will benefit from both types of equalizers.
Helpful Equalization Articles
We and others have published many fine pieces of content to help you get the most out of your equalizer. Here our some of our favorite suggestions for beginners. These would be good to bookmark and study while you wait on the arrival of your new outboard EQ.
These will give you the frame of reference you need until your mind and ears become familiar with the frequency spectrum in this context.
Now lets look at specific recommendations with our quick equalizer reviews...
---
The Best Equalizers

As always with our review posts we don't only list the best of the best, because those are often unavailable. There's nothing worse than getting your heart set on a piece of gear and waiting 3 years for it to appear on the used market only to be outbid while you were at work or asleep.
These are the best parametric and best graphic equalizers that you can readily find right now. We also make sure to include the top choices in each budget range so nobody is left out. You can maximize your returns on quality at any step with the right purchase and some practice
Note: Each image and text link leads to Amazon.com where you can read additional user reviews, find specific technical detail listings, and make your purchase.
Let's do it!
Project Studio Recommendations
We'll start with the affordable options (and avoid the cheapest that are a waste of everyone's time!) that are perfect for the home recording studio or smaller mixing and mastering project studio. Then we'll take a peek at the big boys, which I recommend you take the time to check out to get a frame of reference.
Best Parametric Equalizers
These are most useful for broad and smooth changes to your sound but are also capable of precise adjustments. Musicians with less than stellar recording and mixing environments may prefer this style. They remain useful for the lifetime of your ownership for sure.
Best Graphic Equalizers
For those who wish to make precise changes to their tracks and have clean enough recordings for it to be useful will benefit from a graphic equalizer as well as the other style.
Professional Studio Recommendations
Now we take a look at the options where the only factor that matters is quality. The clients and labels don't care about expenses, they care about results! And it's up to you to bring the heat.
If that sounds like your situation than check out these options separated by task, followed by some honorable mentions you can explore that we left out for the sake of brevity but are still worth a look.
Best EQ's For Recording & Mixing
Any experienced engineer could use any of these for any task, but these are the ones we prefer specifically for broad sweeping recording and mixing tasks.
Best EQ For Mastering
I'm going to include the one obvious choice here that remains in the realm of sanity in regards to pricing. There are others that are just as good, but to call them better is to argue which flavor is better...
You're only arguing about preference at that point. But this beast sits at the sweet spot of the intersection between value and cost.
Honorable Mentions for Best Equalizer
There are more worthy options out there for you to investigate but we had to trim it to our top favorites. If you want to see a bit more, check out these below.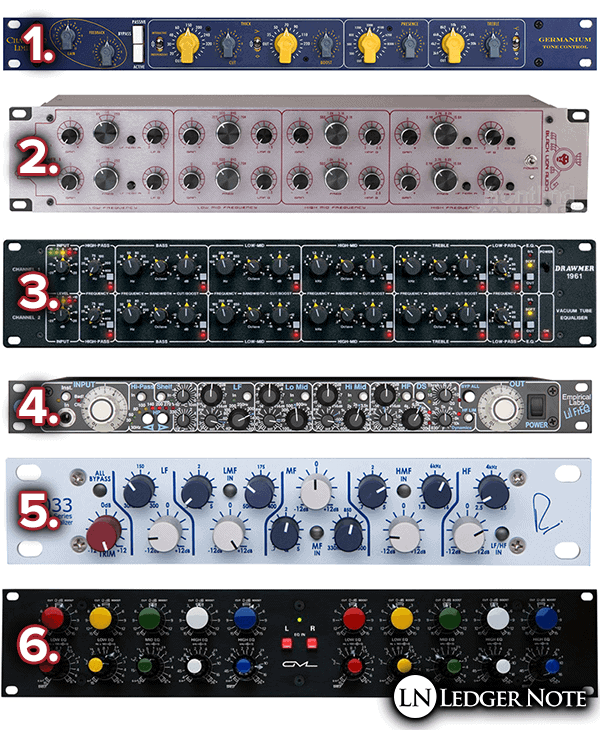 Each is numbered above and can be mapped to the list of links if you want to learn more:
Those are all fine choices at varying price points. Having read this far, you'll understand how each is used and can shine on all of the possible applications.
These are the Best Equalizers Out There
There are as many benefits to performing some (or all!) of your equalization outboard as there is to applying compression.
From cleaning up your signal before it turns digital to imparting some analog warmth during the recording phase, to juicing up each track during the mixing phase, and even equalizing your buses, master output, and mastering... there's always a use for one of the best studio equalizers.