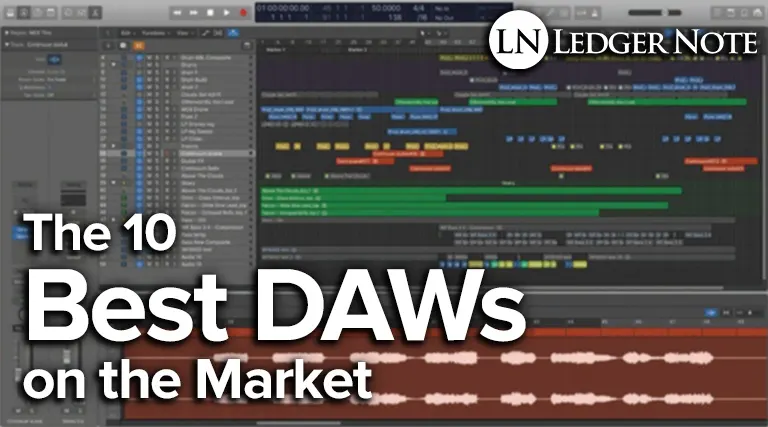 You can ask 100 professionals which is the best DAW and get at least 10 different answers. That's not because there's a ton of equally good choices out there, but because each is created with certain industries and genres of music in mind.
In the past some of these costed an arm and a leg and required a dongle proving you paid for their giant hardware mixing console, for instance. Now anyone can have access for a much more reasonable price. And that's because a bunch of competitors swooped in and changed the game.
Let's quickly break down exactly what a DAW is because many newcomers seem to get confused. They'll find any kind of audio editor and consider it a digital audio workstation, but it's likely a small sub-set of what these can really do and what they really need.
Then let's look at a few factors you'll want to consider about yourself and your work flow before choosing. Then I'll show you the top digital audio workstation software available with notes about who they're right for. You should be able to easily choose from there.
What is a DAW?
A digital audio workstation (DAW) is a piece of software designed specifically to aid in the production of music recordings, film and television audio, and any other type of audio work that requires signal processing and mixing.
This kind of application is appropriate for beat makers, singer-songwriters, recording studios, film production companies, podcasters, vloggers, audiobook narrators, and pretty much anyone working in any industry where audio is a large component of the final product.
They provide the ability to record many tracks at once, bounce mono, stereo, and surround sound audio files, and edit waveforms. They let you cut, copy, paste, arrange, and loop audio. You can use audio units like VST plugins.
You can capture or produce MIDI data and reproduce sounds using synthesizers, samples, and one-shots. And of course, you can do signal processing, volume balancing, and final mixdowns. If you need most of these capabilities, then you need a top DAW and not some rinky-dink software.
Before You Choose a Digital Audio Workstation
You may be thinking that price is the most important factor to consider, but let me tell you why it's insignificant (besides that they're all similarly priced). You do have to get over the hurdle of buying one once, but after that you have a license for life, maybe paying small upgrade fees when new major versions come out.
What really matters, first and foremost, is which industry you're working in. I'll talk about this from the perspective of the music industry as an example. If you work in the electronic music realm, with EDM and Dubstep or whatever, you want to choose a DAW that everyone else in that niche uses.
That's because, for one, all other producers will use hardware controllers and control surfaces that sync with those DAWs. You'll also be able to pass entire projects around, as opposed to having to send stems to each other. Being able to open a project is crucial to collaboration, remixing, and more.
If you're making rap beats for other artists, you can get away with sending out stems. But if you're a mixing or mastering engineer, you want to use the software that the vast number of professionals use (so you can open projects!), otherwise you'll lose tons of time in setting up projects and communicating about them.
To sum it up, ask yourself if you intend on working with tons of various artists (mixing or mastering), are working in a specific genre (EDM, hip hop, live instrumentation), or are in an industry that's tangentially related to music (speech, radio, television, sound effects). The answer will guide you in your selection.
The 10 Best DAWs on the Market
This list is as much about who not to include as it is who should be listed, because you don't want to get caught up in the learning curve of a fledgling company that never thrives. You want the tried-and-true companies who have worked out all the bugs and have mass adoption.
Here's the list of who is included below so you can take it in quickly. Then, below, I'll go into all of the details about why each one made the list, it's strengths and weaknesses, and who it's most appropriate for in terms of work flow, genre, and industry.
Avid Pro Tools
Apple Logic Pro
Ableton Live
Steinberg Cubase Pro
Image-Line FL Studio
Reason Studios Reason
Cakewalk by Bandlab
Cockos Reaper
MOTU Digital Performer
Presonus Studio One
Yes, there are more, but I don't recommend you venture outside of these ten, and I do have them in the order I think is the best in general in terms of appeal to the most people. You may have more specific involvement and needs that means one lower down the list is best for you, though, so take care to read about each in the DAW comparison below.
Avid Pro Tools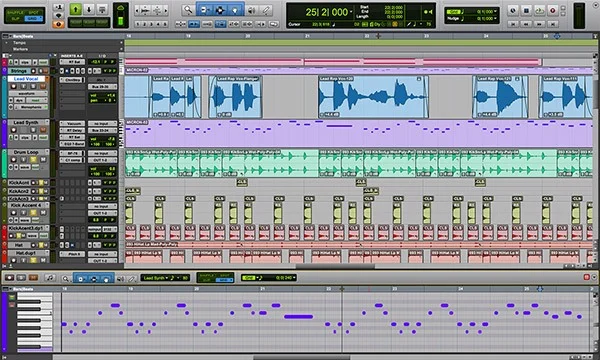 Pro Tools is the most widely used DAW software due to its long time on the market and early availability to professionals studio engineers and availability on both Windows and Mac computers. It is the industry standard and the best DAW for Windows.
It's had a slow start in terms of gaining ground in home studios due to walls built around accessing it in the past (to stop bootlegging). But for professionals, this is one of the two obvious choices and probably the main choice.
One thing they've added in recent years is Avid Cloud Collaboration to help you pass files around, rather than lugging external hard drives around or even mailing them. If everyone else you work with is using this, then you should be too. It's as good as it gets.
Apple Logic Pro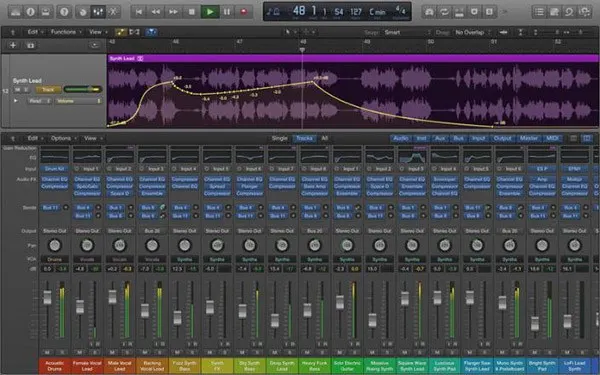 Now that Apple has such a huge marketshare, Logic Pro has gained a ton of ground in the music industry. All of these essentially do the same things and work the same way, but the edge this has over Pro Tools for Mac users is familiarity, shortcuts designed for Mac keyboards, and a much nicer design. Obviously, it's the best DAW for Mac, hands down.
It also comes with a metric ton of VST instruments, synthesizers, unbelievably high quality native plugins, pre-created loops, one-shot samples, and so much more. I don't exaggerate when I say the content library is massive, so massive that many run it off of a separate hard drive.
If everyone you work with is tied into the Apple ecosystem, as are you, then there's no reason not to use Logic Pro. It is the 2nd industry standard and has a beautiful work flow. It's what I use currently and see no reason to switch away from it any time soon.
Ableton Live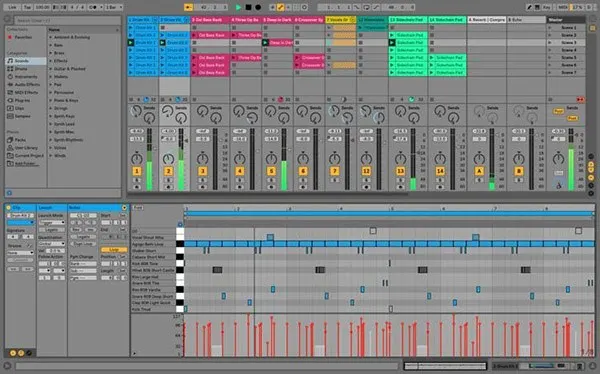 Ableton Live has been around for quite some time and has become the staple for live DJ performances. If you're into the EDM genre and related ones, this is for you. Countless MIDI controllers, pads, and other electronic production tools are designed with Ableton Live in mind.
Though it can record like any other top DAW, it's really great for composers who can feed it MIDI data. People treat it like an instrument itself these days with its vast array of synthesizers and VSTi instruments.
Again, if you're into electronic music and plan on collaborating and letting others create remixes, then this is where everyone has congregated and you should too. This removes the friction between professionals and helps everyone out.
Steinberg Cubase Pro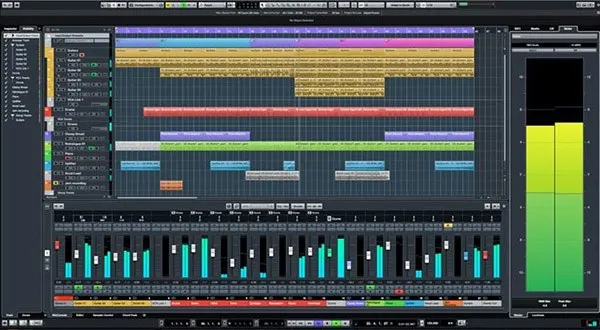 Steinberg Cubase is older than Pro Tools by one year and has had a stellar track record the entire time. Steinberg is the company that invented the VST standard that all other DAWs use for plugins. That should let you know about their leadership and seriousness.
If I had to sum up Cubase and their philosophy, they focus on refinement. Each version becomes faster, more efficient, and more stable. This is super important because none of us can afford to have our projects crashing and lose our work and progress or that of a client.
Though Cubase comes with every thing you need, plugin-wise, it doesn't include a vast array of extras. You'll need to bring your own third-party tools, which you'll seek out anyways over time no matter which DAW you choose. This is among the best, especially if your collaborators are using it already.
Image-Line FL Studio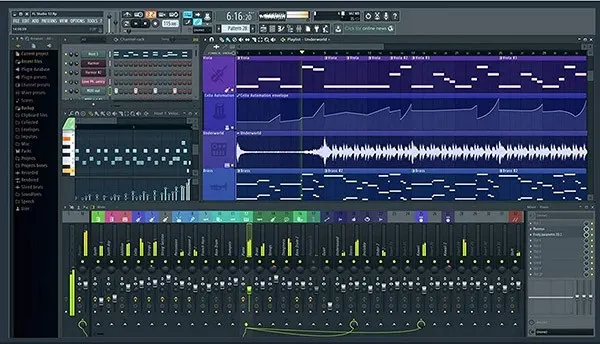 I've created entire albums with FL Studio back when it was Fruity Loops. It's only gotten better, so much so that it rivals any other DAW but also includes a feature others don't have that I still miss to this day, which is the beat sequencer. Some plugins have similar functionality but Image-Line nailed it. I'm calling this the best DAW for beginners.
Whatever you think you know about FL Studio, forget it. They got their start from the bottom and earned their meteoric rise. Rappers and EDM creators are likely already familiar with it, and that's all the more reason to stick with it (especially since they offer free upgrades to new versions and is more affordable).
My opinion is, this works the same as any other DAW but for some reason the learning curve is easier to get over. Though much of it is the same, it seems a bit more intuitive to use. For anyone making synthesizer or MIDI-based music, I can wholeheartedly recommend this, especially beat producers for the work flow. It's a really approachable software music production environment.
Reason Studios Reason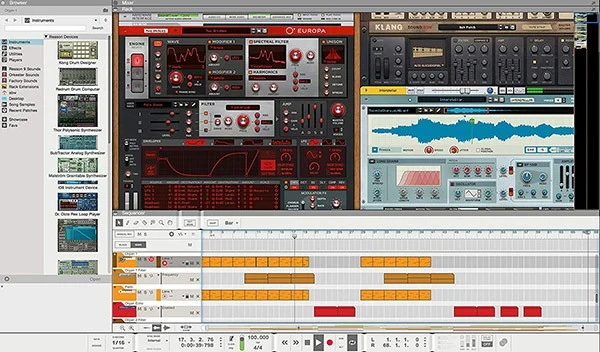 Propellerhead Reason just became Reason Studios as their DAW called Reason continues to gain more ground. This is optimized directly for synthetic music creators (MIDI, rap beats, EDM, etc.). It's crazy because it can act as a stand-alone DAW or the entire thing can be used as a plugin in a different DAW.
The reason you'd want to do that, and the most unique thing about it, is it's a rack-based DAW. Old school studio engineers will appreciate this visual layout where each plugin is stacked vertically like rack-mounted hardware units with faithful interfaces.
If your mind is visual and you work better with your hands, then please do yourself the favor of investigating Reason further, even if just as a VST3 or AU plugin for a different software. It's great for composing and arranging music, especially synthesizer-based music.
Cakewalk by Bandlab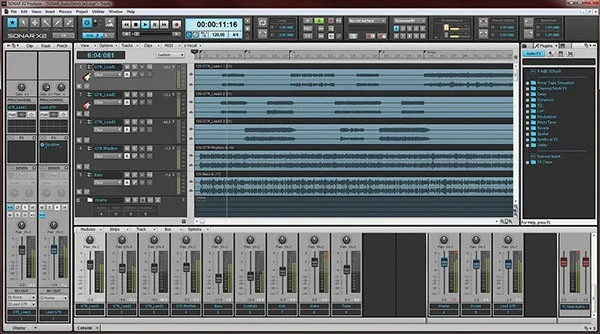 I didn't even know this until now, but Cakewalk apparently had been bought by Gibson and was very recently sold to Bandlab. It used to be Cakewalk Sonar and now it's Cakewalk by Bandlab and is absolutely free. So there's the first and only free option in the list. I'm not sure that's a good thing in terms of future support though.
What they've done is strip out a lot of the third-party VST plugins that came bundled and are selling premium plugins separately while giving away the core DAW software free of charge. Is this really a reason to be skeptical? I honestly don't know yet.
What I do know is I used Cakewalk for a short spell in my early days and it was fine. It was my first step up after Cool Edit Pro 2 and Fruity Loops and served me well. If your budget is tight but you want to get started now and begin learning how DAWs work in general, then by all means, go for it. What can you lose?
Cockos Reaper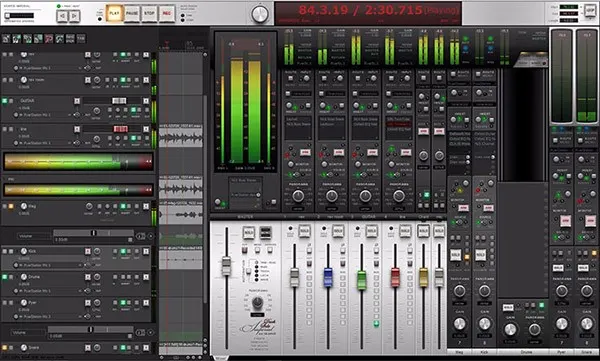 I remember when Reaper got started, and every year that passed it became more impressive and got more professional studios on board. And here we are now, where Reaper is a monster and a serious contender in the industry. The best part is it's still extremely affordable like it always has been.
You can try the full software as a demo for one month and then slap in a license code if you like it. What's nice is it doesn't eat up a ton of storage space on your hard drive, but that's also because it doesn't come with a ton of extra plugins. It has the essentials and leaves the rest to you to bring along or build up over time.
Another thing to mention is that it's smooth as butter in terms of responsivity. It doesn't have huge demands on your RAM and CPU and doesn't bog down like others will at times. This keeps your head in the game and staying creative, rather than distracted by glitches.
MOTU Digital Performer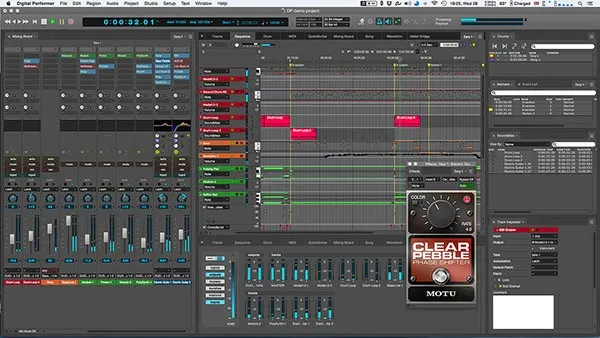 Like Presonus below, MOTU is a manufacturer of studio gear, especially audio interfaces. Digital Performer is one of the oldest DAWs around and has accumulated a huge content library that comes with it.
Not only does it do everything else a DAW does but it also has some features that are perfect for the digital-based artist during live performances (thus the name). Arranging and sequencing musical phrases is simple here, clearing your mind to focus on your lead performance and working the crowd.
I have nothing more to say. It's as good as any other, but simply doesn't have the same popularity (yet). You can look at the image above and see how refined it is. MOTU has been around forever, are leaders in the industry, and no doubt treat this software with the same passion.
Presonus Studio One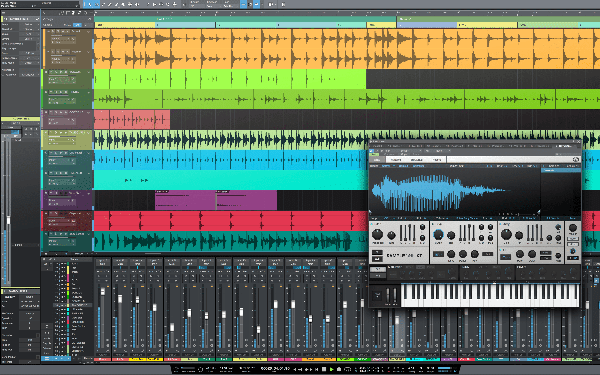 Presonus has been in the studio equipment manufacturing game for a long time. I've had one of their interfaces, just like MOTU, and it was great. It's no surprise that they eventually got into the software game and have been climbing the ladder, especially since you get it free if you buy one of their audio interfaces.
It's as flawless as the others and is a general digital audio workstation with no particular strengths or weaknesses (like Pro Tools). What it does have going for it is a refined user experience that's sleek but and well organized.
A huge selling point is they've just added native Harmonic Editing, which is to say it can now do what the Celemony Melodyne plugin does (which isn't cheap) without any extra cost. If you aren't sure what that is, look it up. It's probably the most revolutionary thing to hit the music industry since MIDI.
Honorable Mentions for Best DAW
Among the other best digital audio workstation software out there are:
The only reason I'm hesitant to mention them is some don't have the polish and sheen of others, some look even better but simply aren't old enough (in my mind) to faithfully suggest as the best yet (they have to stand the test of time), or are limited to only one platform and have other restrictions. The free ones above are perfect for you though if you can't afford a nicer option yet.
If you're looking for something to edit single audio files at a time and don't need the huge ordeal or expense, then check out our list of free audio editing software. Some are even browser based.
The list above are my personal picks for the top 10 best DAW software on the market currently. It's entertaining me to think back to 15 years ago and what this list would have looked like. Some heavy weight players are now gone entirely! Times change and that's why I only suggest the tried, true, and aged. Choose wisely, my friends, and then get back to work!