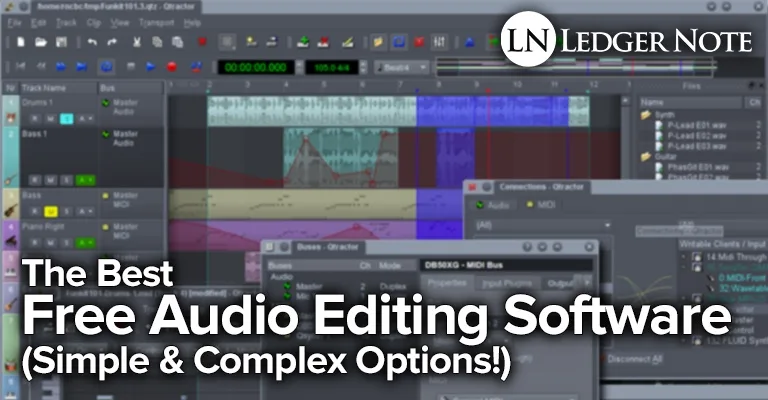 Free audio editing software made me into the man I am today. Of course, I jest, but the truth is that if they weren't available to me when I first got started then I'd have never gotten started.
There were two main reasons. First, I wasn't going to shell out big bucks for a professional-grade audio editor when I was simply curious about the process. Second, I couldn't have afforded it if I wanted to.
That's why I want to honor the companies that have either produced full-blown audio editing software and are giving it away for free or have created a completely usable but semi-restricted free version of their more expansive audio editors.
Without these companies and their applications, so many of us wouldn't enter the industry. I cut my teeth on these, got past the learning curve before jumping to a full-fledged digital audio workstation (here's the best DAWs if you want to compare them to the options below), and have never forgotten those days. I still laugh about my Cool Edit Pro days and how much fun I had.
Sometimes you don't need a huge program if you only need it for a simple task, and other times you need a full suite. You might be trying to produce music, narrate audiobooks, overdub Youtube videos, or clean up your podcast vocals. You'll find what you need below.
The Best Free Audio Editors
Let me show you the ones I used (if they're still around, I'm getting old) and introduce you to some of the new players on the block. I'll point out which platforms they're available on and their strengths and weaknesses.
Audacity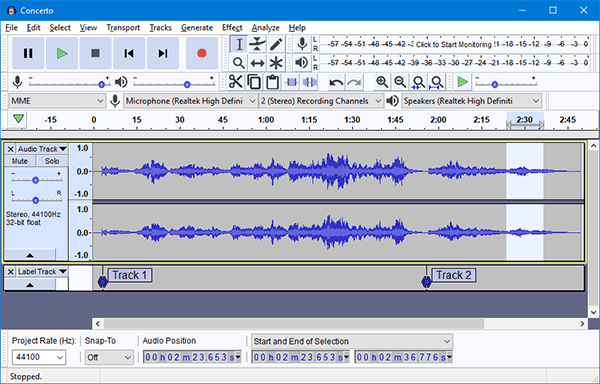 You're looking the king of truly free audio editing software. It's open source and has been constantly updated since it's launch in 1999. This is for the anyone that wants the experience of a (nearly) complete digital audio workstation. If you learn how to use this, you're ready to use any of the big boys like Pro Tools and Logic Pro.
Visually it has an old school appeal, but so do some of the expensive ones. It's all about the power it provides, and it can essentially do it all except one thing. You get a multitrack so you can record several tracks at once and mix them to taste, you can apply all kinds of signal processing and effects, and edit to perfection.
The one thing it's lacking is support for instrument VST (VSTi) plugins. It can support MIDI playback but not MIDI programming. Audacity is less about synthesizer production and more about recording and editing. If whatever you're doing requires a microphone or several, then this is perfect for you.
It supports all of the most common file formats during import and export, and many rare ones, can apply effects live and let you stream directly to your audience, and a lot more. It has countless plugins for mixing, including the expected ones like compression, noise reduction, etc. It's pretty nifty.
Pro Tools First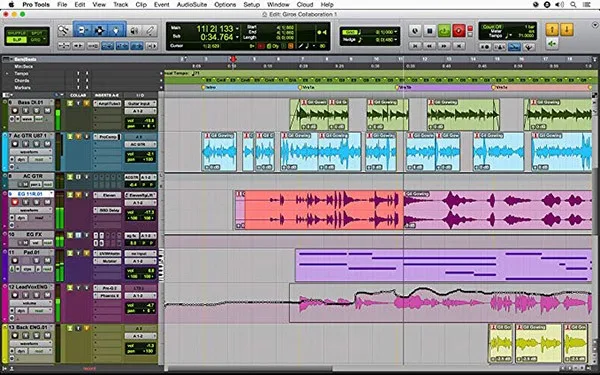 Everyone has heard of Pro Tools. It's toe-to-toe with Logir Pro for the most used professional-tier audio editor and music production suite. It's been around for over 30 years (even longer than Audacity!). This is an example of a powerhouse of a software releasing a free version that is feature limited.
Its strengths are that you it gives you access to the most modern and powerful tools available to anyone needing audio editing of any kind. The music industry lives and breathes by this software. What's more important is to explain what's limited.
The most important is that you can't save projects locally. You have to use their cloud with Pro Tools First and you're limited to 3 projects at a time. That means you need to finish up one and delete it before you can begin another. Beyond that, you get limited to a 96 kHz sample rate, which isn't a big deal since audio CD's limit you to 44.1 kHz anyways.
The regular version comes with 80 plugins for signal processing, dynamic range compression, virtual instruments, etc. Pro Tools First only gives you the 23 most essential. These cover anything you'll need, but limit your creativity.
You'll also be limited to 16 tracks on the multitrack. That's more than enough for most individuals but not for big professional productions, who should be buying the full version anyways. There's a handful of other pro-level features that are missing or limited that are beyond the scope of this discussion that you won't care about.
The big benefit here is if you want to know what a top-of-the-line paid DAW is like, then you have that chance here, and it never expires or locks on you. It's not that different than the option I'm going to list below, but if you have a Windows PC then choose Pro Tools First, due to the next one being Mac only.
GarageBand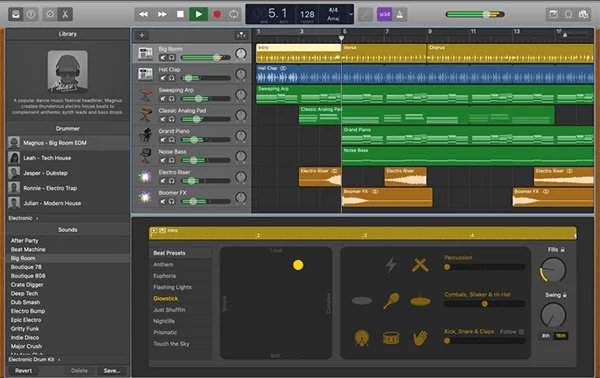 Like Pro Tools First is a "Lite" version of Pro Tools, you can think of GarageBand as a free but lite version of Logic Pro. It's so free, in fact, that it comes installed on every Mac computer and can even be downloaded as an app for tablets and smart phones.
In my opinion this is the best you can get of the free options, but the problem is you have to be on a Mac. Otherwise, it puts all of the others to shame. You can do all of the recording, editing, clean up, and mixing as you'd expect, but it also features a MIDI piano roll and tons of VST instruments and synths.
There's been entire chart-topping albums released off of this software (like Lorde's album with the hit song 'Royals'). It even has music lessons built in so you can learn to read sheet music, play the piano, learn how to play guitar and read the fretboard, and more.
Honestly, this is nearly the same thing as Logic Pro, minus a bunch of features that only become useful for big productions with 100's of tracks. For the average musician who's going to bounce tracks and create loops anyways, this is the full on real deal. And it's completely free, with the one caveat that you have to use a Mac.
OcenAudio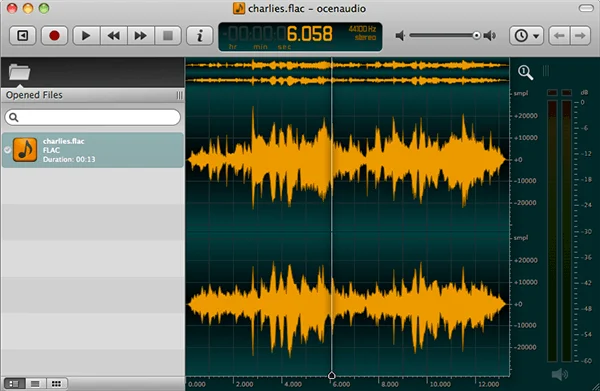 Not everyone needs or wants a huge, complicated user interface with multitracks, sample editors, mixers, and piano rolls. Sometimes you just want to clean up, improve, or restore a single recording. That's who OcenAudio is for. It's perfect for the vlogger, podcaster, and audiobook narrator.
What's nice here is that it can handle extremely long audio tracks since it's only dealing with one at a time. It can batch process a series of files with the same treatment. Not only are there tons of native options, but it can accept virtual studio technology plugins (VST's). That means it's as open ended as you need it to be.
It allows you to configure all of these audio effects and edits with real-time previews, meaning you can listen in on the changes, tweak them to perfection, and then commit them to the file. You can undo, redo, splice, multi-select, and everything you could possibly need.
The best part is how simple everything is. If you're editing one file at a time, look no further if you want to avoid a huge learning curve with more complex audio editors. There's no reason for that in a lot of cases. If that's you, you've found your choice.
Hya-Wave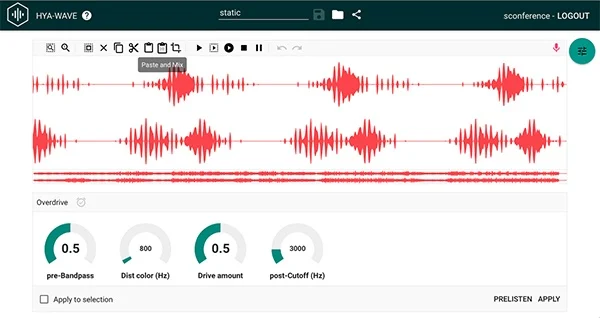 This option is very much like OcenAudio above, but you don't have to download or install any software because it's completely browser-based. It supports Chrome and let's you use Firefox with a notice that there could be various bugs. Safari isn't supported at all.
I have to admit that I'm pretty skeptical of anything browser-based that requires too much CPU or RAM, but this thing works clean as a whistle. It nails the user interface in terms of simplicity and beauty. You record straight into it or drag in a single audio file, and you can edit it and add effects very easily.
Like OcenAudio, there's no multitrack. This is for single recordings at a time with no batch processing. I've found myself using it when I have a very simple task to do on a file and I don't want to launch the entirety of Logic Pro and create a new project just for that tiny task.
Another great use is for video production where they don't offer much in the way of audio editing (like iMovie). You can export your audio to this tool, do what you need, and then import it back in. The main appeal to this is it's a huge time saver. The number of effects it provides is surprising as well.
More Free Audio Editing Software
The ones above are what I consider the best of what's available. But at the same time I realize we all have our own personal tastes, quirks, and needs. So I want to mention some more options in case something about the options above annoys you. That happened to me a lot when I first got started. There's nothing wrong with these at all. I just prefer those above.
TwistedWave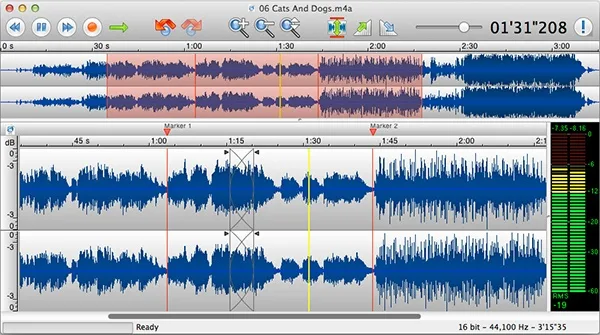 Rather than repeat the same old things all of these do, let me tell you the strength of TwistedWave. You can record, mix, and master with this, do batch processing, and convert files. But the best aspects of this software are three-fold.
First, you can have it automatically detect silent regions and split the file into segments, and even export those sections into individual, distinct files. That's helpful for interviews, among other cases. It has a great time stretch and pitch shift technology built in, licensed from Zynaptiq who has probably the best algorithm for this task.
And finally, there's probably no better free audio editor for adding or changing metadata. You can run through your music library or add the data before you use online distribution, or whatever! It's great for organizing your library and making sure you get credit (and can detect illegal sharing) in the future.
You can add automatic fade in and fade out effects, create iPhone ringtones, work with mono or stereo files, use Audio Unit or VST plugins, and on and on. It's a great choice, which is why I slapped it at the top of this secondary part of the list.
WavePad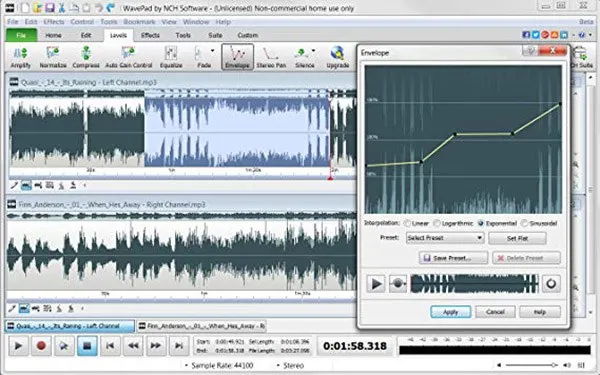 If you're older like me, you probably prefer software you can install and use in the traditional manner, instead of apps and browser-based tools. If that's you and you're looking for something simple to use, then WavePad is probably the answer. It also comes as an app, though, even on Kindle.
Like OcenAudio and Hya-Wave, this is an extremely easy to learn and use free audio editor but has a bit more features. You can extend it nearly infinitely with Audio Units (an industry alternative to VST plugins). Of course, it has the most commonly used built right in.
It can do additional things others can't like spectral analysis, text-to-speech speech synthesis, and fun voice modulation. It's great for batch audio restoration when you need to automatically remove clicks and pops and do noise reduction.
Best of all, it handles nearly any audio format. So if you have an old archive of audio files you need converted to a modern codec, this is your winner. We're talking MP3, WAV, VOX, WMA, AU, FLAC, AIF, GSM, OGG, M4A, AMR, MID, AAC, real audio (that's ancient!), and tons more. It's like the VLC of audio editing, in terms of handling nearly any file you throw at it.
Free Audio Editor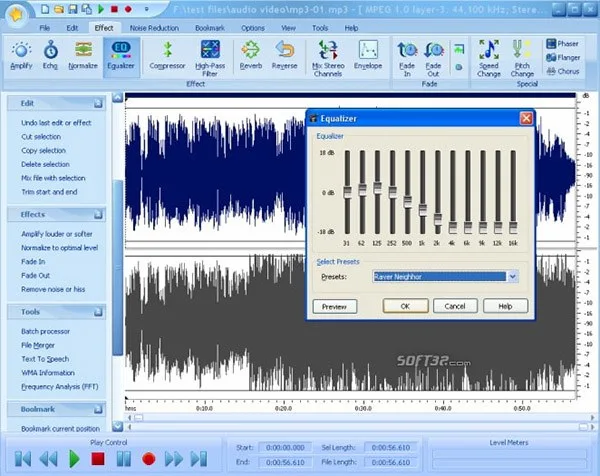 Yes, that's actually the name. Like many, if you want to edit one waveform at a time and have access to all of the signal processing you'd expect like equalization, normalization, compression, reverb, and more, this will get the job done.
This one has a few benefits, like joining audio files. You can load several files into the single track. You can also perform batch processing here as well. It has a next-level amount of file formats you can export to that you'll probably never use but they're there.
In addition to editing and enhancing audio, it can record from your sound card, web cam, or audio interface. It's also a useful CD burner tool, which is becoming more rare as more computers don't even feature CD drives any more.
Perhaps the nicest thing about this one, if you can get past the goofy name, is the ability to create presets. So rather than having to continually go through the same editing process each time you use it, you can load your preset and have your file processed automatically. This is great for podcasters and the like.
Qtractor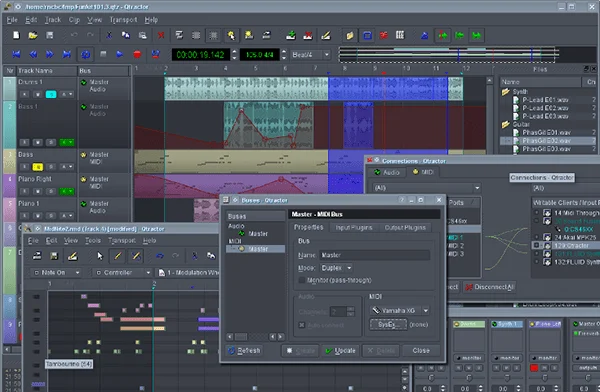 I put this one last on the list, when truly it's one of the best. It's as good as the full version of Pro Tools or Logic Pro, but the main catch is it's only for Linux. That's why I placed it last, because so few of us use Linux.
It has the multitrack, mixer, MIDI piano roll, wave editor, and everything else. You can use track automation, edit MIDI parameters, use VST plugins, and on and on. I'm not going to waste time explaining to you what all a digital audio workstation can do, but this is one of them. It's the real deal.
By the way, if you made it this far, you're pretty serious about getting into recording and editing audio. You'll eventually need a decent microphone and audio interface. Check out our recommendations on best cheap microphone and best audio interface which includes good, inexpensive one and two-channel options.
A Few More Free Audio Editors
The ones above are those that I recommend, with my favorites at the top. There are a few more free ones that get the job done in terms of simple options and the more involved and complicated. These include Wavosaur, Audio Cutter Pro, WaveShop, Nero Wave Editor, and Soundation.
These do fine but simply don't have the same traction others have. Will they grow and become better in future versions? Time will tell!
I also want to say thank you to some of the old free choices that have grown and can now sustain themselves as full-fledged companies. FL Studio (thank you for the old Fruity Loops), Cool Edit Pro, Acoustica, and especially Reaper which has grown a ton and is now a feared competitor in the music industry.
Thank you to all of these free audio editing software choices. So many musicians, vocalists, slam poets, comedians, podcasters, and vloggers were able to get a real start in their industries thanks to your self-less contributions. Seriously, thank you!