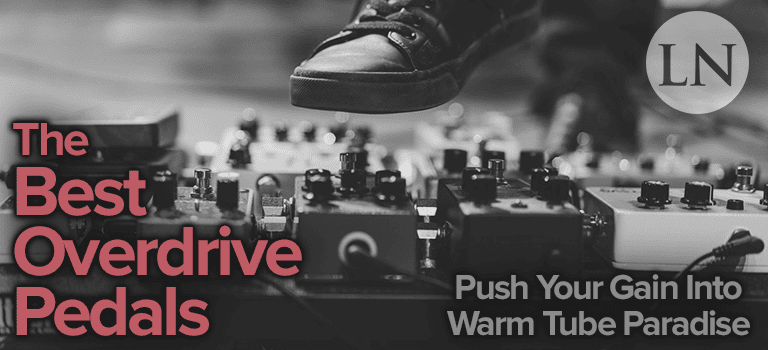 Click here to jump straight to the reviews!
Guitar players have been praising and taking advantage of the subtle sounds of the overdrive effect for half a century now.
Although overdriving your amplifier was considered a mistake before, by the early 1960's rock bands were purposefully creating this effect with their amps as engineers scrambled to create ways to achieve this without altering your overall volume levels.
Eventually the overdrive pedal hit the market and the game was changed forever.
We're all used to hearing the growling, harsh sound of a hard-clipped square wave distortion in heavy metal, but most of us find the more more musical, soft clipping of overdrive distortion a much more pleasant experience.
This is often because it adds coloration and warmth to the signal thanks to the actual tube or tube-emulation. That should tip you off that you can find analog and digital versions of the circuits used in these pedals. Both have their strengths, albeit somewhat romanticized, over the other.
Let's take a moment to discuss what features you should prefer in one of these pedals and how to properly use them, then we'll take a look at our top picks among the modern generation of these tone-altering beasts.
What is the Overdrive Effect?
Overdrive is a sub-type of the distortion effect, achieved by increasing the gain of an audio signal until it begins to break up and have a "fuzzy, growling, gritty" aspect to it. For overdrive specifically, the effect was originally created by pushing the gain through a vacuum tube amplifier too high. The name comes from this act of overdriving the tube.
Overdrive is seen as a subtler form of the common distortion effect. When tubes are provided with too much gain, the audio waveform is clipped off while sustain is added along with harmonic overtones. This results in a compressed sound that has a sense of warmth along with the gritty sound of the distortion.
Although some pedals and amplifiers with tubes are still used to achieve the overdrive effect, solid-state electronics and digital processors that emulate specific overdriven amplifiers are more common today.
What to Look for in the Best Overdrive Pedal?
Of course, you'll want to try to hear examples of a pedal you're interested in by watching videos, but that's not always accurate. You'll largely be safe these days by trusting specific models by manufacturers with great reputations, in terms of the quality of the build and of the tone. Most feature so many knobs and even equalization stages that you can define nearly any tone of overdrive you want.
Another thing to consider is whether you play lead or rhythm and your other gear. As lead guitarist you might want to accentuate higher frequencies while sitting back in the mix more as a rhythm guitarist. Some pedals may be known more for a specific frequency response, although you can alter any of this on the pedal usually or even by placing an EQ after it if needed.
Beyond these considerations, they all tend to feature the same three knobs that give you all the choices you need. Sometimes, they're all so good in their class that it boils down to which one you like the look of best and the price range you're shopping in. That's how it is in the overdrive world.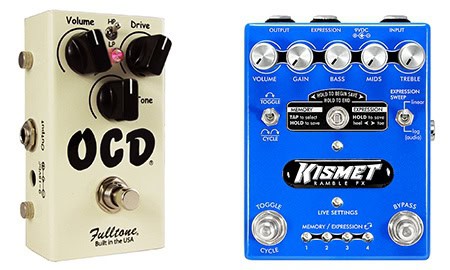 How to Use an Overdrive Pedal
Overdrive, like all forms of distortion, is a very obvious effect. That means if you don't use it right, your fan base is going to wonder why you're sounding so amateur. You have to place it in the right order in your pedalboard, foremost, and then tweak the knobs correctly to get a professional sound. But how is this done?
Where to Place it in the Signal Chain
There is a very strict order all your types of guitar pedals should be placed in as defined by logic, nature, and the necessity of other pedals based on their needs and ability to ruin everything. It looks like this:
Dynamics, Filters, & Pitch Shifters
Boost & Distortion
Modulation
Time
Overdrive belongs in the second stage, called the Gain group. That's because it depends on a high-gain signal to do its job. You'll want to take care of all of your waveform shaping, filtering, and pitch shifting before boosting your volume and sending it to the overdrive pedal because once you do there's no tweaking those aspects.
And you want to distort before you modulate or add reverb and delay. You want distortion to be a part of those effects and not applied to them or it's going to sound absurd, muddy, unprofessional, and unnatural. It will, without a doubt, be noticed if you don't do this right.
Understanding the Knob Settings
Overdrives haven't gone the way of other effects where the pedal manufacturers are inventing crazy names for each knob and adding unneeded features. It's still sane and you'll generally only see three knobs to use. These are Gain, Level, and Tone.
Gain, which is sometimes called Drive, lets you define the volume at the input so you can choose how intense you want the distortion to be. Volume lets you choose your loudness at the output. Tone is a high shelf equalizer boost that you can sweep up and down the frequency spectrum to control your brightness.
Some pedals will include a switch for a high-pass or low-pass filter that changes the tone knob so you can go for a darker sound if you prefer instead of bright. And that's it! Pretty simple once you know where to place it in the pedal chain.
---
The Best Overdrive Pedals

Note: Each image and text link leads to Amazon.com where you can read additional user reviews, find specific technical detail listings, see additional product options and sizes, and make your purchase.
Now that we know what to look for in and how to use overdrive pedals, let's take in an overview of the best choices on the market. Though we won't divide the next segment into any categories, you can scroll back to the top to see which we chose for our three main categories.
These are the Best Overdrive Pedals Out There
The subtle, yet gritty, overdrive effect is found in countless professional recordings and live musical events in nearly every genre. This ubiquitous desire to apply it has led to the top manufacturers not only producing the best units available but competing to drive the prices as low as possible.
This is great for us, the consumer, which you'll have noticed as you browsed our selection above of the best overdrive pedals on the market.