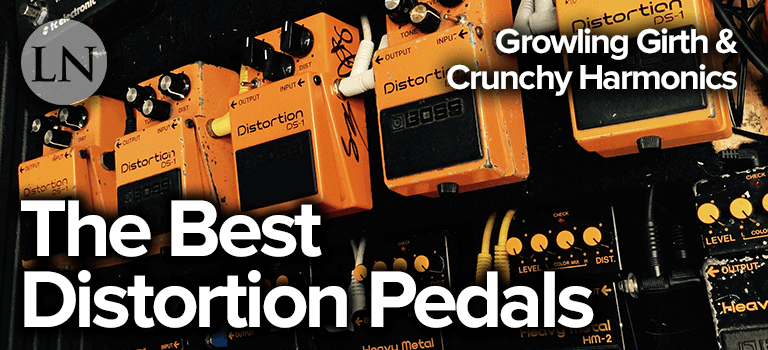 Click here to jump straight to the reviews!
Newcomers to the guitar and bass world often ask the obvious question about the difference between the distortion effect and that of overdrive and fuzz.
Even experienced musicians tend to think the last two are sub-types of distortion, but that's not correct when it comes to pedal nomenclature.
It's easier to explain the difference, and attractiveness of distortion in general, by describing the sounds of the three effects rather than how they're produced.
If overdrive is a subtler distortion with soft-clipped waves and fuzz is a very overt, hard-clipped sound, then distortion lies in the middle, providing a range of options you can dial in that fit perfect for your style and specific song.
It all started in the early 1960's when guitarists decided that overdriving their amplifiers with too much gain wasn't so much of a mistake as it was a nice effect to exploit.
Rock and Roll players picked it up and it spread to many genres from there and is still perhaps the most used and glorified effect for guitarists even today.
Let's talk about what you should be looking for, feature-wise, when deciding on a new pedal for your collection, and the best ways to use it to achieve your desired effect. Then we'll dig into our top picks from the modern lineup of pedals that take advantage of all we've learned in the last half century.
What is the Distortion Effect?
Distortion is the resulting effect imparted on an audio signal when its gain is driven higher than specific components in the signal chain are expecting. Usually this is referring to a vacuum tube or a woofer in an amplifier, a transistor, or other electronic elements.
The change to the waveform of the signal is a clipping of the peaks, resulting in compressed volumes with a higher average amplitude, while also imparting harmonic overtones, which are typically pleasing to the listener even if the distortion itself is unsettling.
The sound itself becomes tighter in volume since the peaks are clipped, reducing the amplitude gaps between the peaks and troughs. The method of achieving this results in a broken up and "gritty or dirty" tone, but one more harmonically pleasing with a complex layering of overtones injected into the signal. It's hard to describe but once you've heard it like we all have, you'll know it.
What to Look for in the Best Distortion Pedal?
All of the reputable distortion stomp boxes these days aren't going to disappoint you. They're made with high quality components by experienced companies that know what guitarists want.
So the question becomes how you make a choice then if they're all acceptable. What you want to look for is variations in the following four variables.
The first variable is the tone. This is subjective, and while you can try to watch videos and listen to examples, these pedals have so many ways of tweaking the effect that its hard to really determine the tone, especially when everyone is recording their videos in different ways.
The good thing is you'll be able to tweak it that much to your liking as well. This goes together with versatility. You won't find a pedal in our list below that doesn't have more options than you'll need. That's how they're being manufactured these days.
Third, you want to concern yourself with the quality of the build. You can easily read online in forums whether or not a model has more problems than normal. You'll also consider things like whether or not they feature a true bypass or are buffered.
Consider the chassis and how it's constructed and from what material. You will be stepping on it, after all. Most manufacturers understand this and build them like tanks.
Finally, you'll want to consider the cost and the diminishing returns on tone and quality you get when spending more and more. This one is personal and up to you to decide.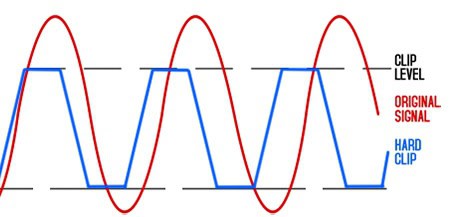 How to Use a Distortion Pedal
Distortion is a very obvious, in your face effect. If you don't use it right, everyone in your audience is going to know. So that begs the question of how you set up the effect itself with the knobs and where you put it in your pedal chain order. Let's take a quick look.
Where to Place it in the Signal Chain
First off, never put distortion in your amplifier's effects loop. It should come before that so it drives the preamp for extra goodness.
Also, it needs to come in at a specific stage of your pedal chain, which is defined by logic and the necessity of the needs of other effects and how they can ruin each other. It looks like this:
Dynamics, Filters, & Pitch Shifters
Boost & Distortion
Modulation
Time
Distortion comes in with boost in what is often called the Gain effects group. The reason is that you want to shape your waveform first with noise gating and compression and then establish the pitch if you'll use a shifter or harmonizer. If you're using a boost pedal to drive your distortion, then that comes first too. That's where you want your distortion pedal.
After that, you'll use modulation effects like chorus and flanger and then tack on reverb and delay at the end. This is because you want distortion included in these effects, not added onto them, or it'll sound unnatural, unprofessional, and be a complete mess.
Understanding the Knob Settings
Unlike others, distortion pedals typically all have the same set of knobs and it doesn't vary much at all. You'll find a Level knob to control the volume at the output. There will be a Gain knob (sometimes called Drive) to control the amount of distortion being applied by feeding more volume at the input.
There's usually a Tone knob (sometimes called Treble) that lets you adjust the amount of brightness you prefer. And finally there's many times a Mode knob for pedals that have various styles of the main distortion effect for you to choose from. That's it. It's a very simple effect to use and control.
---
The Best Distortion Pedals

Note: Each image and text link leads to Amazon.com where you can read additional user reviews, find specific technical detail listings, see additional product options and sizes, and make your purchase.
Now that we are familiar with distortion pedals in terms of features to look out for and how to use them correctly, let's check out our overview of the current market and see what the best options are for your hard-earned money. We won't order these in any specific way other than to call out our favorite choice. To see the other two "best in class" options, scroll back to the top to see our comparison table.
These are the Best Distortion Pedals Out There
When looking for the middle ground between overdrive and fuzz, distortion is where you want to be. This will allow you to access both of the others to a degree at the extremes and to fall into expected taste in between.
Everyone has an opinion and perspective, and often using the most rare or unheard of pedal is what makes people feel cool. But above we've collected the current best distortion pedals on the market for when all you care about (and should care about) is the outputted sound.