The best distortion pedal will take your wimpy tone from cowering in the corner to baring its monstrous teeth, transforming it into a snarling beast with the singular goal of melting the brains of your eager listeners. It's not that they'll be scared… it's what they desire and expect. You either bring a thick, driven tone full of harmonics or get left in the dust…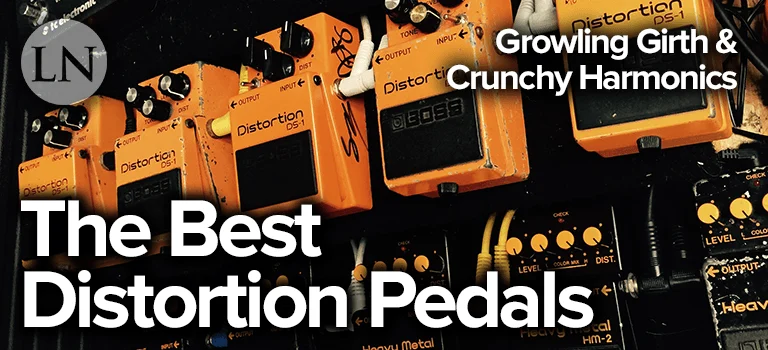 Newcomers to the guitar and bass world often ask the obvious question about the difference between the distortion effect and that of overdrive and fuzz.
Even experienced musicians tend to think the last two are sub-types of distortion, but that's not correct when it comes to pedal nomenclature.
It's easier to explain the difference, and attractiveness of distortion in general, by describing the sounds of the three effects rather than how they're produced.
If overdrive is a subtler distortion with soft-clipped waves and fuzz is a very overt, hard-clipped sound, then distortion lies in the middle, providing a range of options you can dial in that fit perfect for your style and specific song.
It all started in the early 1960's when guitarists decided that overdriving their amplifiers with too much gain wasn't so much of a mistake as it was a nice effect to exploit.
Rock and Roll players picked it up and it spread to many genres from there and is still perhaps the most used and glorified effect for guitarists even today.
Need more information in order to better understand your needs? We have got you covered! Visit our FAQs section.
INCLUDED IN THIS GUIDE:
The Best Distortion Pedals
Now that we are familiar with distortion pedals in terms of features to look out for and how to use them correctly, let's check out our overview of the current market and see what the best options are for your hard-earned money. We won't order these in any specific way other than to call out our favorite choice. To see the other two "best in class" options, scroll back to the top to see our comparison table.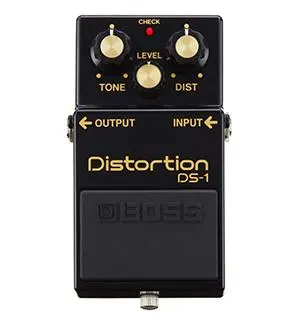 Boss makes some of the best pedals for the cheapest price, and the Boss DS1 40th Anniversary version is no exception. It comes with the same Boss look and indestructible case, but this edition is in black instead of orange. It has such a simple name, Distortion, because that's all it needs. It covers the whole gamut of needs from warm overdrive to a soft bite all the way up to a thick crunch or full on broken up fuzz experience.
Like others in the list, Boss left the extra features out since you likely cover them elsewhere and focused on the essentials. You have the standard tone to reduce treble, the expected level for your output volume, and a distortion know to control the gain.
Some of the all time greats use this pedal, including Steve Vai, Joe Satriani, and even Kurt Cobain had one in his rig. That lets you know that it gets the job done and is, more importantly for a professional, consistent in its output. It's a classic sound with tons of variation, giving your listeners exactly what they've come to expect.
If you can squeeze out the extra $20 or so and don't mind the odd shape, I recommend you compare this against the Pro Co RAT2 below. But if you really need to allocate that cash elsewhere then the DS-1 is the choice for you. High quality at the lowest cost.
Specs:
Item Weight: 1.08 pounds
Signal Format: Analog
Voltage: 9 V
Pros:
Smooth tone
Affordable price point
Cons:
High gain settings don't sound heavy nor thick
Not usable for modern rock and metal
In terms of the more reasonably priced options, the MXR M75 Super Badass has the best bang for the buck with the addition of the 3-band EQ stage in place of a single Tone knob. This completely analog circuitry can do it all.
Turn the gain down and enjoy an sweet vintage overdrive. Crank up the gain and scoop the mids and get that modern metal sound. Keep tinkering and you can produce every option in between. Rock, blues, thrash, metal… it's all here.
Though it's not labeled, you're looking at a true bypass switch housed in a tank of a chassis. It's more than convenient to have three bands of equalization so you can directly access the mids while also not being stuck with the limited choices a tone knob brings. The distortion is savage enough to satisfy the most picky, and then this EQ really puts the icing on the cake.
This beast has no qualms or quirks. It's compatible with single-coils, humbuckers, huge headroom amps, high-gain amps, clean amps, you name it. There's enough options and quality here to walk you into any situation and keep you useful and inspired. Give it some consideration!
Specs:
Item Weight: 0.2 pounds
Signal Format: Analog
Voltage: 9 V
Pros:
Powerful and flexible
Touch-sensitive is responsiveness
Cons:
Its most available tones have a trace of modern distortion color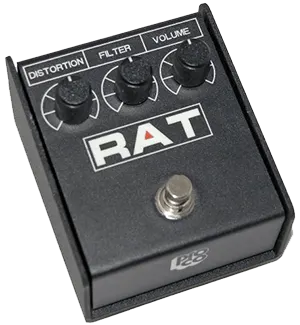 The Pro Co RAT2 has no extra frills. What it does is focus on distortion and does it right, so much so that even one of the greats, John Scofield, trusts it to handle his effect. And it manages to do it at about half the price most others can. Whether for bass or guitar, the RAT2 brings the crunch.
What's great about this beast is the transparency that's maintained even through some heavier distortion. Your original tone manages to be maintained in a way that even absurdly priced boutique pedals can't pull off. That's great too especially if you want to strum chords without ending up with a cacophony of noise.
Many options get kind of close to handling overdrive and fuzz but don't pull it off entirely. The RAT2's versatility is that it can perfectly act as all three, saving you room on your pedalboard if you choose, which is nice since it has a slightly wider construction than the standard size. It's an analog dream.
One thing to note is the Filter knob acts just like your typical Tone knob but in reverse, where the high frequencies are decreased as you turn the knob clockwise. Other than that, you have your output volume and your Distortion knob which increases the gain.
Some of the most talented guitarists in the world rock the Pro Co RAT2. That's all they need, so I'm sure it'll suit your needs too. In our, and their, opinions this is the current best distortion pedal available.
Specs:
Item Weight: 1 pound
Signal Format: Analog
Voltage: 9 V
Pros:
Great price point for the performance
Fuzz tones with a smooth quality
Cons:
Has limited control scheme
The tone can't really be metal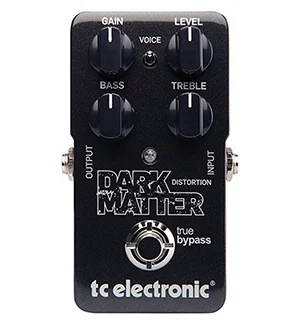 The TC Electronics Dark Matter offers some nice features beyond what you usually find on a distortion pedal. The 2-band EQ isn't that rare and is appreciated, but the Voice switch is where things get interesting. The Voice switch acts as a bright / bass toggle, letting you accentuate the modern treble or going back to the old school warm style of distortion like you get out of a tube amp.
This pedal is a great inexpensive option for nearly any genre, though perhaps it could use a bit more gain for black metal. With a Treble and Bass knob, you essentially have access to either of those plus the Mids if you use both in tandem. No tone is out of reach, nor distortions. You can get a reasonable overdrive or push the gain all the way to the extreme and really start breaking up your signal in the fuzz arena.
All in all this is a really nice crunchy distortion, especially for heavy metal, and double especially so once you start working with the EQ knobs. With such a low price, sturdy construction, and quality output, it makes a great addition to anyone's pedalboard.
Specs:
Item Weight: 0.5 pounds
Signal Format: Analog
Voltage: 9 V
Pros:
Gain level swings from metal to light blues
Simple control scheme
Cons:
Can get noisy on the highest gain settings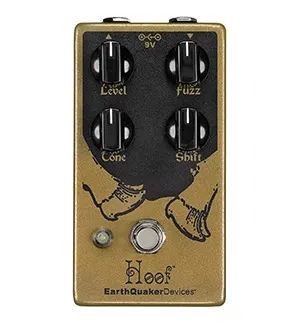 The EarthQuaker Devices Hoof brings the horsepower. Each is constructed one at a time by real human hands. This is a fully analog pedal featuring the coveted germanium circuitry mixed with silicon that brings you the organic feel lacking in many digital counterparts. The sturdy chassis and vintage design makes it handsome, but the sound is what we care about.
No corners were cut here. You get a true bypass switch that silently toggles on and off with no popping. The Level & Tone knobs do what you expect, controlling your output volume and rolling off high frequencies, respectively.
What's interesting are the two other knobs. The first is labeled as Fuzz, which controls the amount amount of distortion through gain. You can go from subtle to rocking distortion all the way to some seriously nasty fuzz if that's your bag. The Shift knob is a mid-contour knob, either scooping out the mids or boosting them. You can control the mud!
This thing can pump some serious gain and volume. If you're looking for a pure destruction option as well as being able to provide a tame coloring to your signal, look no further.
Specs:
Item Weight: 1 pound
Signal Format: Analog
Voltage: 9 V
Pros:
Great quality for the price
Durable and versatile
Cons: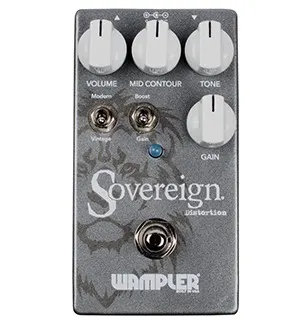 Perhaps the most unique in the list is the Wampler Sovereign. Brian Wampler is being called the King of Dirt for his various pedals of the distortion variety. Versatility was his goal with the Sovereign. In addition to the Tone knob, which is the same high roll-off we always see, it also offers a mid counter control as well as two switches.
The Boost / Gain switch does exactly what it sounds like which is provide even more gain. This can be actuated with a foot switch as well in the deluxe model, which is nice when popping into a solo.
Many players complain about needing two distortion pedals in series to get the kick they need or for playing lead versus rhythm and are happy to have simplified their pedalboard using just one of these. The Modern / Vintage switch can be thought of as a Bright / Warm switch, both of which can carry you through any genre.
There's also some less obvious features that are nice additions, such as the power supply input being on the front instead of the side and a very sturdy metal construction with all screws on the bottom keeping a clean and attractive appearance. They even give a nice cloth carrying pouch. The attention to detail paid here makes this a strong contender in this list.
Specs:
Item Weight: 0.75 pounds
Signal Format: Analog
Voltage: 9 V
Pros:
Great build quality
Has rich harmonics
Cons:
FAQs
In this section, we will talk about what you should be looking for, feature-wise, when deciding on a new pedal for your collection, and the best ways to use it to achieve your desired effect.
What is the Distortion Effect?
Distortion is the resulting effect imparted on an audio signal when its gain is driven higher than specific components in the signal chain are expecting. Usually this is referring to a vacuum tube or a woofer in an amplifier, a transistor, or other electronic elements.
The change to the waveform of the signal is a clipping of the peaks, resulting in compressed volumes with a higher average amplitude, while also imparting harmonic overtones, which are typically pleasing to the listener even if the distortion itself is unsettling.
The sound itself becomes tighter in volume since the peaks are clipped, reducing the amplitude gaps between the peaks and troughs. The method of achieving this results in a broken up and "gritty or dirty" tone, but one more harmonically pleasing with a complex layering of overtones injected into the signal. It's hard to describe but once you've heard it like we all have, you'll know it.
What to Look for in the Best Distortion Pedal?
All of the reputable distortion stomp boxes these days aren't going to disappoint you. They're made with high quality components by experienced companies that know what guitarists want.
So the question becomes how you make a choice then if they're all acceptable. What you want to look for is variations in the following four variables.
The first variable is the tone. This is subjective, and while you can try to watch videos and listen to examples, these pedals have so many ways of tweaking the effect that its hard to really determine the tone, especially when everyone is recording their videos in different ways.
The good thing is you'll be able to tweak it that much to your liking as well. This goes together with versatility. You won't find a pedal in our list below that doesn't have more options than you'll need. That's how they're being manufactured these days.
Third, you want to concern yourself with the quality of the build. You can easily read online in forums whether or not a model has more problems than normal. You'll also consider things like whether or not they feature a true bypass or are buffered.
Consider the chassis and how it's constructed and from what material. You will be stepping on it, after all. Most manufacturers understand this and build them like tanks.
Finally, you'll want to consider the cost and the diminishing returns on tone and quality you get when spending more and more. This one is personal and up to you to decide.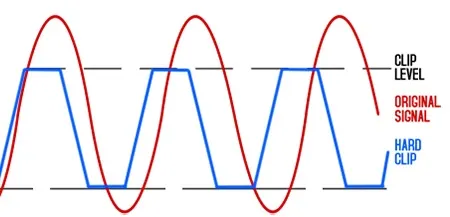 How to Use a Distortion Pedal
Distortion is a very obvious, in your face effect. If you don't use it right, everyone in your audience is going to know. So that begs the question of how you set up the effect itself with the knobs and where you put it in your pedal chain order. Let's take a quick look.
Where to Place it in the Signal Chain
First off, never put distortion in your amplifier's effects loop. It should come before that so it drives the preamp for extra goodness.
Also, it needs to come in at a specific stage of your pedal chain, which is defined by logic and the necessity of the needs of other effects and how they can ruin each other. It looks like this:
Dynamics, Filters, & Pitch Shifters
Boost & Distortion
Modulation
Time
Distortion comes in with boost in what is often called the Gain effects group. The reason is that you want to shape your waveform first with noise gating and compression and then establish the pitch if you'll use a shifter or harmonizer. If you're using a boost pedal to drive your distortion, then that comes first too. That's where you want your distortion pedal.
After that, you'll use modulation effects like chorus and flanger and then tack on reverb and delay at the end. This is because you want distortion included in these effects, not added onto them, or it'll sound unnatural, unprofessional, and be a complete mess.
Understanding the Knob Settings
Unlike others, distortion pedals typically all have the same set of knobs and it doesn't vary much at all. You'll find a Level knob to control the volume at the output. There will be a Gain knob (sometimes called Drive) to control the amount of distortion being applied by feeding more volume at the input.
There's usually a Tone knob (sometimes called Treble) that lets you adjust the amount of brightness you prefer. And finally there's many times a Mode knob for pedals that have various styles of the main distortion effect for you to choose from. That's it. It's a very simple effect to use and control.