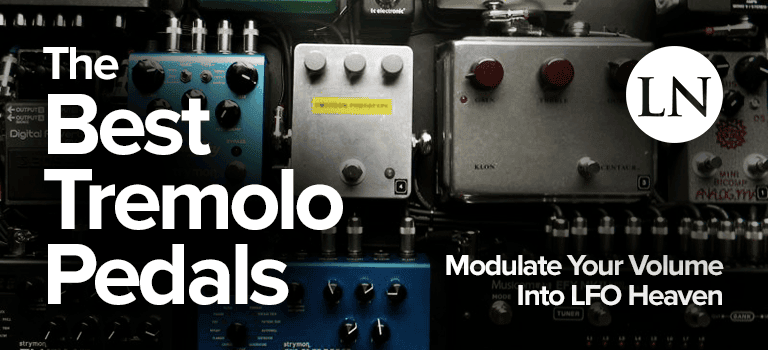 Click here to jump straight to the reviews!
Any time you've heard a certain effect and thought "Wow, that's cool, they sound like they're underwater" you were hearing the tremolo effect.
But you've heard it in a lot of places you aren't aware of, because more often than not it's used as a subtle effect.
Sometimes it's tossed on to add a sense of rhythmic complexity. At other times it can simply be an overtly apparent and fun effect.
And depending on the context it can be very dramatic, creating tension and unease. Or you can use it to create a very ambient and soothing soundscape.
The choices are endless and are all options you most definitely want to have in your arsenal. This simple wavering of your amplitude can be the effect that takes a well-played, yet boring, riff and turn it into an attention getting performance.
Our goal today is to explain exactly how the various types of tremolo work, how to use it in your signal path, and which features you want to watch out for as you begin evaluating a purchase. At that point you'll know all you need to know to make an informed decision, and we'll get you started by sharing our top picks out of the current modern line-up.
What is the Tremolo Effect?
The tremolo effect is a regular pulsation of the amplitude of a sound, resulting in a rhythmic increasing and decreasing of the volume. This effect is continuous, creating a constant waving of volume that many describe as the "underwater sound effect." The earliest records we have for this effect reach back to 1941, and by the 1950's Fender was including it in their guitar amplifiers.
Leo Fender created the confusion between tremolo and vibrato (a regular pulsation of pitch) by calling the vibrato arm on his guitars a 'tremolo arm' and misnaming the tremolo effect on the amps as 'vibrato.'
Why this happened is unknown, but vibrato was not remotely a new term at that point and now vibrato pedals are as ubiquitous as tremolo ones. It has been in the English language since 1876 and comes from a Latin term that's been around much longer.
We've all heard this effect in rock music, especially associated with surf music coming out of California in the 1960's, and later being heavily used by psychedelic rock and folk musicians to achieve a sound to represent a mind-altering feeling.
Although classically this effect's main component, the wavering of volume, has followed a sine wave pattern, modern pedals and plugins have offered more complex patterns.
What to Look for in the Best Tremolo Pedal?
Beyond the obvious of needing a pedal built like a durable tank, because you'll be stepping on it, you'll want to consider if you want a bigger pedal, a standard size, or a nano size. This is all standard, but there are other tremolo-specific options you'll want to think about.
The wavering of volume can be performed in time with the tempo, which can sound nice. In the case that you want to pull this off, you'll need a pedal that has a tap tempo built in.
But it's certainly not necessary and many if not most don't feature a tap tempo. I'd say it's only really necessary if you use the slowest rates.
Most have the option to change the shape, as well as the depth and rate, of the waveform of the effect. Others have extra features such as slowly ramping up the rate of the effect from slow up to the defined amount when you turn it on, or a hard/soft selector which is another type of waveform selector.
You'll need to decide if you care about these extras or not. If they aren't crucial to your performance, I'd choose entirely based on the resulting sound quality and tone.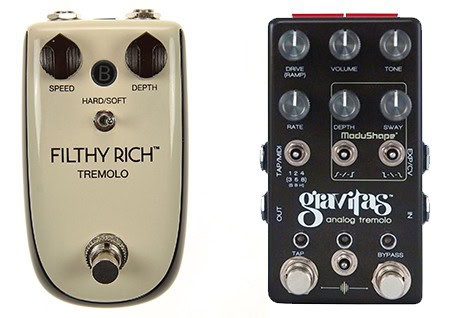 How to Use a Tremolo Pedal
Tremolo is a strange effect that, while we know what it sounds like, we aren't sure how to achieve that in terms of placing it in the part of the signal path or even tweaking the knobs. No fear, let's explain real fast.
Where to Place it in the Signal Chain
Your guitar pedals do have a very specific order they need to come in based on types, not only based on logic but as defined by nature if you want it to sound professional and natural. The order goes like this:
Dynamics, Filters, & Pitch Shifters
Boost & Distortion
Modulation
Time
Tremolo is a type of modulation, which regularly alters the waveform. In our case, we're talking about warbling the volume.
This means you need to go ahead and get all of your amplitude-altering and amplitude-dependent effects out of the way first, and this includes filters and pitch shifting since some of the amplitude effects require that to be done already. The only thing that should come after your modulation effects (tremolo, flanger, chorus, phaser, etc.) is delay and reverb.
Understanding the Knob Settings
Some companies want to rename all their tremolo knobs with weird names like Duty and Delta. We're not going to discuss those, because if you choose one like that it'll become evident which ones are analogous to the more sanely-labeled knobs.
In general you find four knobs and a tap tempo. Tap tempo lets you enter in the BPM of the song you're playing by tapping your foot so the warbling of the volume is rhythmically in time and feels right to the audience.
Many pedals have hidden features where you can hold down the tap tempo button to cut in half or double the speed of your tremolo. That's kind of fun, like maybe doubling during the chorus.
Otherwise, you find Speed (sometimes called Rate) that lets you define how fast or slow the cycle of the volume changes are, Depth that controls how deep and high the cutting and boosting of volume is, and a lot of times you get a knob to change the waveform Shape such as sine, square, sharkfin, etc. Beyond these, you get your typical Volume and Mix knobs to control how loud the effect is and how loud your original signal remains.
---
The Best Tremolo Pedals

Note: Each image and text link leads to Amazon.com where you can read additional user reviews, find specific technical detail listings, see additional product options and sizes, and make your purchase.
Now that we understand the features to watch out for and how to use tremolo pedals in general, it's time to check out what the current marketplace has to offer us for our well-earned money. Our overview of the best choices below is not ranked in any order, though we do point out which our top pick is.
You can find the two other "best in class" options in the table at the top of this article, but do take the time to consider all of the pedals below. If they made this list, they exceeded our expectations and may catch your eye due to our differing preferences.
These are the Best Tremolo Pedals Out There
When it comes to tremolo pedals you have to make a choice. As a guitarist or bassist it's pretty simple. You get a "normal" pedal with all of the basic options plus a few more and call it a day.
For a keyboardist or synth player you'll need to find a stereo option that can give you far more "out of this world" functionality.
That trims your choices down fairly rapidly. Just remember to focus on the core effect and core tone produced and not too much on the extras. All of the above have a beautiful core tone and that's why they made it on our list of the best tremolo pedals.