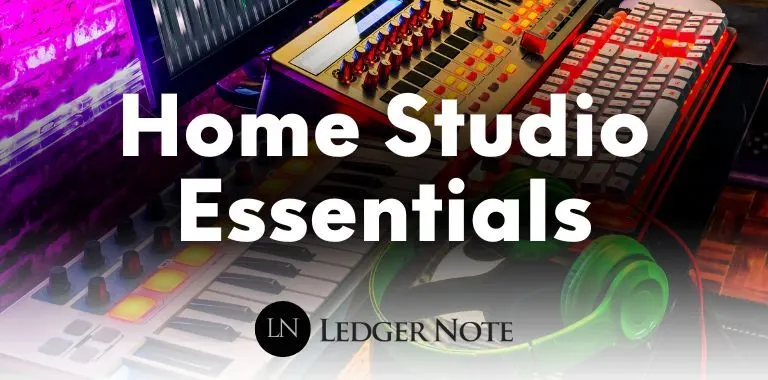 The following review may contain affiliate links which may earn us a small commission when you click on them, at no extra cost for you. As an Amazon Associate we earn from qualifying purchases
Working from home has become more popular and viable, with many setting up their home offices and creating spaces specifically for their careers. Musicians are no different, as many look to have their own home recording setup. It can be more convenient and, many times, can also be more efficient. But with the variety of equipment out there, it can also be a daunting task to choose which home studio essentials to get. Which are the best ones? What kind of equipment do you really need? Which brands are worth your money? And where do you even start? Don't worry. We're here to help you out! In this article, we've compiled a list of instruments and tools to help you create your best home studio setup. From microphones to monitors, we've got you covered.
1. AUDIO INTERFACE
Your choice of audio interface can be the difference between a great recording and a terrible one. The pick for best of the best is the Apogee Ensemble, which has the best components and is aesthetically pleasing to boot. It has a built-in talkback function, and latency of nearly zero. A 30-input, 34-output interface, it contains eight preamps and the sound quality is incredible. If you want an interface that's value for money, though, go with the Focusrite Scarlett 2i2. It has all you need for your home studio setup without breaking the bank. It has 18 inputs, 20 outputs, eight preamps, and a built-in talkback mic. More on audio interface and our favorite products here.
best of the best:
best budget pick
2. DAW
What defines a good DAW (digital audio workstation) depends on the person using it. Different needs will require different DAWs, as it is a specific component in music and audio production. Again, it depends on how you intend on using it in your home recording setup, the number of people you plan on working with, the music genre you work in, and whether you work in other audio-based industries, like radio, sound effects, etc. The top pick would be Avid Pro Tools, a tried-and-tested DAW that has been on the market for quite a while. It's referred to as the industry standard and works on both Windows and Apple. The addition of Avid Cloud Collaboration on it is a benefit, as it helps you pass your files to other people with ease. Check out our in-depth guide on DAW systems here.
3. Studio monitors
There is a vast difference between studio monitors and speakers. Monitors are meant for professional recordings as they help you get the most well-balanced audio mix possible. For the best of the best, there's the Adam Audio A7X, a multi-awarded, critically acclaimed monitor. High-end frequencies are rendered with incredible clarity. It now has the X-ART (eXtended Accelerated Ribbon Technology), which has a high maximum sound. Its frequency response also now goes up to 50kHz. The best budget pick, however, would be the KRK Rokit 5. At the lowest price, it delivers studio quality audio with its 1" soft-dome tweeter. It has equalization options and a flat frequency response. It minimizes distortion with its low-resonance enclosure and has many input connectors for easy and more encompassing connectivity. More on monitors and our favorite ones here.
best of the best
best budget pick
4. midi controller
Created in 1983, MIDI, or Musical Instrument Digital Interface, changed the game. It's used to record and edit music from electronic instruments connected to computers, as well as playing back music. But it contains no actual audio. It has no sound. MIDI is actually a recording of the audio data. MIDI goes hand in hand with DAW to rearrange and manipulate said data to get exactly the sound you want to achieve. It makes it easier to edit a track, as you can merely decide to pick an entirely different digital instrument to replace the one on the track. MIDI controllers come in the form of either a musical keyboard or a pad grid. They include different sounds for ease of editing, and work together with MIDI sound modules and synthesizers to achieve the sound you want. Find out more here.
best of the best
best budget pick
5. microphone
The best home studio setups, of course, have good microphones. The Rode NT1-A is the best of the best for home recording studios, the best budget pick for condenser microphones, and the best bang for the buck for vocal recording. It provides high-frequency and midrange clarity comparable to pricier microphones. And even with an average preamp and interface, it sounds incredible.
The MXL 990 is the best budget mic for the home studio. It comes with all you need for entry-level recording—a mic stand adaptor, a shock mount, and a carrying case. The best mic for condenser and vocal microphones is the Neumann TLM 102, which has clear high frequencies that create equally clear vocal recordings. For the best dynamic mic, it's the Electro-Voice RE20. Popular among radio jockeys, it captures vocal and instrumental sources well.
Additional mic resources can be found here:
best of the best
best budget pick
6. headphones
For the best home studio setup, any old pair of headphones is not going to cut it. You'll need something that can handle mixing, recording, and tracking well. The top pick goes to the Shure SRH1540, which is made with an aircraft-grade aluminum alloy so it's lightweight and comfortable. It has an expansive soundstage and works decently even without an amp or interface. It also comes with a hard storage case, an extra cable, extra ear pads, and a threaded adapter. For the best budget headphones, there's the Sennheiser HD 280 Pro. These headphones are very sturdy and have a frequency response that ranges from 8Hz to 25kHz. It reduces outside noise by 32dB, has a clear sound, and the ear pads also fold and rotate for easy transport. Find out more here.
best of the best
best budget pick
7. mic stands
If you want your home studio to be at its best and most efficient, a microphone stand should not be overlooked. And, as with all the other components of your recording studio, there are still differences in quality. The absolute best bet is the Latch Lake MicKing 2200. It's a high-quality stand with a 29-pound base and seven pounds in counterweight, so it stays upright and stable even with bigger mics. The boom extends to more than seven feet, and the spin-grip mount allows for ease of placement and removal of mics. The Samson MK10, meanwhile, is the pick for best in budget. It's a reliable choice, with an extendable tripod base and a standard mic clip. It's also collapsible, which makes it easy to transport and store. Find out more here.
best of the best
best budget pick
8. monitor isolation pads
To attain the best home studio setup, you're going to want to support your studio monitors with monitor isolation pads. Because not all studio environments are the same, these pads will optimize your monitors' sound. The IsoAcoustics ISO-PUCK is our top pick, with its high-quality isolation execution. This is perfect for mic stands already at the ideal height, and enables decoupling and absorption so stray vibrations are removed immediately. For best budget pick, there's the Auralex Acoustics MoPAD. It's a high-quality option that doesn't break the bank, making it popular for home setups. It's a versatile option as each pad can support up to 100 pounds. Find out more here.
best of the best
best budget pick
9. mic preamplifier
Pairing your mic with a mic preamp is essential to getting the best possible quality out of your recordings. The Avalon VT-737SP is Ledger Note's top pick. It's professional-grade, with three inputs, and a discreet Class A equalizer. It gives a crisp warmth to recordings and is utilized by experienced users. The best budget pick goes to Focusrite Scarlett 2i2 3rd Gen, which is the greatest option for entry-level users. It's small but delivers great results. It's a dual-channel preamp that uses USB, and is easy to use. With low-noise outputs, you get clean playback. Plus, it comes with a software bundle so you can set it up right away. Find out more about preamps and discover our favorites here.
best of the best
best budget pick
10. headphone amplifier
You don't need the fanciest, most expensive headphone amplifiers to get the best audio quality, but if you want the best of the best, go with the Grace Design M920. It's a powerhouse that gives you a whole monitoring system with six different inputs. It has outputs for two headphones and for two studio monitor sets. It also does cross-feed bleeding and has a mono option. For great quality at a lower price point, the JDS LABS Objective2 + ODAC is our pick. This DIY headphone amp has inputs for stereo and power adaptor in front, and an input for a mini-USB at the back. This is a quality amp and a viable choice for beginners before they decide to invest in more expensive ones. Find out more, including our favorite picks, here.
best of the best
best budget pick
11. acoustic treatment
A great home recording setup is no use if your recording room is not built to optimize your audio quality. Creating your recording space to handle sound and minimize outside noise will work wonders for your studio and will fully unleash the potential of all your great equipment. To accomplish this, you'll need to give your studio acoustic treatment, which involves putting up insulation batting within your walls and hanging fiberglass panels. This absorbs the sound instead of letting it echo throughout the room. Yes, it requires some reconstruction of your walls, but if you want to do it right, it's not going to be easy nor cheap. Simply hanging foam panels or thick carpet is not going to do the trick. But doing acoustic treatment right will reap benefits, and will give you those quality recordings and your neighbors peace and quiet. Find out more here.
BEST OF THE BEST
BEST BUDGET PICK