Musicians have talked about this forever, even falling into full blown arguments. And that's "Who makes the list of the best bassists of all time?" It's a fun discussion because everyone qualifies musicians in different ways.
For instance, some people care about technical skill and music theory abilities. Others care about which bands the bassists were in and who had the most mass appeal. Some care about the tours and number of albums sold. Many defer to the "authorities" and argue for those who have won the most awards.
Our list cares about all of that mixed together. It all counts. The real challenge is boiling it down to just a top 10 list of best bassists, since there's undoubtedly more that deserve a mention. That's why we also have a runner up section and then an honorable mentions. So if you don't see your favorite, keep going. We honor all of the greats here.
It's also interesting to see which of these artists and their bands are among the best bands of all time. Some were fortunate to hit the big time with other greats, while some of these bass players had to carry the weight of their greatness alone while playing with less capable musicians on different instruments. Anyways, let's count down the list of the best bassists of all time…
#10 – John Paul Jones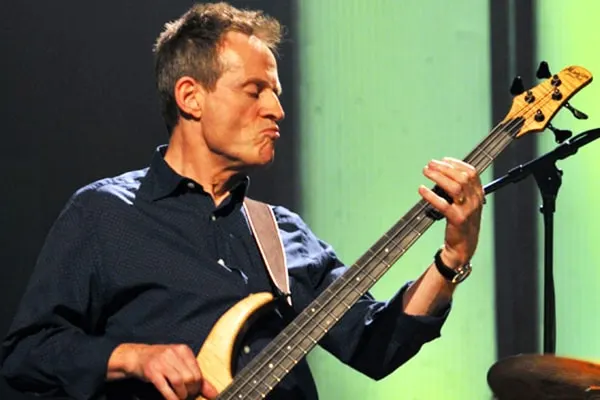 Associated Acts: Led Zeppelin, Them Crooked Vultures
John Paul Jones has worked with countless of the top musicians in the world as a session musician, arranger, writer, and producer. He was already considered one of the best while playing on songs for Jeff Beck, Cat Stevens, Donovan, etc. But we all know and love him as the bassist and keyboardist of Led Zeppelin.
Jones was content to play a supporting role, but it was his licks, riffs, and rhythms that formed the backbone to the great songs from one of the most celebrated bands of all time. The amount of tours, albums, TV shows, and charity events he's appeared on or at are too many to number, but stand as a testament to his commitment to the arts.
Trivia Facts: John Paul Jones, after the disbanding of Led Zeppelin, formed a supergroup with Dave Grohl and Josh Homme called Them Crooked Vultures. Other players on this very list consider Jones to be their greatest influence, like Geddy Lee, Flea, Gene Simmons, and more. The man is also filthy rich in a good way!
#9 – Jaco Pastorius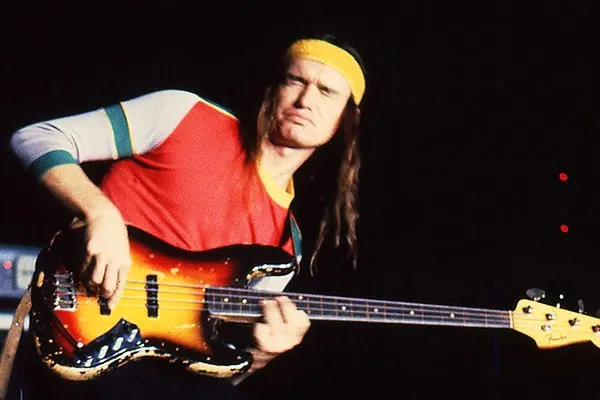 Associated Acts: Weather Report, Pat Metheny
Jaco Pastorius is a name well-known amongst bassist circles. The normal music fan may not know his name but have heard him tearing it up with artists like Joni Mitchell, Herbie Hancock, Pat Metheny, and other greats. He's known for his unique fusion of jazz, big band, Caribbean and Latin styles, and Motown flavors
Musicians consider Pastorius' stamina and expressiveness a gold standard to meet, especially when it comes to playing fretless bass and steadily thumping out 16th notes. He was the embodiment of the concept of "effortless mastery" using techniques like artificial harmonics and the movable anchor.
Trivia Facts: Jaco Pastorius started out playing the drums but a wrist injury while playing football led to him picking up the bass guitar. He met an early end at age 35 due to a confrontation with a bouncer at a club. One of his own influences was Charles Mingus, who also makes this list. His signature Bass of Doom eventually became a Custom Shop Fender series.
#8 – Victor Wooten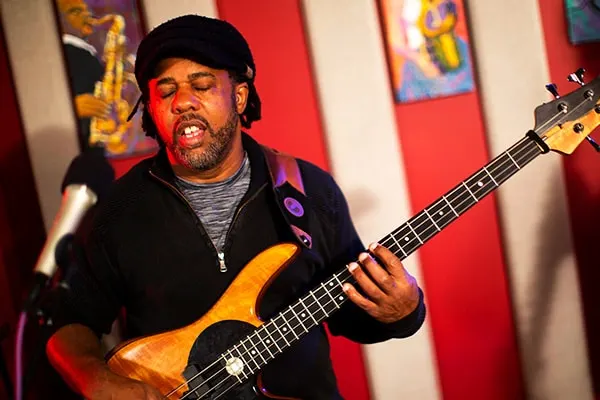 Associated Acts: Bela Fleck & The Flecktones, SMV
Victor Wooten is known for his mastery of complex R&B arrangements and involved jazz melodies, with many saying he picked up where Jaco Pastorius left off but with a lot more funk. He holds his own, developing new techniques such as "double thumping" and much more.
His mark on music goes beyond performance. He holds "Bass/Nature" camps, has written a lesson book, released eleven solo albums, and has partnerships with other bassists to promote the art form. He plays his signature model of bass by Fodera.
Trivia Facts: Victor Wooten has been a guest of the Dave Matthews Band many times, creating some of their most memorable moments thanks to his solo's. He's won Bass Player of the Year from Bass Player magazine three times.
#7 – Geddy Lee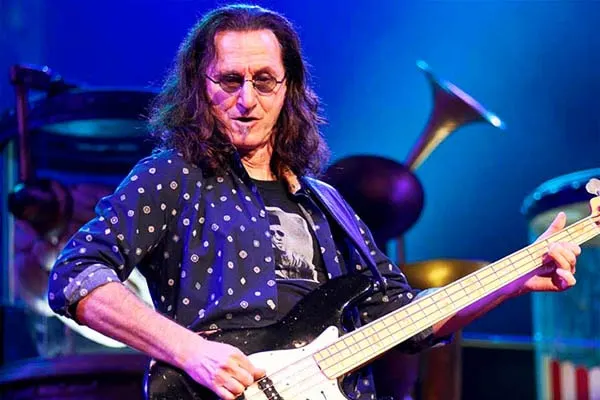 Associated Acts: Rush
Geddy Lee is the musical genius you find in the band Rush playing the bass, keyboards, and performing as the lead vocalist. He'll even do all three at once with foot pedals, acting as a one-man rhythm section. He's stacked up 7 Grammy nominations and over 40 million records sold thanks to this incredible talent.
His bass playing style includes treating it as a lead instrument during which he rails on the strings extremely hard and focuses on the high treble. In 1988, Fender released the Geddy Lee Jazz Bass signature model. His other musical awards include even governmental titles from Canada, his home country.
Trivia Facts: Geddy Lee's bass inspirations include Paul McCartney, Chris Squire, and James Jamerson. He himself acts as an inspiration to Les Claypool and many others. His unique vocals are considered a countertenor falsetto. He's a huge watch and wine collector and has over 5,000 bottles.
#6 – Stanley Clarke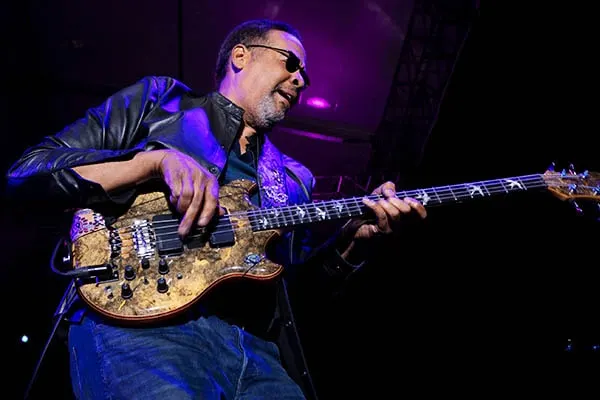 Associated Acts: Return to Forever, The New Barbarians, SMV
You may not have heard of Stanley Clarke, but he's a huge winner. He's scored 5 Grammy's with 15 total nominations, largely along with Chick Corea in their band Return to Forever. He's arguably the first bass superstar, headlining sold out shows globally and having records reach gold status.
As seen in the image above, Clarke's bass playing technique involves an extremely bent wrist to approach the strings like an upright bass. This helps him achieve the percussive attack of his slap-n-pop sound. His initial goal was to join the Philadelphia Orchestra. Good thing that didn't happen!
Trivia Facts: Stanley Clarke has scored many movies and TV shows, including Pee-wee's Playhouse and Boyz n the Hood. In 2010, Clarke founded a label called Roxboro Entertainment Group, named after his high school. His electric bass is permanently on display at the Smithsonian National Museum of African American History and Culture.
#5 – Les Claypool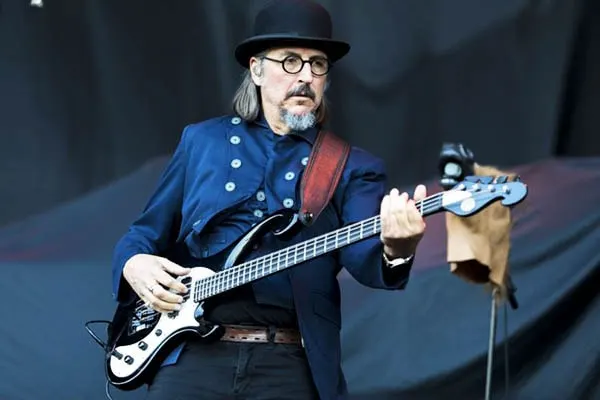 Associated Acts: Primus, Oysterhead, The FRog Brigade, C2B3
More people have heard Les Claypool's music than they realize, because he's been tapped to compose for so many TV shows. He's the madman that wrote the South Park theme song, for instance. He's also the founding, lead musician for the band Primus, where he also contributes lead vocals.
Claypool is known for his unique bass playing style that includes unusual techniques such as a combination of tapping, slapping, Flamenco-style strumming, and guitar chording. Two of his main inspirations are none other than Geddy Lee and Chris Squire. Go listen to Jerry Was a Race Car Driver to understand how unique and crazy this guy's playing is.
Trivia Facts: Les Claypool has composed for many TV shows and video games, such as writing the theme songs for South Park and Robot Chicken. He's an avid fly fisher. He records most of his music himself, self-producing and engineering at his studio at his home the Rancho Relaxo.
#4 – Larry Graham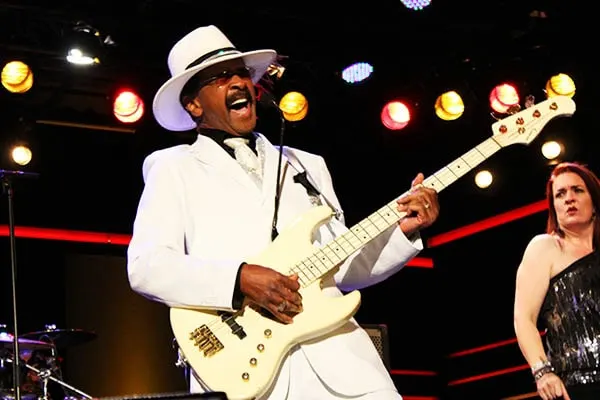 Associated Acts: Sly & the Family Stone, Graham Central Station
Larry Graham is not only a pioneer in the soul and funk genres but is also considered the inventor of the slapping technique for electric bass guitar. He calls it "thumping and plucking." This percussive addition to the bass sound has been used by other greats since, like Bootsy Collins, Victor Wooten, and Stanley Clarke.
The story is that in an early band his mom fired the drummer and Graham had to learn to add "drum sounds" to his playing. This changed the funk genre forever. He's not sure if his mom was being cheap at the time or not, but has no regrets.
Trivia Facts: Larry Graham worked closely with Prince on his solo album GCS 2000. His son is singer-songwriter Darric Graham and the uncle of rapper Drake. One of his solo albums only had 1000 copies printed and was sold exclusively at concerts.
#3 – James Jamerson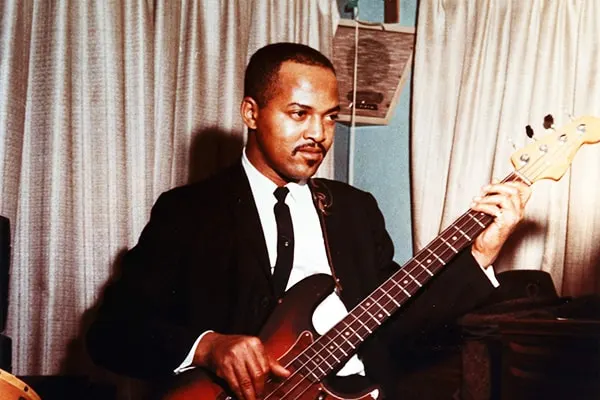 Associated Acts: Motown, The Funk Brothers
I might get a wave of emails for not putting James Jamerson in the number one slot, and I recognize the guy that played bass on nearly every Motown song may deserve that spot. He's in the Rock and Roll Hall of Fame and has pushed 23 songs onto the Billboard Hot 100 and 56 onto the #1 spot on the R&B charts.
He expanded the simple bass playing style of the time by adding in inversions, syncopation, ghost notes, and chromatic runs. His changes were so well received that he became an integral aspect of the Motown sound. He also, as an early adopter, helped solidify how electric bass guitar should be played.
Trivia Facts: James Jamerson was a member of the Funk Brothers, a group of studio musicians that played most of the Motown hits in the 1960's and 70's and then played gigs in the evenings. It's impossible to list all the hits, but he played on top songs for The Supremes, The Temptations, Stevie Wonder, Marvin Gaye, Gladys Knight, and so many more.
#2 – Flea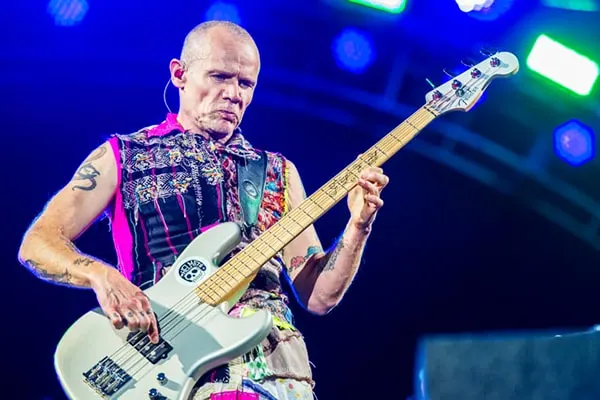 Associated Acts: Red Hot Chili Peppers, Atoms for Peace
Flea is a founding member of the Red Hot Chili Peppers. His playing style includes hard rock, funk, and punk elements accentuated by slapping and popping the strings. His skill was so desired that from 1995 to 1998, he recorded on over 40 records by other artists, like Alanis Morissette's classic Jagged Little Pill.
Their concert at Hyde Park in 2002 is the highest-grossing concert at a single venue ever. His passion for growth never ended and in 2008 he enrolled in college to study music theory, composition, and jazz trumpet. That's what it takes to be one of the best bassists of all time.
Trivia Facts: Flea's real name is Michael Peter Balzary. He's an actor and has appeared in over 20 films and TV shows. He is a co-founder of Silverlake Conservatory of Music for music education for underprivileged kids. He met Anthony Kiedis (vocalist for the Chili Peppers) in high school and they became best friends and still are.
#1 – John Entwistle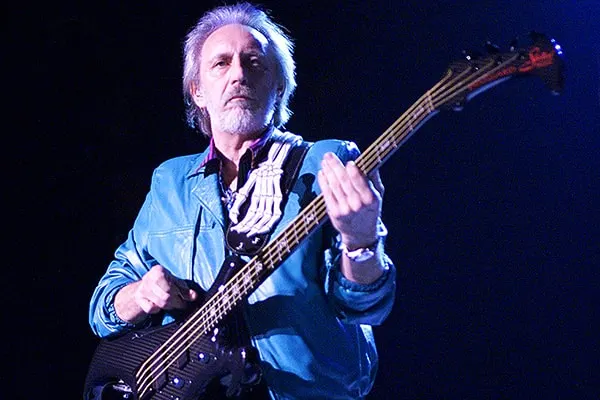 Associated Acts: The Who, Pete Townshend, Roger Daltrey
John Entwistle was the bassist for the English rock band The Who. He was the only member to have formal music training and that was reflected in his skill. Like Geddy Lee, he played with full treble at high volumes using pentatonic lead lines that set him apart and earned him the nicknames of The Ox and Thunderfingers.
He managed to attend school with other music greats, which led to his involvement in several top-tier bands of the time. His playing style included methods like fingerstyle, tapping, using a pick, and incorporating plenty of harmonics. He called his style the typewriter approach.
Trivia Facts: John Entwistle was a huge inspiration on many others on this list like Geddy Lee and Chris Squire. He played a big role in the development of the Rotosound roundwound strings. He was inducted into the Rock and Roll Hall of Fame in 1990 as a member of The Who.
Runners Up: Who's Almost a Best Bassist?
The hardest part of all of this is choosing only ten musicians to represent the best bassists of all time. For this reason (and to avoid your reaction), we've made room for four runners up. These guys might be in your own top 10 so we figured they deserve a mention.
Cliff Burton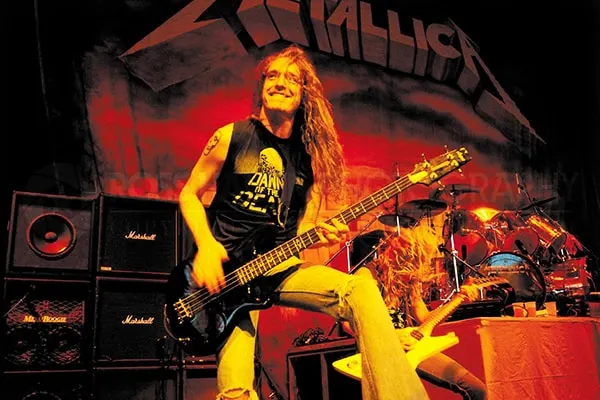 Associated Acts: Metallica, EZ-Street, Trauma
Cliff Burton's four year run as the bass guitarist for Metallica defined his career. If you hear bass on their first four albums, that's all Burton's work. He cited Geddy Lee and Stanley Clarke among his influences. Burton was so good that Anthrax and Metal Church both dedicated an album to him.
Aria immortalized Burton by releasing a replica of his bass guitar, the Aria Pro II Cliff Burton Signature Bass. His parents have secretly donated his royalties to a scholarship fund for music students at the high school he attended.
Trivia Facts: His early and unfortunate passing occurred when Metallica's tour bus flipped on its side. He was posthumously inducted into the Rock and Roll Hall of Fame in 2009. He was known for practicing at least 6 hours a day from age 13 all the way through his career with Metallica.
Charles Mingus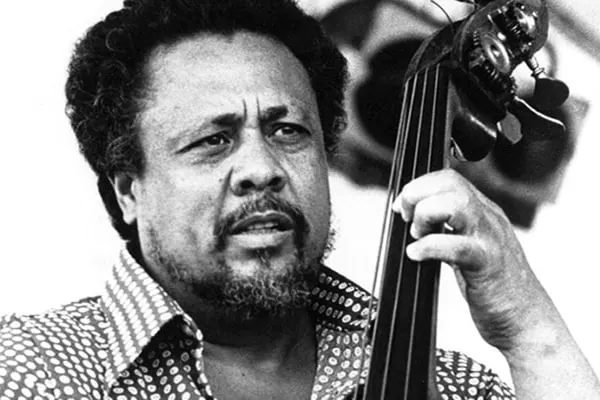 Associated Acts: Jazz Workshop, Miles Davis, Joni Mitchell
Charles Mingus is considered one of the best composers and jazz musicians in history. His primary instrument was the double bass, after switching from the cello in high school. He soon was writing and playing with some of the all time greats of the 1940's and 50's.
Mingus' style included elements of soul, hard bop, black gospel, blues, classical, and jazz (especially Third Stream). He was a huge proponent of collective improvisation. The list of artists he worked with is huge, including names like Pepper Adams, Charlie Parker, Louis Armstrong, and many more.
Trivia Facts: In 1933, the Library of Congress purchased Charles Mingus' scores, sound recordings, photos, and letters, calling it their most important acquisition related to jazz ever. The Mingus Big Band, Mingus Orchestration, and Mingus Dynasty still play his compositions.
Jack Bruce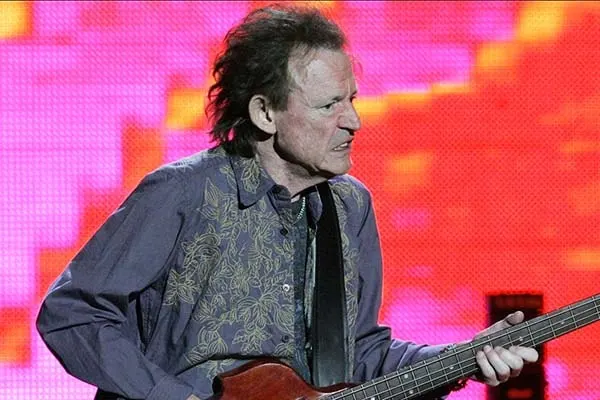 Associated Acts: Cream, The Graham Bond Organisation
Jack Bruce is best known as the lead vocalist and bass player for Cream with Eric Clapton and Ginger Baker. He was responsible for co-writing many of their greatest hits. He's got all the awards, including a Grammy Lifetime Achievement Award. He began as a jazz bassist and soon switched to the rock and R&B genres.
He started on the upright bass and eventually moved to electric bass due to session work demands. Before and after his time with Cream, he was in countless bands, wrapping up his career with countless collaborations with all of our favorite bands and artists.
Trivia Facts: Jack Bruce attended 14 different schools in his youth because his parents moved frequently as musicians.
Lemmy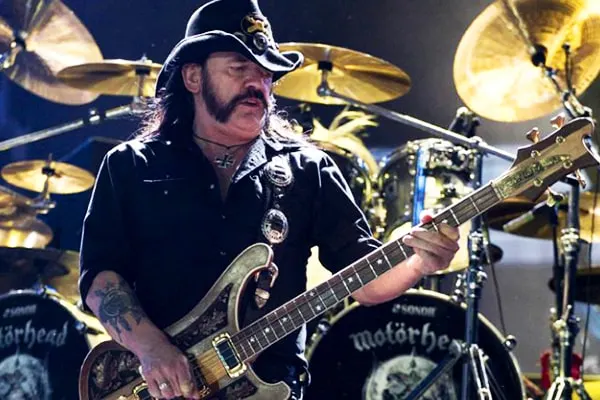 Associated Acts: Motorhead, Hawkwind, The Rockin' Vickers
Lemmy, who's real name is Ian Fraser Kilmister, is best known as the founder, vocalist, primary songwriter, and bassist for the heavy metal band Motorhead. His mutton chop sideburns, outfits, and raspy voice made him one of the most recognizable figures and voices in rock.
His collaborations and cameos with bands like Ozzy Osbourne, Def Leppard, and the Scorpions only propelled him further. He appeared in adult films, movies, TV shows, video games, and even a rockumentary about his life. He lived large and in charge in is a quintessential rock star.
Trivia Facts: Lemmy worked as a roadie for Jimi Hendrix and The Nice before launching his own career. Lemmy largely played Rickenbacker basses, which eventually released his signature 4004LK bass. The Hollywood Vampires performed at the Grammy Awards as a tribute for Lemmy in 2016.
Honorable Mentions for the Best Bassists of All Time
Even with the runners up there's still so many other players that deserve a shout out, so we've cooked up this honorable mentions section. If we missed one of your bass icons, they're most likely listed below. If not, what can we say. There's only so much room!
Paul McCartney is, among other roles, the extremely good bassist for The Beatles. Of course, you knew that already.
Chris Squire is best known as the bassist for Yes and had an incredible stage presence, often stealing the show.
Carol Kaye is a prolific bassist and guitarist, she is the only regular female member of "Wrecking Crew" collective.
Ron Carter came to fame with the Miles Davis Quintet and is the most-recorded jazz bassist in history.
Ray Brown was a jazz double bassist who worked extensively with acts like Ella Fitzgerald and Oscar Peterson.
Anthony Jackson is not only an incredible bassist but played a role in designing the contrabass guitar, which is a new design on the six-string bass.
Scott LaFaro was best known for his time as the bassist in the Bill Evans Trio.
Marcus Miller is another great that worked with Mile Davis, Herbie Hancock, Luther Vandross, and many more.
Pino Palladino has played bass for John Mayer, The Who, Nine Inche Nails, Jeff Buck, D'Angelo, and many more cats, due to his massive skill.
Geezer Butler is best known as the bassist of heavy metal band Black Sabbath.
Bootsy Collins is the bassist that captured hearts with James Brown and Parliament-Funkadelic.
I feel bad for the countless other names that deserve a mention but alas, we simply have to cut it off at some point. If we missed a legend, know that we know that and hold them in our hearts as top players. They just didn't quite make our generous cut beyond the top 10. If you want to continue the bass theme, make sure to check our list of top 10 best bass songs.
With bass being such a key part of the rhythm section, you'd probably be interest in our list of the best drummers of all time. You'll find people mentioned here in this list of the best bassists of all time due to their tight relationship in the low-end of the frequency spectrum.
Top 10 Bassists of All Time (2023 Update)
This is the table for the top 10 best bassists of all time. It contains their names and associated acts.
| Rank | Bassist | Associated Acts |
| --- | --- | --- |
| 1 | John Entwistle | The Who, Pete Townshend, Roger Daltrey |
| 2 | Flea | Red Hot Chili Peppers, Atoms For Peace |
| 3 | James Jamerson | Motown, The Funk Brothers |
| 4 | Larry Graham | Sly & The Family Stone, Graham Central Station |
| 5 | Les Claypool | Primus, Oysterhead, The Frog Brigade, C2B3 |
| 6 | Stanley Clarke | Return To Forever, The New Barbarians, Smv |
| 7 | Geddy Lee | Rush |
| 8 | Victor Wooten | Bela Fleck & The Flecktones, Smv |
| 9 | Jaco Pastorius | Weather Report, Pat Metheny |
| 10 | John Paul Jones | Led Zeppelin, Them Crooked Vultures |