Choosing who to include in our top 10 best violinists of all time list was easy. You'll agree with the picks, but it's the order that they appear in that might make you want to send us an argumentative email. We'll hear you out, because this is somewhat of a subjective exercise.
Our choices are based entirely on skill levels and aren't restricted to the present day, so you'll see some modern players and the older, respected players we all know and love. Since you're here, I'm sure you're a classical fan to some degree, and would probably enjoy our Best Flute Players in the World list, too.
Since being limited to ten choices is so hard, we've included a runners up section as well as a list of honorable mentions. So if you don't see your favorite violin player, keep on looking further down. Let's waste no more time and jump into the list of the best violinists of all time…
#10 – Joseph Joachim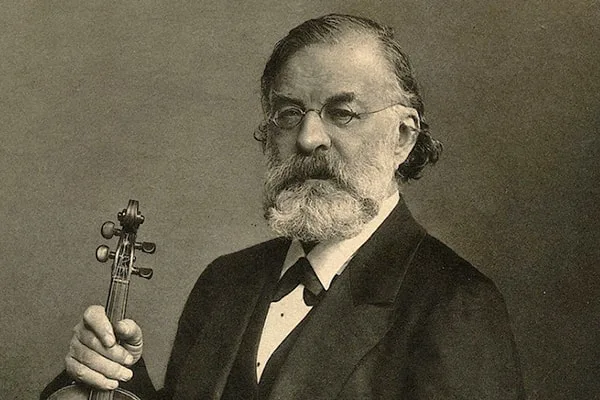 Associations: The Royal Conservatory of Music
Although he studied violin in his early childhood, Joseph Joachim's (1831-1907) first significant performance was in London in 1844, playing the solo part of Beethoven's Violin Concerto at the age of 12, a piece he brought out of obscurity. He would play this concerto almost a decade later at the Lower Rhine Music Festival.
He wrote several cadenzas for several composers' concertos, including Beethoven, Brahms, and Mozart. Some of his original compositions include the overtures for Shakespeare's Hamlet (1853) and Henry IV (1854), and Violin Concerto No. 2 in D minor "in the Hungarian Manner."
Some of the musical groups he was a part of included the Gewandhaus Orchestra and the Joachim String Quartet. In 1866, he was the first director of the Hochschule für ausübende Tonkunst and was president of Oxford & Cambridge Musical Club in 1899.
Trivia Facts: Joachim owned and used several violins and violas throughout his career, including the Guarneri Filius Andreae 1703 and the Johannes Theodorus Cuypers anno 1807. Due to his success, the public dubbed him as "the most renowned artist of Germany."
#9 – Sarah Chang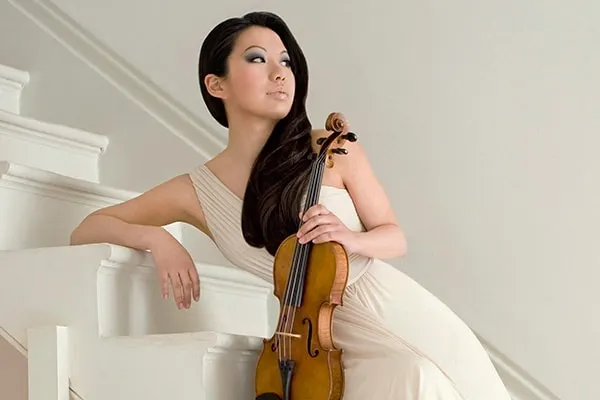 Associations: New York Philharmonic, Carnegie Hall
Sarah Chang (b. 1980) made her first significant musical strides as a violin soloist with the New York Philharmonic and Philadelphia Orchestra as a renowned child prodigy.
She released her first, best-selling album, Debut, in August 1992. In 1993, she received awards for "Young Artist of the Year" in Gramophone Magazine and "Newcomer of the Year" for her first album. Another noteworthy album includes 2005's Fantasia, with cellist Julian Lloyd Webber.
Chang performed with several orchestra groups, including the Chicago Symphony, the New York Philharmonic, the Berlin Philharmonic, and Hong Kong Philharmonic Orchestra and others of the best orchestras in the world. Several of the venues she performed include Carnegie Hall, the Kennedy Center, and the Barbican Centre.
Trivia Facts: When she was five years old, she performed Max Bruch's Violin Concerto No. 1 in G minor and got accepted into Juilliard. She's also an advocate for childhood musical education. The violin she usually plays is the 1717 Guarneri del Gesù, which she inherited from her mentor, Isaac Stern. In 2006, Newsweek ranked her as one of the "Top Eight Achieving Females in the United States."
#8 – Pablo de Sarasate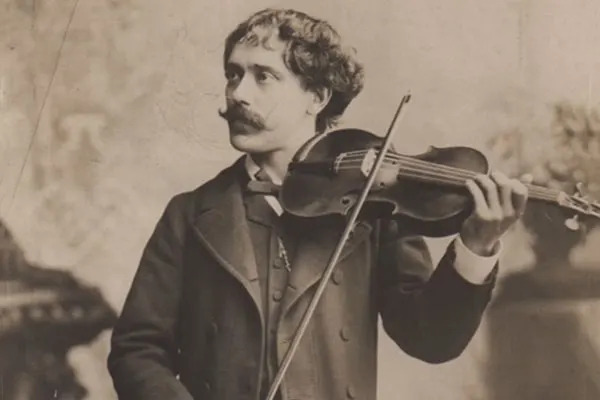 Associations: Conservatoire de Paris
Pablo de Sarasate (1844-1908) began his career when he debuted as a violinist in 1860. He had experience in music since childhood and garnished a lot of attention. Throughout his career, he toured throughout Europe, North America, and South America.
Opera fantasies were among the many pieces he performed and composed. Several pieces also incorporate orchestra and piano, including Zigeunerweisen, the Carmen Fantasy, and Spanish Dances, Opp. 21, 22, 23, 26. His Spanish influence is also present in other inspired works, such as Bizet's Carmen and Lalo's Symphonie espagnole.
Sarasate traveled with piano accompanist Berthe Marx throughout his international tours; she arranged Spanish Dances on piano. Sarasate also made arrangements of other composers' works for violin.
Trivia Facts: Sarasate's charisma garnered the attention of many ladies throughout his career, but he never married. He's also referenced in a few Sherlock Holmes stories, including Arthur Conan Doyle's The Red-Headed League and Anthony Burgess's Murder to Music. In Mercedes Lackey's A Study in Sable, Sarasate is an Elemental Master who can create, speak to, and control ghosts with his music.
#7 – Hilary Hahn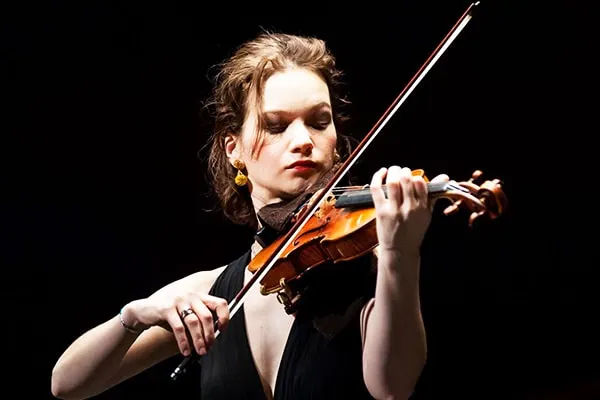 Associations: The Chamber Music Society of Lincoln Center
Hilary Hahn (b. 1979) began her career in several orchestral groups, including the Baltimore Symphony Orchestra, Philadelphia Orchestra, Cleveland Orchestra, Pittsburgh Symphony Orchestra, and the New York Philharmonic. As a soloist, she debuted at Carnegie Hall with the Philadelphia Orchestra in 1996, at age 16.
Among the many highlights of her career, she commissioned several concerti and other music piece pieces. She was also the featured violinist for James Newton Howard's score for The Village (2004) and Andrew Hewitt's score for The Sea (2014). Her ascent up the best violinists list came fast and well deserved.
Hahn won a Grammy in 2009 for Best Instrumental Soloist(s) Performance (With Orchestra) and in 2015 for Best Chamber Music/Small Ensemble Performance. Some of her albums include In 27 Pieces: The Hilary Hahn Encores (2013) and Hilary Hahn Plays Bach (1997).
Trivia Facts: Hahn set up several free community-oriented concerts for families and several recreational groups, including dance workshops and knitting circles. She was also in the total-immersion language programs at Middlebury College and learned German, French, and Japanese. She and Carol E. Reiley established DeepMusic.ai to enhance creativity for music artists and AI companies.
#6 – Nathan Mironovich Milstein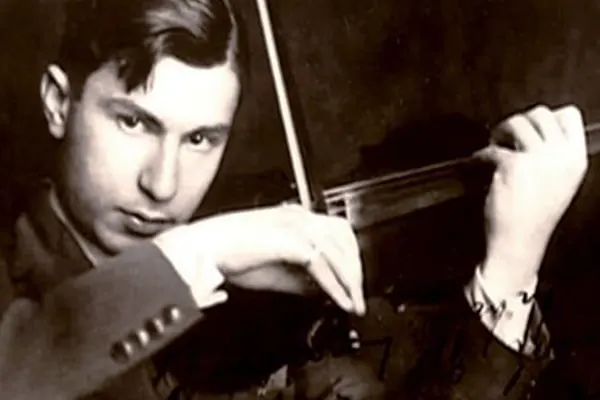 Associations: Philadelphia Orchestra, New York Philharmonic
In 1927, Nathan Mironovich Milstein (1904-1992) played with Leopold Stokowski and the Philadelphia Orchestra during his American debut and eventually became an American citizen. Before this, he performed and toured the Soviet Union and Western Europe with Vladimir Horowitz.
Milstein arranged many violin works and wrote cadenzas for his concertos. One of the most significant cadenzas he wrote was Paganiniana. Milstein also performed arrangements of Bach's violin solos. To celebrate the 50th anniversary of his first American performance, he played at Carnegie Hall in 1979.
In 1968, he was awarded the Légion d'honneur by France and received a Grammy in 1975 for performing Bach's Sonatas and Partitas. President Reagan also awarded him Kennedy Center honors.
Trivia Facts: Milstein received the 1716 "Goldman" Stradivarius in 1945 and renamed it the "Maria Teresa" after his daughter and wife. He was a perfectionist and spent a lot of time interpreting his note flow. The public regarded him as "one of the select few who are profound interpreters as well as dazzling virtuosi." He retired sometime after July 1986, after breaking his left hand.
#5 – Niccolo Paganini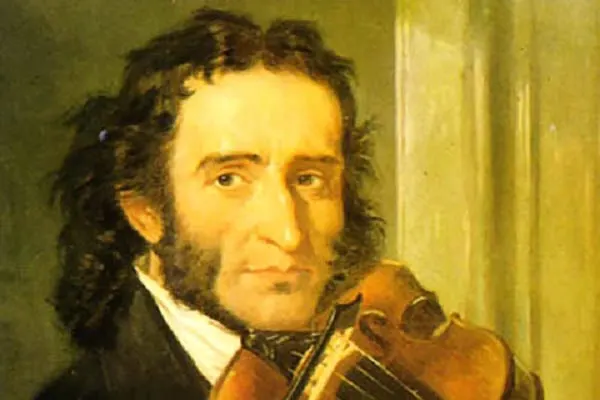 Associations: First Violin of the Republic of Lucca
Niccolo Paganini (1782-1840) was appointed first violin of the Republic of Lucca in 1801, and after its annexation by Napoleonic France, remained as a violinist for the Baciocchi court until 1809.
Eventually, he went on tour as a freelance performer and made a big break at a concert at Milan's La Scala in 1813, toured every major city in Germany, Poland, and Bohemia from 1827-1831. He then continued touring throughout Paris and Britain. He also spent time in Italy.
He composed several music pieces throughout his career, including The 24 Caprices for Solo Violin, six violin concertos, and 12 sonatas for violin, viola, cello, and guitar. In his early years and touring years, he preferred playing guitar privately instead of in public concerts.
Trivia Facts: Although he's known for using a violin, Paganini also had an interest in playing the guitar, which he shared with composer Hector Berlioz and implemented in compositions. Paganini is also the main subject of the titular 1995 play by Don Nigro, emphasizing a long-time rumor of his musical mastery resulting from a deal with the devil.
#4 – Friedrich-Max "Fritz" Kreisler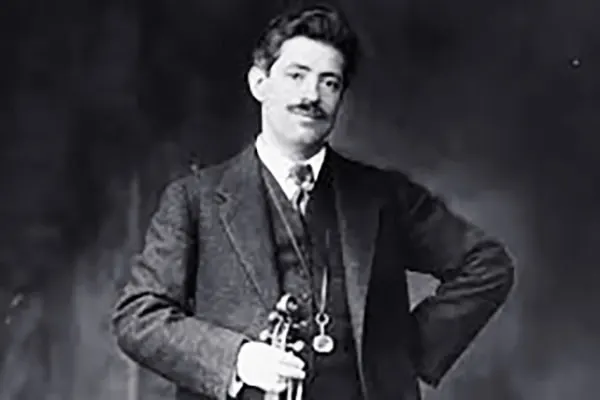 Associations: Berlin Philharmonic
Fritz Kreisler (1875-1962) made his debut American debut at Steinway Hall in November 1888. He toured with Moriz Rosenthal from 1888-1889. Although initially turned down from the Vienna Philharmonic, he performed with the Berlin Philharmonic in a concert, which led him to more significant acclaim.
Kreisler wrote several violin solos and encores, such as Liebesleid and Liebesfreud, along with cadenzas for other composers' violin concertos, including Beethoven, Brahms, Mozart, Viotti, and Paganini. Another impressive piece commissioned and dedicated by him was Edward Elgar's Violin Concerto (1910).
Kreisler also has composing credits for several Broadway operettas, revues, and musicals, including Apple Blossoms (1919), Continental Variety (1934), Reunion in New York (1940), and Rhapsody (1944). He also wrote the music for the movie The King Steps Out.
Trivia Facts: Kreisler owned several violins throughout his career, including a Giuseppe Guarneri he donated to the Library of Congress in 1952. Many of his recordings were reissued through LP and CD releases. At age 12, he won the Premier Grand Prix de Rome gold medal in Paris. He also studied medicine and joined the army.
#3 – Itzhak Perlman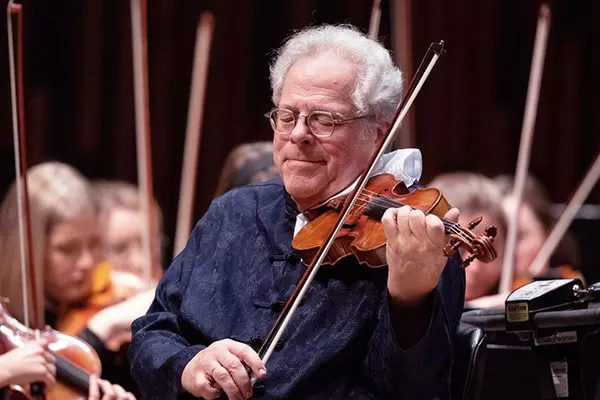 Associations: Detroit Symphony Orchestra, Westchester Philharmonic
Itzhak Perlman (b. 1945) performed several times on The Ed Sullivan Show during his youth. He would eventually perform with several orchestras, including the New York Philharmonic and the Israel Philharmonic Orchestra. Although a renowned soloist, he performed with other musicians, including Yo-Yo Ma, Isaac Stern, and Yuri Temirkanov.
He was awarded 16 Grammys, four Emmys, and a Grammy Lifetime Achievement Award throughout his musical career. Perlman also won the Leventritt Award in 1964. Some of his notable performances include a State Dinner at the White House honoring Queen Elizabeth II and President Obama's inauguration.
Perlman also conducted the Detroit Symphony Orchestra, the Philadelphia Orchestra, and the Westchester Philharmonic. Previously, he took the role of a music advisor to the St. Louis Symphony Orchestra from 2002 to 2004. In time he could likely climb the list of the best violinists even further.
Trivia Facts: Perlman and his wife, Toby, founded the Perlman Music Program in 1994. He's also the distant cousin of Howie Mandel. Perlman also organized several initiatives worldwide for people with physical disabilities. Having contracted polio that hindered his mobility at a young age, he typically plays while seated.
#2 – David Fyodorovich Oistrakh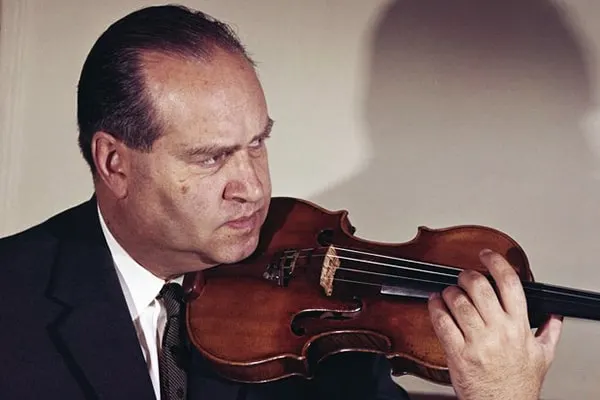 Associations: Moscow Conservatory, Royal Concertgebouw Orchestra
In 1927, David Oistrakh (1908-1974) performed his first recital in Moscow. He eventually became a professor at the Moscow Conservatory. He also performed several pieces with his son, Igor, including Bach's Double Concerto and Mozart's Sinfonia Concertante.
During World War II, he went to the front lines to perform for soldiers and factory workers following Germany's invasion of the Soviet Union. He notably played Tchaikovsky's Violin Concerto during the Battle of Stalingrad. After the war, Oistrakh traveled and performed in Western Europe.
Oistrakh received several awards and honors throughout his career, including the Stalin Prize in 1943, two Orders of Lenin in 1946 and 1966, and Peoples' Artist of the USSR. Shostakovich and Khachaturian composed violin concertos dedicated to and performed by him.
Trivia Facts: Oistrakh enjoyed playing chess and took an interest in it after Stalin's government encouraged its "best minds" to take it as a hobby. The asteroid 42516 Oistrach is named after Oistrakh and his son, Igor. His musical legacy thrives through "The David Oistrakh Festival," held every year in Estonia, from late August to October.
#1 – Jascha Heifetz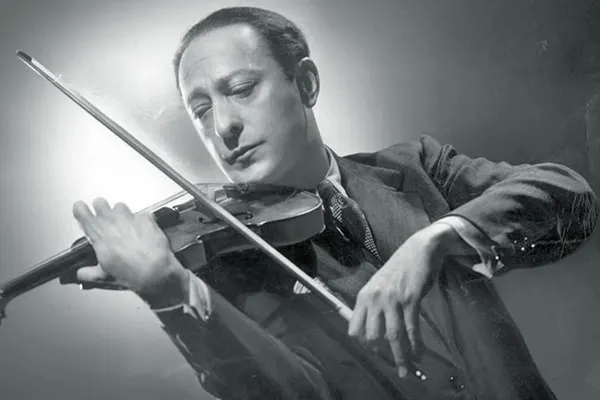 Associations: Saint Petersburg Conservatory, New Symphony Orchestra
Jascha Heifetz (1901-1974) made his United States debut at Carnegie Hall in 1917 and was an instant sensation, leading him to pursue new music opportunities. He recorded several solo, chamber, and concerto recordings with several musical groups, including the Boston Symphony Orchestra and the Chicago Symphony Orchestra.
During World War II, Heifetz performed under the alias Jim Hoyl and performed several concerts for Allied camps throughout Europe. He also wrote the song When You Make Love to Me (Don't Make Believe). During this time, he commissioned Walton's Violin Concerto and arranged Dinicu's Hora Staccato.
He primarily recorded his work through the company RCA Victor. Several of his recordings covered pieces composed by Bach, Mozart, Beethoven, Tchaikovsky, and Schubert.
Trivia Facts: Heifetz participated in several socio-political movements later in his life. While fighting for clean air, he protested smog with his students at the University of Southern California and converted his Renault into an electric vehicle. He also advocated establishing 911 as an emergency number. The Los Angeles Times called him "the greatest violin virtuoso since Paganini."
Runners Up: Who's Almost One of the Best Violinists in the World?
It's so hard to stop at the top 10 because there's other violin players that deserve recognition for their skills, techniques, and contributions. Not to mention that you or someone else may choose different players and rank them differently. If you didn't see your favorite above, check in these next 4 runners up and the honorable mentions below.
Yehudi Menuhin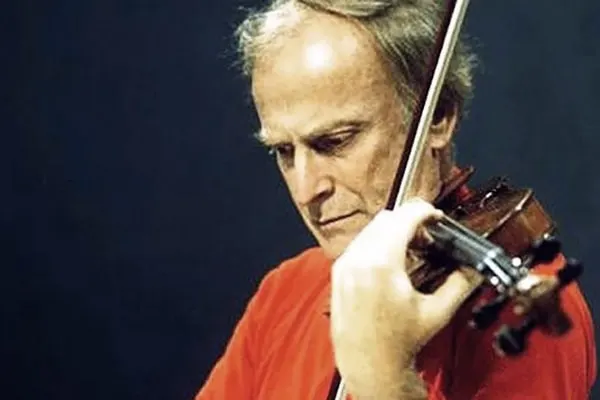 Associations: San Francisco Symphony Orchestra, Berlin Philharmonic
Yehudi Menuhin (1916-1999) recorded his first concerto in 1931, Bruch's G minor. He also performed several other concertos, sonatas, and partitas for violin. In 1944, he performed the Sonata for Solo Violin, a piece he commissioned composer Béla Bartók to complete, as a fan of his work.
During World War II, Menuhin performed for Allied soldiers and, in July 1945, performed for the surviving inmates of several camps after their liberation in April 1945, including the Bergen-Belsen.
Menuhin eventually received many awards and honors throughout his career, such as becoming president of the International Music Council and the Trinity College of Music. He founded the Menuhin Festival Gstaad in 1957. In 1967, he and Ravi Shankar recorded their Grammy-winning album West Meets East.
Trivia Facts: Menuhin had an interest in yoga and met with esteemed yogi B.K.S. Iyengar. He was also a featured performer in the 1943 film Stage Door Canteen, where he performed violin solos of "Ave Maria" and "Flight of the Bumblebee." Menuhin was also the first conductor for the Asian Youth Orchestra in 1990.
Papa John Creach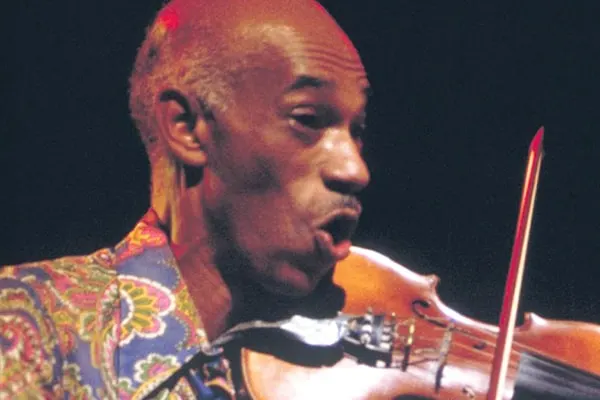 Associations: Louis Armstrong, Jefferson Airplane, Hot Tuna
Papa John Creach (1917-1994) started his violinist career performing at Chicago bars during the mid-1930s. He also had experience playing classical music. He also formed a cabaret band called Chocolate Music Bars that played jazz, blues, among other genres. Eventually, he befriended drummer Joey Covington and joined Jefferson Airplane.
He played violin for several music groups, including Jefferson Airplane, Hot Tuna, Jefferson Starship, the San Francisco All-Stars, The Dinosaurs, and Steve Taylor. He also led his backing band, Zulu.
Creach released over 20 albums throughout his musical career. While touring with Jefferson Starship, the group released the platinum-selling album Red Octopus in 1975. Some of his solo albums include Papa John Creach (1971), Filthy (1972), Playing My Fiddle for You (1974), I'm the Fiddle Man (1975), and Papa Blues (1992).
Trivia Facts: Creach initially had trouble playing jazz violin, and purchased an electric violin in 1943. He also made a few film appearances, notably in Fritz Lang's The Blue Gardenia with Nat King Cole. As a jazz veteran, he was much older than many of his bandmates.
Eugene-August Ysaye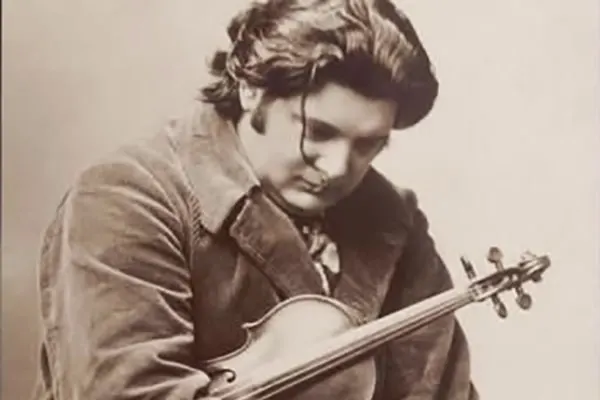 Associations: Royal Conservatory of Liege, Brussels Conservatoire
Sometime after graduating from the Royal Conservatory of Liège, Eugene-August Ysaye (1858-1931) became the Berlin Philharmonic's principal violinist. Sometime after, Anton Rubinstein requested Ysaye to accompany him on one of his tours. Ysaye also established the Ysaye Quartet in 1886. Soon, he toured Europe, Russia, and the United States.
Later in his life, he became more accustomed to teaching at the Brussels Conservatoire, conducting, and composing his work. As a conductor for the Cincinnati Symphony Orchestra in 1929, he conducted pieces including Lassen's Festival Overture, and Offenbach's Orpheus in Hades.
Some of his best-known works include his Six Sonatas for Solo Violin, Sonata for Cello, Sonata for Two Violins, and cadenzas for Beethoven, Tchaikovsky, Brahms, and Mozart. Some of the honors Ysaye received included Officer and Commander in the Order of Leopold in 1900 and 1919, respectively.
Trivia Facts: Many revered Ysaye as "The King of the Violin" during his time and considered him the first modern violinist. In 1931, he composed the opera Pier li Houyeû in Walloon language. Several of his techniques incorporated vibrato and rubato.
Stephane Grappelli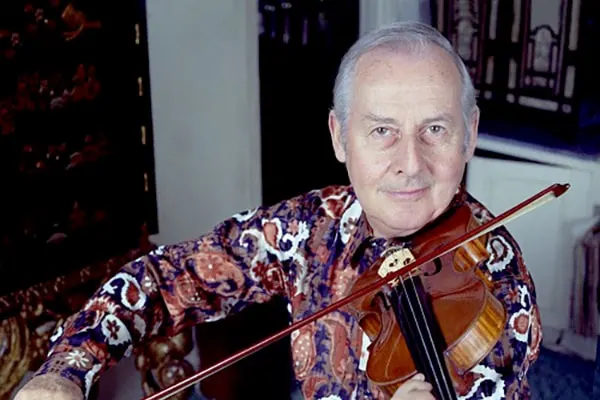 Associations: Quintette du Hot Club de France, Django Reinhardt
In 1934, Stephane Grappelli (1908-1997) founded one of the first all-string jazz bands, the Quintette du Hot Club de France, with guitarist Django Reinhardt. While initially set up as a jazz ensemble, the group influenced a new music movement that introduced swing.
As World War II began, the group had to disband, with Grappelli staying in England and Reinhardt returning to France. During the 50s and 60s, he found it challenging to modernize his style as bebop became the latest music trend.
Throughout his career, Grappelli released several albums and collaborations with other talented artists. Some artists he collaborated with included the Diz Disley Trio, Yehudi Menuhin, and Barney Kessel.
Trivia Facts: Many refer to Grappelli as "the grandfather of jazz violinists." He worked on the film scores for Going Places in 1974 and May Fools in 1990. As a teenager, he played accompaniment for silent films at the Théâtre Gaumont. Although he was never married, Grappelli had a daughter through an affair and shared much of his life with Jean Barclay, a close female friend.
Honorable Mentions for the Best Violinists of All Time (2023)
How can we possibly stop with the lists above when there are so many great violinists that still deserve a mention? You may not have seen your favorite yet, and there are certainly tons of players with good chances of climbing the rankings into the lists above. Here they are:
Antonio Vivaldi (1678 – 1741)
Ginette Neveu (1919-1949)
Nigel Kennedy (b. 1956)
Viktoria Mullova (b. 1959)
Anne-Sophie Mutter (b. 1963)
Joshua Bell (b. 1967)
Midori Goto (b. 1971)
Gil Shaham (b. 1971)
We'll have to call it quits or we risk talking about this forever. It's such a fun conversation knowing that if you ask another person or slightly re-weight the variables that the entire top 10 list could re-arrange the order or even have a completely different set of violinists in it.
Since you enjoyed this, you may enjoy a trip down another lane with a similar instrument and see just how much money you can make if you devote your life to a more popular instrument. Of course, I'm talking about the richest guitarists in the world. Anyways, thanks for stopping by and reading about the best violinists of all time with us.
Top 10 Best Violinists of All Time
This is the table for the top 10 best violinists of all time. It contains their names and associations.
| Rank | Violinist | Associations |
| --- | --- | --- |
| 1 | Jascha Heifetz | Saint Petersburg Conservatory, New Symphony Orchestra |
| 2 | David Fyodorovich Oistrakh | Moscow Conservatory, Royal Concertgebouw Orchestra |
| 3 | Itzhak Perlman | Detroit Symphony Orchestra, Westchester Philharmonic |
| 4 | Friedrich-Max "Fritz" Kreisler | Berlin Philharmonic |
| 5 | Niccolo Paganini | First Violin of the Republic of Lucca |
| 6 | Nathan Mironovich Milstein | Philadelphia Orchestra, New York Philharmonic |
| 7 | Hilary Hahn | The Chamber Music Society of Lincoln Center |
| 8 | Pablo de Sarasate | Conservatoire De Paris |
| 9 | Sarah Chang | New York Philharmonic, Carnegie Hall |
| 10 | Joseph Joachim | The Royal Conservatory Of Music |