When it comes to favorite drummers, some people only care about technical ability, while others value simplicity with perfect timing. I know someone that measures an artist by their mass appeal and industry-award haul. To each their own, I suppose.
This list tries to take into account all these factors. The real challenge we faced was boiling it down to only 10 drummers, so… we didn't. Below the first list is another list of runners-up section and honorable mentions.
You'll probably enjoy looking at our list of the best bassists of all time too, since the bass and drums form the foundation of the rhythm section. Many of these drummers below worked with the top bassists in some of the greatest bands ever. But let's move on and count down the list of the best drummers of all time…
The Top 10 Drummers of All Time (2023 Update)
| Rank | Drummer | Associate Acts |
| --- | --- | --- |
| 1 | Ginger Baker | Cream, Blind Faith, Air Force |
| 2 | Neil Peart | Rush, Vertical Horizon, Buddy Rich Big Band |
| 3 | Keith Moon | The Who, Plastic Ono Band |
| 4 | John Bonham | Led Zeppelin, Band Of Joy |
| 5 | Bernard Purdie | Jeff Beck, Steely Dan, The 3B'S |
| 6 | Hal Blaine | The Wrecking Crew, The Beach Boys |
| 7 | Buddy Rich | Joe Marsala, Bunny Berigan, Artie Shaw |
| 8 | Max Weinberg | Bruce Springsteen, E Street Band |
| 9 | Stewart Copeland | The Police |
| 10 | Bill Bruford | Yes, King Crimson, Earthworks, Genesis |
#10 – Bill Bruford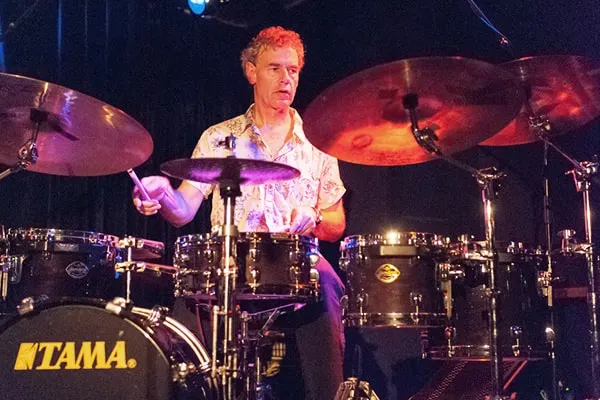 Associated Acts: Yes, King Crimson, Earthworks, Genesis
Bill Bruford is a master drummer and percussionist who hit the limelight in the prog rock band Yes. He continued his meteoric rise with King Crimson and as the live drummer for Genesis. He went on to work in many other bands that his overall efforts landed in the Rock & Roll Hall of Fame.
Some of the top drummers in the world consider him an influence, such as Mike Portnoy and Danny Carey. His early technical prowess combined with jazz acumen and rock energy led to enough success that he was able to have the freedom to evolve further into what he calls a "polymetric funk savant."
Trivia: Bill Bruford earned his PhD in Music from the University of Surrey in 2016. He cites Ginger Baker as one of his main drumming influences. As a youth he took lessons from Lou Pocock of the Royal Philharmonic Orchestra.
#9 – Stewart Copeland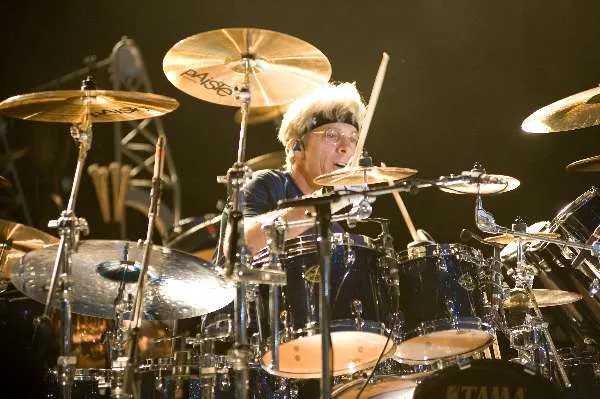 Associated Acts: The Police
Stewart Copeland achieved fame as part of the band the Police in the late '70s and early '80s. The group stood out for how it incorporated elements of rock, reggae, and punk—an accomplishment that owed a lot to Copeland's unique style of drumming.
It is precise, energetic, and creative—creative not only in its syncopation and polyrhythms, but in how it went electronic at a time when rock bands typically turned their collective noses up at the burgeoning technology. Because of this, Copeland's influence is considerable. In addition to his work with the Police, Copeland has composed music for film and television, including the movies "Rumble Fish" and "Wall Street".
Trivia: Stewart Copeland is the son of Miles Copeland Jr., a well-known CIA agent who also managed the careers of several famous musicians, including the Police.
#8 – Max Weinberg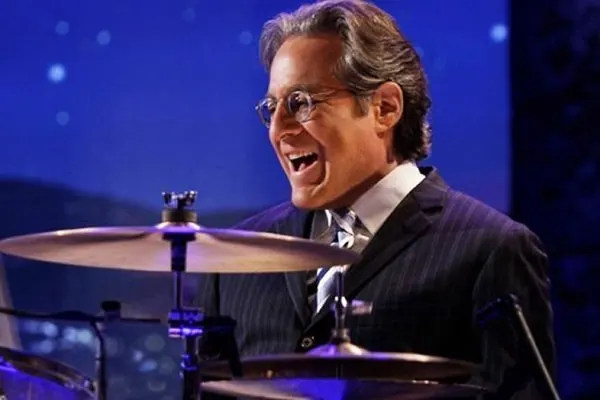 Associated Acts: Bruce Springsteen, E Street Band
Max Weinberg is known as one of the most reliable drummers ever, performing night after night with Bruce Springsteen and, from 1993 to 2010, as the leader of the Max Weinberg 7 on Conan O'Brien's various late-night gigs. He's in the Rock & Roll Hall of Fame, of course.
He leads his band with a drums-driven jump blues style. You know you have to be good to lead a band as a drummer, as opposed to being a guitarist or vocalist. He considers Buddy Rich, Gene Krupa, and Ringo Starr as influences. Weinberg's philosophy of "show up every time and do a good job" is something we can all learn from.
Trivia: Max Weinberg is the father of one of the Slipknot drummers, Jay Weinberg. He knew he wanted to be a drummer when, at age 5, he saw Elvis Presley and D.J. Fontana play on "The Milton Berle Show" in 1956. He started his drumming journey at 6 and by age 7 he was sitting in with bands.
#7 – Buddy Rich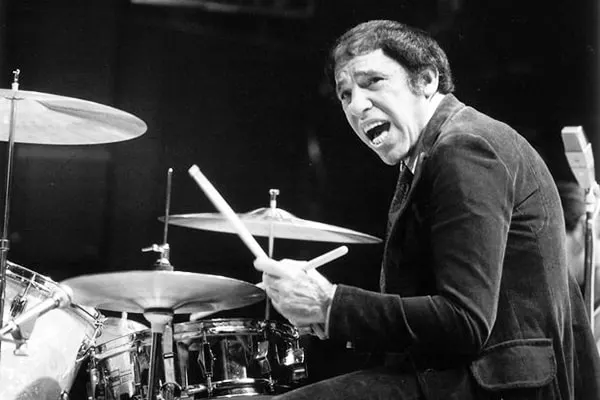 Associated Acts: Joe Marsala, Bunny Berigan, Artie Shaw
Buddy Rich was a jazz drummer and bandleader that was known for his speed and power without sacrificing his technique. He was a self-taught child prodigy, playing drums on Broadway at age 4 and in vaudeville shows. He began leading bands on international tours in his teens and by 15 years old he was the second-highest-paid child entertainer of the 1930s!
While big bands lost their appeal, he stayed committed to the art, doing session work for Ella Fitzgerald and Louis Armstrong and making many TV appearances. He played with a traditional grip but would switch to matched grip when playing the floor toms and perform cross-stickings as one of his stick tricks. There was a period where he played with brushes nearly exclusively.
Trivia: Among the incredible events of his life, Buddy Rich gave drum lessons to Mel Brooks when Brooks was 14 years old. He served as a judo instructor in the United States Marine Corps. Rich was apparently short-tempered and would get into actual fights with Frank Sinatra, which didn't bode well for Ol' Blue Eyes, as Rich was a black belt in karate and capable of turning those eyes black.
#6 – Hal Blaine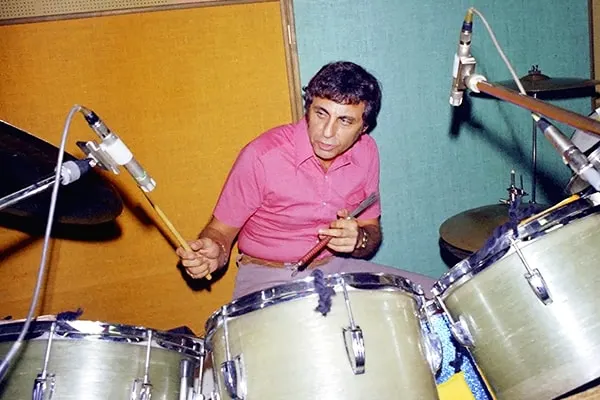 Associated Acts: The Wrecking Crew, The Beach Boys
Hal Blaine is the most recorded studio drummer in history, as far as we can tell, having recorded in over 35,000 sessions and 6,000 singles. He's played on 40 #1 hits and 150 total US top 10 hits. He's played with some of the greatest musical acts of yesterday and indeed, today, and he must have an entire wing of his home dedicated to the awards he has claimed.
His legacy includes popularizing the disco beat in studio recordings. From 1966 to 1971, he played on every single Record of the Year Grammy winner. He reduced his session work as computers and drum machines became more popular, but continued to record for film, TV, and jingles.
Trivia: Hal Blaine began playing drums at eight years old. His first big break was with Count Basie's big band. He would leave a "Hal Blaine Strikes Again" stamp on music scores and locations where he had played. His playing on the Ronettes' "Be My Baby" is the most imitated drum beat ever.
#5 – Bernard Purdie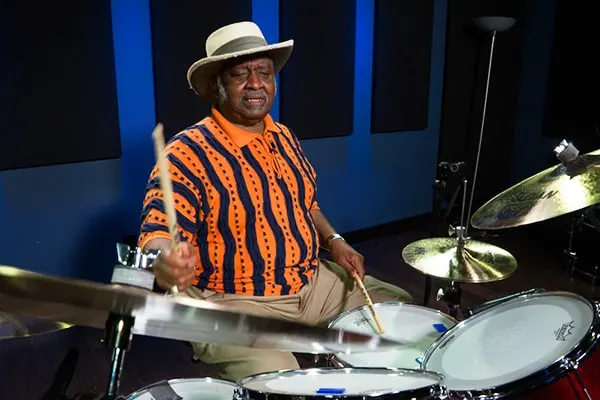 Associated Acts: Jeff Beck, Steely Dan, The 3B's
Bernard Purdie, or as some call him, "Mississippi Bigfoot," was once the most in-demand drummer in the industry. It's easier to talk about who he hasn't played with than to list off who he has. He played so perfectly, even with complex drum patterns, that Steely Dan brought him in. And they're seriously some sticklers about everything.
His precise time-keeping, his use of triplets and half-time (i.e., The Purdie Shuffle), and his professionalism propelled him straight to the top. His syncopated ghost notes and fusing of styles like swing, blues, and funk make him unique and extremely entertaining.
Trivia: Bernard Purdie learned to play drums from Leonard Heywood. He's played (even uncredited) on some of the biggest hits ever, even overdubbing for the Beatles. One of his early breaks was playing a session for James Brown.
#4 – John Bonham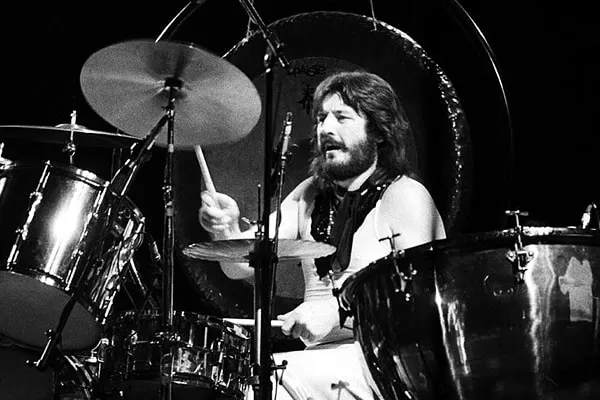 Associated Acts: Led Zeppelin, Band of Joy
I could have put John Bonham of Led Zeppelin at the top of this list and there would have been few complaints. His name comes to the minds of most mainstream music lovers when talk of drumming arises. And that's not shocking considering the popularity of Led Zeppelin. "Bongo" had an instinct for a good groove, which shined through his love of speed, fast kick-drumming, and hard-hitting power. It's all the more impressive when you consider he was 15 years old when he got his first kit (I actually think this is pretty late for a musician of his plentiful talent) and was largely self-taught, emulating greats like Max Roach and Buddy Rich.
The next time you listen to modern drummers like Dave Grohl, Dave Lombardo, and Chad Smith—all of whom love to pound their skins, you'll pick up on the Bonham influence. Though he excelled at dynamic rock drumming, he later began integrating funk and Latin styles into his work.
Trivia: John Bonham's drum solo "Moby Dick" would last over 20 minutes live onstage. Despite having won numerous awards and recognition, Bonham was dismissed by some music critics who didn't appreciate his hard and straight playing, saying he lacked swinging in his timing.
#3 – Keith Moon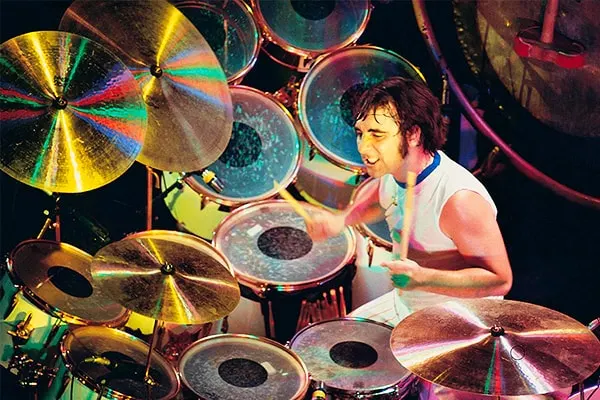 Associated Acts: The Who, Plastic Ono Band
Keith Moon was the drummer for the Who, known for his early use of double bass drums in his drum kit. He would fit in drum fills in the craziest places in songs, emphasizing tom-toms and cymbals, acting more like an orchestrator than a drummer. He was known to mimic other greats like Gene Krupa and Hal Blaine, but with a much more wavering timing.
He hated drum solos and refused to play them even when pressured live on stage. He would destroy his drum kit after nearly every show. He would also destroy entire hotel rooms and the building's plumbing. His destructive behavior led to his early passing, but even so, he managed to leave his mark as one of the drumming greats.
Trivia: Keith Moon was the inspiration for the Muppets character Animal. His destructive behavior earned him the nickname "Moon the Loon". It's said that he came up with the phrase "lead zeppelin" and incidentally inspired the name of the band Led Zeppelin.
#2 – Neil Peart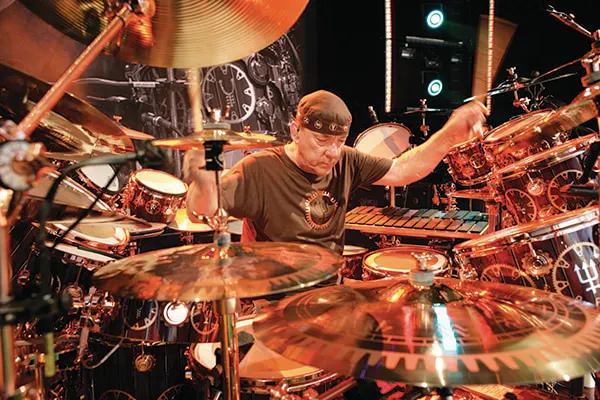 Associated Acts: Rush, Vertical Horizon, Buddy Rich Big Band
Neil Peart is known as the incredible drummer for Rush, who chose him after an audition because he reminded them of Keith Moon from the Who. At the end of the day he was nothing like Moon besides his hard-hitting style. Moon was very loose with his timing, but Peart is possibly the most meticulous and technical player of all time.
I had the pleasure of seeing him and his unbelievably huge drum kit live before his passing. It wrapped around him 360 degrees and included digital samplers and much more. He played every part of a full band by himself during a solo.
Trivia: Neil Peart was Rush's primary lyricist. He also wrote seven nonfiction books. Strangely, before he auditioned for Rush, he was part of a band called Hush. He often reversed his stick orientation, playing with the butt-end out for increased rimshot capacity. He got used to it because he'd break the tips off his sticks as a youth and couldn't afford new ones.
#1 – Ginger Baker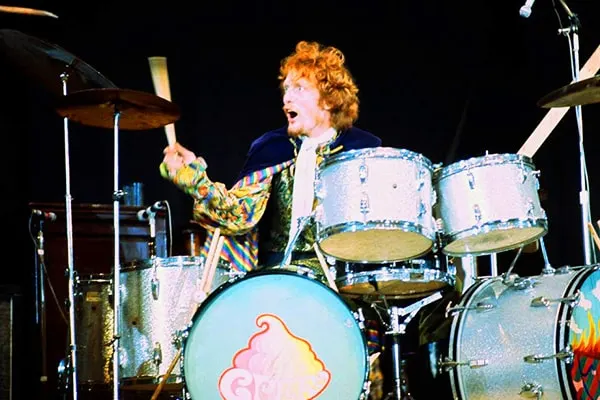 Associated Acts: Cream, Blind Faith, Air Force
Ginger Baker is best known as the superstar drummer for Cream and Blind Faith along side Eric Clapton. He was one of the earliest drummers to use two kick drums and record lengthy drum solos. His use of matched grip, syncopation, African rhythms, and ride cymbals made him more of a bebop and jazz drummer than rock.
All the greats recognize Baker's prowess, with Neil Peart saying that Baker set the bar for what rock drumming could be. His showmanship and playing is described as primal, extroverted, and inventive. He's even considered a pioneer of heavy metal drumming, though he didn't play in the genre and, in truth, despised it.
Trivia: In the 1960s, Ginger Baker took lessons from Phil Seamen, a leading British jazz drummer, but was otherwise self-taught. After Blind Faith disbanded, Baker started and joined many bands, even operating a recording studio, none of which really panned out for him.
Runners-Up: Who's Almost In the Top 10 Drummers of All Time?
It's impossible to only mention the top 10 drummers of all time. There's just so many other greats that we could argue should be in the list, so we're adding this runners-up section to honor more of these legends (and to appease you readers!), and don't miss the honorable mentions further below.
Mike Portnoy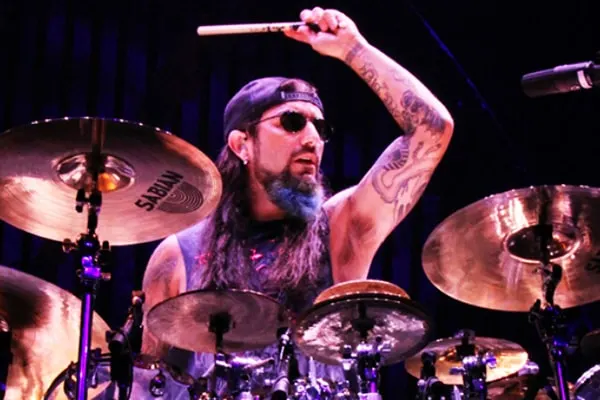 Associated Acts: Dream Theater, Neal Morse Band
Mike Portnoy has been in or started countless bands but he's best known for his 25-year run with Dream Theater. He took some music theory lessons in high school but is otherwise completely self-taught as a drummer. His drum skills are so enormous that Modern Drummer has given him 30 awards and placed him in its hall of fame.
Portnoy considers drummers like Neil Peart, Bill Bruford, Alan White, and others on this list as his influences. He endorses Tama drums, Sabian cymbals, Remo drumheads, and Promark drumsticks if you're in the market.
Trivia: Mike Portnoy met John Petrucci and John Myung at the Berklee College of Music, where they soon dropped out and formed Dream Theater (originally named Majesty). His wife was in an all-female metal band called Meanstreak with the wives of other Dream Theater members.
Gene Krupa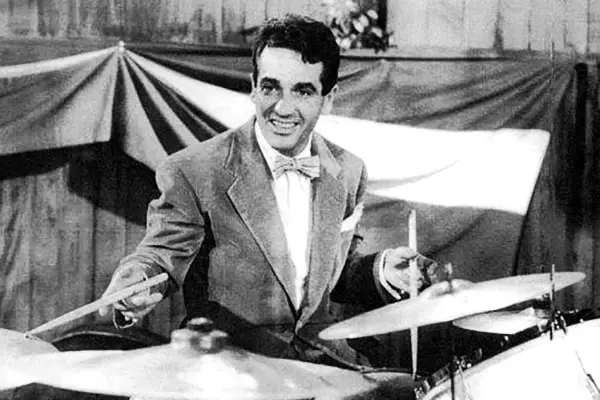 Associated Acts: Eddie Condon, Benny Goodman
Gene Krupa is known as the first rock drummer. He elevated the drummer from a background player to a vital member of the band with a sound of their own. He helped define what the standard drum kit included, earning him the reputation as its founding father.
He played in the Chicago jazz style, accentuated by press rolls. His tom-tom interludes were the first extended drum solos recorded commercially. Though his career dates back to the 1920s, such is his renown that his name is regularly dropped in drum conversations to this day.
Trivia: Gene Krupa and Buddy Rich had "The Drum Battle" shows at Carnegie Hall in 1952 and in televised events, and later released two studio albums together. After retiring due to growing back pain, he started a school of music. He starred in several movies and had one created about his life.
Jeff Porcaro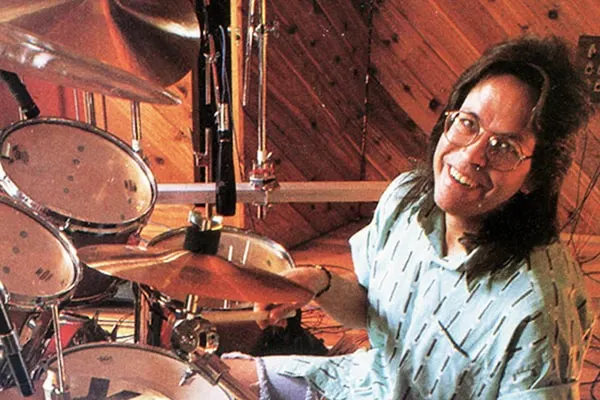 Associated Acts: Toto, Steely Dan
Jeff Porcaro was the drummer for the band Toto, which should already tell you all you need to know. His playing is perfect and precise like Bernard Purdie—so much so, you'd think a computer generated the sounds. Steely Dan hired him, which only further proves the point.
Many consider the programmed MIDI drumming of the 1980s and 90s to be based on Porcaro's sound. He's one of the most recorded session musicians in music history, too. He started playing drums at age 7 and by 17 became a professional.
Trivia: His most famous drum pattern on the Toto song "Rosanna" is called the Half-Time Shuffle Groove, based on the Purdie Shuffle. He's played with all of the biggest names and even did four of the tracks on Michael Jackson's Thriller.
Dave Lombardo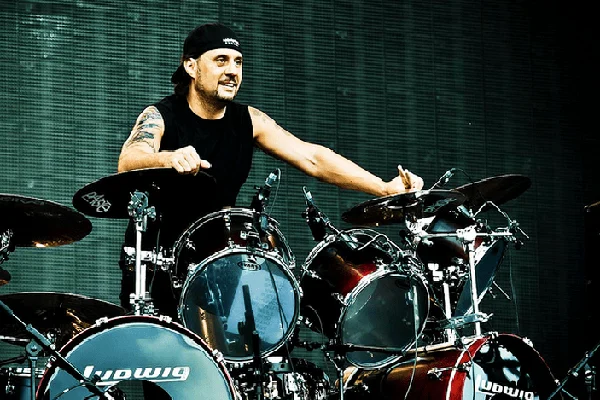 Associated Acts: Slayer, Grip Inc., Testament, The Misfits
Dave Lombardo is best known as the co-founder and drummer for the thrash metal band Slayer. His playing is extremely aggressive and incredibly innovative. Drummerworld calls him the godfather of the double bass. He's the main drumming influence in all of the metal sub-genres, respected for his energy and technical skill.
He got started with percussion at eight years old and received his first drum kit at the age of 10. He developed a tasteful style, and despite the speed he doesn't overplay and still finds the groove. His work is so effortless that other musicians consider him a "natural" as if to dismiss all of his practice.
Trivia Facts: Dave Lombardo is left handed but learned to play right handed with a right handed drum kit. He's created art collections, the first of which was called Rhythm Mysterium and is on a new medium he calls rhythm-on-canvas.
Honorable Mentions for the Best Drummers of All Time
Even with this additional section, there are more names that need to be mentioned.
Ringo Starr is best known as the drummer for the Beatles. His style was simple but extremely consistent and reliable in a way few others have attained.
Phil Collins is a huge success, probably best known for his work with Genesis. He got started at age five and was destined to be a great.
Dave Grohl rose to prominence with Nirvana and the Foo Fighters and has had a monumental output ever since. He's a multi-instrumentalist and focuses less on the drums these days.
Danny Carey is the drummer for Tool. He bases many of his drumming patterns on sacred geometry and gets way far out there. It's all unique and played well, though.
Alan White is the long-running drummer for Yes and is known for playing on big hits like John Lennon's "Imagine".
A fun read from here is to bounce over to our list of the best bands of all time and see just how many of these best drummers of all time were in those bands. It's quite a few, full of names from our guitarist lists and others. Somehow the most amazing musicians found each other and managed to merge their talents to bring us some incredible music. Thanks to them and to you for reading.